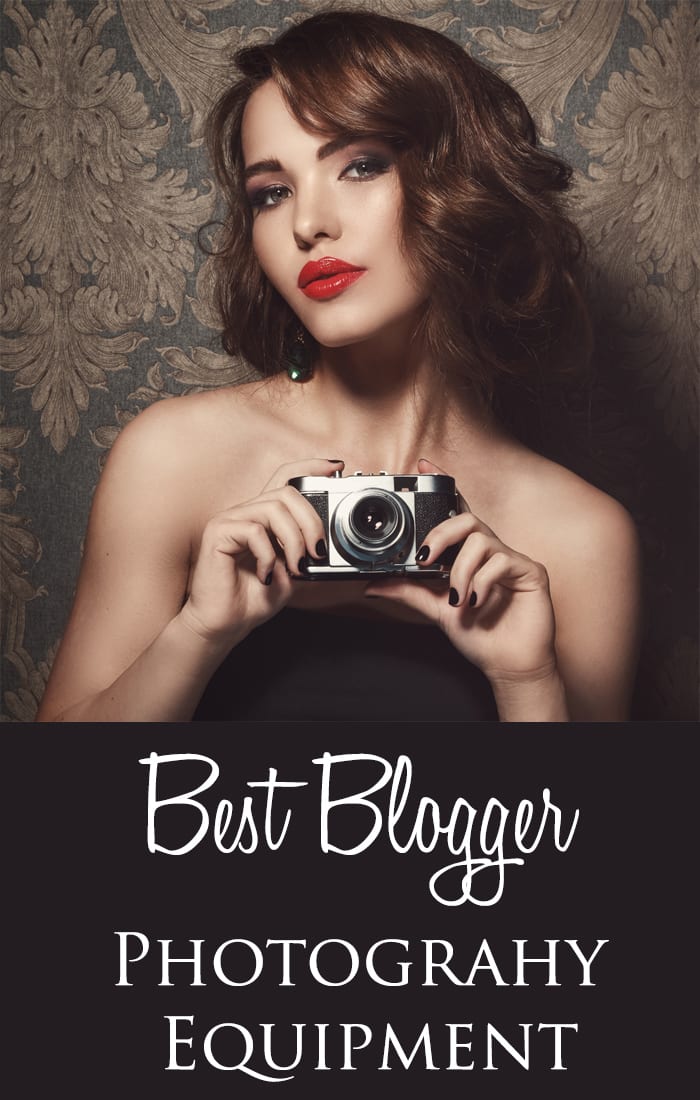 I get a lot of questions about what I use for photography and videos. Since I've streamlined what I'm using for 2016, I thought I'd share what made the cut for the best blogger photography equipment and what I no longer use. I've invested a LOT of money on my equipment over the years, some of which I wish I hadn't spent (blogging isn't cheap), so hopefully this will save you money if you're trying to decide what to buy.
Best Blogger Photography Equipment
CAMERAS
Canon Rebel T3i DSLR
I love the my DSLR. Ray and Dave bought me this for Christmas one year after I told them that it was what I wanted. I researched what types of DSLRs were out there and what I thought would work best for me. This has always proven to be a great camera for me. I haven't upgraded it because it works wonderfully for me for product shots and self portraits. It's super useful feature is the flip around screen so that if you're doing a self portrait you can make sure you're in the frame. Make sure you have a remote to use with it. You can probably pick up the T3i used for a reasonable price (it's been discontinued) but the T6i is the new version and what I would recommend. I have 2 batteries for this camera so that when one runs out I can just switch to the other but it has  pretty good battery life. While you can shoot videos on the T3i, it does  not auto focus, which makes it difficult if you're doing tutorials or anything that requires you to move. For just talking and sitting in one place it's fine.
Canon PowerShot G7X
Ray and Dave bought me the G7X for Christmas this year. I spent time researching what new video camera I wanted and was torn between this and the Canon 70D. I finally decided on this and asked for it for Christmas. I love it. The video quality is exactly what I was looking for. The one drawback to this camera is that it has a very short battery life. Very, very short. I have 4 backup batteries. Not joking. If you are on a budget and you can only afford to buy 1 camera, I would recommend the G7X because not only does it do amazing videos, it can also take pretty nice self portraits and product shots with studio lighting. This camera is good for on the go, taking to events and creating vlogs.
Canon 70D
I was trying to decide between the Canon 70D and the G7X, and while the G7X was the right decision for me, the 70D may be what you're looking for. If you want a high quality semi-pro DSLR and video camera all in one, the 70D is what you're looking for. It has a flip around panel for self portraits. The autofocus is great for video.
Canon VIXIA HF R500
For those looking for a cheaper video camera option you can always try this one. This is what I was using but ultimately it only works well in studio lighting, and sometimes I still had issues with the way it focused. It was terrible when I took it out to things like The Makeup Show Orlando. This is definitely a budget friendly option for beginners.
Smart Phone
If you have a smart phone like the iPhone 6 or the Samsung Galaxy Note 5, you can make videos and take pictures on your phone. This is another budget friendly option. I know several people who just use their iPhone 6 for blogging, videos and photography.
PRODUCT PHOTOGRAPHY
MyStudio MS20 Professional Tabletop Photo Studio Kit
I have this kit which is 20x20x12 for product shots. I have a custom light setup with 2 bars of 5000k light in line with each other and a reflector on the top. This is what I use for most of my product shots. It's easy to clean because it's plastic and has held up well over the past 3 years. I purchased so many different tabletop lights before I found that THIS was what I was looking for and this is exactly the right thing. It's a great set up. I started with a budget friendly light setup like this one.
VIDEO & SELF PORTRAIT PHOTOGRAPHY
Stellar Diva 18″ Ring Light
I'm going to save you a lot of time and money right now and tell you just buy this ring light! Don't waste your money on other ones. I tried 2 other ring lights – the Ardinbir (which I kept because I sometimes use it for makeup) and the ePhotoinc Ring Light. The other 2 ring lights were on flimsy stands, were hard to adjust, and I was always afraid they were going to fall over. (I fixed the Ardinbir by wedging it between my desk and the wall). I sold the ePhotoinc to a friend with the caveat that the stand was flimsy. Neither of those are dimmable. They were difficult to get my camera mounted in the center of the ring. They didn't come with a mirror on the bottom half. The Diva is just a better designed product all around and I wish I had known about initially because I would have just bought the Diva rather than trying the other 2 lights.
ePhoto Softbox Light Kit
These lights are what allow me to get even lighting in video and self portraits. I had a set of 3 umbrella lights (which I gave to a friend) that I tried to use before and they just don't provide the same soft, even light that I get with the soft boxes. I used the umbrellas for 4 years before finding the soft boxes. You could probably use the soft boxes to help light product shots in a pinch too.
BACKGROUNDS & PROPS
You can spend so much money on backdrops and props. I've bought flowers, gems, backdrops, a backdrop stand, all kinds of things. You can find great backdrops on etsy. My favorite backdrops shop is Peek Prints. For other props, I recommend checking Amazon, etsy or Michael's, as they have a wide vareity available.
If you're thinking about starting your own blog, I highly recommend that you check out Flywheel for hosting. I switched to them in 2014 and have been very happy.
What do you use for your photos?