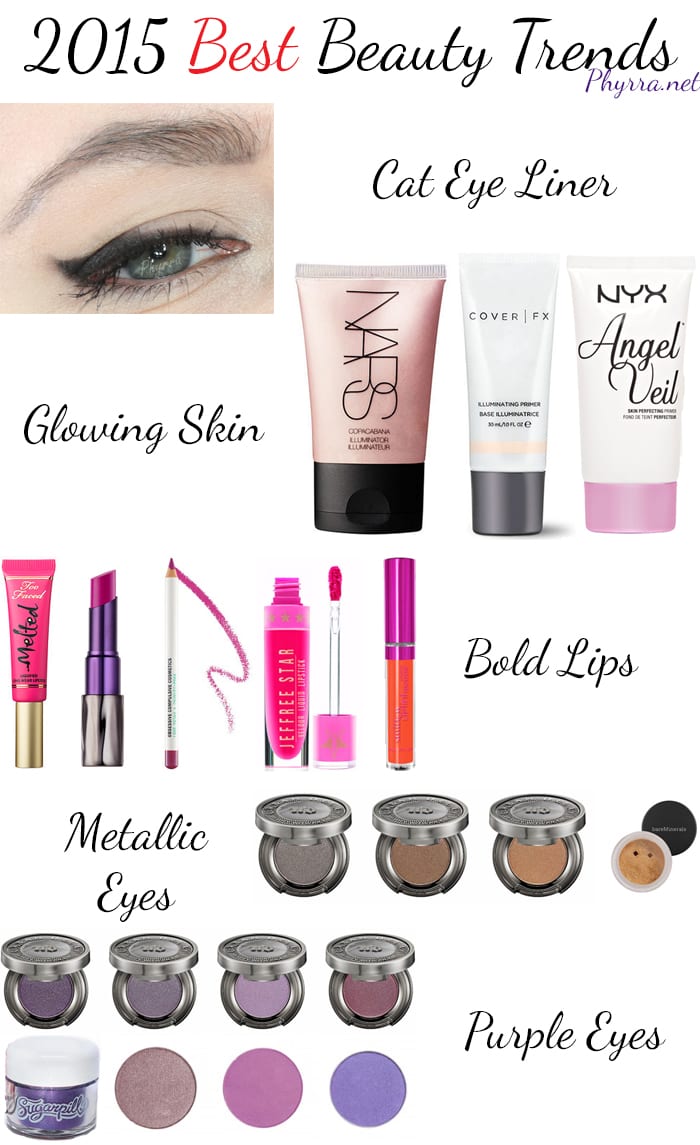 Happy Makeup Wars Monday! For this round of Makeup Wars we're sharing our picks for the best beauty trends for 2015. My favorite trends are pixelated hair, metallic eyes, bold lips, glowing skin and of course, cat eye liner.
PR + purchased by me.
Best Beauty Trends for 2015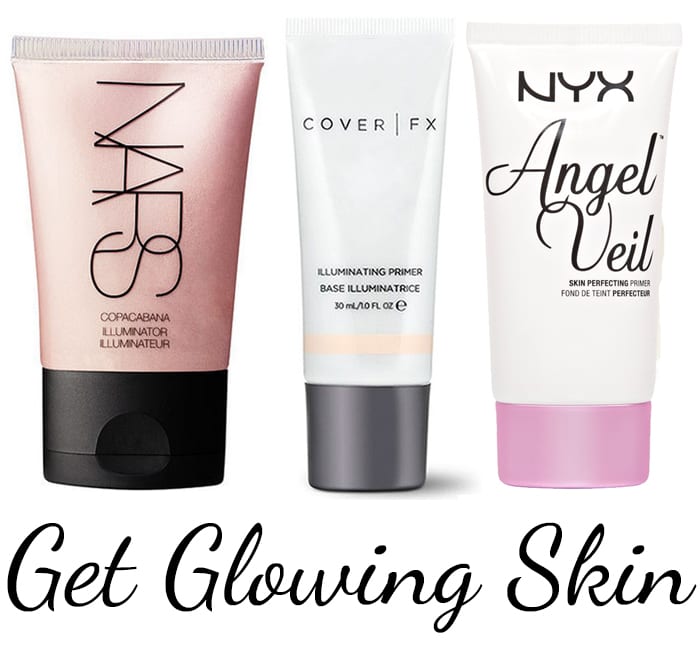 For glowing skin, I recommend mixing a luminizer into your liquid foundation or tinted moisturizer or using an illuminating primer. My favorite products for this are Cover FX Illuminating primer, Nyx Angel Veil primer, or NARS Illuminators. NARS Copacabana is great for porcelain skin.
Cover FX Illuminating Primer (vegan)
NARS Illuminators
Nyx Angel Veil Primer
While not a trend for everyone, this next trend is one I like. Pixelated Hair, also called SplashLights, is exactly what it sounds like – video game pixel inspired hair. No matter what you call it, I think it's really cool and a nice alternative way for people to color their hair. I actually learned about this from my hair stylist Christian. Check out Arabelle Sicardi's awesome article on this amazing hair trend for buzzfeed.  I personally think it would look better on hair that's worn the same way all the time. It might look good on a fringe (like in the 2nd photo).
This is definitely not a trend I would DIY! It looks like it would be best on straight hair worn the same way all the time, so possibly if you have a fringe and want to funk it up, you could try this. For color, I recommend Pravana or Manic Panic.
Pravana is cruelty free and the Vivids are the most long wearing vibrant color line that I have EVER tried.
Manic Panic Hair Dye (vegan)
Aside from pixelated hair, there's more braiding going on. I love this because my hair is finally getting long enough to braid. If you're looking for tutorials on how to braid, you need to check out my friend Christina's blog, Hair Romance. She has so many hair tutorials and is a constant source of hair inspiration.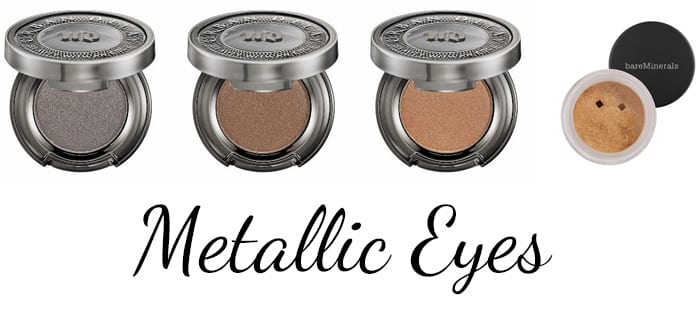 Another trend I like is super metallic lids with nude creases. You can use gold, silver, gunmetal, or rose gold on the lids and a matte crease to create this look. See my favorite example here. You can also use gold glitter around the eyes. Choose Urban Decay eyeshadow shades like Half-Baked, Easy Baked, Blunt, Chase, Baked, Smog, YDK, Snakebite, Gunmetal, bareMinerals True Gold, Darling Girl Boom boom Pow! (Don't forget, Urban Decay's Friends and Fanatics sale is going on now until March 7!
Urban Decay eyeshadows (some shades vegan)
bareMinerals eyeshadows
Darling Girl eyeshadows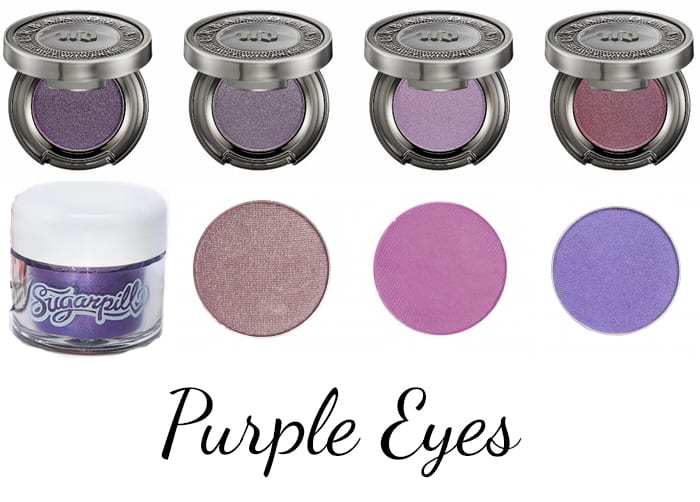 If you're not a fan of metallic, I also saw a lot of purple and lilac lids, purple smoky eyes, and charcoal smoky eyes, the sort that are really soft and unstructured, almost like the wearer slept in their makeup. Or skip that entirely and try a pop of neon on the lower lids with bare upper lids. For purples you can try Urban Decay Gravity, Last Call, ACDC, Asphyxia, Flash, Sugarpill Strangeling, Poison Plum, Makeup Geek Prom Night, Wisteria, Pop Culture or Caitlin Rose. For a pop of neon, try Ardency Inn Punch.
Urban Decay eyeshadows (some shades vegan)
Sugarpill eyeshadows (some shades vegan)
Makeup Geek eyeshadows
Ardency Inn eyeshadows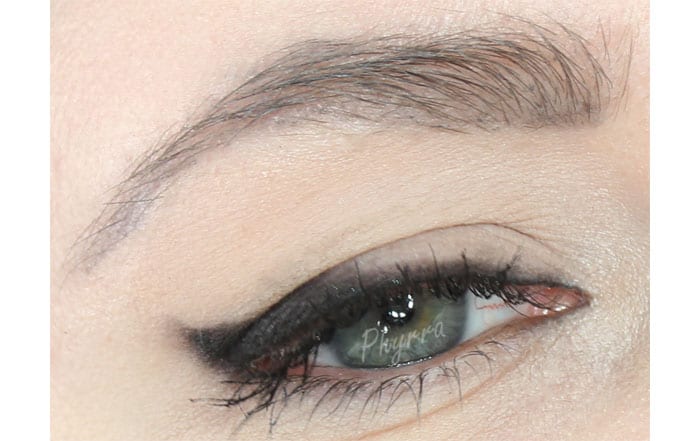 For cat eyes, you can just do super thick liner and wing it out (see a pretty one here). Or you can smoke it out. Or you can do a bright shade all over the lid, like a blue, and wing it out. You can even try it squared off on the inner and outer corner (see here). Try this with a liquid liner, gel liner, eyeshadow, or eyeshadow smoked on top of gel liner. I'm a big fan of the smoked out liner.
Urban Decay 24/7 Waterproof Liquid Eyeliners (vegan)
NARS Eye Paints (my favorites for gel liners or graphic eyeshadow looks)
Sugarpill Bulletproof (vegan)
Urban Decay Crave (Naked Basics Palette)
Makeup Geek Corrupt
Saucebox Black Widow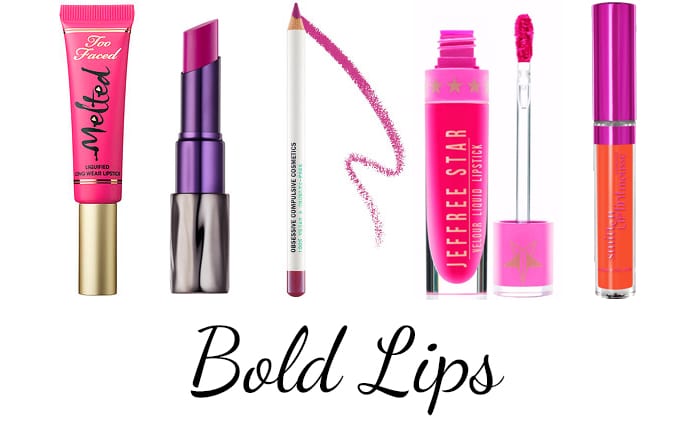 Bold lips will always be a favorite of mine and you'll see a lot of raspberry, red, coral, orange and berry shades. I'm really into long wearing lipsticks right now and here are some of the on trend shades from the brands I love.
Obsessive Compulsive Cosmetics Colour Pencils – Hoochie, Anime, Grandma, NSFW, Black Dahlia (vegan)
Urban Decay Revolution Lipsticks – Anarchy, Bang, Catfight (vegan)
Too Faced Melted Lipsticks – Jelly Donut, Candy, Fuchsia, Violet, Guava (vegan)
Ofra Long Lasting Liquid Lipsticks – Atlantic City, Daytona Beach, New Orleans, Palm Beach, Santa Monica, Sunset Beach and Surfer's Paradise
Jeffree Star Velour Liquid Lipsticks – Prom Night, Redrum (vegan)
Fyrinnae Liquid Matte Lipsticks – Ablaze (vegan)
LASplash Lip Couture and Smitten Liptint Mousse – Forbidden, Hidden Desires, Poison Apple, Till Midnight, Hypnotized, Enchanted and Bewitched.
If you don't like the trends, definitely skip them! I personally don't feel you need to follow the trends, you can always march to your own drum! But I think there's at least one trend you'll love out of these. I tried to include items that I already own, aka shoppin' my stash. So hopefully you have some of these in your makeup collection as well.

For the easiest of these trends, try the glowing skin or bold lips. They will look good on everyone.

I'm honestly obsessing over lip products lately. Tons and tons of lip products! You saw my recent Fyrinnae lip product haul. I'm waiting on an order from LASplash. I just received my Lip Bar order. I just ordered Jeffree Star Weirdo. And I've got a ton more lip products I want to swatch for you. I think this is good since I can't currently wear eyeshadow.

What beauty trends do you like for 2015? What do you want to see more of?

[inlinkz_linkup id=492054 mode=1]