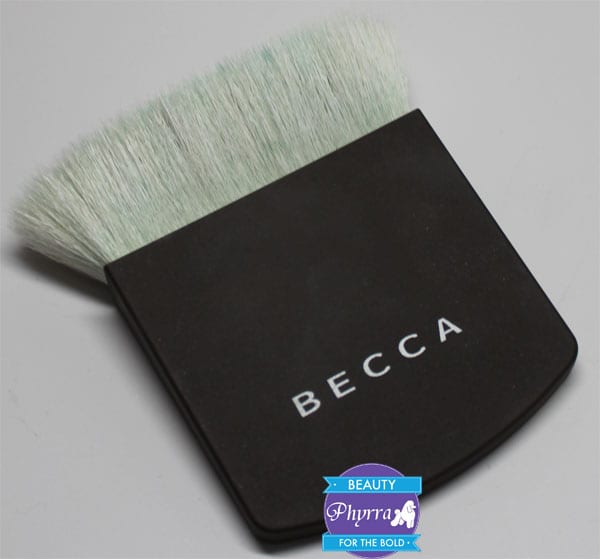 Recently I had the opportunity to try out the Becca the One Perfecting Brush, thanks to iFabbo (#BeccaTheOne). The Becca the One Perfecting Brush is marketed as a multi-tasking miracle brush that takes the place of up to 10 other brushes. The brushes Becca says it replaces are: foundation, powder, contour, bronzer, stipple, blush, fan, and concealer brushes, kabuki, and sponge
PR sample.
Becca the One Perfecting Brush Review
About the Becca the One Perfecting Brush
From start to finish, primer to powder, The One Perfecting Brush can be used with liquids, creams, powders and anything in between. Non-porous, high-quality goat hair allows product to sit on top of bristles rather than absorbing, ensuring a seamless application with no wasted product. It can be used effectively as a foundation brush, powder brush, contour brush, bronzer brush, stipple brush, blush brush, fan brush, concealer brush, kabuki, or sponge.
The bristles are packed in a 3.5 inch horizontal design allowing you to effortlessly and evenly cover larger or smaller surface areas. The density of the brush creates a smooth, even, and airbrushed application every time, taking the guesswork out of brushwork. Flat edges fit the linear contours of your face, while curved corners allow for targeted, more precise application. Long, flexible bristles make a variety of application techniques possible including: targeted application, stippling, blending, contouring, and highlighting.
To apply Foundation – Using the broad side of the brush, sweep foundation horizontally across forehead and then move to cheeks and chin. Finish by sweeping vertically down the nose using the narrow surface of the brush.
To apply Highlighter – Using the narrow surface of the brush, sweep illuminator down the tops of cheekbones and down the bridge of nose.
To apply Contour – Using the narrow surface of the brush, sweep brush under cheekbones, down sides of nose, and around temples.
To apply Blush or Beach Tint – Using the corner of the brush, buff into apples of cheeks using a circular motion and blend out.
Brush care – Wash the bristles gently in lukewarm water with a mild alcohol-free soap or baby shampoo. Don't submerge in water. Don't tug bristles. Lay flat on a towel to dry. Wash at least every 2 weeks if used daily. Never use alcohol-based cleansers.
This brush is made of cruelty free goat hairs. The bristles are free of dye, ensuring they will not lose shape or softness over time, and the unique shape of the handle and soft-touch finish provide complete control during application, allowing you to create your desired look.
Animal Testing Policy
BECCA condemns the testing of any cosmetic products, or any cosmetic ingredients, on animals. BECCA actively participates in collaborative research to prove that other methods are in fact more relevant and reliable. BECCA test its products comprehensively in human clinical trials. All trials are conducted on paid volunteers and neither BECCA, nor any company contracted to BECCA, conducts tests on animals.
Price
$49
Availability
Sephora, BeccaCosmetics.com
Bristles
The bristles are packed in a 3.5 inch horizontal design allowing you to effortlessly and evenly cover larger or smaller surface areas. I experienced very minimal shedding with this brush the first time I cleansed it, using Enkore brush cleanser. After that, I've used Cinema Secrets brush cleanser. I'm pleased with the lack of shedding. You can see that my brush has a slight blue tint from the Cinema Secrets cleanser.
Design
I absolutely love the design of the brush. The handle isn't too heavy or too light. The bristles are densely packed and they have the perfect amount of give. I think the brush is a nice size, which also lets you use it on the body for contouring / makeup work, as well as the face.
My Thoughts
I've used this brush with powder foundation, cc cream, finishing powder, highlighter, contour and blush. In my experience, I could not effectively use it in place of a concealer, sponge, or stipple brush. I think it excels with powder foundation, highlighter and contour. I didn't like it with finishing powder, cc cream or blush. For my face, I just felt like it was too large to use to conceal under my eyes.
While I know they say that this brush is supposed to replace up to 10 brushes, my biggest problem with that is that if it is replacing all of those brushes, you need to spot clean in between (which is what I did with glo Minerals spray brush cleanser; it's made from isopropyl alcohol, oops), or only us it for a single brush function, such as applying foundation. If you use it to apply foundation, then contour, then blush, then highlight, the brush does pretty well, though you may have to wipe it down in between.
I really disliked the finish it gave my face when I used it with my favorite CC cream (Cover FX). It really looked streaky to me, unlike the beauty sponge I typically use.  I also felt like it soaked up a lot of product, almost like I ended up with more product on the brush than my face! When I applied a setting powder on top it ended up looking cakey. I really dislike using a cream then a powder product with this brush. It may work better with other CC creams or liquid foundations.
If I stuck to just powders while using the brush, such as applying a pressed or loose mineral foundation, then following up with a contour powder, it looked great and I was really happy with the results. The brush does a fantastic job, in my opinion, of contouring / bronzing.  You just suck in your cheeks, line the brush under your cheekbones and then apply. Then you blend with it. Done!
If you're looking for a multi-tasking brush that will apply your powder foundation, powder contour, powder blush, and powder highlighter, all in one go, this is the brush for you. It can replace all of those brushes, in my opinion. I'm a little less confident in its ability with CC Creams and liquids, but that's just my personal experience and I know several of my friends have sworn that this brush is a Godsend and does work wonders with their liquids and creams. I can easily see why this has quickly become a cult favorite for many people.
For the price of $49, you're replacing at least 4 brushes with a high quality brush that I think will be great for travel, so I'd say this is a pretty good value for the price, if it will replace all of those other brushes for you.
What do you think of the Becca the One Perfecting brush? Do you like multi-tasking beauty products? Let me know!
Last Updated on