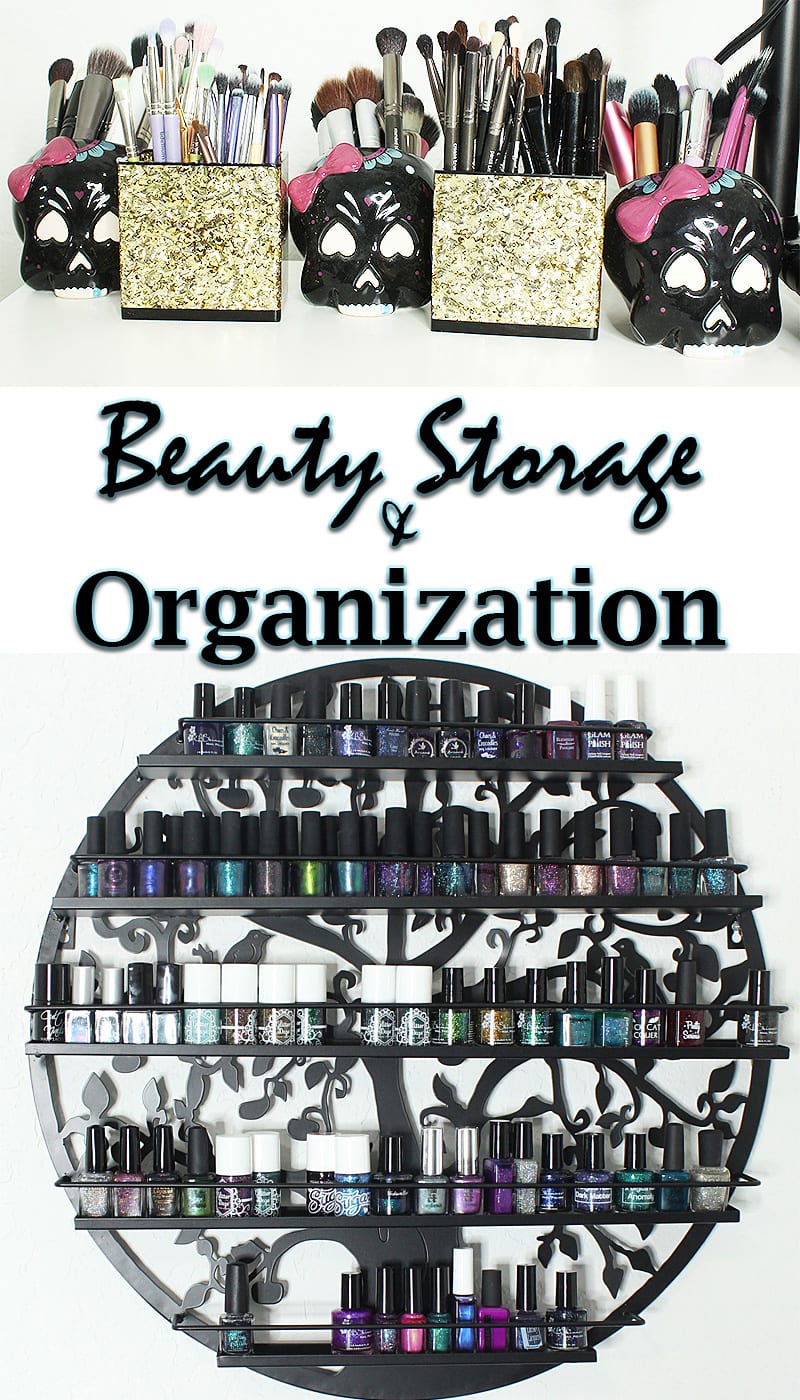 Happy Caturday! So recently I reorganized, purged, and updated my makeup collection. I wanted to share my new beauty storage and organization tips with you.
My New Beauty Storage and Organization Tips
PR + purchased by me.
I was faced with the reality of needing to buy yet ANOTHER Ikea Alex, so rather than buy a 3rd tall Alex, instead I went through all the drawers of my current storage items and created a giveaway to friends box. I did this in every single storage device that I have. By the time I was done, I'd created a massive mound of makeup. I had over 3 boxes worth of stuff to give away to friends. Please keep in mind, I have a massive collection because I've been blogging for almost 8 years. It is not normal to have this much makeup. Part of why I am constantly giving things away to friends is because I know I will NEVER use it all up and I'd rather it go to someone who will use it. So please don't think that having this much makeup is normal or something that everyone needs to do!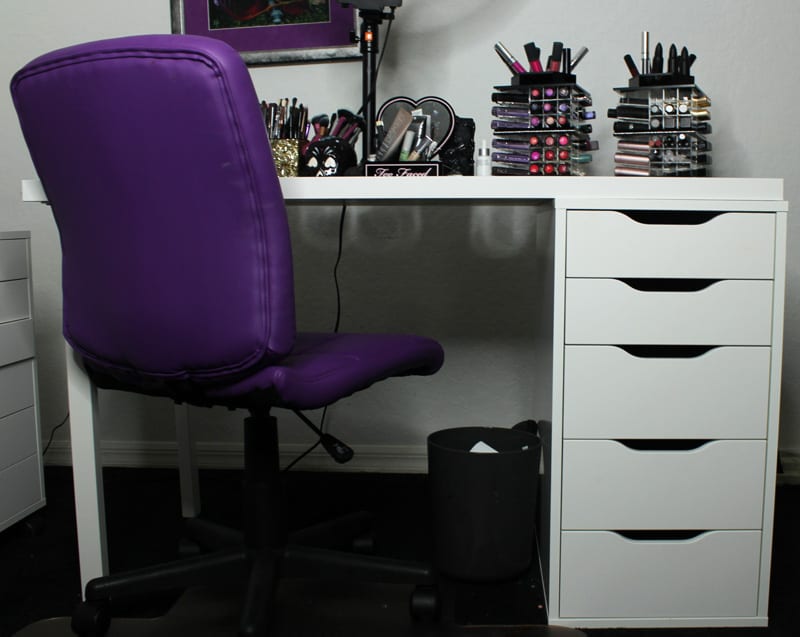 I have an Alex Desk and purple chair. This is the desk I work at during the day.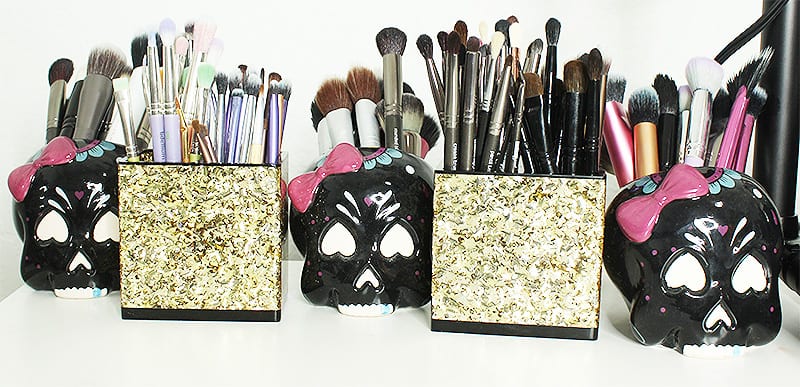 I reorganized my makeup brushes. I created a pile and put my least used brushes into it. Then I reorganized my brushes by type.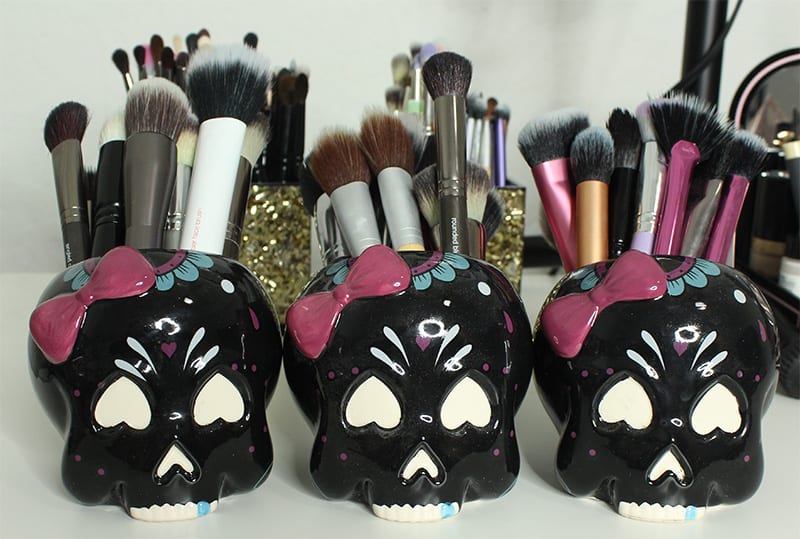 I found these Sourpuss Candy Dishes on Amazon and decided that they would be really cute to use as unique face brush holders. My face brushes are Real Techniques, ecoTools, Makeup Geek, Urban Decay, Cover FX, It Cosmetics and Wayne Goss. I have the most from Real Techniques and Makeup Geek. I really love these! I have them organized by the brushes I use the most on the right and the brushes I use less frequently on the left.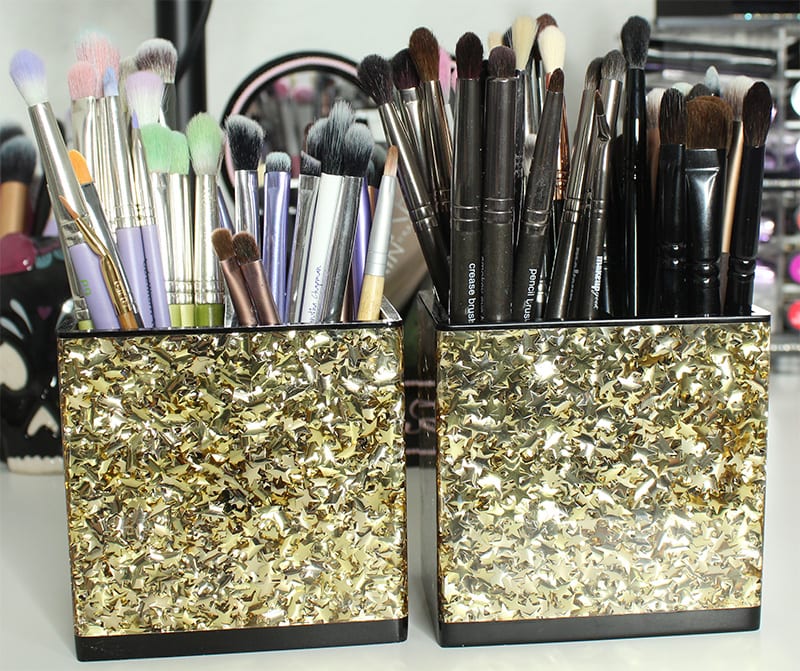 I bought these Sonia Kashuk brush holders at Target and I love them because of the stars. Sure, I wish they were purple stars but they're cute as is too. They each have two compartments. My brush holder on the left has bdellium tools, It Cosmetics, Cover FX and Tarte in the left side. The right side has Real Techniques and ecoTools. The holder on the right has Makeup Geek, Sigma and Sugarpill in the left side. The right side has Goss, Urban Decay, Illamasqua and Kat Von D. I use the double ended UD brushes a ton. I went through my eye brushes and figured out which I was using the most and purged the ones that I rarely touched. I really should do that again to ditch the ones I rarely use because I've bought a ton that are good for hooded eyes and I use those all the time now.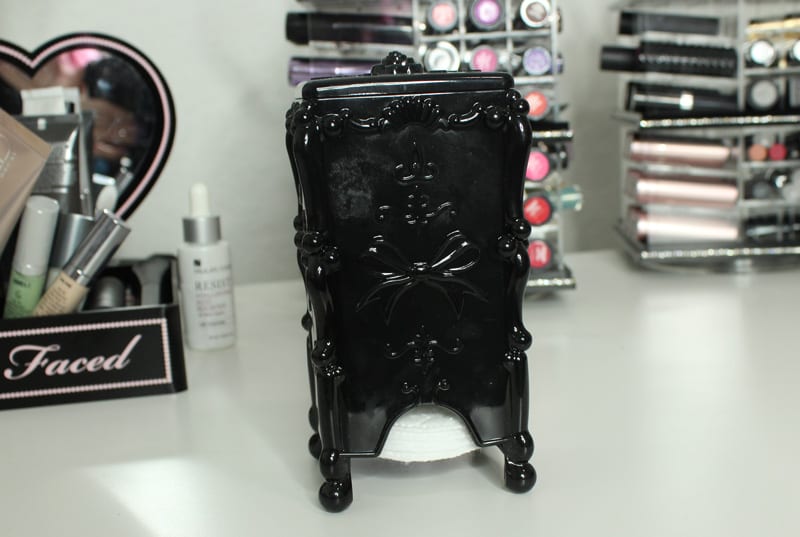 I keep cotton pads in here for makeup removal.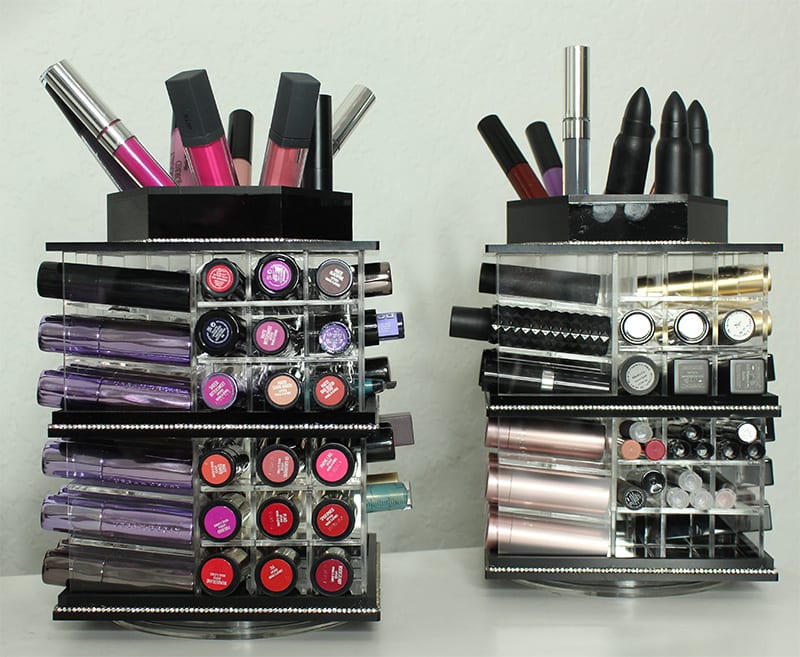 I bought these Zahra spinning lipstick towers from Amazon. They each hold 81 full size lipsticks, though as you can see I can fit 2 to 3 of the slimline lipsticks into one container. I really like this better than what I used to use because it gets me to look at and wear more of my collection (except when I'm stuck on a HOT PINK EVERYDAY kick). I think 1 of these towers would be enough for your average makeup lover.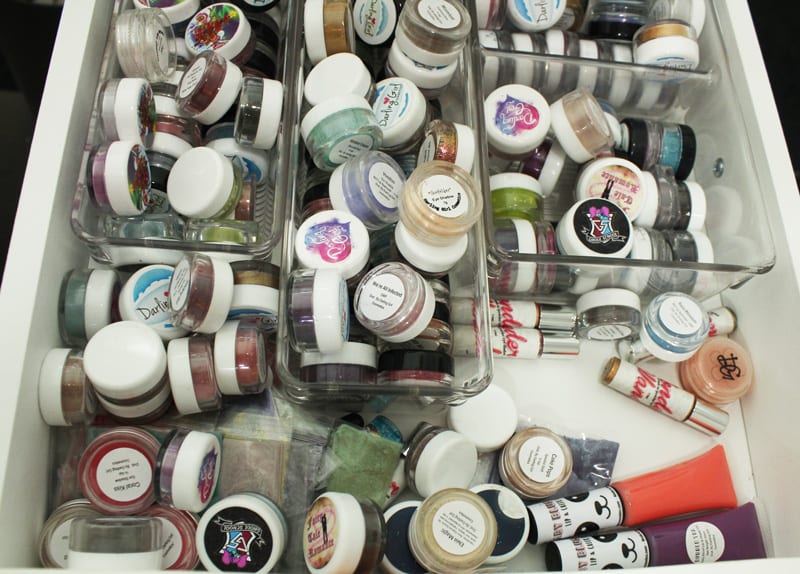 My Darling Girl drawer inside my desk.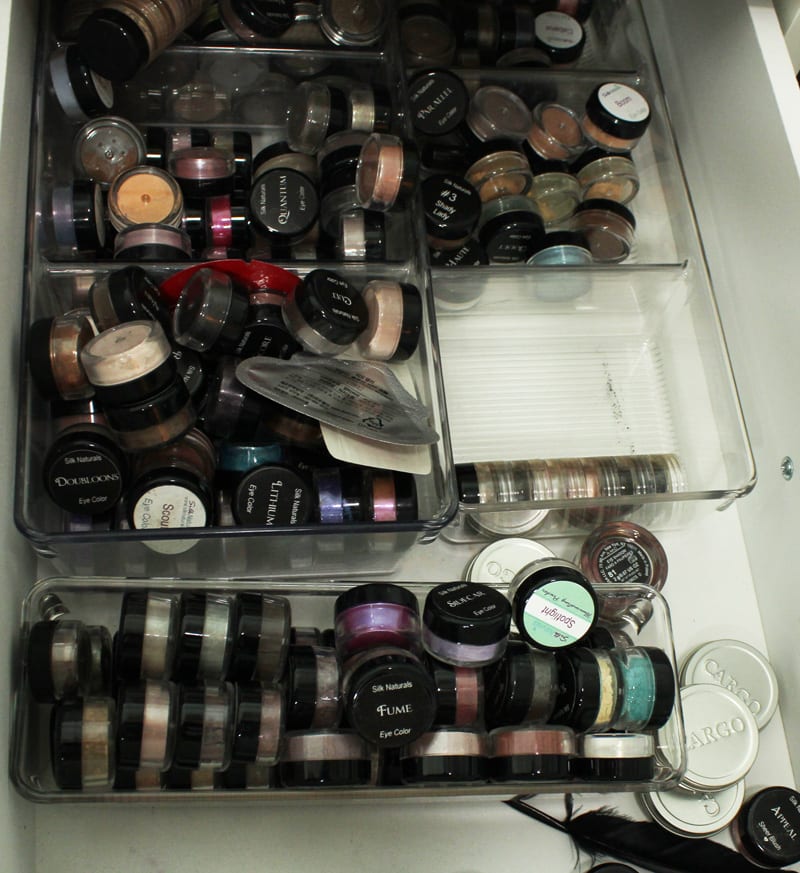 My Silk Naturals drawer inside my desk. All of the drawers in my desk are filled with indies. I also have Fyrinnae, Hello Waffle, Geek Chic, Aromaleigh. These clear plastic organizers fit inside these drawers perfectly making it easy to store eyeshadows.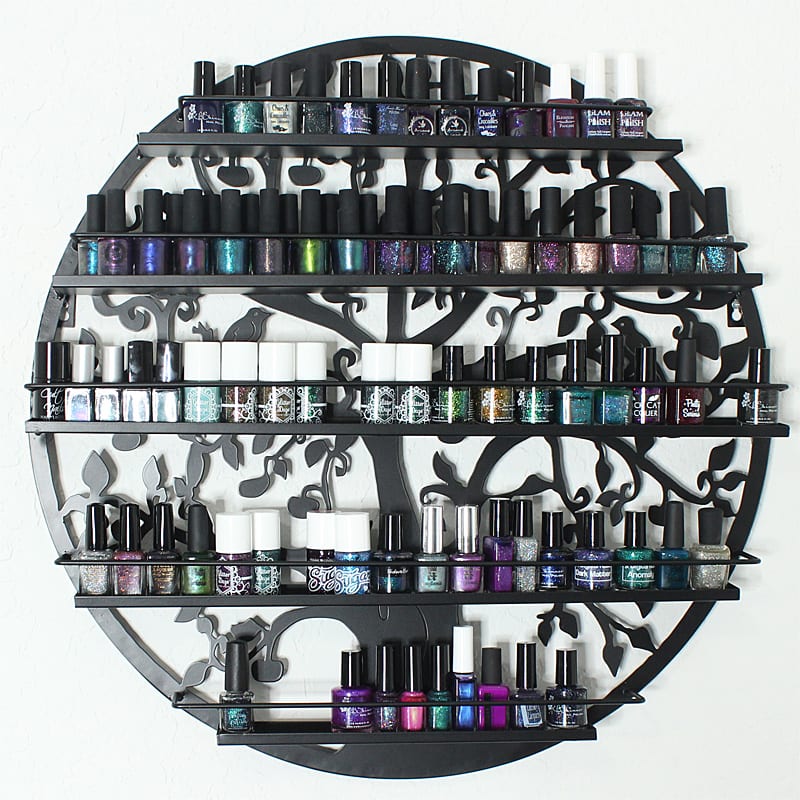 I LOVE my wall mounted nail polish rack! This is another Amazon find (can you tell I shop on Amazon all the time?). I was trying to find something sort of dark and creepy and this was the closest I could find. I love it and this is where I keep my favorite bottles of polish. For your average makeup lover, this polish rack would be overkill. For your polish addict, it's probably not big enough. For me, it's perfect because I can put all the polishes I want to be able to easily find on it.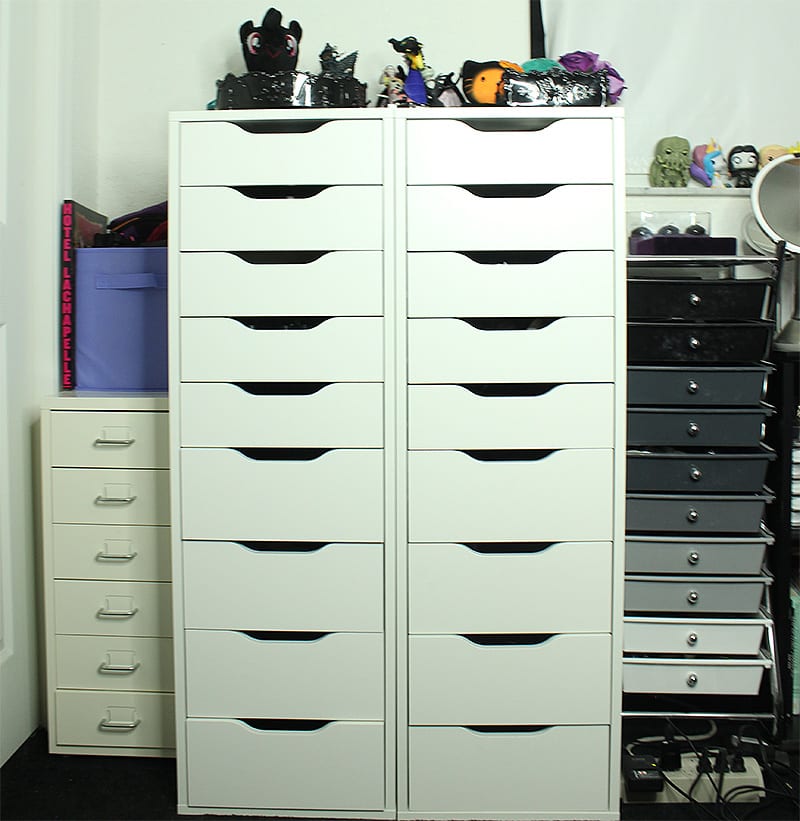 So here we have, from left to right, an Ikea Helmer, 2 Ikea Alex talls, and a 10 drawer organizer. I used to have 3 of the 10 drawer organizers. The Helmer is currently empty. The Alex talls are half full, and the 10 drawer organizer has 8 out of 10 drawers full. I purged through these drawers very heavily, pulling out things I hadn't used in a long time and putting them into my give away box. It really felt good to give away things to friends.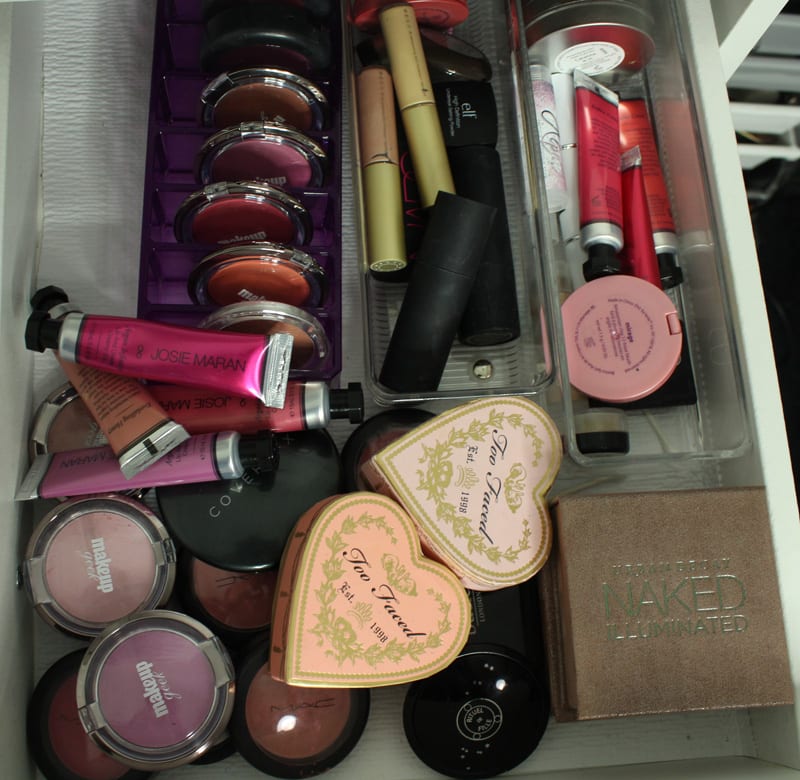 This is a blush drawer inside one of the tall Ikea Alex.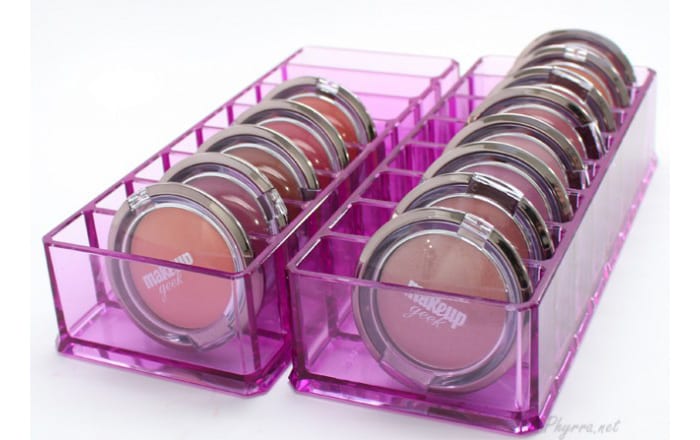 The purple blush organizers are great as they make it easier to store blushes or other compacts.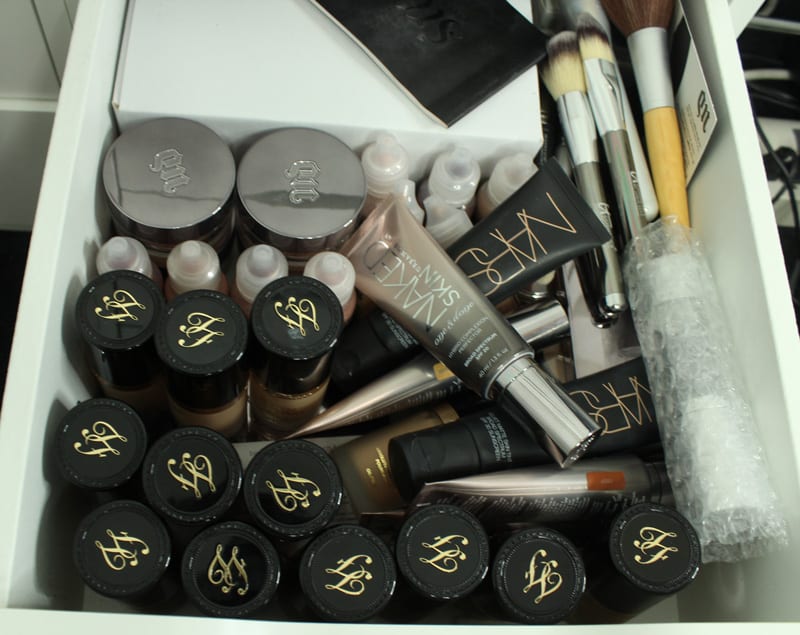 This is a foundation drawer inside one of the tall Ikea Alex. When I have friends who ask me to do their makeup (even though I am NOT a makeup artist) this is where I look for foundation.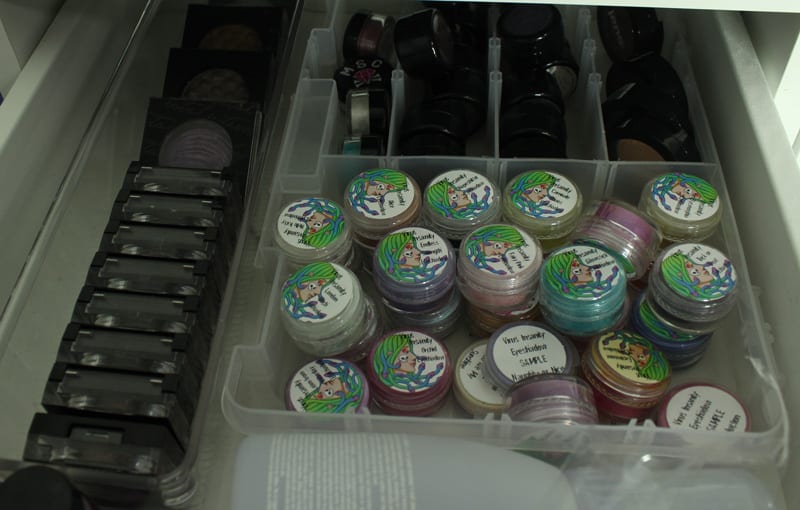 This drawer has Prestige eyeshadows, Virus Insanity, Morgana Cryptoria, and a bottle of Zoya Remove.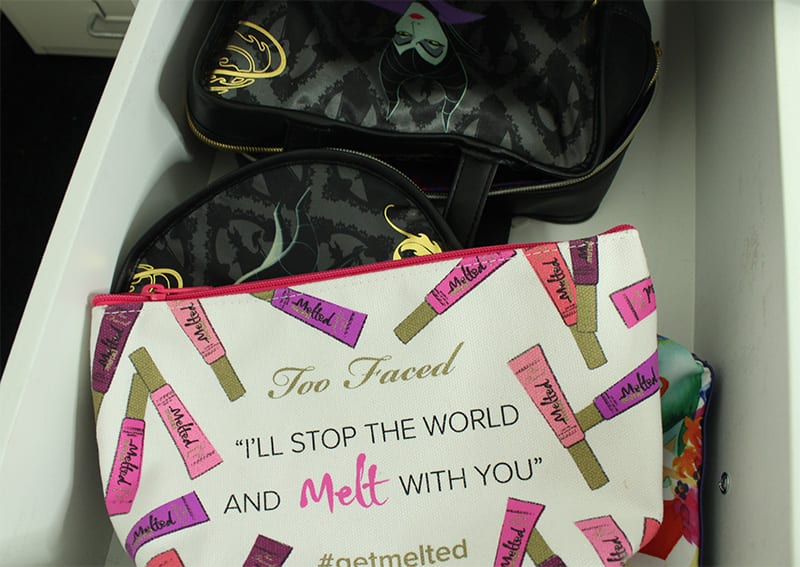 This is my makeup bag drawer with my favorite bags. I love this Too Faced bag. I'm also quite fond of my Maleficent and Ariel bags.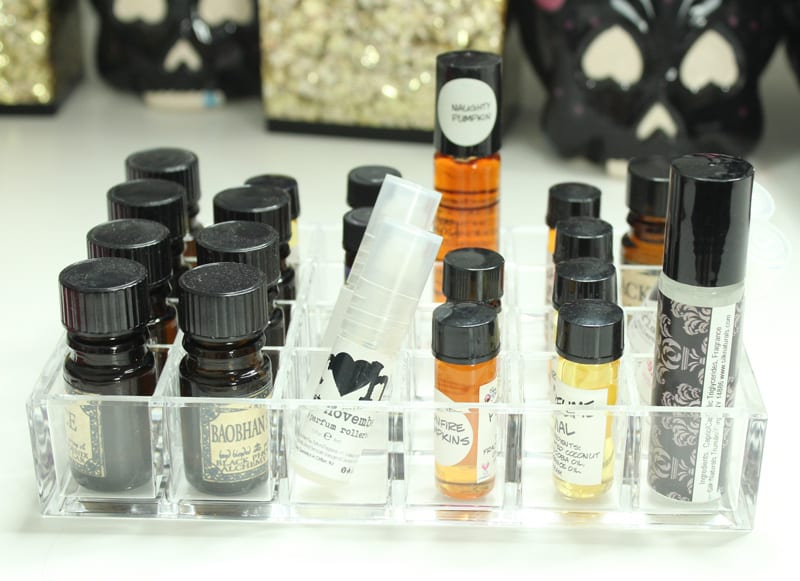 I repurposed my acrylic lipstick organizer trays into perfume vial trays. These are also inside the Ikea Alex tall. I think this is a great way to store indie perfumes.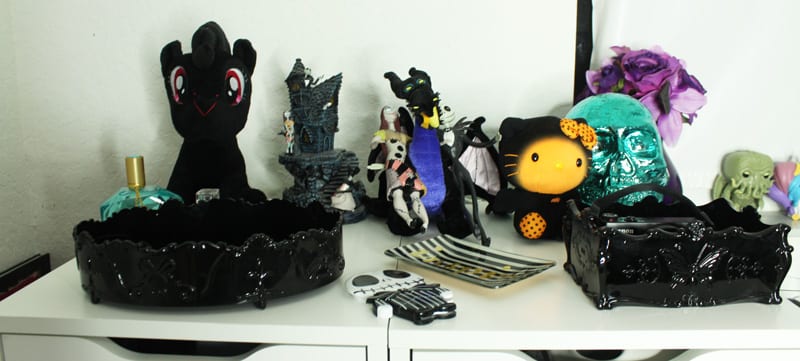 On top of my Ikea Alex talls I have a mix of cute gothic stuff. My Voltaire pony, Nightmare before Christmas, Bat Hello Kitty, Maleficent Dragon, my teal light up skull and my black tray organizers.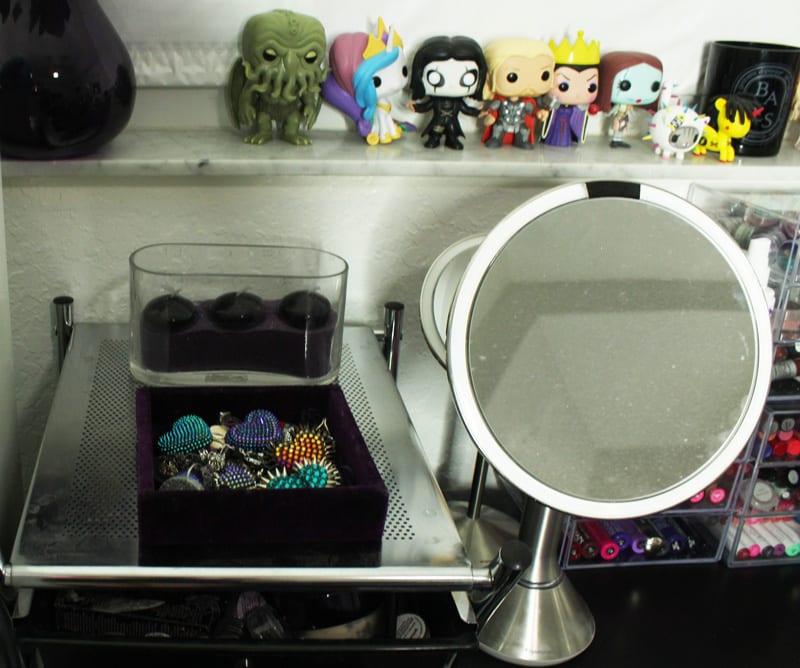 On top of the 10 drawer organizer I keep my velvet lined tray with my Bunny Paige hearts. Both of my Simple Human Mirrors are on my short bookshelf to the right of it, though I normally keep the large one on my desk (need to clean it!) and the small one stays where it is. You can see my cute funko pops on the window sill.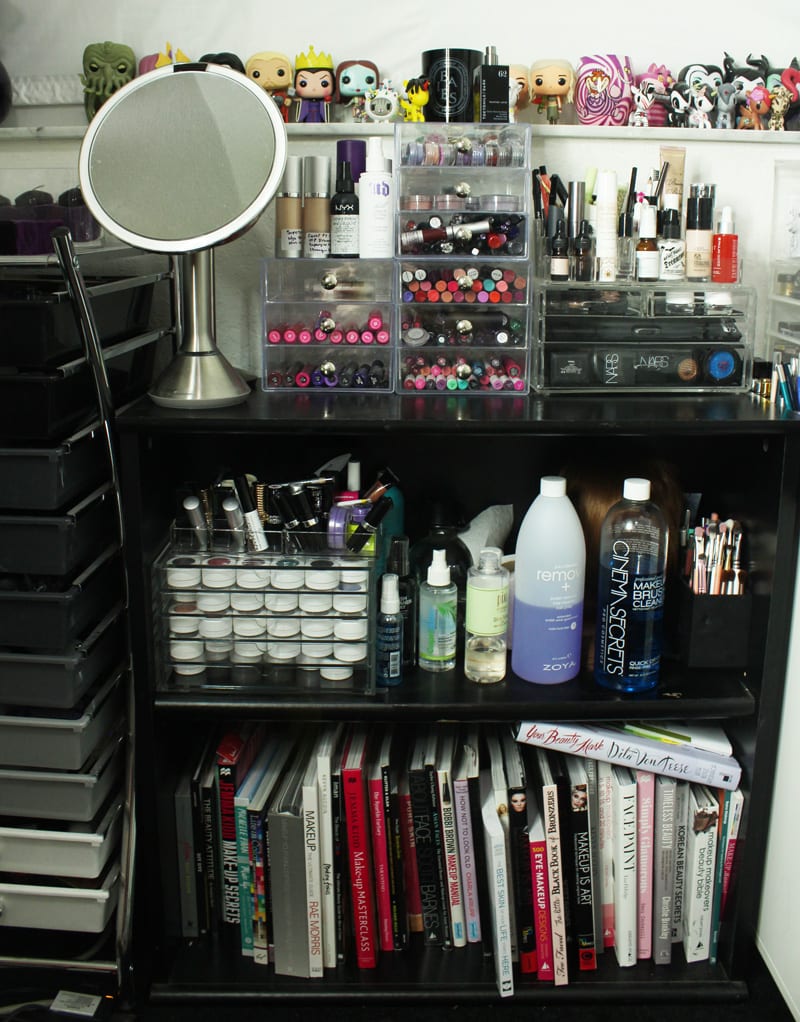 I have a short bookshelf in my office. I keep my makeup books on the bottom shelf, though I'm clearly out of space. The top shelf of the bookshelf has a muji organizer on it with my Colour Pop eyeshadow collection. It has my Cinema Secrets Makeup Brush cleaner (economy size and travel size), a big bottle of Zoya Remove, a head to practice hair braiding, and some extra makeup brushes. (Check out my makeup book collection!)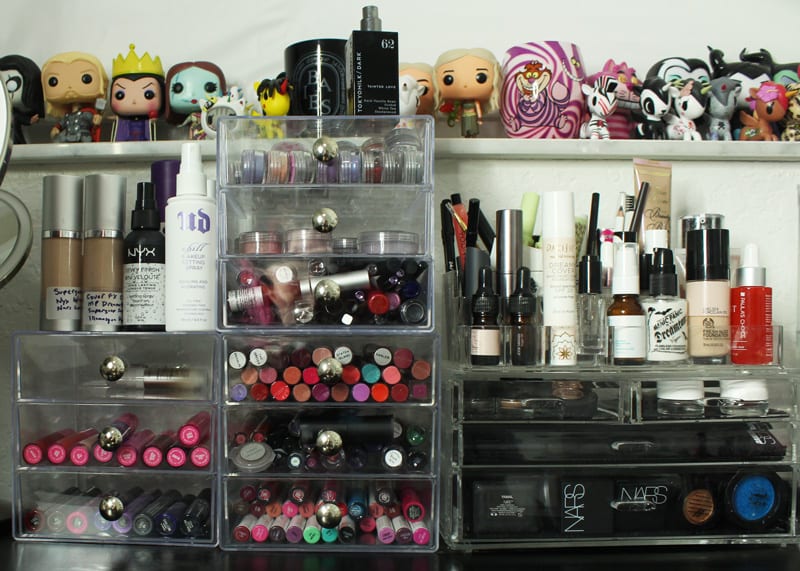 On top of the bookshelf I have several clear 3 drawer organizers. In the 3 drawer organizers I have a Jeffree Star Velour Liquid Lipsticks drawer, a Nyx Liquid Suede Cream drawer, a Colour Pop drawer, 2 indie lipstick drawers, an Ofra drawer, and 2 Aromaleigh drawers. To the right of those I have a Melody Susie organizer. All of my NARS eyeshadows, Ardency Inn, Kat Von D Metal Crush, and brow products are inside there. The Melody Susie organizer is great for those of you with limited counter space as it really holds a ton of products of different shapes and sizes. An average makeup collection could easily fit into one.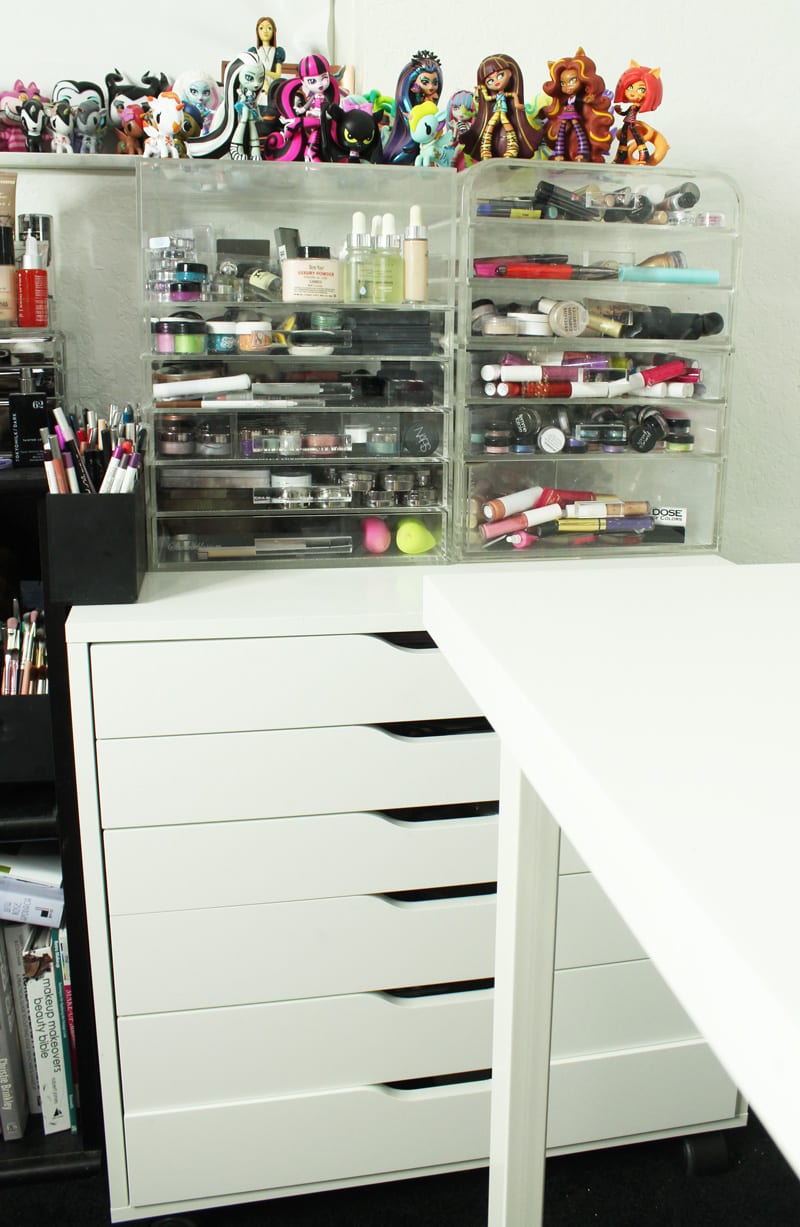 Next to my bookshelf and desk I have a short Alex. I keep my eyeshadow palettes, my most reached for blushes, foundations, setting powders, highlighters etc in it. 2 of the drawers in it are empty.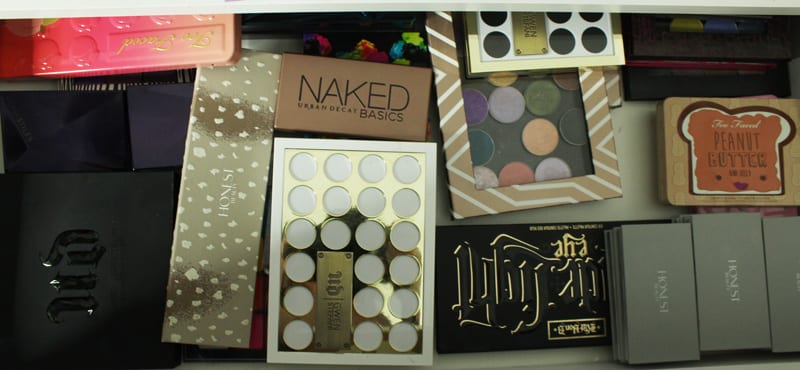 My most used eyeshadow palettes drawer. I have my Urban Decay, Makeup Geek, Kat Von D, Honest Beauty, Viseart, and Too Faced in here.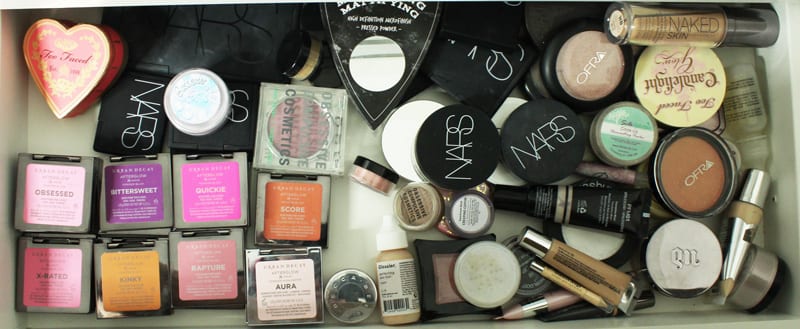 My blushes, highlighters, setting powders, foundations, and concealers. The things I use the most are on the left side. It's mostly the UD Blushes, UD highlighters, Too Faced Sparkling Bellini, and NARS Light Reflecting Loose Setting Powder. I keep them where I can easily reach them.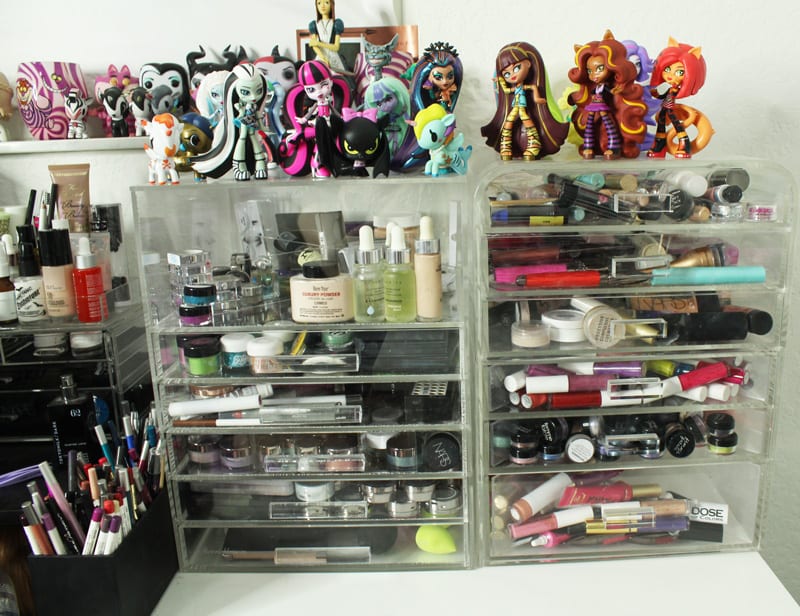 On top of my short Alex I have a Sherrieblossom Organizer and an eDiva Princess. If you are an average person with a MASSIVE makeup collection, one of these would be a great choice for you. On top of mine are all of my Monster High Vinyls and tokidoki unicornos. The one on the left has my Makeup Geek pigments, OCC Pigments, Urban Decay collection and Sugarpill collection. The one on the right has a ton of lip products including Dose of Colors, OCC RTWs, OCC Lip Tars, Too Faced Melted Lipsticks, UD glosses, etc. I also have my Femme Fatale and Meow Cosmetics eyeshadows in one of those drawers. To the left of those I have an e.l.f. Cosmetics 3 slot brush organizer. I have my lip pencils and eyeliner pencils in it, along with some liquid lipsticks in the back. I love these and have 2 more in storage that I'm not currently using.
How to Cut Down
How I cut down my makeup collection was to put things I never use, was never going to use again, or no longer suited me into a box. Then I went through and looked at the things I used rarely, to determine if they were worth holding onto or if they should go as well. Things that I thought might go bad before I had a chance to use them also went. Things that I didn't think I would need (even for comparison swatching), also had to go. I went through each drawer systematically, trying to determine why I was holding onto something. If I thought it would be beneficial to me to keep it for future posts, I did. If not, and I wasn't going to wear it, it had to go. And really, I need to go through everything again. (Edit: After writing this, I purged another 2 boxes worth of makeup.)
Save Money with a Dupe
Now, I love the Ikea Alex, but I hate that they were only available in white when I bought them. I didn't take the time to paint them or customize them. I keep thinking at some point I'll have the time to paint them (either black holographic or black glitter or something), but so far it hasn't happened yet. I do want to point out that they're pricey. So for a more budget friendly option you should check out the Ikea Alex Dupe from Michael's. My friend Laura from My Newest Addiction has great tips about it. For both the Ikea Alex and the Michael's knock off, the Container Store acrylic lipstick organizers and drawer organizers are the best way to make the most of the space inside the drawers.
Make the Most of Your Space
For someone with limited counter or storage space, your best bet is the Melody Suzie organizer. It's also the cheapest of all the 'larger' acrylic organizers, making it my most budget friendly option.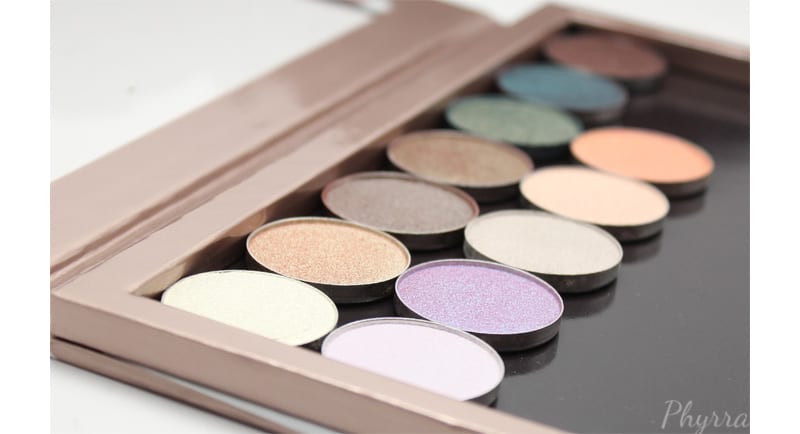 Depot eyeshadows and blushes into a Z-Palette
If you have a ton of eyeshadow singles and you want to save space, why not depot the eyeshadows into a Z-palette? This is how I store all of my Makeup Geek eyeshadows. I really need to depot all of my NARS into one too.
Wall Mounted Racks
Wall Mounted racks for nail polish or perfume lovers also help to save on space. I know a lot of aromatherapy people looooove the wall racks. You can even use a spice rack for large perfume bottles.
DIY Brush Holder
If you can't find a brush holder you like, you can always go to Michael's and buy a large rectangular vase. Some people put coffee beans into them but I used decorator sand or decorator stones in the past to hold the brushes in place. This option is often cheaper than buying a brush holder too. You can also take old 3 wick candle jars and use those for brushes or lipsticks depending on the size.
DIY Magnetic Makeup Board
You can make a magnetic makeup board for the wall and save space by attaching magnets to the bottom of your makeup and then putting it on the board. See how here!
DIY Floating Shelves
You can buy floating shelves from Ikea or other places and store your items on those shelves to save space.
DIY Makeup Storage with a Shoe Organizer
If you have really limited space, an over the door shoe organizer that is clear or see through mesh might work really well.
Spinning Storage
A 2 tier spinning lazy susan can make for useful storage for makeup or hair products.
Palette Storage
If you want a nice, clean way to store eyeshadow palettes on your vanity, a letter sorter from the Container Store is a really nice option.
For more organization tips, check out my 10 Organization Hacks for Beauty Lovers!
More To See