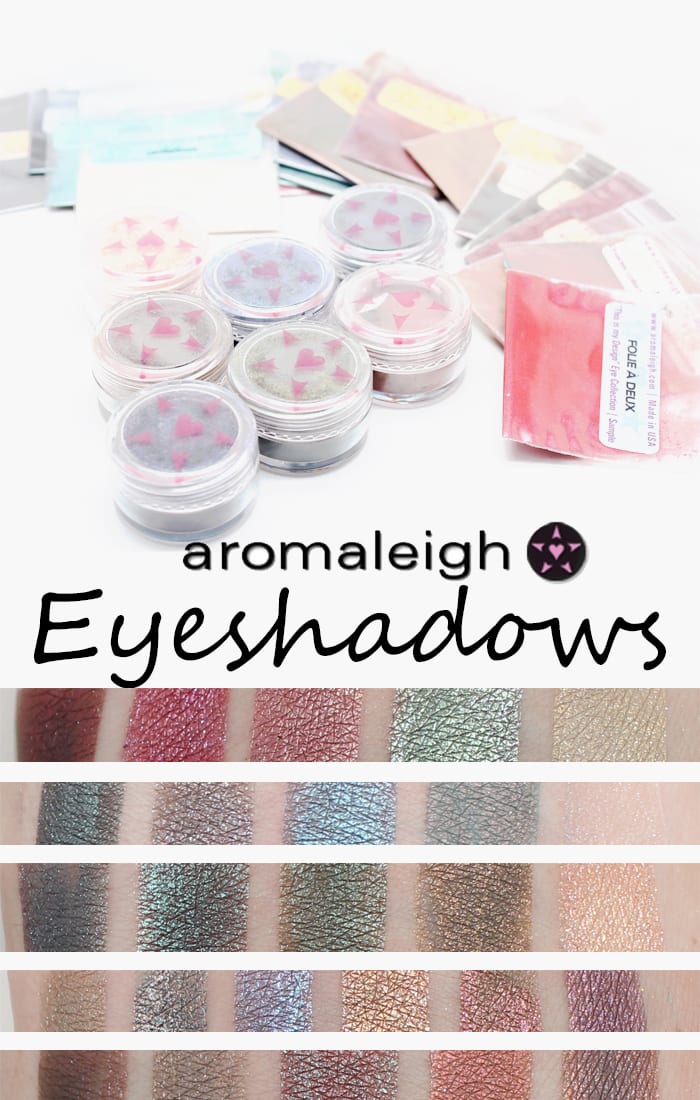 Late last year I purchased several Aromaleigh eyeshadows. (I was enabled by Blix's gorgeous eyeshadow looks) I also received a ton of samples. I wanted to share them with you today. I purchased full sizes of Calcabrina, Barbariccia, Cagnazzo, Draghignazzo, Oscilla and Ursula. Some of these shades are retired / discontinued and some shades are in the process of being reformulated. These are very complex eyeshadows, so they perform best with a sticky primer or mixing medium on top of primer.
Aromaleigh Eyeshadow Swatches
This is what was in this IG video.
Where to Buy
Aromaleigh
Price
$1 – $6.50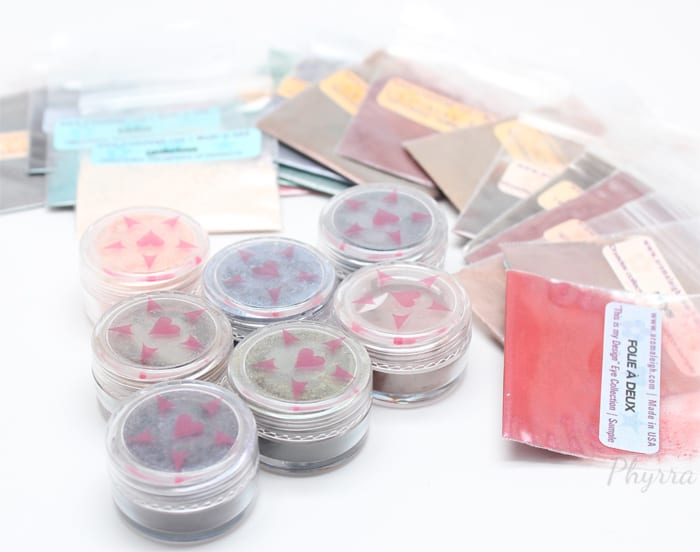 I swatched these shadows with Notoriously Morbid Shadow Bind and bdellium 777 brushes. The first 5 eyeshadows I swatched look a big strange because I used my finger to spread out the shadow bind. The rest of the shades I used the doe foot to spread the shadow bind.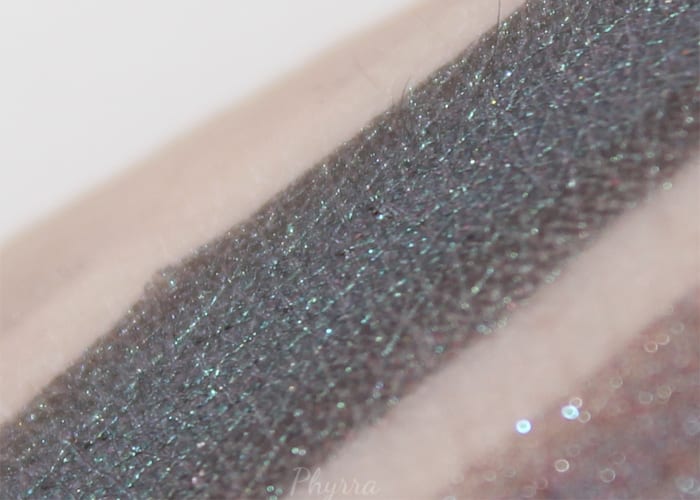 Ravenstag
a very rich and chromatic black, with vivid duochrome effects that range from chartreuse to green to teal to blue. It also has brilliant violet sparks in it.
My Thoughts
Soft black base with green shift and hints of blue. I like this one. This makes a great liner when foiled.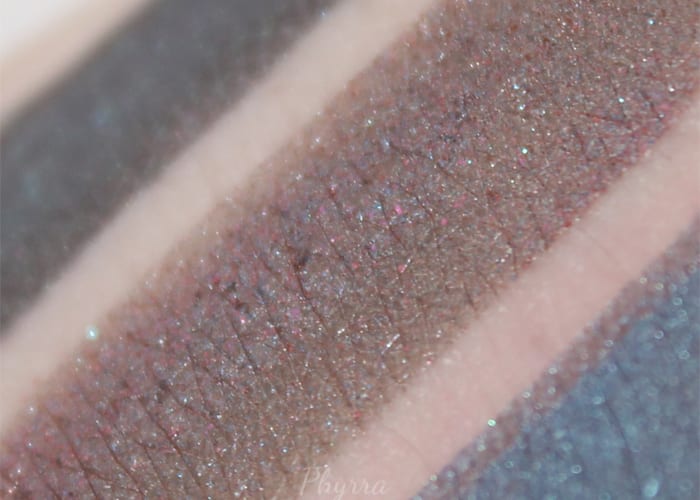 Krampus
it's a cool greyed blue that sometimes shifts more blue, while other times more purple. It has a soft aqua iridescence and brilliant red sparks! Our Krampus is ironically vegan AND lip safe!
My Thoughts
Deep grey base with grey-lavender shift and blue sparks. You can see the red sparks in a close up but I don't really notice it on the eye. Really interesting. Makes for a great crease color.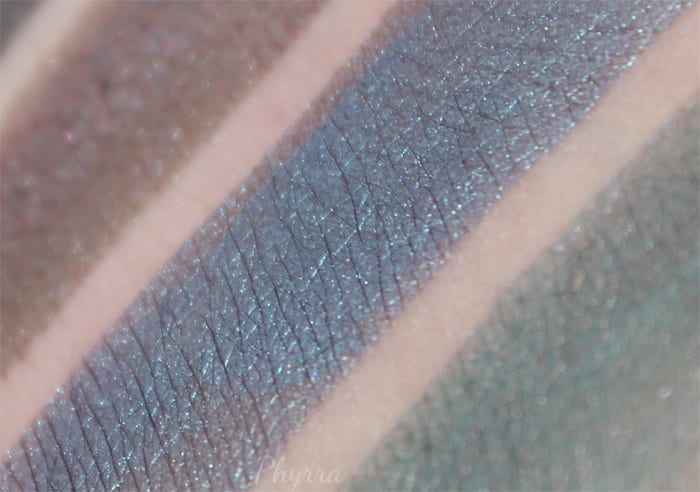 Ursula 
a deep purple with vibrant teal glow
My Thoughts
Deep greyed grape purple with bright teal blue iridescence. This is really pretty and does remind me of Disney's interpretation of Ursula.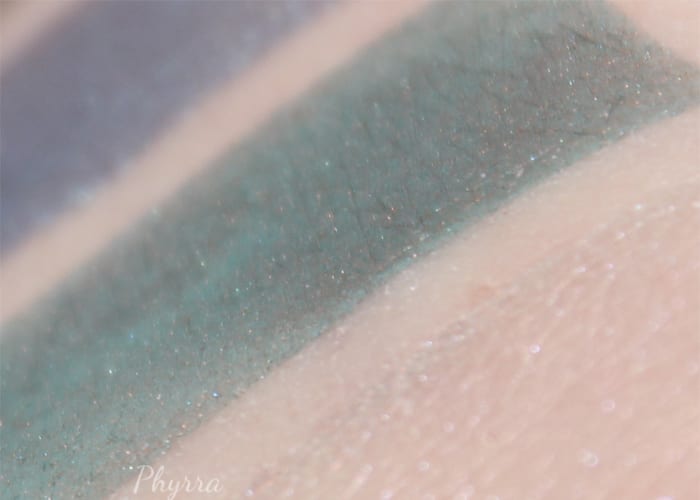 Kirke
a deep muted teal satin finish base with a very strong metallic copper highlight duochrome.
My Thoughts
Deep ocean green with copper iridescence.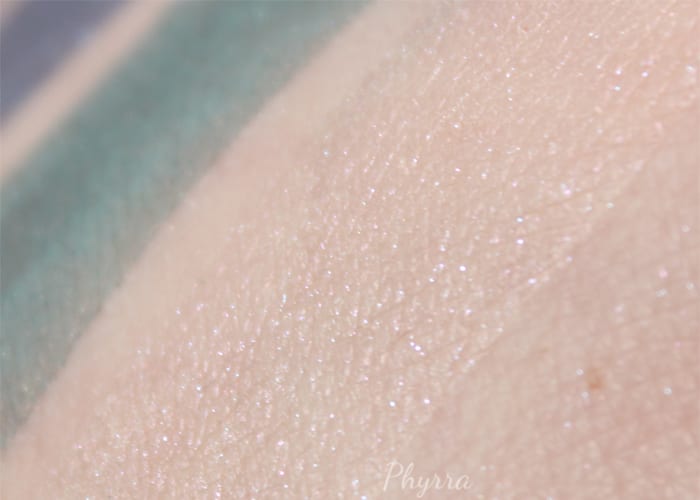 Galatea
a satin-finish pale cream, with a strong pink/violet iridescent duochrome effect.
My Thoughts
Pale creamy beige with lots of pink and violet iridescence and sparks. This is a great highlighter.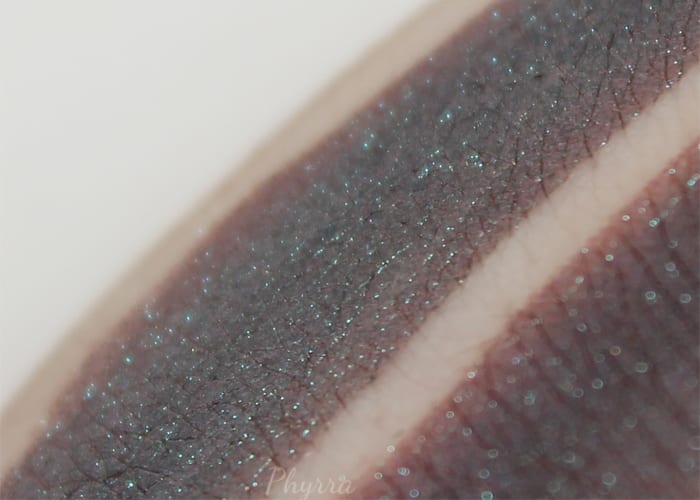 Calcabrina
an intense duochrome shade- the base is a very deep brown/violet plush matte, with a vivid color traveling teal/blue multichromatic pigment.
My Thoughts
Deep brown with plum undertones base and strong teal shift. This would make a nice outer lid or crease color.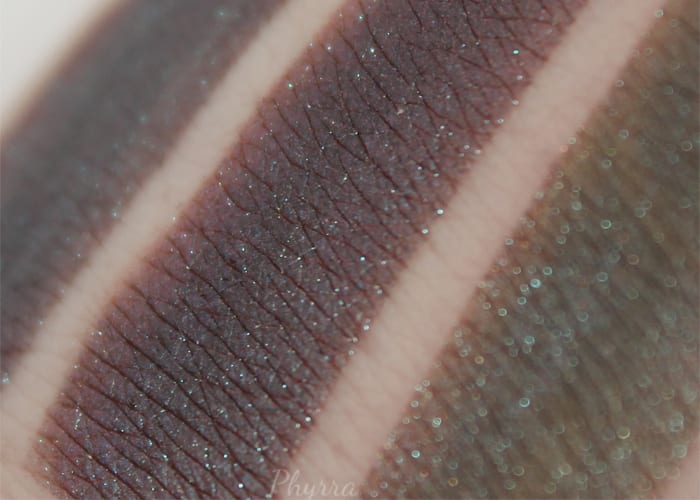 Cagnazzo
a deep purplish black plush matte base that flashes magenta in certain lighting conditions. This is accented by a strong violet to aqua color traveling multichromatic effect.
My Thoughts
Deep charcoal purple with strong blue to violet shift. This would be fun as a wash of color on the lid and crease.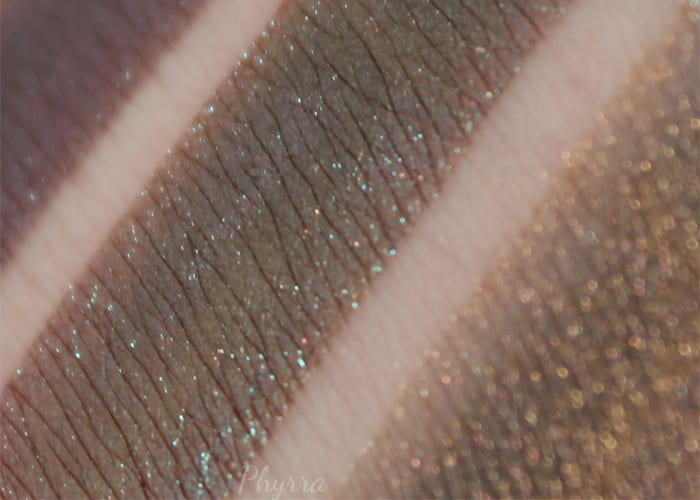 Draghignazzo
a deep taupe plush matte base. In other light, this base appears more grey.
My Thoughts
Deep taupe brown with strong turquoise shift. This is a really cool shade that could be eye catching as a single wash of color.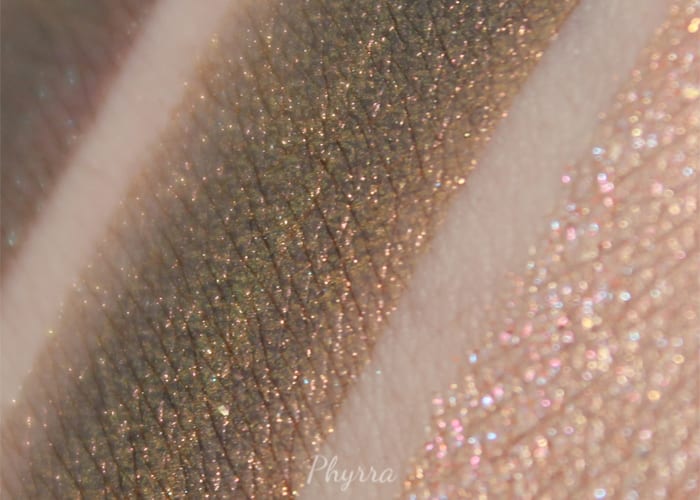 Barbariccia
a muted/greyed dark brown/green "breen" plush matte base that appears more greenish in sunlight and more brownish under indoor lighting. This color has an intense multichromatic pigment effect which can show gold to red to green iridescence.
My Thoughts
deep brown base with hints of green and strong orange-gold to red iridescence. This really reminds me of some of the dinosaurs from Arc. The green is more visible to me from angles. Yet another stunning shade.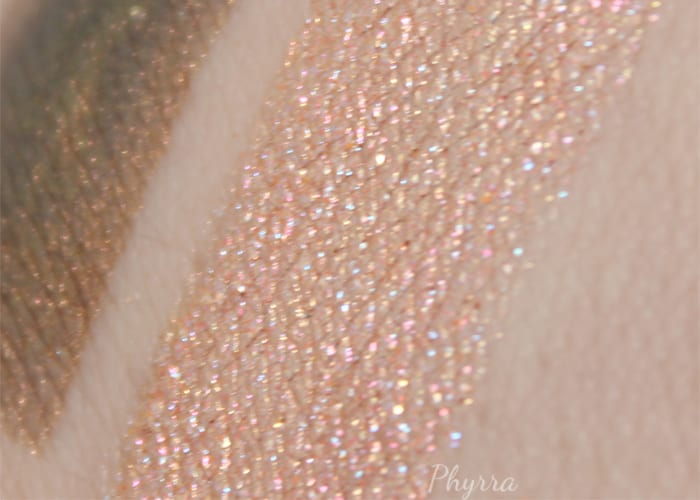 Oscilla
a exquisite shimmering peach with oodles of icy blue, pink, copper and gold color traveling sparkles.
My Thoughts
Light peach that turns copper at the side and stunning sparks of blue, pink, copper and gold. Seriously, this is a color everyone needs. It's amazing. It's perfect for putting on the lid to open up the eyes. It's super sparkly so it really benefits from a sticky base.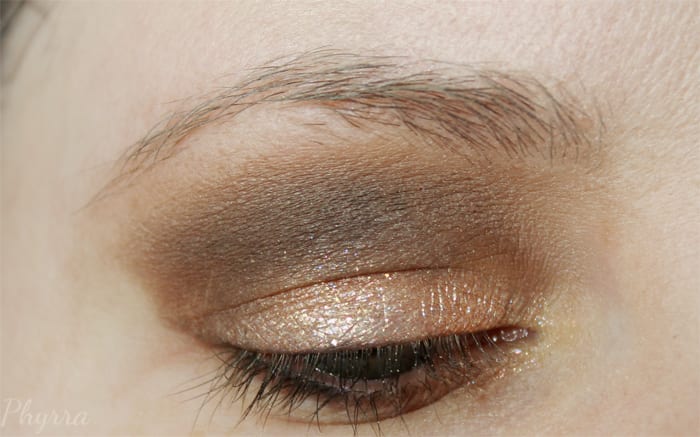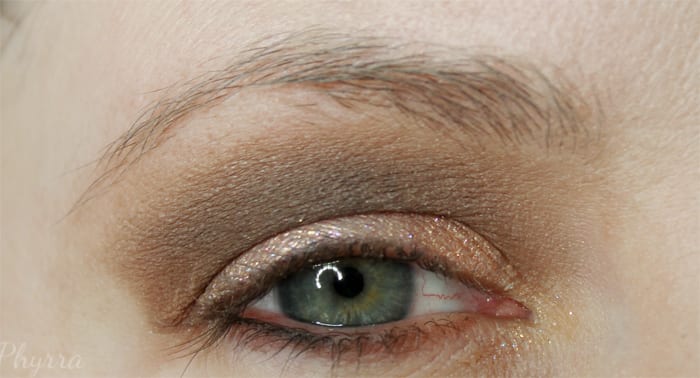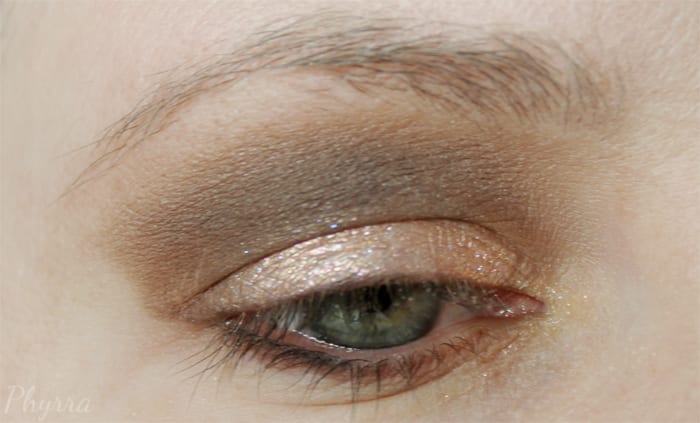 You can see Oscilla on the lid in the look above.  The rest of the look is crap but Oscilla really shines.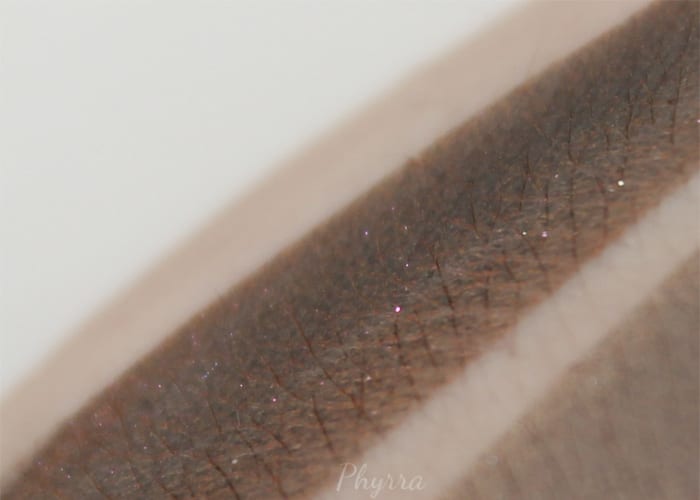 Kraneia
a deep breen (brown-green) with a strong red to violet duochrome, inspired by the painting "The Dryad" by Evelyn DeMorgan.
My Thoughts
Deep charcoal brown base with hints of green and red iridescence.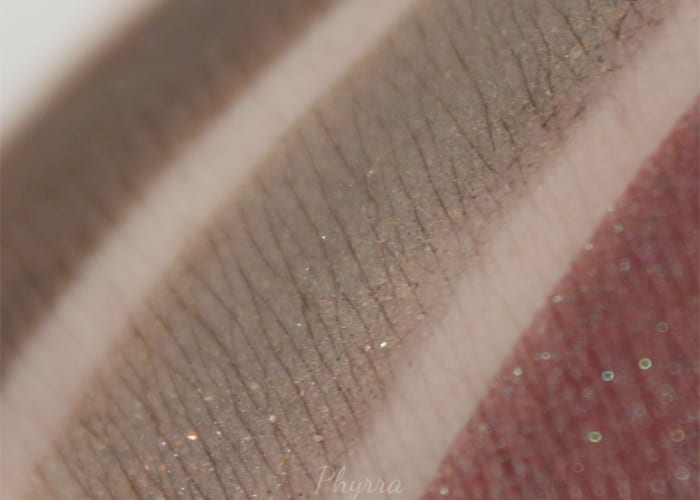 Gryphon
A very complex gray with khaki undertones, gold to pink multichrome highlights, and vibrant bronze and coppery sparks.
My Thoughts
Midtone grey with pink sparks and golden pink iridescence. This would make a perfect work-safe wash of color.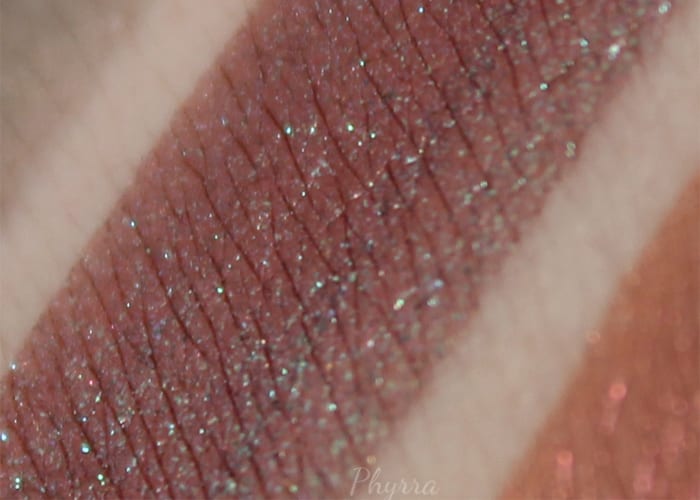 Cthulhu
a deep mauved red/chestnut with a strong green/aqua duo chrome and brilliant green sparks
My Thoughts
Burgundy wine base with turquoise blue iridescence and green sparks. I love that it's a Cthulhu color. Super sparkly.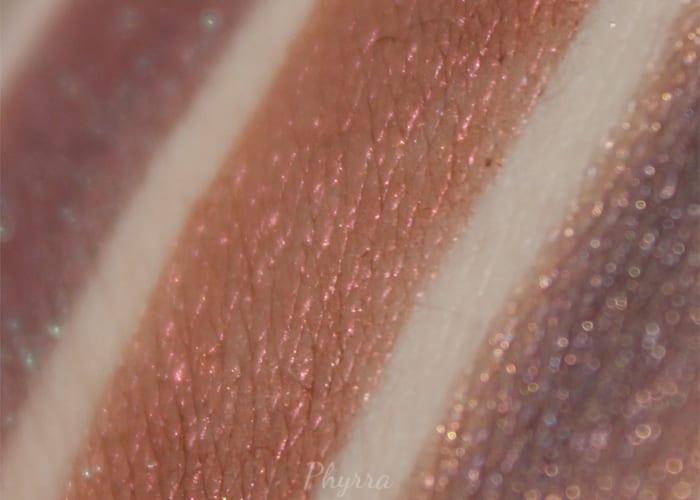 Nemesis
a muted tan satin finish base with a rich metallic copper/red highlight.
My Thoughts
Midtone brown with orange tones with a burnished red iridescence, from an angle you see a copper sheen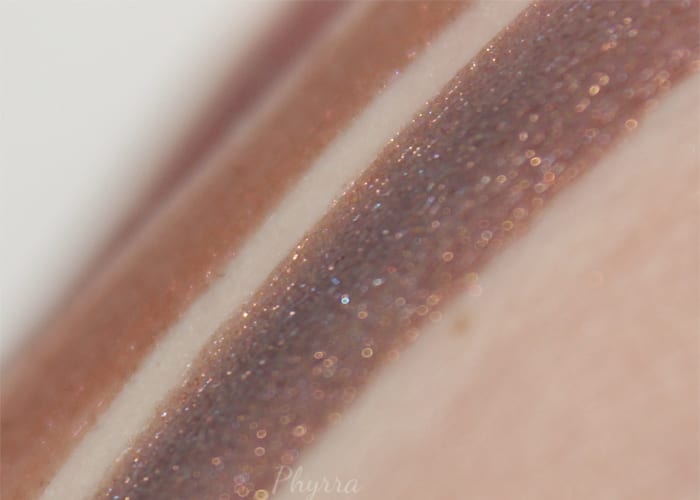 Pitys
a chestnut-purple plush base, with color shifting effects of chartreuse to gold to green.
My Thoughts
Deep warm brown with purple tones and copper and gold iridescence, from an extreme angle you'll see chartreuse-gold. This would make an awesome liner or smoky eye color.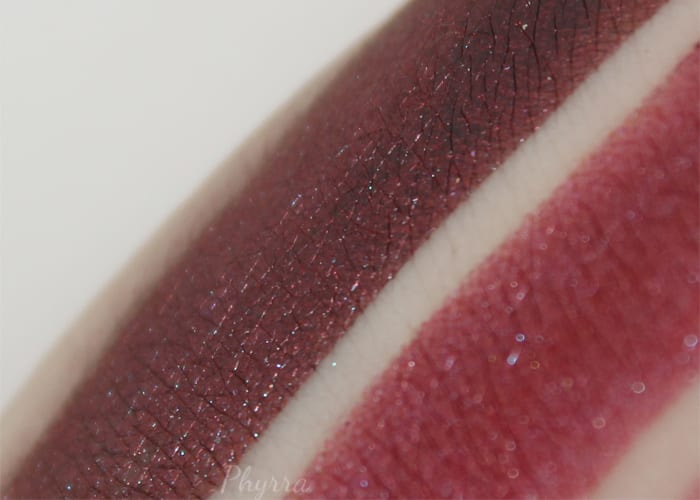 Belthir
a dragon with black scales and fiery red eyes who lurks in the mountains of Glen Coe. a deep black satin finish with a strong metallic red color shift, and a smattering of vivid red to blue color shifting highlight microshimmer
My Thoughts
Blackened base with deep blue-toned red iridescence and red and blue sparks. This is gorgeous and does make me think of a red dragon.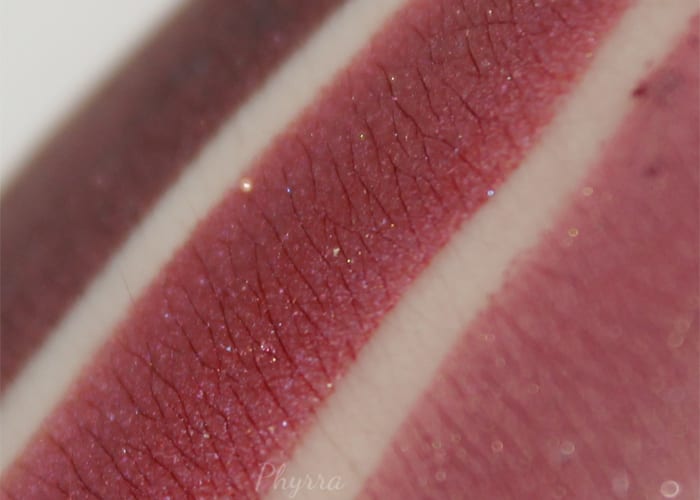 Folie a Deux
a dark blood red with blue undertones and a soft bordeaux metallic highlight, with shards of ice blue sparks throughout.
My Thoughts
Rich blue-toned red with bright blue sparks. Super pretty.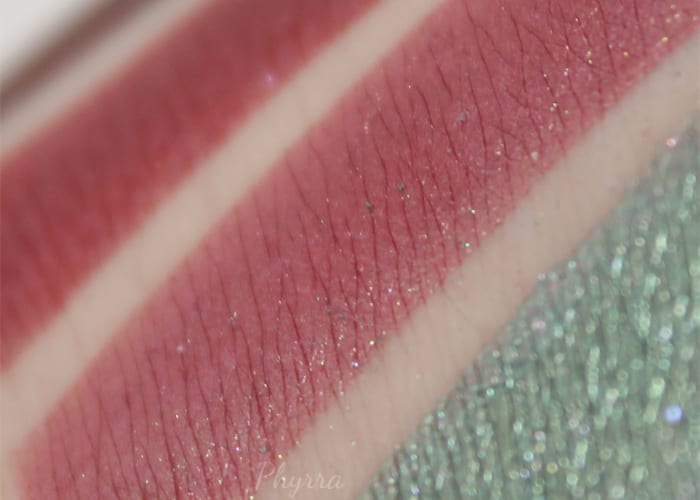 Ikebana
an exquisite rose frost, with a vibrant chartreuse/green duochrome.
My Thoughts
Midtone pink with light chartreuse-green iridescence.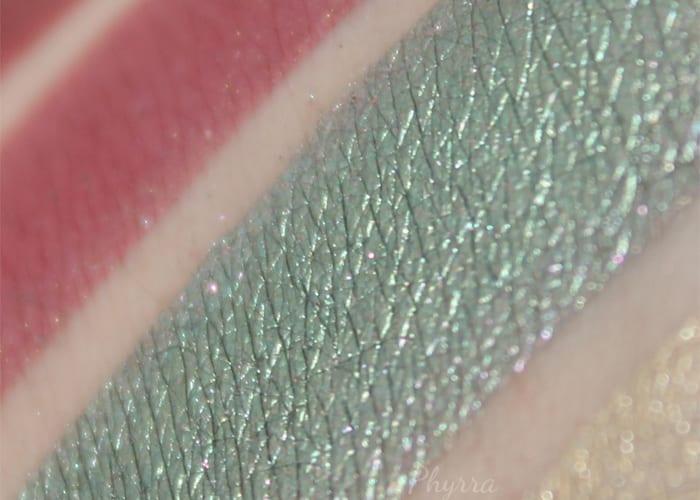 Ryüjin
the Japanese dragon God of the sea. a smooth frosted teal with smoky cocoa undertones and a vivid greenish gold duochrome. It's loaded with red and violet shimmer
My Thoughts
Frosty teal green with hints of a taupe grey base and golden green iridescence, plus delicate red and violet sparks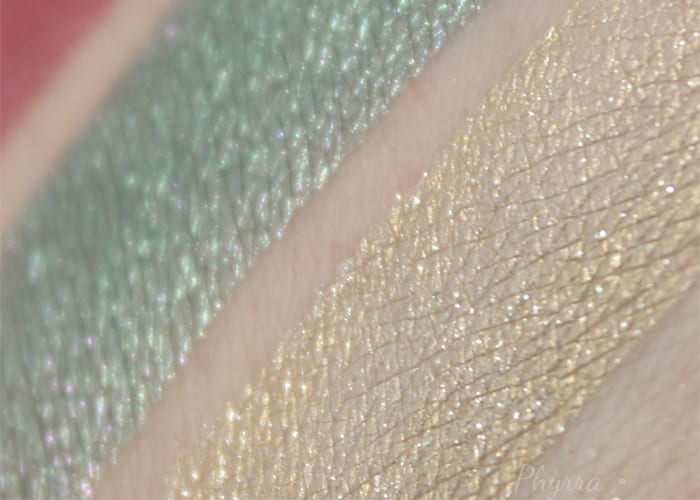 Ukasima
a great white-scaled dragon that dwells in the Ukasima Lake at Yama-shiro near Kyoto, Japan. a soft satin metallic finish white with glowing metallic gold undertones and borealis micro shimmer, which appears as a soft taupe in the jar. It's a combination of white for the dragon, and gold for the o-goa-cho songbird. This is a super-wearable taupe
My Thoughts
Pretty dirty white with gold iridescence and hints of a light grey base, plus rainbow sparks.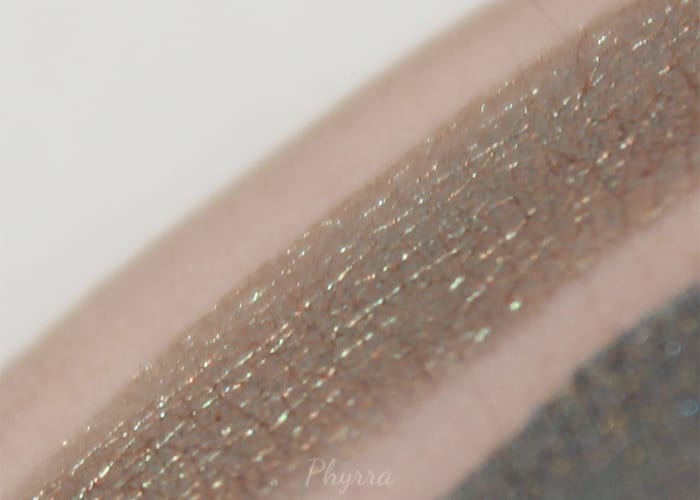 Gargouille
a water-spouting dragon. This color is very chromatic and ranges from rich copper to deep teal to evergreen, with copper and bright aqua iridescence
My Thoughts
Warm green with brown undertones and hints of aqua shift and copper sparks.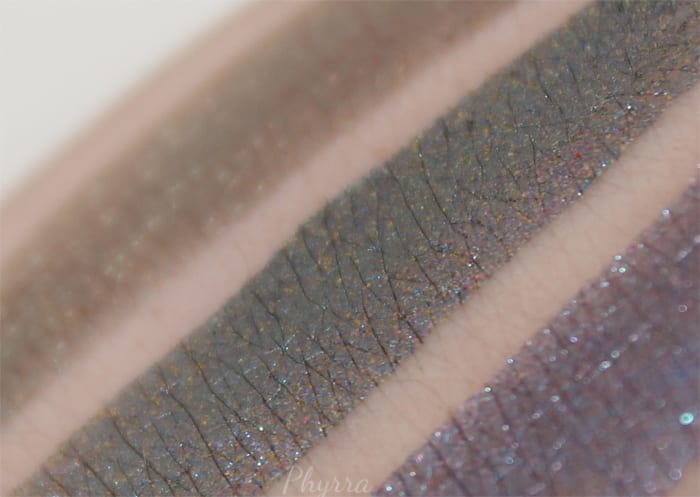 Io Saturnalia!
smooth rich teal blue with prominent gold/copper/red color traveling sparkles.
My Thoughts
Beautiful smoky teal blue with strong gold, copper and red sparks. This color is amazing.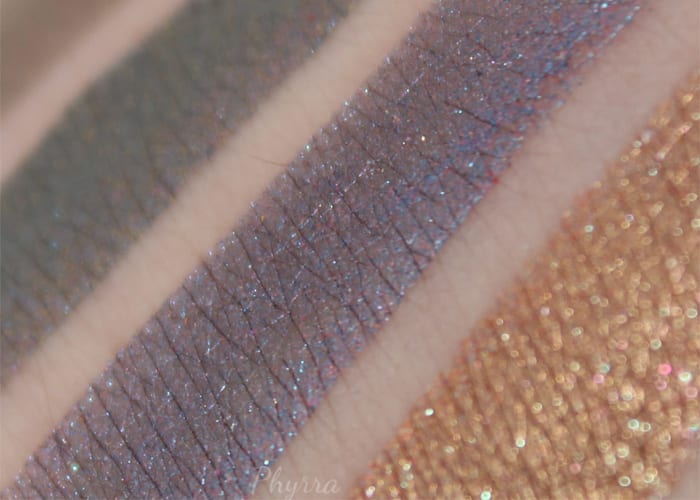 Lua Saturni
A heathered deep indigo/violet (will change from more blue to more violet depending on your viewing conditions) with dominant blue to teal sparkles that color shift to fuchsia/red.
My Thoughts
Beautiful deep blurple with teal blue sparkles and some fuchsia sparks.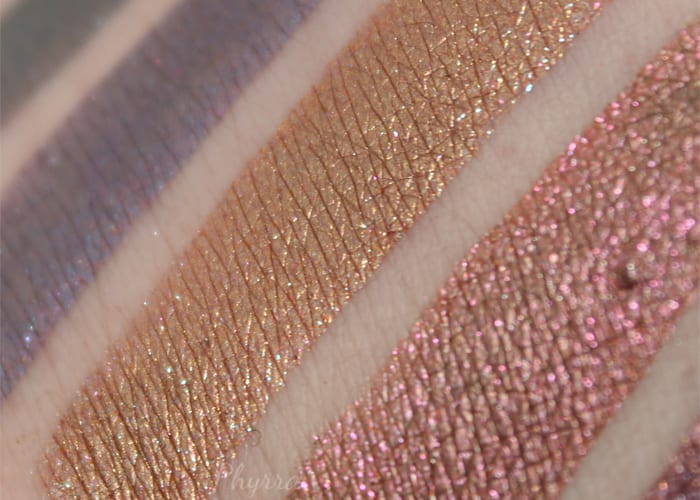 Sigillaria
A gorgeously rich amber which is slightly metallic and having a spectacular amount of strong aqua and fuchsia sparklies.
My Thoughts
Metallic gold with bronze undertones and turquoise blue and pink sparks. I love a good gold.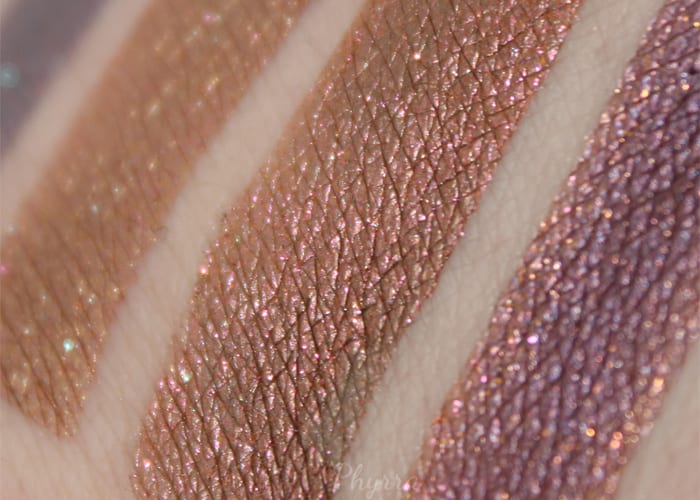 Lord of Misrule
A gorgeous taupe base with really strong orange-red-violet color traveling iridescence. It's a neutral with an amazing, shimmery twist!
My Thoughts
Deep taupe with red iridescence.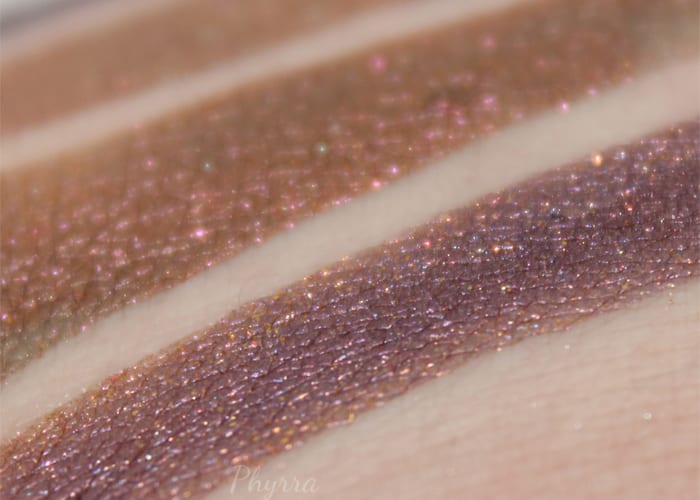 Luxuriae Maniae
An imperial purplish mauve with chestnut tones and a strong and sparkling color traveling duochrome effect that ranges from gold, bronze and copper.
My Thoughts
Plum purple base with copper and bronze sparks and iridescence. This is beautiful.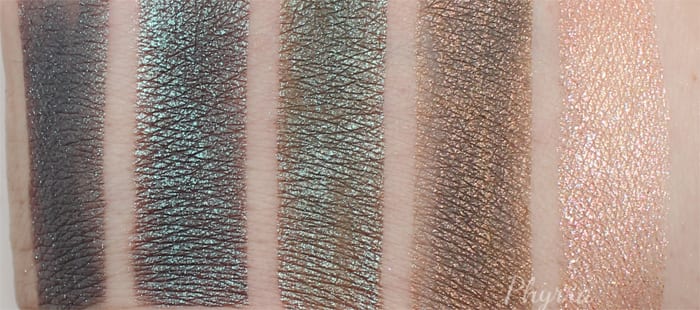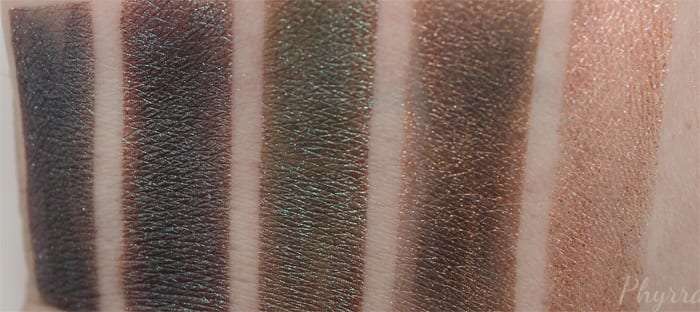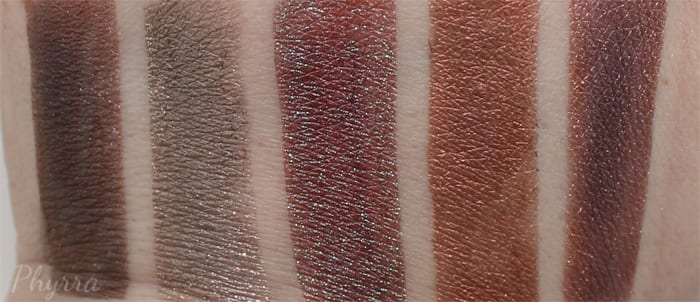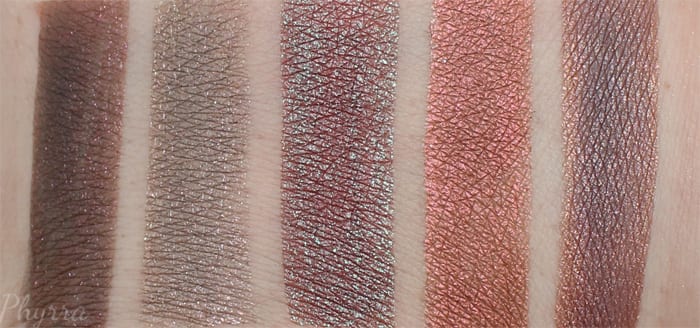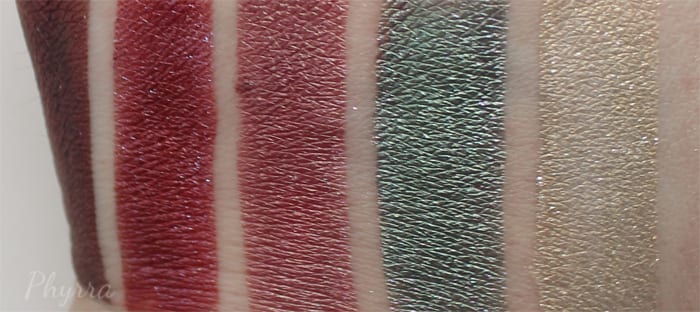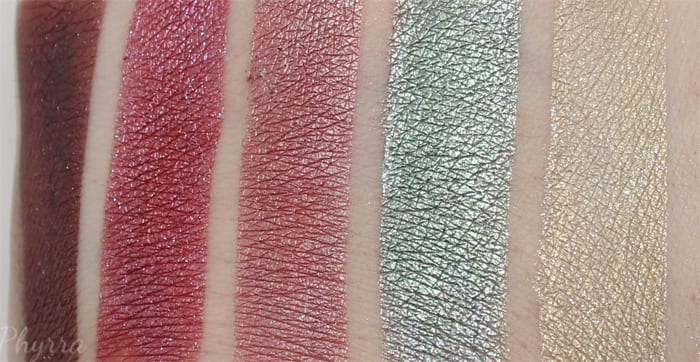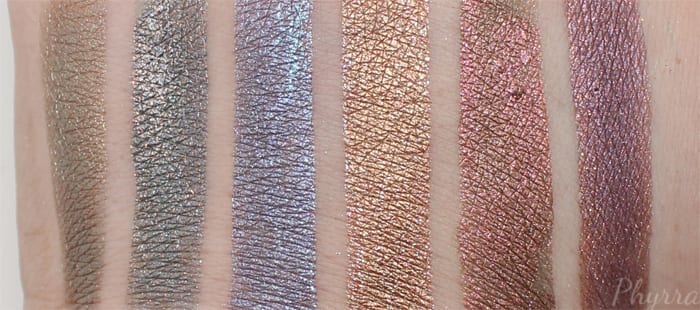 Which colors do you like? How would you wear them?