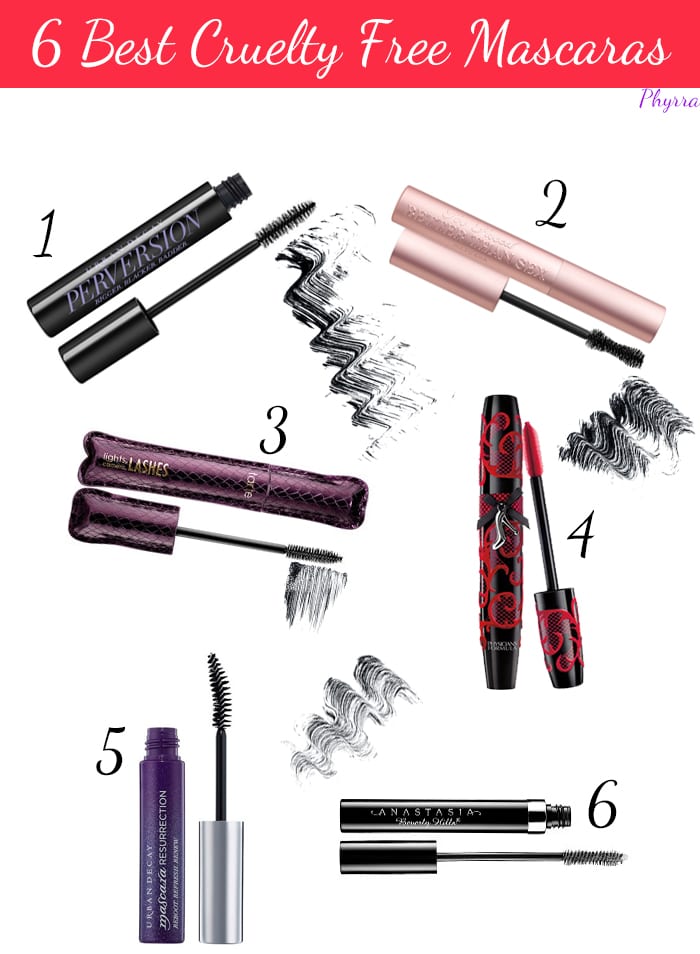 Happy Makeup Wars Monday! Today I'm sharing my picks for the 6 best cruelty free mascaras. 4 of these are awesome mascaras and 2 are products you will find invaluable to add to your mascara arsenal.
Pr + purchased by me.
6 Best Cruelty Free Mascaras
3 Great Tips to Better Lashes


If you like this video please give it a thumbs up, share and subscribe!

Urban Decay Perversion Mascara
The best, blackest mascara out there! It's supposed to lengthen and volumize lashes. I think it mostly lengthens but does add a bit of volume. I love this mascara and I feel like it's the one I can rely on to always look good. The brush on this mascara is awesome and works better for me than any other brush.

Too Faced Better Than Sex Mascara
This is the ultimate volumizing mascara. Use it at the base of your lashes to make them thicker and fuller. It has a HUGE brush, so if you're a size queen, you'll love it.

tarte Lights, Camera, Lashes 4-in-1 Mascara (vegan)
This is an awesome mascara that claims to lengthen, curl, volumize and condition lashes. I love it but it's definitely wetter in texture and prone to clumping, so you've gotta take your time with it, but the results are worth it. It also dries out faster than my other mascaras. If you need a vegan mascara, this one will give you the best results.

Physicians Formula Sexy Booster Cat Eyes Mascara
Super black mascara with volume. I love the brush, EXCEPT for the tip, which is too big. It needs to be smaller and more pointy. This mascara is paraben free and gluten free. It also happens to be the best drugstore mascara that I've tried in the past 5 years. Seriously, the only thing that keeps it from being perfect is the tip of that brush. I often start with this mascara and then finish with the UD Perversion mascara, since that brush works better for me, especially at the inner lashes.

Urban Decay Mascara Resurrection
I'm including this because it's a genius product. If you need to refresh your mascara and want to add another coat, use this, then use your mascara and you're good to go. No clumping or gross mess. If you apply your mascara and screw up, use this to work through your mascara and banish clumps! It's awesome.

Anastasia Beverly Hills Lash Genius
Make ANY mascara you love waterproof with Lash Genius.  It's a clear topcoat that you need to have in your makeup bag. I've gone through 3 or 4 of these. It's perfect in the hot, humidity of Florida.

What I've found that works best for me with mascara is

You can always layer mascaras for better results. Use a lengthening mascara first, focusing on the outer part of the lashes to add length. Then switch to a volumizing mascara to add volume directly at the roots. This lady MirellaBelleBeauty has the PERFECT tutorial for this technique.

Another tip I've recently seen is people suggesting that you should use a translucent powder between your first and second coats of mascara to add volume without clumping.

What are your tips for getting the most out of your mascara? What are your favorite mascaras?

[inlinkz_linkup id=492058 mode=1]
Last Updated on