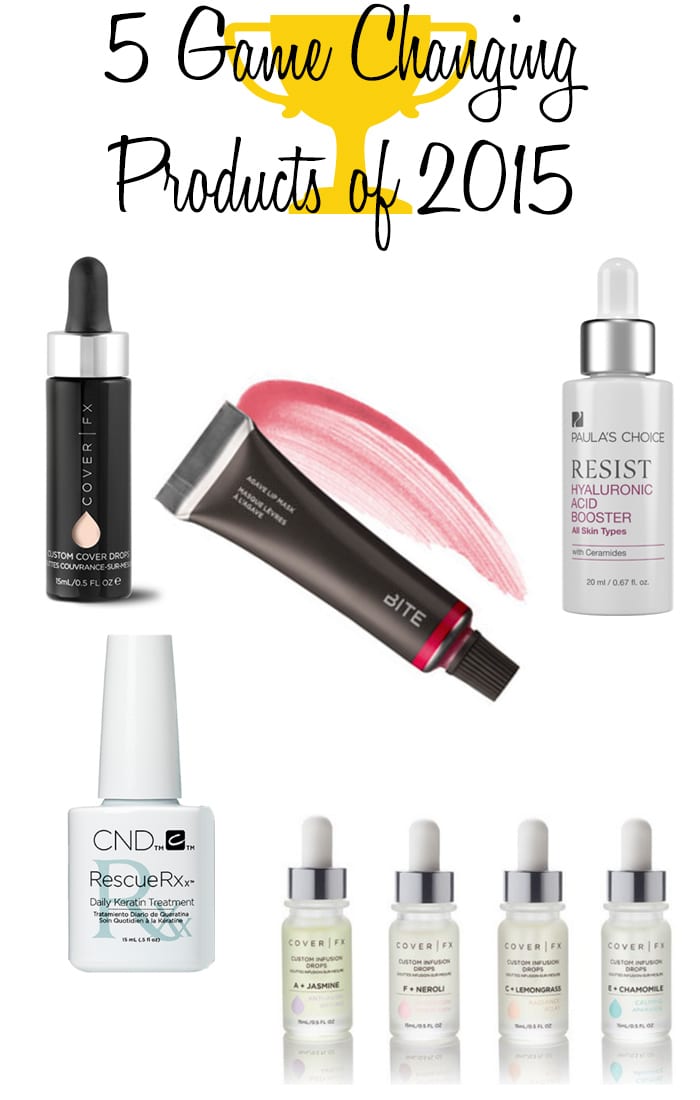 2015 has been packed with all kinds of amazing beauty products. These are the 5 game changing products of 2015 that you need to know about. They really made a difference for me, especially with my skincare. As someone with sensitive skin and rosacea, I definitely need products that are not going to irritate my skin! While my skin used to be oily, it's now normal to dry (and honestly I feel like it leans dry most of the time) so I want to make sure that I use products that address my skin's needs. Here are my top picks.
5 Game Changing Products of 2015
This post contains a mix of press samples and products purchased by me.
1. Cover FX Custom Cover Drops (vegan)
These drops are revolutionary for makeup. If you have sensitive skin, dry skin, oily skin, etc, you can use your favorite skincare product (like a moisturizer), primer or foundation to create your perfect foundation. You can customize your coverage on an as needed basis, depending on how many drops you use. Use 1 for sheer or 4 for full coverage. Currently available in 25 neutral, warm and cool shades. I hope that they'll make this in N0 soon! Learn how to DIY Your Foundation with Custom Cover Drops.
2. Cover FX Custom Infusion Drops (vegan)
Just like the Custom Cover Drops, the Infusion drops are meant to be used in any skincare product that you desire. You can also add them to primers, foundations, or even use them with Custom Cover Drops. The E+Chamomile (for calming) helped me out tremendously this year when I was experiencing issues with my skin. They also have A+Jasmine (anti-aging), C+Lemongrass (radiance) and F+Neroli (hydration). One single drop is all you need. See how to mix Custom Infusion Drops with your primer.
3. Paula's Choice Hyaluronic Acid Booster (vegan)
The Resist Hyaluronic Acid Booster is another product that you can mix into your skincare or your foundation. It's a liquid gel formula that has anti-aging benefits, boosts hydration, plumps the skin, and prevents moisture loss. If you wear powder foundation, mix just a drop into your primer before application. If you prefer liquid foundation, mix a drop into your liquid foundation and it will help your foundation to meld with your skin. It's really amazing if you have dry skin. See what my foundation looks like when I use Hyaluronic Acid Booster.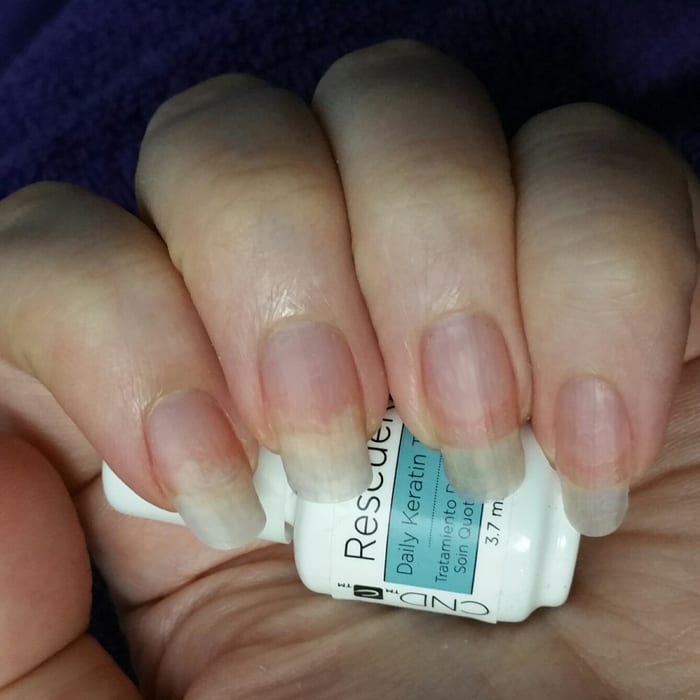 4. CND Rescue RXX
When I was in Indiana in October, my friend Krissy (who is a nail tech) said I really needed to give CND Rescue RXX a try for my nails. She said it would stop the peeling and make them stronger. It's made with Keratin protein and jojoba oil. So I bought some and she was right! My nails are the longest and strongest that they've ever been in my life. They're so long right now I can barely type properly, since they're about 1/4″ past the tip of my fingers. I realize this isn't long for some people, but it's very long for me! Because of wearing contacts all my life (until this year) and constantly typing at the computer, I always had to keep them short. Now I feel like my nails look gorgeous. Almost all of my ridges are gone. Now if I can just keep myself from picking off my polish when it chips! I feel like my nails look gorgeous!
5. Bite Beauty Agave Lip Mask Smashed
The Smashed lip mask is the 3rd installment of masks. This one boasts a red-wine shade that gives you a light tint while healing the lips with its lanolin, vanilla extract, natural olive fruit and jojoba oil. In addition to that it has resveratrol (an antioxidant). These agave masks are the only thing that leave my lips healed and hydrated and I swear by them. See me wearing Smashed.
What are your picks for the 5 game changing products of 2015?