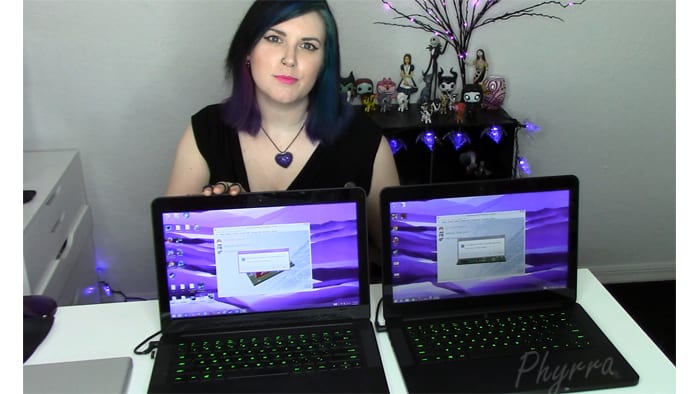 Today I've got a comparison between the 2015 and 2014 New Razer Blade Laptops to share with you. In October my Lenovo Thinkpad broke, and I was relegated to using my Alienware M17 machine for work (both blogging and my editing for my other job). I couldn't get my M17 color calibrated properly, so I was frustrated with it when I was trying to do photo editing. This is when I stumbled upon the Razer Blade laptops and decided they were the answer to my problems.
2015 and 2014 New Razer Blade Laptop Comparison
Availability
RazerZone.com
Price
$2834.41 (what I paid for mine. I believe Steff paid a similar amount for hers)
In November I ordered my Razer Blade and it was everything I hoped it would be. It's as thin as the height of a dime, 3200 x 1800 touch display, 14″, 8GB of Ram, 512GB SSD (solid-state drive) and an NVIDIA GeForce 870 graphics card. It's lightweight at only 4.47 lbs.  It was easy to color calibrate for my photography. It's a snap to edit videos on. And it's a pleasure to play games on.
I've raved about this machine to my friends and business partners. My business partner Steff decided she would buy the next version of this machine when it came out. It came out on Feb. 3, 2015 and she received it today. It's the same height and weight as my machine, but it's amped up. It has 16 GB of ram, 512 GB SSD and an NVIDIA GeForce 970 graphics card.

Since I raved about it and she bought it, she told me I could do an unboxing video with her machine.

She also let me do a comparison benchmark test between the two machines.
After having Sony Vaio desktop replacement laptops for years, the Lenovo ThinkPad W520, and the Alienware M17, I feel like I've tried a good chunk of machines out there and the New Razer Blade blows them out of the water with its performance – both in color clarity and editing capabilities. Yes, yes it's great at gaming too. I wouldn't trade my Razer for anything, except maybe an upgrade to the 2015. If you already have the version I have you probably don't need to upgrade, though the newer video card and double the amount of ram is nice. As you can see in the comparison video, the new machine is significantly faster.
These machines have better than retina displays with the 3200 x 1800 screen resolution. Not gonna lie, that did take some getting used to. But it's definitely nice.
If you're thinking about getting a new laptop and you need a machine that can do video editing, photo editing, gaming, and other work, and you want it to be lightweight and have a gorgeous screen, you should definitely check out the Razer Blade machines. I think you'll be really impressed by the performance.
What laptop are you currently in love with? PC or Mac?