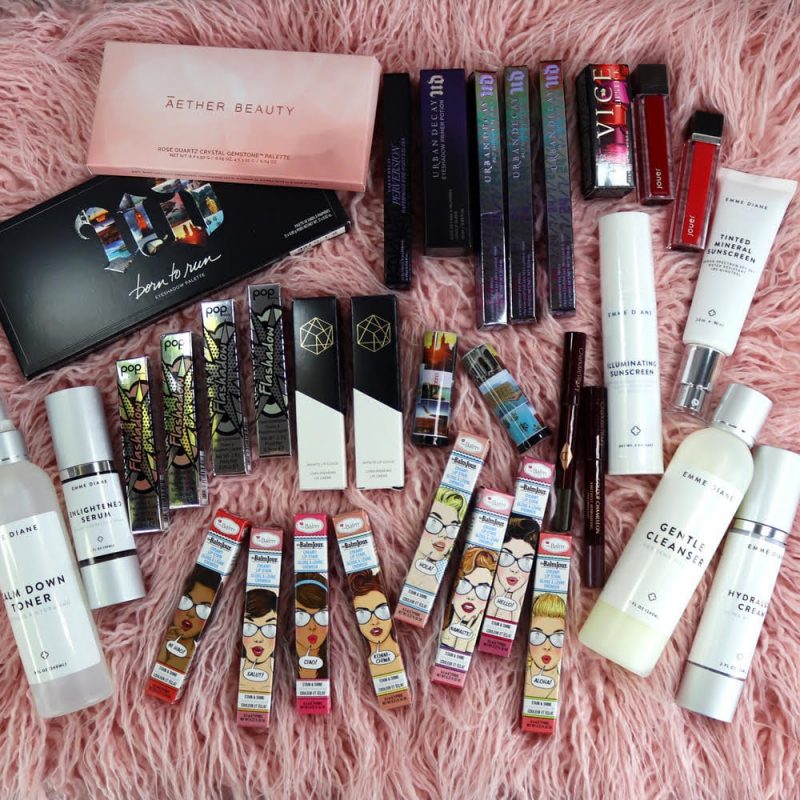 $1000 Giveaway
I've got a $1000 Giveaway filled with amazing Cruelty Free Makeup and Skincare for you today! I teamed up with two of my BFFs, Jen from My Beauty Bunny and Emily from Emily Wolf Beauty, along with one of my favorite skincare brands, Emme Diane, to bring it to you.
Prize Package Includes:
$200 Cash (via Paypal)
Emme Diane – Consultation and Custom Skincare Regimen (up to $248 value)
2 Jouer Lip Cremes – Fraise Bonbon, Shibuya ($36)
3 Urban Decay 24/7 Eyeliner Pencils – Roach, Demolition, Psychedelic Sister ($63)
2 Urban Decay Born to Run Vice Lipsticks – Ready?, Marfa ($36)
1 Urban Decay Vice Lipstick – Ember ($18)
1 Urban Decay Perversion Waterproof Eyeliner ($22)
1 Urban Decay Eyeshadow Primer Potion ($24)
1 Urban Decay Born to Run Eyeshadow Palette ($49)
1 Aether Beauty Rose Quartz Crystal Gemstone Palette ($58)
3 Charlotte Tilbury Color Chameleon Eyeshadow Pencils – Smoky Emerald, Amethyst Aphrodisiac ($54)
4 Pop Beauty Flashadows – Black Dazzle, Crushed Copper, Naked Glitz, Cosmic Confetti ($48)
2 EM Cosmetics Infinite Lip Clouds – Crimson Red, Faded Clementine ($32)
8 The Balm BalmJour Creamy Lip Stains – Hola, Konnichiwa, Salut, Aloha, Hello, Namaste, Ciao and Ni Hao ($112)
Total Value – $1000!
You must enter via the Rafflecopter widget below. See official rules.  Giveaway is open from now until August 7 at midnight. That means the last minute to enter is August 6 at 11:59 pm EST. Winner will be contacted via email. Please make sure you check your email! I can't tell you how many times I've tried to contact a contest winner who never responded, so I had to move on to the next person.
Disclaimer
These makeup products are not Emme Diane approved as non-comedogenic or acne safe. US only.