Hi there! Today I've got a tutorial for you with Urban Decay SWF on hooded eyes and pale skin. I also used Pistol, Walk of Shame, Desperation and Venus. I tried different color placement for this look and I'm trying to decide if I like it or hate it.
PR + purchased by me.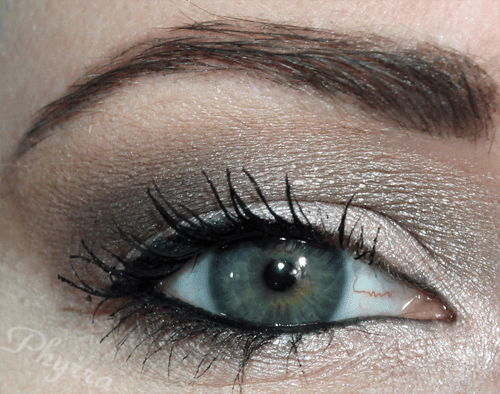 How to Achieve the Look
1. Apply Walk of Shame to the browbone and upper crease. Pat SWF onto the lid, inner v and inner lower lash line.
2. Apply Pistol to the crease. Blend Silk Naturals Welcome Matte on top of Pistol.
3. Deepen the outer upper crease with Desperation, then use a bit of Welcome Matte on top. Line the outer lower lash line with Desperation.
4. Line the waterline and the outer upper lash line with Urban Decay 24/7 Perversion liner.
5. Add mascara. Highlight under the brows with Venus.


Eyes
Urban Decay Anti-Aging Eyeshadow Primer Potion
Urban Decay SWF – lid, inner v, inner lower lash line
Urban Decay Walk of Shame – browbone and upper crease
Urban Decay Pistol – crease
Silk Naturals Welcome Matte – on top of Pistol to mattify the color
Urban Decay Desperation – outer crease, outer lower lash line
Urban Decay 24/7 Liner in Perversion – waterline, outer upper lash line
Urban Decay Venus – browbone to highlight
Face
Luminess Air foundation in Porcelain
Urban Decay Quickie – blush
Urban Decay Moonshine – highlight
NARS Light Reflecting Loose Setting Powder
Lips
Urban Decay Anarchy liner
Urban Decay Revolution Lipstick in Venom
What do you think of the soft Urban Decay Pink Pistol look? Do you like pink and grey together?