As I love the Urban Decay Midnight Cowgirl eyeshadow, the old version, I wanted to see if I'd like the Midnight Cowgirl, the new version. This color changed when the formula changed.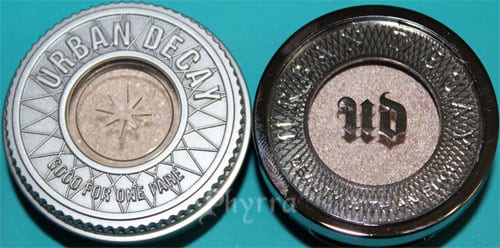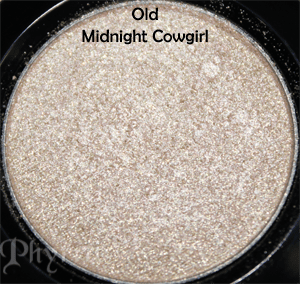 Midnight Cowgirl (old) – subtle golden-beige with gold glitter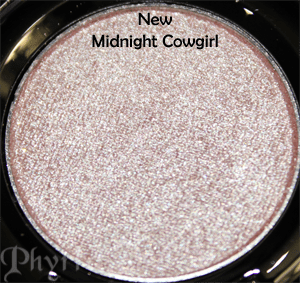 Midnight Cowgirl (new) – warm sand with multi-colored glitter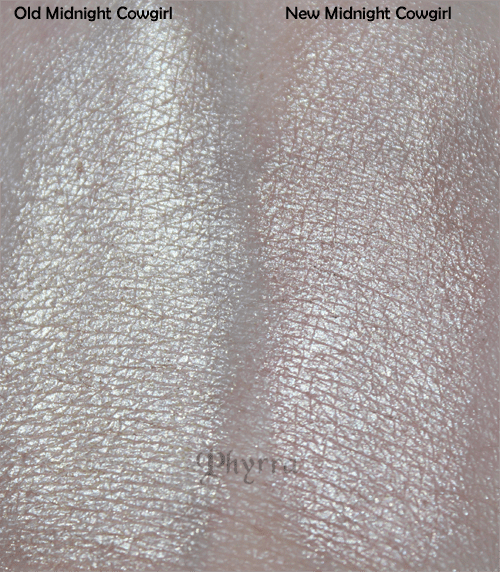 The two colors are both light.



Old Midnight Cowgirl is more yellow-toned than the New Midnight Cowgirl. You can easily see the little gold sparkles in the color.

New Midnight Cowgirl is more peach-beige than yellow-beige by comparison. You can also easily see the multi-colored sparkles in the new formula.
On that note, I LOVE the new Urban Decay formulas that have multi-colored sparkles. Gravity is another shade with the multi-colored sparkles.
I was prepared to hate the new because it's not yellow or golden like the old. I don't hate it, I actually really like it, mostly due to the multi-colored sparkles, but I'm not quite sold on the peach-beige tone of the new.

Midnight Cowgirl (new) on the browbone.

Midnight Cowgirl (old) on browbone.
I just think the old looks better than the new on me.
Midnight Cowgirl – old – $17
Midnight Cowgirl – new – $18
If I were to remake the color, I'd keep the yellow-beige tone of the old, but add in the multi-colored sparkles of the new.
I do know that a lot of people hated the old formula, but I never tried it in the Book of Shadows that it came in, only in a single. The single old formula has worked well for me. So far the new seems a touch frosty.
Which version do you prefer? The old or the new?
Products purchased by me. All opinions are my own.