Recently I had the opportunity to try the new reformulated Urban Decay Ammo Palette. The Ammo Palette contains 10 of the most iconic, best selling eyeshadows from Urban Decay.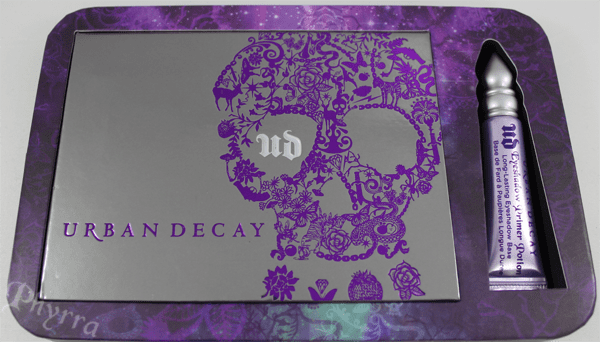 What UD Says
This palette is paired up in vertically coordinated duos. Use those or channel your inner artist to create multi-hued looks that are all your own. From neutral to vivid to all-out smoky, the shadows are all in the new formula.
Price
$34, 10 shades at .03 oz / .8 g, available January 2013 from UrbanDecay.com and February 2013 at Sephora, Ulta and Macy's.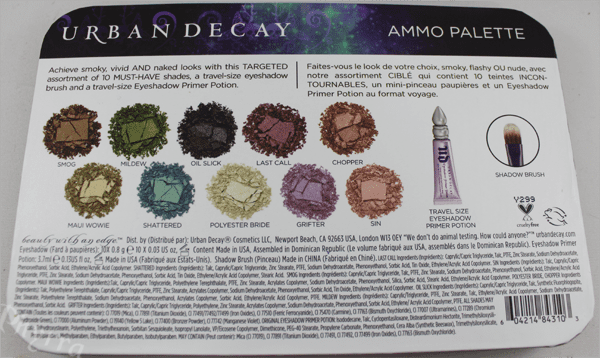 It also comes with a travel friendly Urban Decay Primer Potion in a cool little squeeze tube bottle, and an adorable brush.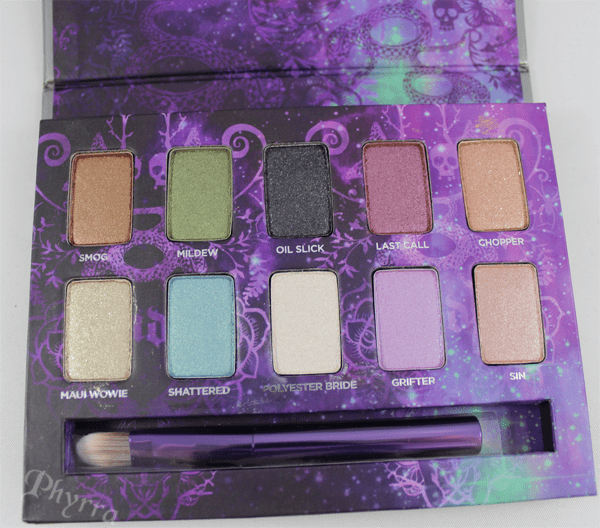 To create the beautiful art on the palette, Wende drew on inspiration from a museum exhibit on street culture. I love the designs.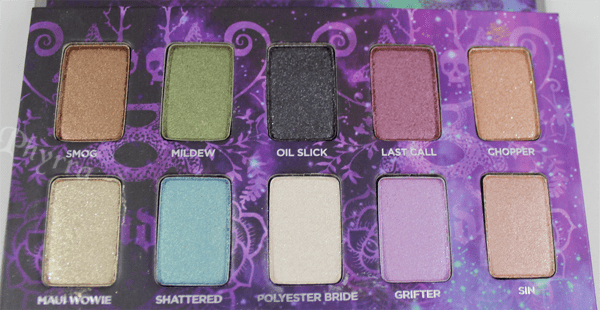 Official Color Descriptions
Smog – deep coppery bronze shimmer
Maui Wowie – metallic golden beige shimmer with silver glitter
Mildew – mossy green shimmer with a gold shift
Shattered – turquoise shimmer with a gold shift
Oil Slick – black matte with silver micro-glitter
Polyester Bride – white snow shimmer with silver micro-glitter
Last Call – metallic plum shimmer
Grifter – sheer lavender shimmer with silver micro-glitter
Chopper – copper shimmer with silver micro-glitter
Sin – champagne shimmer
You may or may not recall, when Urban Decay released their new shadow formula, Shattered and Mildew were 2 of the first shades that I purchased. I love duotones. Mildew and Shattered do pair up naturally to me, because they're tropical shades.


The mini-brush also has the cute skull detail, matching the front of the palette. This style of brush is one I actually prefer to use with cream shadows or paint pots.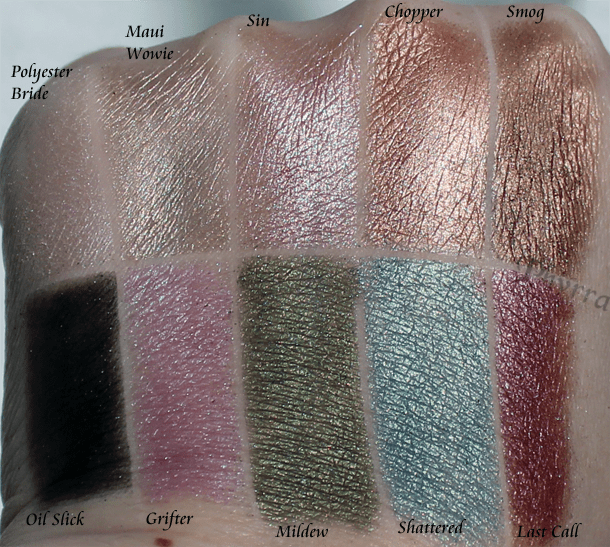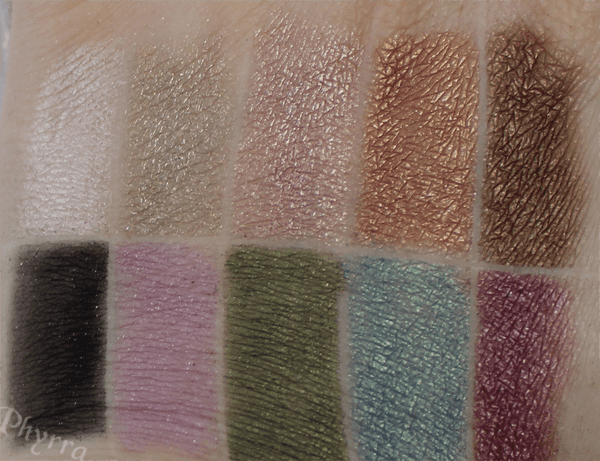 Now, I'm going to be honest, I did not like the original Ammo palette because I hated most of the old Urban Decay glitter shades. The fallout during application and over the course of the day just drove me crazy. With the new formula, there's virtually no fallout for me, so I don't mind them.
I was pleasantly surprised with how nicely the glittery shades applied. The only color that seemed a bit wonky was Shattered, which doesn't seem to be the same as the single that I own. Shattered seemed slightly less pigmented than my single. Mildew and Maui Wowie seem fine. I'm not a fan of Grifter (though I loved the comic by the same name).
Oil Slick is vastly improved over the old one. It actually reminds me of MAC Black Tied. I like how it looks when you layer Smog on top of Black Tied. Last Call looks like more of a wine colored shade to me, which I really like.
Sin is similar to Sellout and is a great office neutral, much like Maui Wowie, Chopper and Smog. Polyester Bride seems like it would make a great highlighter.
After using the shadows, I did experience some fallout on my cheeks that was easy to clean up after I had done my eyes but before I applied my foundation. I didn't experience fallout during the day after wearing the eyeshadows, so I'm pretty pleased with them.

I made you a video with my thoughts on the palette and I show it off there, as well as swatches.
If you love Urban Decay's original Ammo Palette, I think you will find this a must-have. If you don't like shadows with glitter, you won't like this palette. If you're looking for a way to build up your Urban Decay eyeshadow collection, you may love this palette because it gives you 10 shades.
What do you think of the new Urban Decay Ammo Palette? Which colors are your favorite?
Product sent for consideration. All opinions are my own.