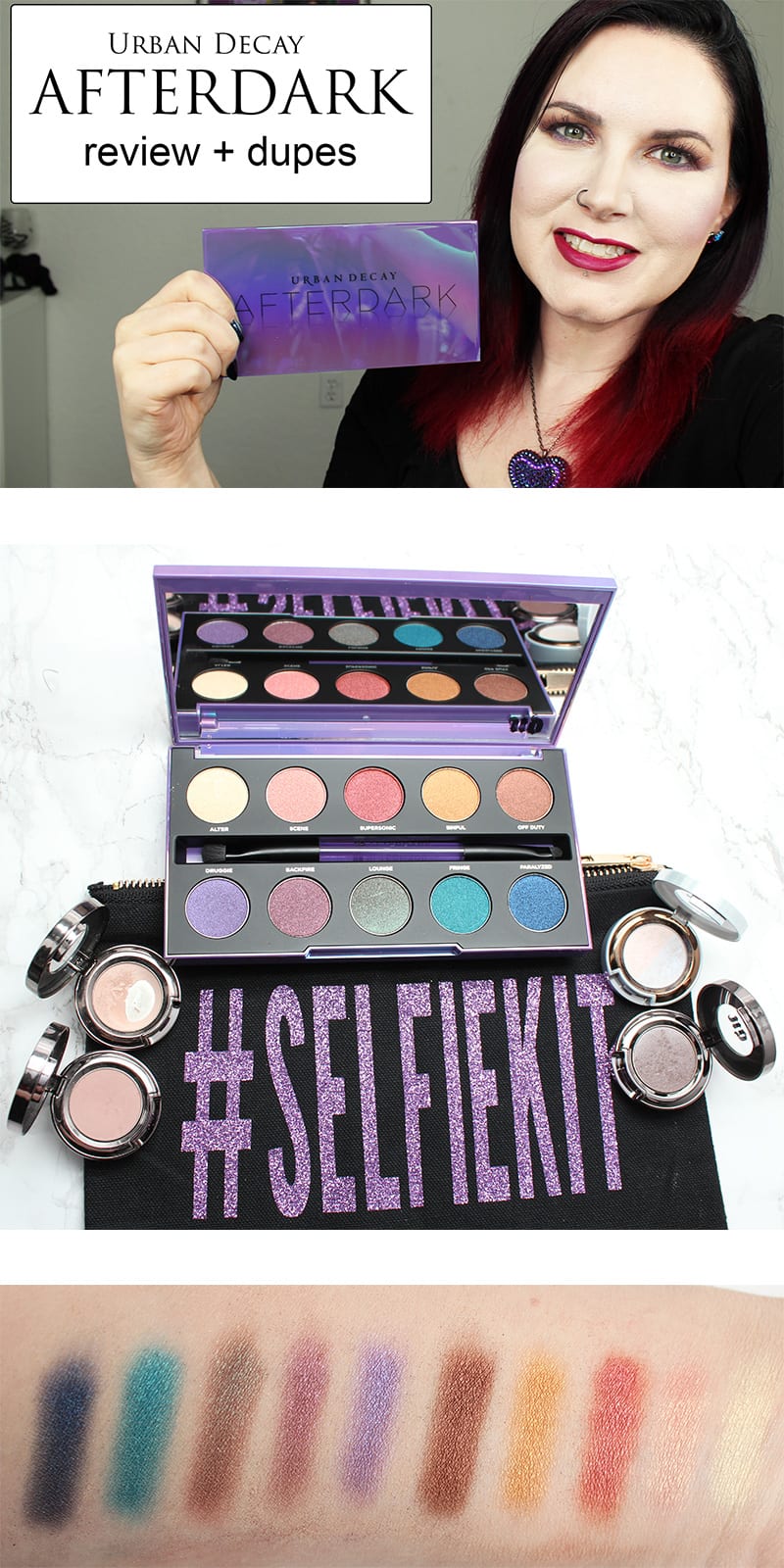 Hey guys! I've got the new Urban Decay Afterdark palette review to share with you. I've live swatched the Afterdark palette on video so that you can see how it performs on me. Afterdark has 7 brand new shades and 3 cult favorites. The 3 cult favorites are Backfire, Lounge, and Fringe. I'm a huge fan of Fringe and think it's absolutely stunning.
Urban Decay Afterdark Palette Review
PR sample.
Be warned, this is a very picture heavy post.
Price
$49
The Urban Decay Afterdark palette will be available at Sephora.com online on December 20th. It should be available in store on January 27th. Afterdark is a Sephora Exclusive palette. Edit: It's available at Sephora now!
Urban Decay Aftedark Palette Ingredients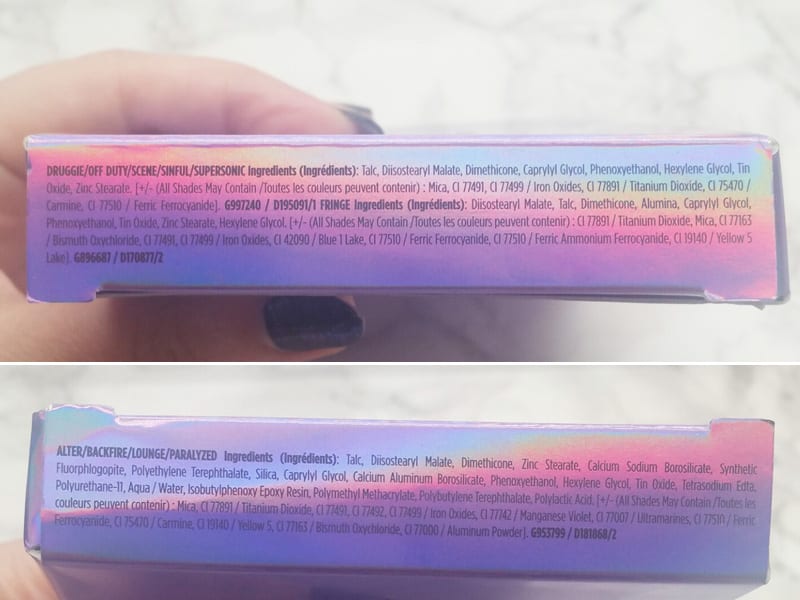 Urban Decay Afterdark Palette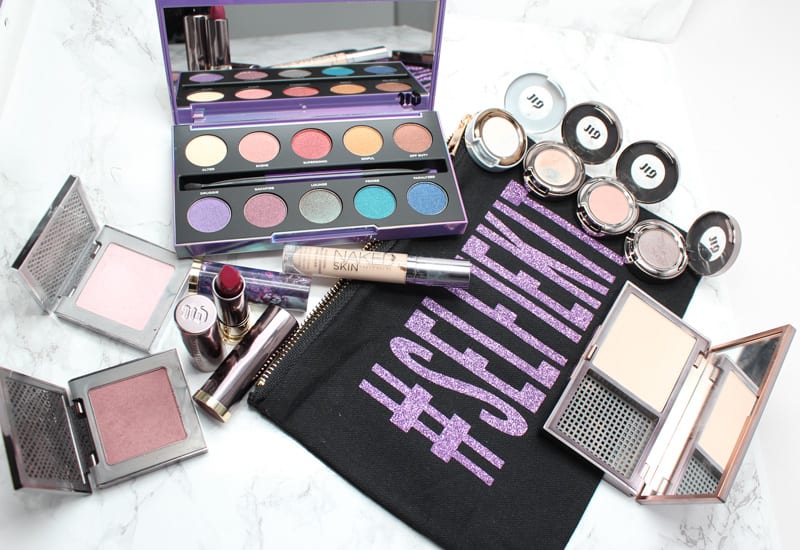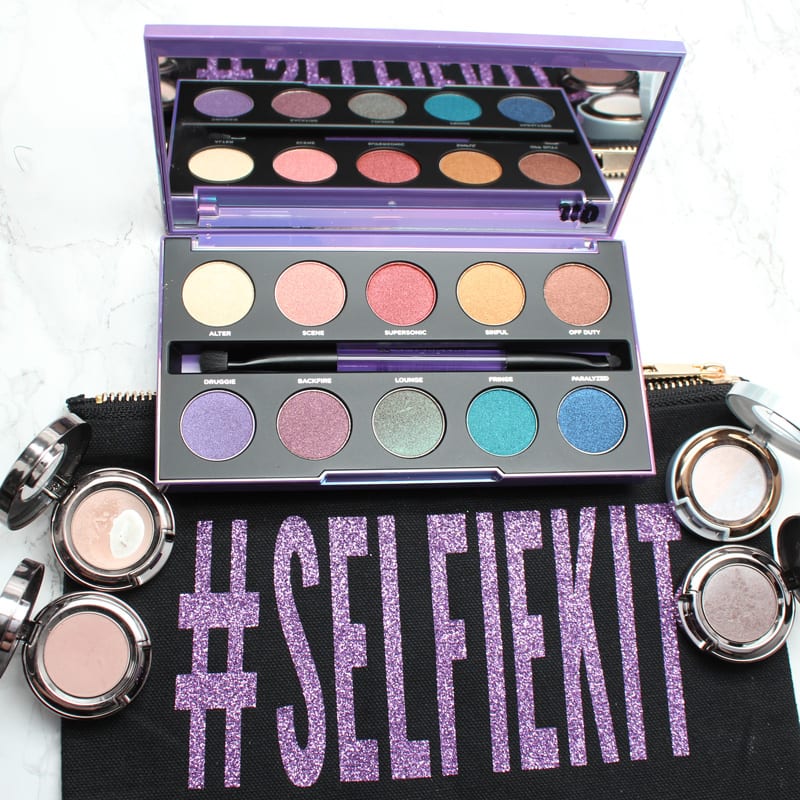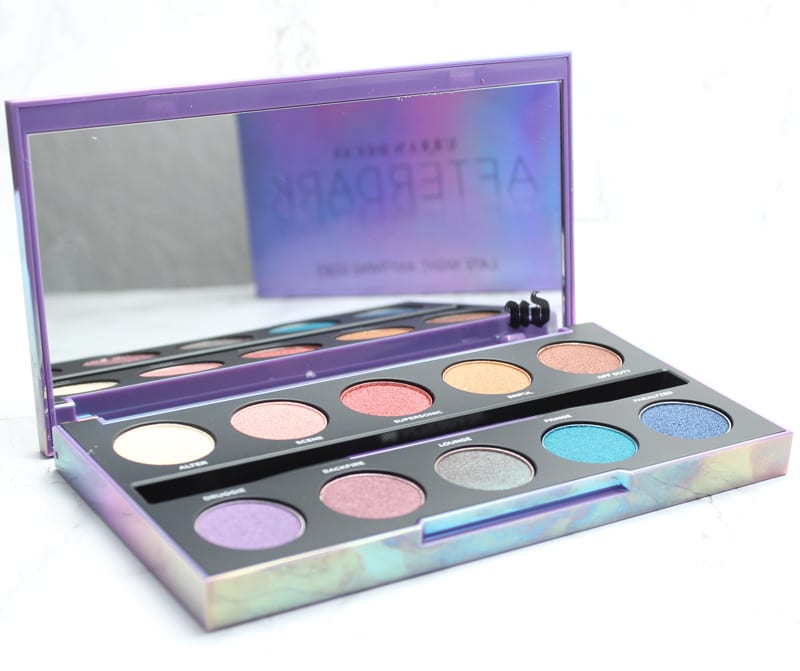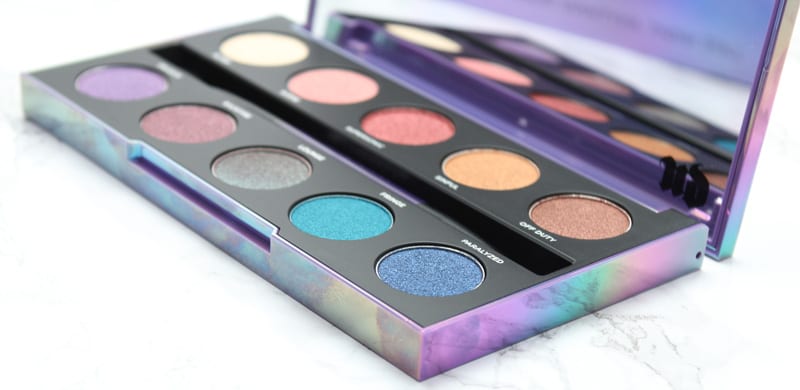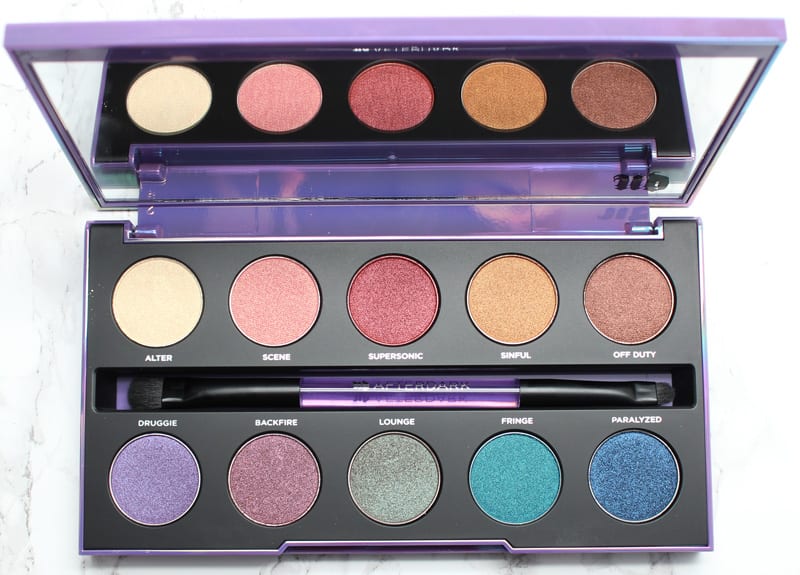 Isn't the Afterdark packaging amazing?
Urban Decay Afterdark Palette Swatches
All eyeshadows are swatched on Urban Decay Primer Potion with either the UD Iconic Eyeshadow brush or the Sigma E25.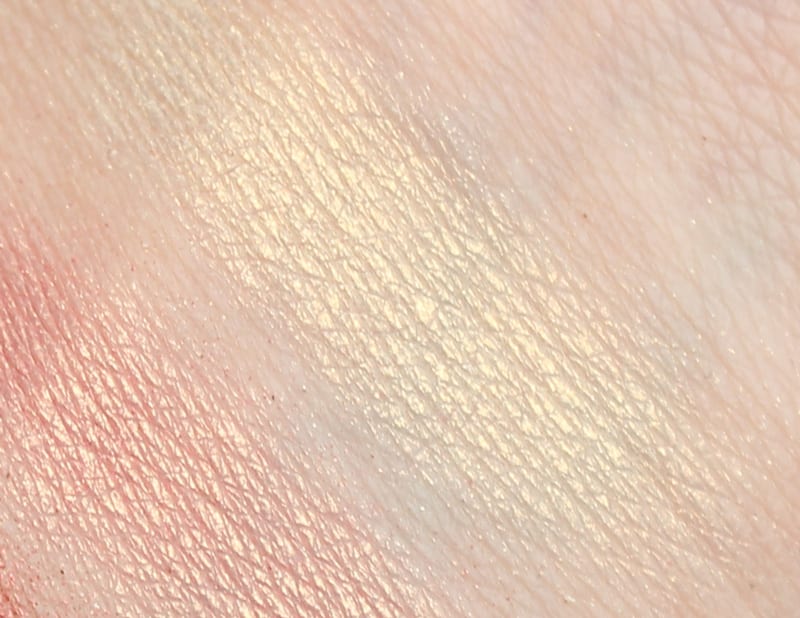 Alter
metallic white-gold with gold shift
Metallic iridescent white with gold shift.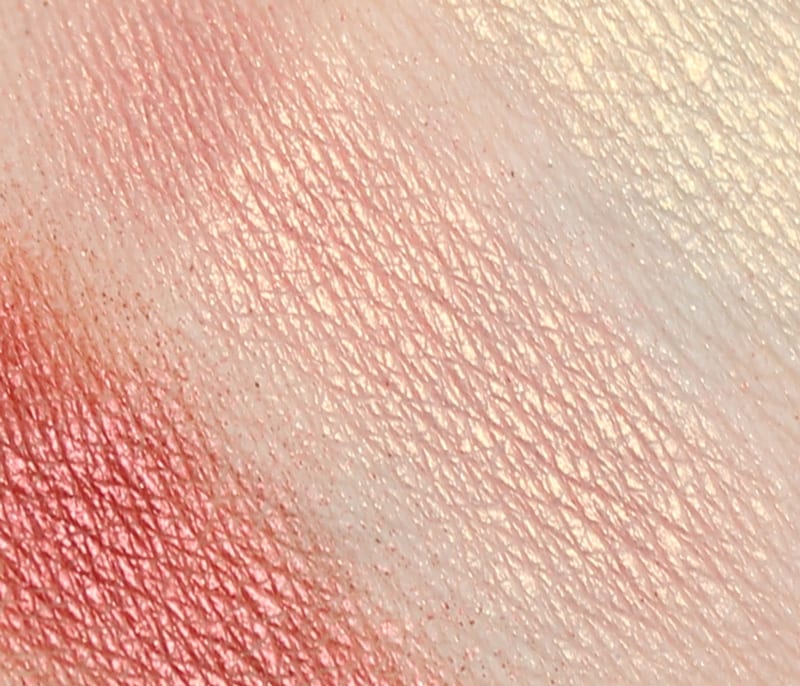 Scene
light metallic pinky-peach with gold shift
Metallic pinky peach with gold shift.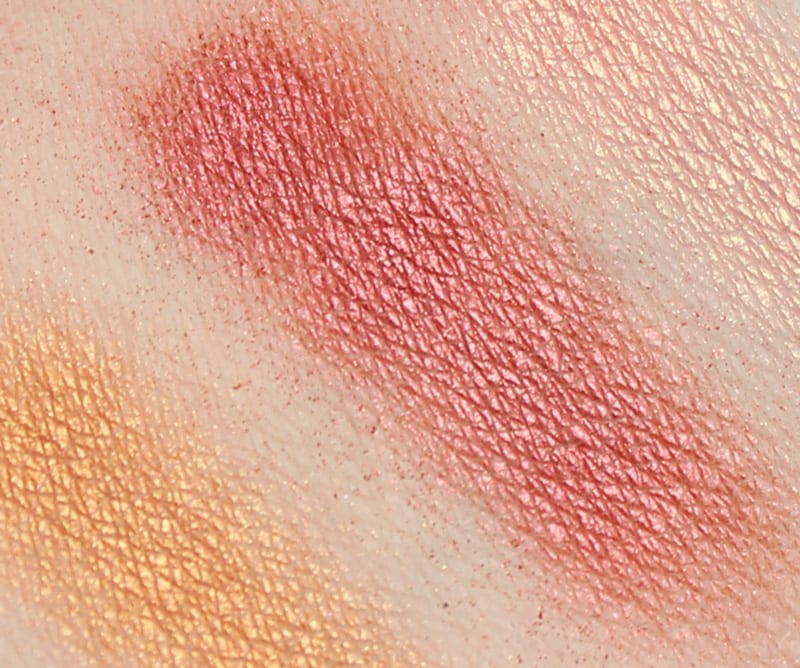 Supersonic
intense metallic red-copper
Metallic copper red.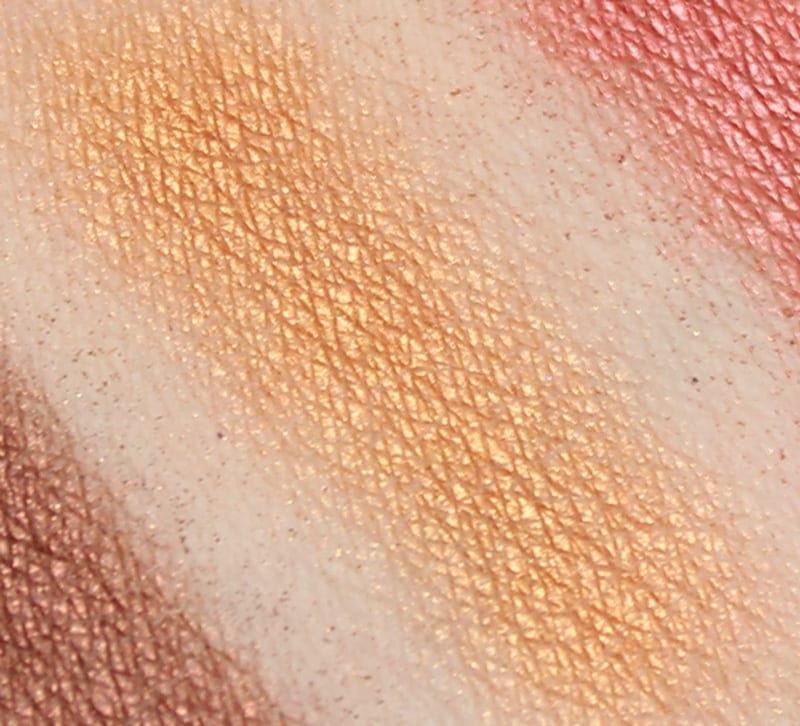 Sinful
metallic golden amber
Metallic rich gold.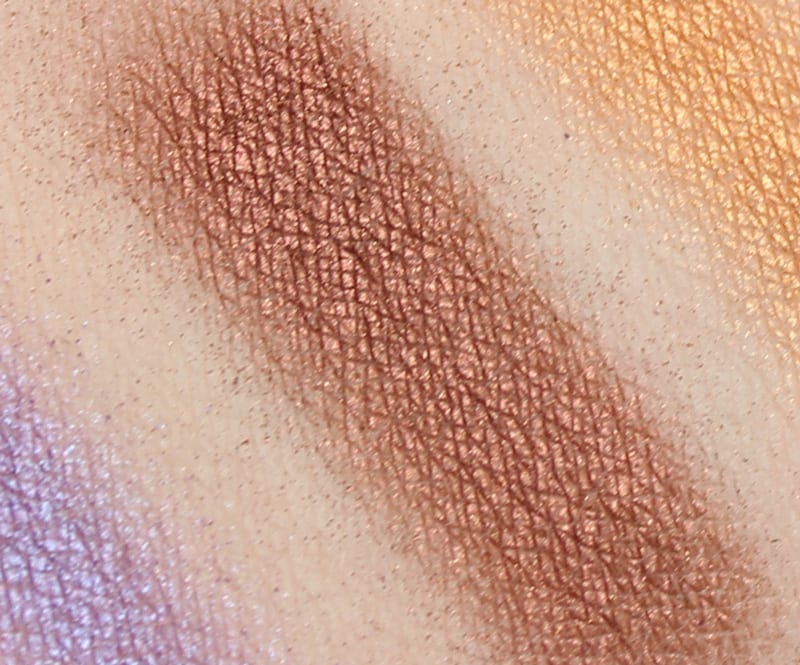 Off Duty
deep metallic bronze
Metallic deep bronze brown.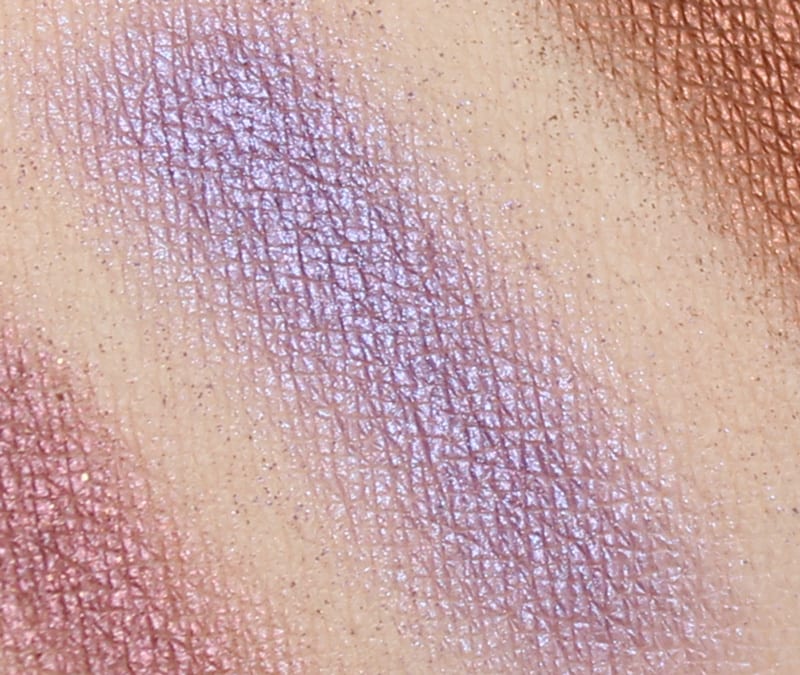 Druggie
metallic purple with violet shift
Metallic medium purple with pinky-violet shift.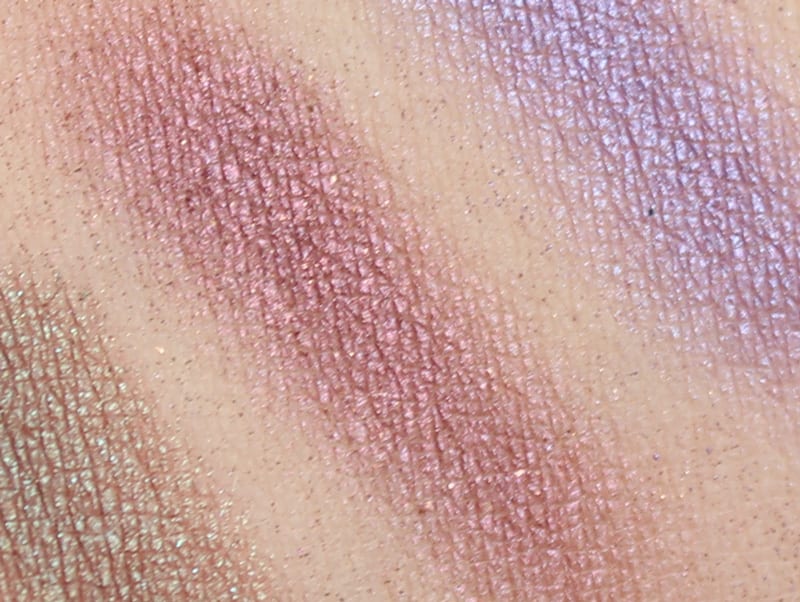 Backfire
burgundy satin with purple shift
Burgundy wine with slight purple shift, satin.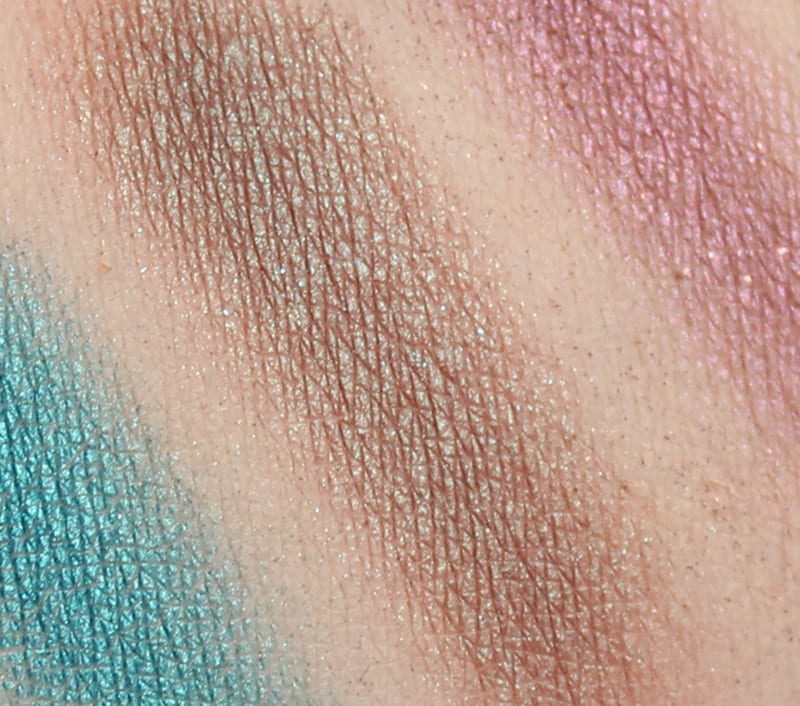 Lounge
brick red satin with green shift
Warm red-toned brown satin with green shift.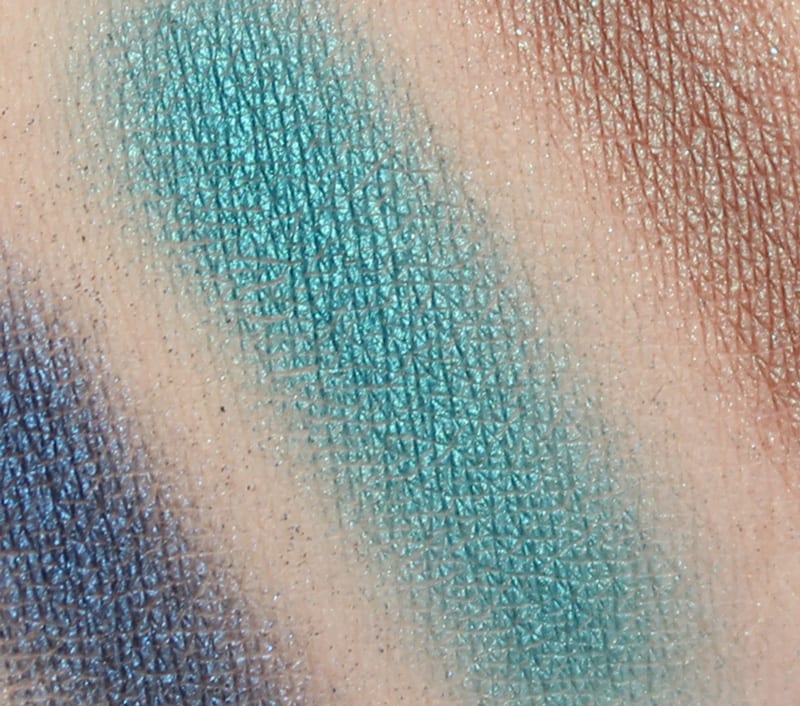 Fringe
bright metallic teal
Metallic bright teal blue.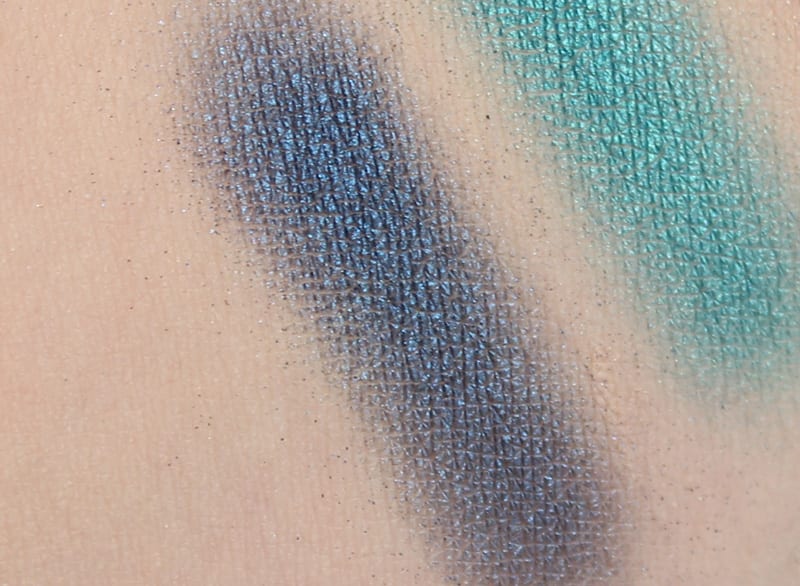 Paralyzed
navy with tonal metallic shift
Deep navy blue with purple undertone shimmer.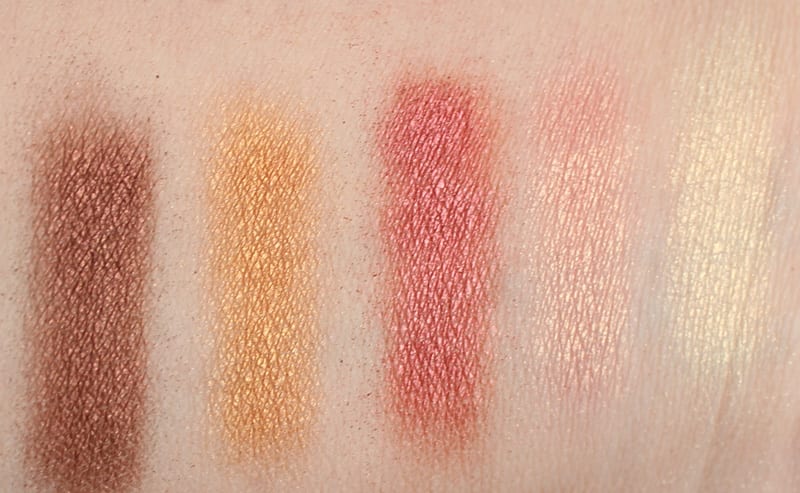 L to R – Off Duty – Sinful – Supersonic – Scene – Alter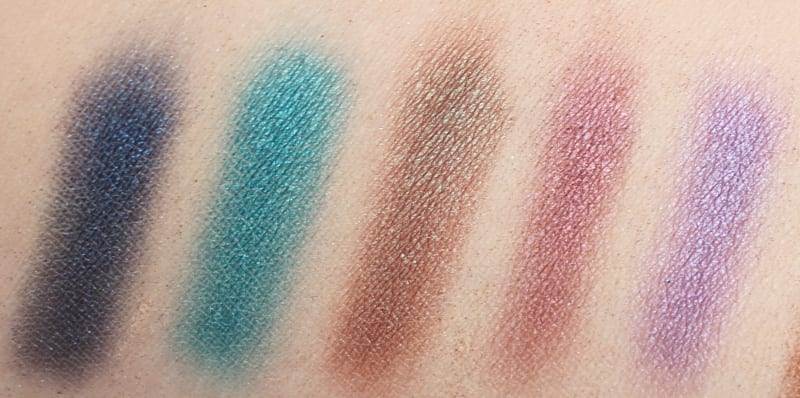 L to R – Paralyzed – Fringe – Lounge – Backfire – Druggie


L to R – Paralyzed – Fringe – Lounge – Backfire – Druggie – Off Duty – Sinful – Supersonic – Scene – Alter
Similar Shades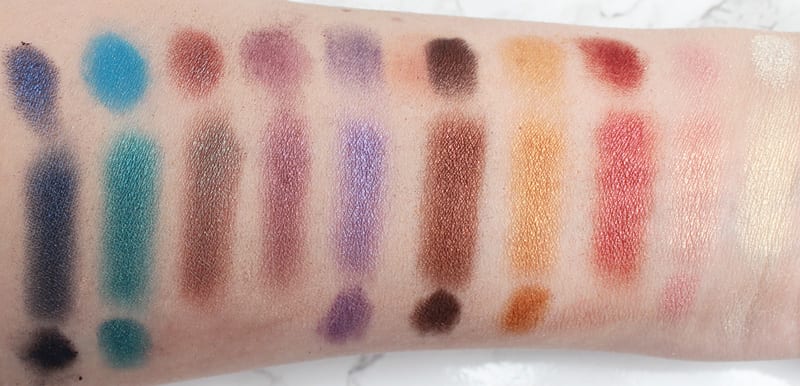 I swatched similar shades for you so that you can see how the Afterdark palette may fit into your current collection. I tried to use mostly Makeup Geek for the dupes, but they don't have close shades for a few of them. I was really surprised that they didn't have a dupe for Fringe or Scene. All the dupes are mentioned in the video below.
Afterdark Palette Look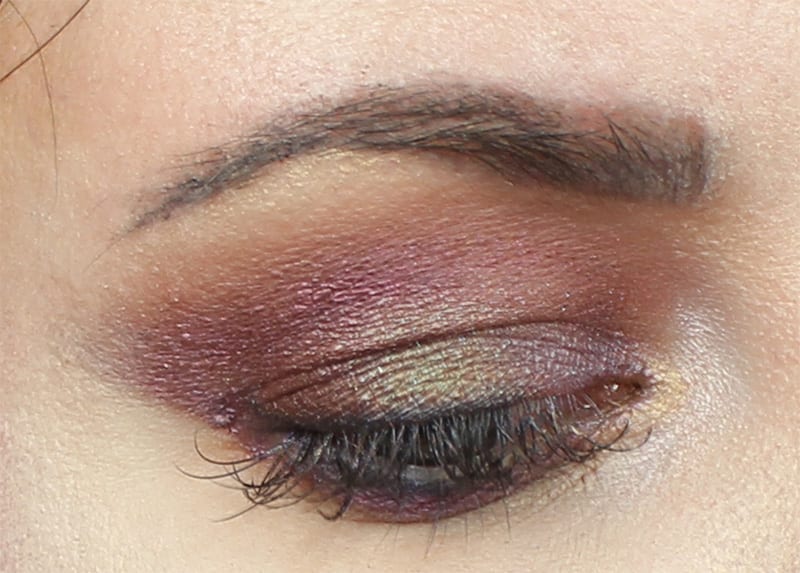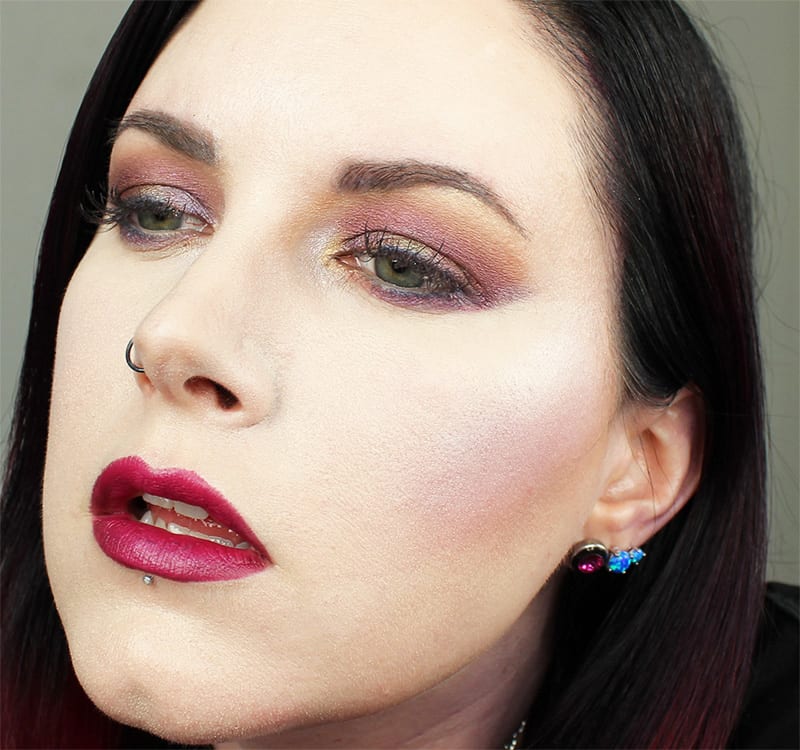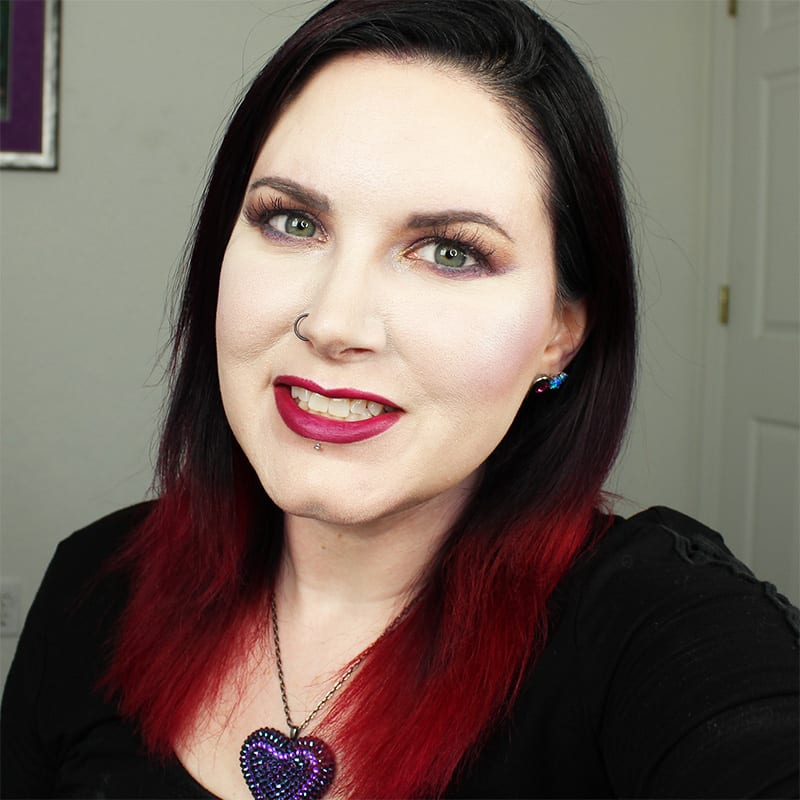 To create my eye look, I used Walk of Shame as a base shade. I applied Laced as my transition color. Then I layered Backfire on top of Laced and in the crease. I put Off Duty on the lid and then layered Lounge on top of it. I used a bit of Paralyzed at the upper and lower lash line. I used a tiny bit of Aura (blue side) at the inner lid. I tried to highlight with Alter but it's too dark for my skintone. I highlighted at the inner corner with Makeup Geek Glitz.
FASHION
Bunny Paige Necklace
EYES
Urban Decay Primer Potion in Anti-Aging
UD Afterdark Palette
UD Aura, Walk of Shame, Laced
Makeup Geek Glitz
Chella Ebony Brow Cream
FACE
Hourglass Veil Mineral Primer
Kat Von D Lock-It Concealer in L1 and L3
Anastasia Beverly Hills Foundation Stick in Warm Alabaster
Physicians Formula Murumuru Butter Bronzer in Light
My Pretty Zombie Niacin – blush
Makeup Geek Glitz
LIPS
Urban Decay Hex & Frenemy lip pencils
Urban Decay Afterdark lipstick
Value
The Urban Decay Afterdark Palette is an amazing value for $49 since you get 10 full size eyeshadows that are .05 oz each. It lets you scoop up 10 shades for only $4.90 each  (valued at $190, 10 x $19).
Afterdark Palette Review
This year, Urban Decayhas really put out some amazing packaging. However, the Afterdark palette takes the cake for me. It's a purple base with rainbow iridescence to it. Afterdark makes me think of when you blow bubbles and see the rainbow on them. I love it so much!
It's about the size of the Electric palette, but a bit slimmer. It feels pretty lightweight, all things considered. It's definitely the most beautiful purple packaging that I've ever seen. It's sturdy and should be perfect for travel.
Now, let me be clear, this is what I call a companion palette. That means that I personally have to pair it with other palettes to make a complete look because I have hooded eyes. I don't think there's anything wrong with companion palettes, as long as you're aware of that up front. It should work beautifully with the Gwen Palette or the Naked Ultimate Basics.
What I didn't like about the Afterdark palette was that there are so many shades that are very similar to permanent colors in the line up or are available as permanent colors, such as Lounge and Backfire. Alter is very similar to Vanilla, Scene is a dead-on dupe for X, Druggie is very similar to Flash, and Paralyzed is similar to Evidence. Fringe is similar to Deep End, too.
What I loved about the Afterdark palette, aside from the bad ass packaging, is that the colors apply, blend and layer easily. They are great to work with. They didn't fade on me, either. Of course, I use primer because I have hooded eyes and if I skip primer my eyeshadow is gone in 20 minutes. It's also a fabulous value for the price. You can't beat the value of the palette with dupes.
If you're a fan of these colors and the Urban Decay formula, you'll love the Aftedark palette.
What do you think of the Afterdark palette? How do you feel about the dupes comparison? Let me know!
More to See