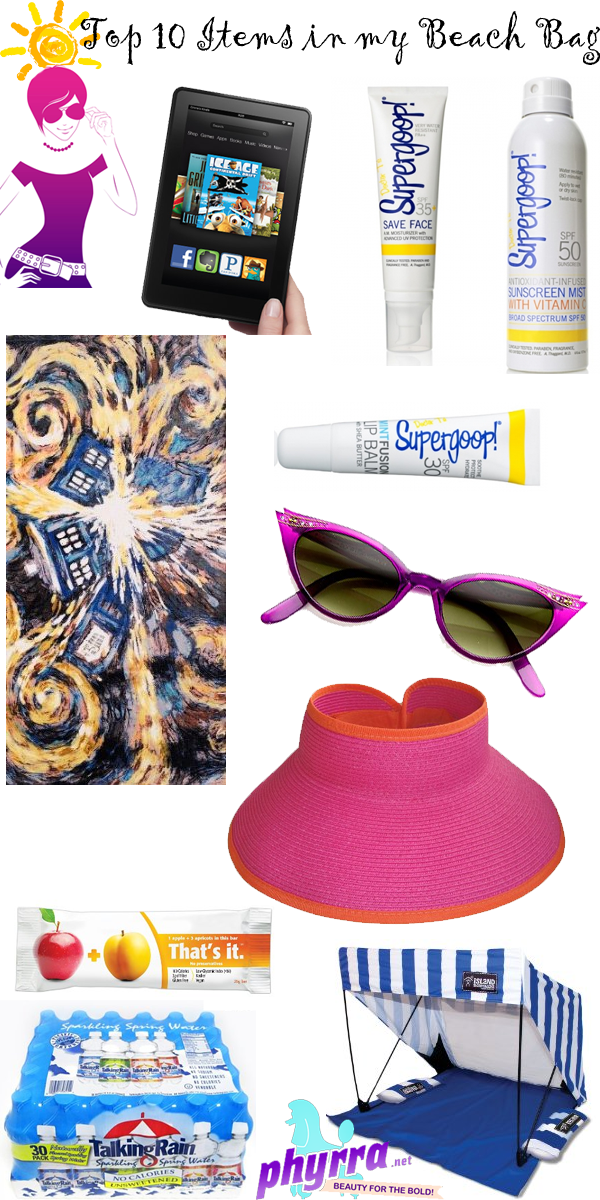 For this week's Top 10 Tuesday, I've got the Top 10 Items in my Beach Bag. These are the items I consider essential for a great day at the beach.
1. Kindle Fire
I never go to the beach without my Kindle Fire. I love my Kindle and I think it's one of the best pieces of tech that has ever been created. I love having 500+ books on my kindle, available at the touch of my finger tips. I love that I've been able to slim down my 3 (literal) ton library of books into a much more manageable selection on my kindle. I've purchased Kindles and given them as gifts to family members. If you're an avid book reader, I love the kindle and recommend it wholeheartedly. The Fire is particularly nice because you can also play movies or music on it if you wish.
2. Supergoop! SPF 35+ Save Face Oil-Free A.M. Moisturizer
The Supergoop! Save Face has been my moisturizer with SPF for for the past 6 weeks and I love it! This moisturizer with SPF is water resistant and oxybenzone-free. It provides complete broad-spectrum UVA and UVB protection, as well as withstanding water for a full 40 minutes of active sun protection. It's cruelty-free, too.
3. Supergoop! SPF 50 Antioxidant-infused Sunscreen Mist with Vitamin C
Supergoop has created an amazing SPF 50 Sunscreen Mist with Vitamin C. I love a good spray sunscreen! The trick with it is that you must spray it on and rub it in with your hand, so that you don't miss any spots! It's 100% oxybenzone-free, unlike most sunscreen sprays. It provides complete broad-spectrum protection for a full 80 minutes in water. And unlike most sunscreen products, it immediately goes to work and penetrates the skin because of the patent-pending Vitamin C formula.
4. Supergoop! SPF 30 MintFusion or AcaiFusion Lip Balm
I love both of the Supergoop Lip Balms, though I prefer the MintFusion over the AcaiFusion. The pink tint in the Acai isn't visible on the lips and I feel the Mint is more moisturizing, but both are nice and the SPF 30 is hard to beat. The shea butter helps to provide deep and long lasting hydration for the lips. It protects against broad-spectrum UVA & UVB rays, all while being oxybenzone-free.
5. Doctor Who Exploding Tardis Pandorica Towel
No beach bag is complete without a beach towel! This Doctor Who Beach Towel adds the perfect touch of whimsy. Love this towel!
6. Shade Shack
Because the Florida Sun is brutal, you want a Shade Shack or Beach Umbrella in your bag. This one is UPF 50, and the open sides make it easy to enjoy the breeze and not get too hot, like some of the tent / umbrellas end up.
7. Sunglasses
Make sure whatever Sunglasses

you wear have 100% UVA and UVB protection, because your eyes need protection from the sun, too!
8. Wide Brim Hat
While my exact hat is a Disney wide brim hat with leopard print, any nice wide brim hat helps to protect you from the sun. This one is UPF 50.
9. Sparkling Water
Water is essential at the beach! I prefer sparkling water, and the Talking Rain variety pack is great.
10. Snack Bars
Snack Bars for the beach are a must! I love my That's It Fruit Bars. They come in a ton of different flavors. They're healthy, with no sugar added.
So these are my top 10 Essential Beach Bag Items. What are yours? Don't forget to check out the items from the rest of the Top 10 Beauty Bloggers!