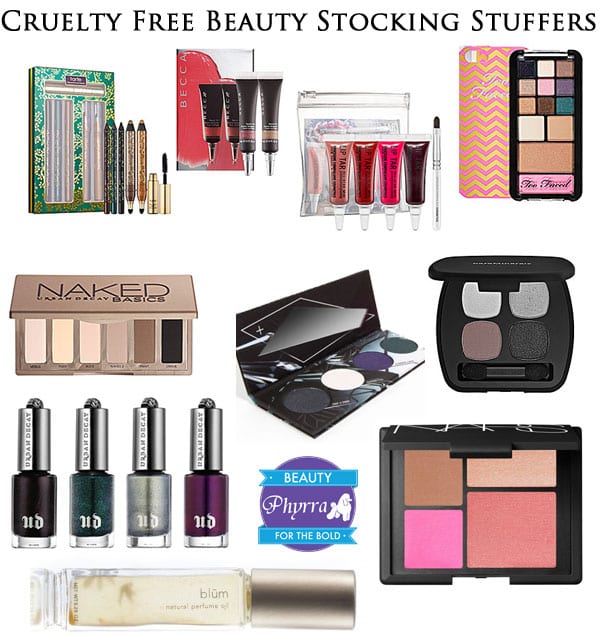 Good morning! It's time for another Beauty Top Tens! This time I'm sharing my Top 10 Cruelty Free Beauty Stocking Stuffers. I've got a lot of great cruelty free (and a few vegan) items that are sure to dazzle and delight!
Pr + purchased by me.
Top 10 Cruelty Free Beauty Stocking Stuffers
1. Tarte Stop & Stare 6-Piece Eyeliner & Lash Set – $39 ($115 value)
If you pop this out of its box, it will definitely fit into a stocking! I actually love this set and I'm really glad I purchased it. The Rose Gold eyeshadow pencil is stunning with blue-green eyes. The Onyx black liner is fabulous and sticks around even when my allergies are at their worst and my eyes are watering like crazy. I haven't had time to do a full review but I do have swatches for you. I love this set!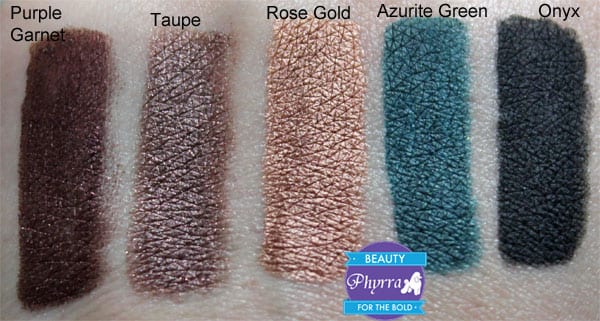 Purple Garnet has no purple tones to me. It looks like a brown with red tones. Taupe is a color that I know all you taupe fans will covet. Rose Gold is stunning and I did a tutorial with it. Azurite Green is beautiful and reminds me of a lush jungle green with teal tones. Onyx is a pretty matte black. I'm impressed with the wear time of Onyx on my waterline. I've had it last 6 hours (though it does show wear). The eyeshadow pencils last all day on primer for me.
2. BECCA Beach Tint Duo – $16
I picked this duo up a while ago to see how I liked the beach tints. This set comes with Watermelon (bright pink) and Fig (tea rose pink). Fig didn't do much for me but Watermelon is really pretty. This is a multi-purpose product that can be used on the cheeks and lips. My favorite shade is Lychee (perfect hot pink) and I would highly recommend Lychee if you'd rather skip the duo and go directly to a full size.
3. Obsessive Compulsive Cosmetics Lip Tar All-Star Mini Set – $20 ($34 value)
This set comes with Memento (pink plum neutral), NSFW (primary red), Anime (vibrant neon pink), and Black Dahlia (blackened red). I own all of these in full size and love them. They're awesome and can be mixed together or worn on their own. See my lip tar swatches here. (Vegan)
4. Too Faced Jingle All the Way Palette – $25 ($96 value)
This is such a cute little palette and it comes with an iPhone case! See my video and review here. Super cute!
5. Urban Decay Naked Basics Palette – $27 ($108 value)
This is one of the most useful little palettes ever! It's 6 full size shadows in matte and demi-matte formula. I love using this palette to mix with brights and sparkly shades. It's an awesome palette. See my review. You can see a tutorial here.
6. Sugarpill Cold Chemistry Palette – $34 ($48 value)
I purchased all of these shades individually but this palette is an exceptional value. The colors are stunning! Soot & Stars (beautiful multi-dimensional grey, Vegan), Diamond Eyes (shimmering white, Vegan) , Elemental Chaos (deep purple), and Subterranean (deep teal green, Vegan).  See Elemental Chaos here, Soot n' Stars & Diamond Eyes here, and my Soot n' Stars Dollipop tutorial here.
7. bareMinerals READY Eyeshadow 4.0 Quads – $34
You know I love these and I own a ton of them. There's a quad to suit every personality, but you can't go wrong with a classic like the After Party. See many looks and my video here.
8. Urban Decay Nail Color – $15
The new UD nail polishes are stunning. One of the two newest shades, Zodiac, is my favorite! It's stunning. It's a smoky green with gold, green and blue 3-D micro-glitter, very much like the Moondust eyeshadows. You can see Zodiac here.
9. Osmia Organics Blum Perfume – $75
This is a very unique vanilla based scent. It's got a vanilla base with a twist of earthly angelica, a heart of honeysuckle, orange blossom and neroli. There's a ginger top note, adding a bit of spice. It's unusual and nice. I think it's the ginger that really does it. (Vegan)
10. NARS Adult Content Cheek Palette – $49
I ADORE this palette! It has Desire, my favorite hot pink matte. It also has Zen (neutral beige), which can be used as a contour. It has Miss Liberty, which is a light shimmering beige, and Deep Throat, a peach with golden shimmer. You can wear the colors individually or all together. You can see my swatches of it here.
 These are my choices for cruelty free beauty stocking stuffers. What are yours? I wanna know! Share them in the comments below.
Last Updated on