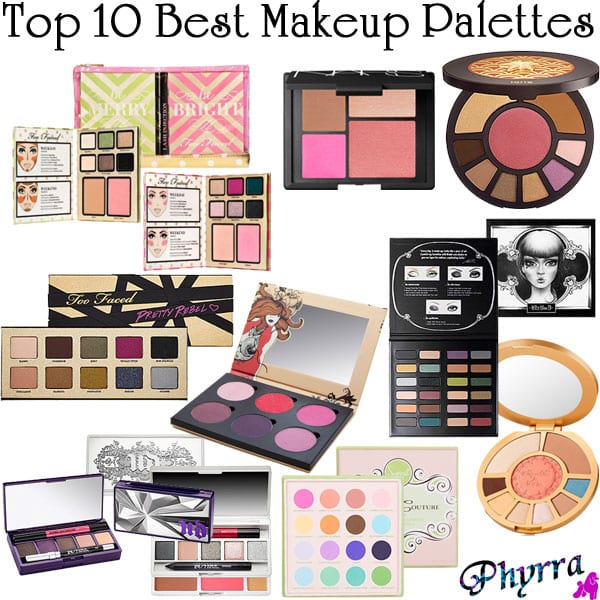 Happy Tuesday! It's time for another Beauty Top 10s. This time we're talking about our Top 10 Best Makeup Palettes for this year. It was HARD to decide on the ones that I felt were the best, but these were the 10 cruelty free makeup palettes that I came up with. All of these are currently available, except for the Aqualillies for tarte palette.
Top 10 Best Makeup Palettes
PR + purchased by me.
1. tarte Aqualillies for tarte Amazonian Clay Waterproof Eye & Cheek Palette – $38
I think this is one of the best palettes that tarte has ever created. All of the colors are ultra flattering. You can see my review of it here. You can see my video tutorial here. Unfortunately this was LE and is no longer available (though you may be able to find it on ebay). I absolutelyLOVE these palettes from tarte and I hope they continue to make more of them. They're easy to travel with.
2.  tarte Coral Crush Palette – $38
I absolutely love this cheek palette. The blush in it is perfect and stunning. The eyeshadow shades are even ones I've warmed up to. As I mentioned previously, I love this packaging. It's easy to pack for a weekend away. Also, the highlighter is beautiful. See my review. You can see my video too.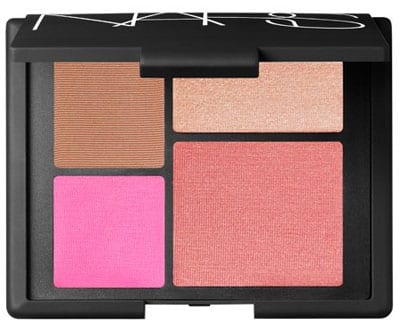 3. NARS Adult Content Cheek Palette – $49
I've wanted this palette for months so I was really happy when I had the opportunity to purchase it at the Makeup Show Orlando. It contains blush shades I've always wanted to try but never picked up, plus Desire, which is one I have and love. Desire is a hot pink matte,  Zen is a neutral beige (can be used to contour cheeks), Miss Liberty is a soft shimmering peach (can be used as a highlighter) and Deep throat is a sheer peach with golden shimmer (can be worn on its own or blended with Desire for a custom pinky peach shade. This palette really gives you a ton of versatility for the cheeks and it's compact and easy to fit into your everyday makeup bag. It's awesome. See my NARS Love post and video.
4.  Saucebox Cosmetics Forbidden Fruits Palette – $39
I picked up this palette because I wanted a palette with burgundy, pinks and purples and it did not disappoint! I've got a review coming up with it. The shadows are great quality and huge for the price. See a look here.
5. Sigma Crème de Couture Palette – $32
This is the first purchase that I've made from Sigma in years. I finally decided to give them a chance after having an extremely positive experience with them at IMATS LA 2013. I'm happy to be able to recommend this all pastel matte palette. It's perfect for hooded eyes and shading on the browbone to fake a crease (then darkening the outer crease with a deeper shade ). I love having an all matte palette. See my review and video. This palette won't be around much longer, so if you're interested snap it up soon! Also, it breaks down to $2/eyeshadow, which is a great deal.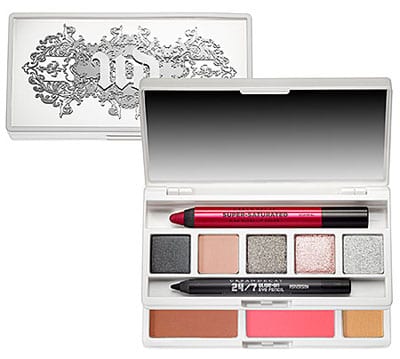 6. Urban Decay Anarchy Face Case Palette – $44
I was ridiculously excited when Urban Decay released the Face cases this year! I love the Anarchy case because of the Quickie Blush and awesome highlighter. Also, the lip pencil Scandal is gorgeous. I also like all of the eyeshadows except for Provocateur. The packaging is gorgeous, too. It's super easy to do a silver smoky eye with this set, which I find is one of the most flattering colors for my blue green eyes. See my review of Anarchy and Shattered here. You can watch the video here.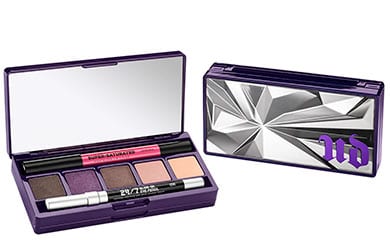 7. Urban Decay Shattered Face Case Palette – $44
I'm a sucker for purples. It's not a shock that I love the shades in the Shattered Face Case, as well as the packaging design. See my makeup tutorial featuring Shattered and Anarchy here.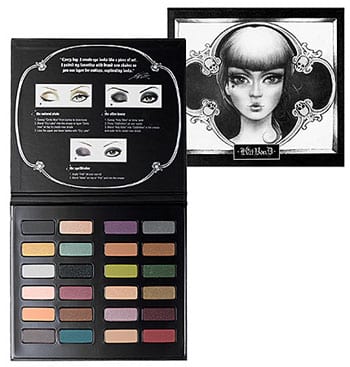 8. Kat von D Spellbinding Eyeshadow Book Palette – $55
I LOVE this eyeshadow book from Kat von D. It's got great eyeshadow colors that were created to be paired but also work well on their own. You can see my awesome video here. You can see my review here. You can see my green tutorial here. You can see my simple neutral tutorial here.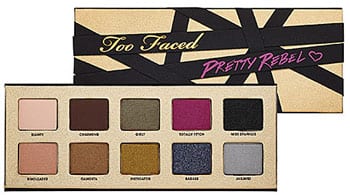 9. Too Faced Pretty Rebel Palette – $46
This palette blew me away! It's one of my all time favorite eyeshadow palettes from Too Faced and to me one of the best they've ever made. You can see my review and video here. See my green eyeshadow tutorial here. See  my blue cateye tutorial here. You can't go wrong with this palette.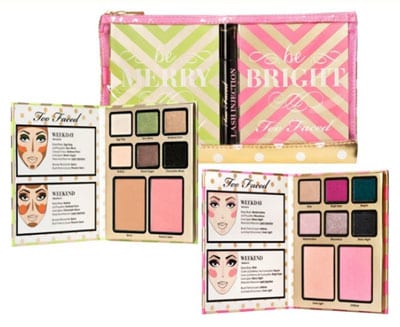 10. Too Faced Be Merry & Bright Palette – $45
I have a review coming up soon of this duo palette set. I absolutely love it and it's my favorite of all the Holiday releases from Too Faced. The blushes are gorgeous. The eyeshadows are gorgeous. They've got their 'look book' suggestions on the hard side of the palette so they can never be lost. The product names are printed directly on the palette so you know what you're using. I LOVE the palette design! It's super sleek, lightweight and mess free. I sincerely hope that Too Faced makes more palettes in this style! Love it!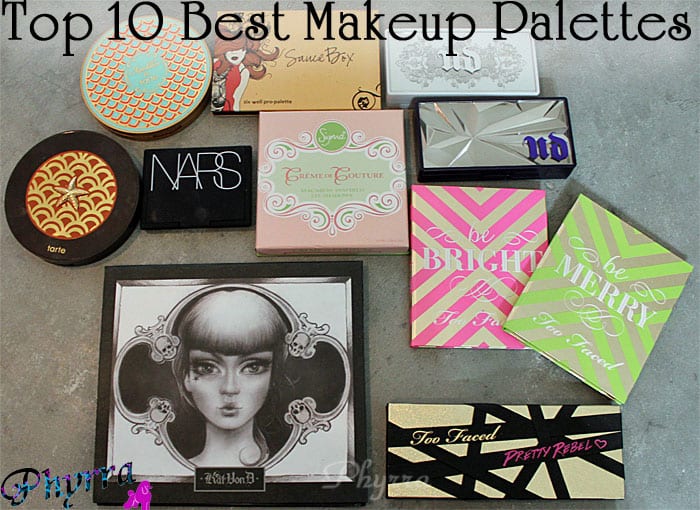 What are your Top 10 Cruelty Free Beauty Palettes for 2013? Share in the comments below 🙂

[inlinkz_linkup id=318166]