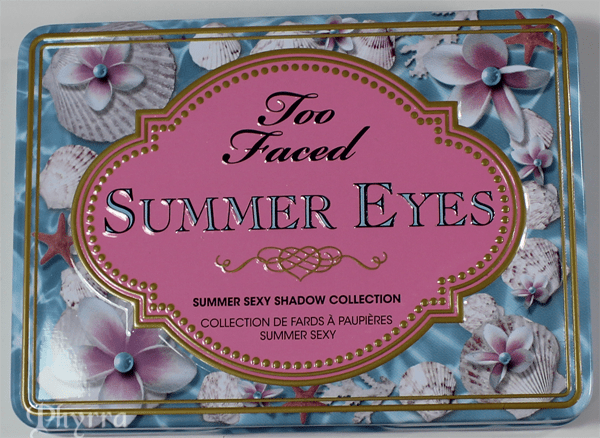 Happy Friday! Today I'm excited to share with you the Too Faced Summer Eyes Palette. Jerrod Blandino says, 'With a summertime tan nothing is more gorgeous than beautiful pops of eye color!' so he's put together some lovely shades in this Summer palette.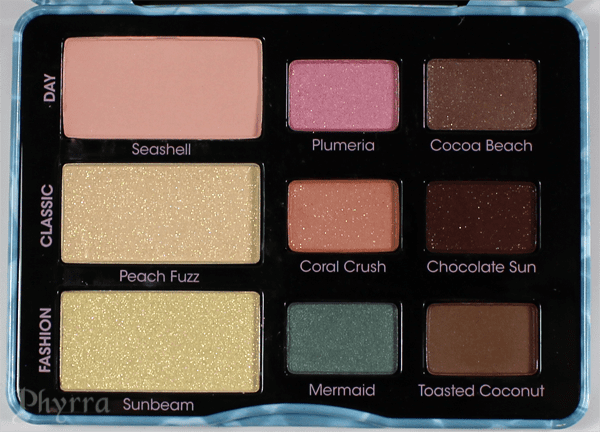 The Website Claims
Our hand-picked collection of nine summertime ready shadows are just the right addition to your faux bronzed glow, and fresh sunny highlights. These exclusive resort-inspired eye shadows will be your temptation to take a vacation. This palette is cruelty-free.
Price
$36
I've got to talk a minute about the packaging. I absolutely LOVE the tin! It's less bulky than last year's Summer Eyes palette (which I coveted but missed out on). It's lightweight but sturdy. It's perfectly sized to toss in your purse for travel. It comes with a mirror on the lid, of course, and three Get the Looks.
All swatches on Gosh eyeshadow primer.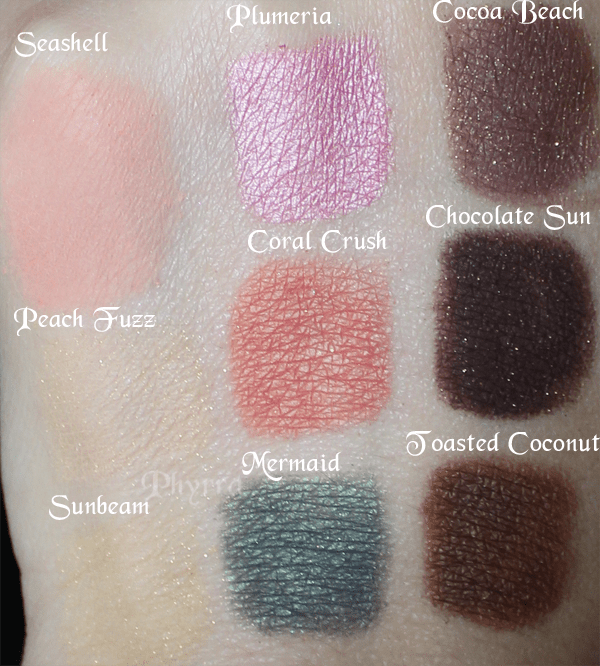 Seashell
Light pastel sherbet. I really like this pale shade as it's a nice matte lid shade.
Peach Fuzz
Very light yellow-toned beige peach with gold glitter. I have an older version of this in one of the Too Faced eyeshadow duos and I like the color but I wish it had a tiny bit more pigmentation. I adore the gold glitter in it.
Sunbeam
Pale yellow-toned gold with gold glitter. I love this as a highlighter!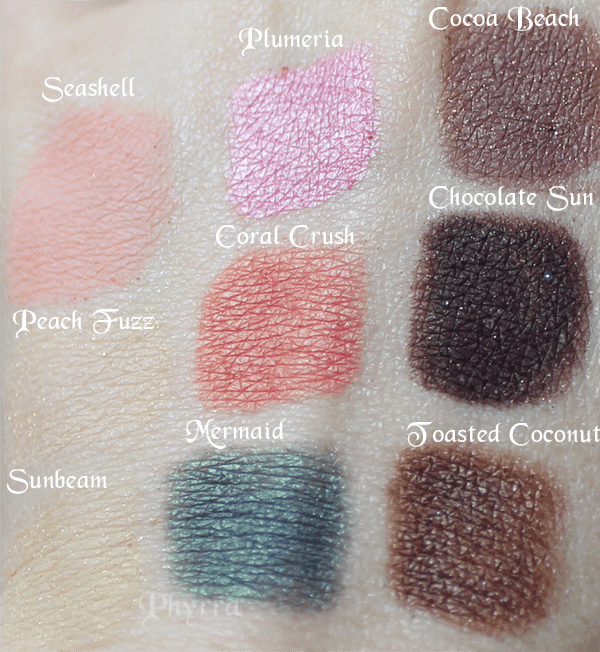 Plumeria
Shimmery mid-tone pink. I love this particular shade of pink. It's very girly.
Coral Crush
Orange-toned coral with gold glitter. This is my favorite shade in the entire palette. It's such a lovely coral.
Mermaid
Shimmery deep sea green. I like this color but I can't help but wish it was a bright blue teal.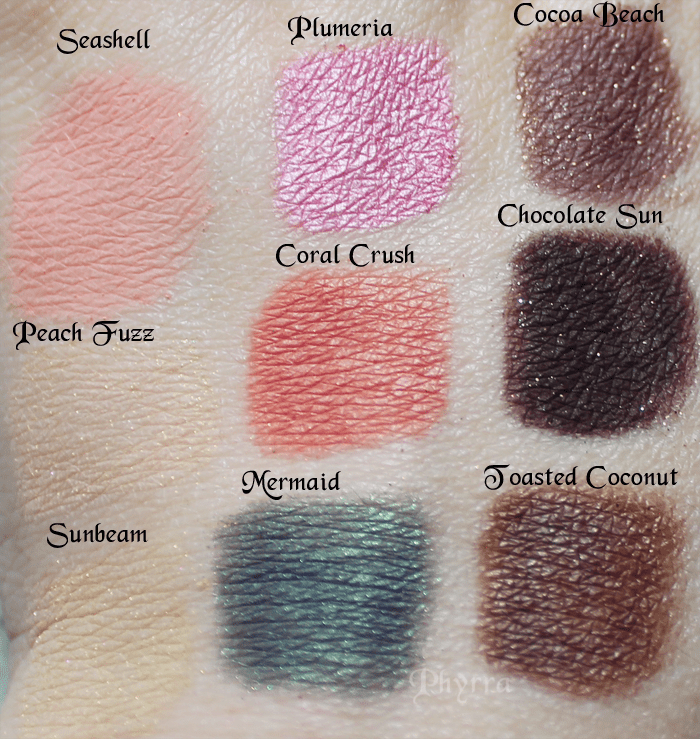 Cocoa Beach
Warm brown with gold glitter. I love the tiny glimmers of gold in this. If you're a brown fan you will adore it.
Chocolate Sun
Dark chocolate brown with gold glitter. This is a great liner shade and I think it would be pretty smudged on top of a black liner.
Toasted Coconut
Warm shimmery brown. This is definitely a workhorse type shade that if you're a brown fan, you'll use over and over again in the crease.
The palette comes with 3 different Summer Eyes looks.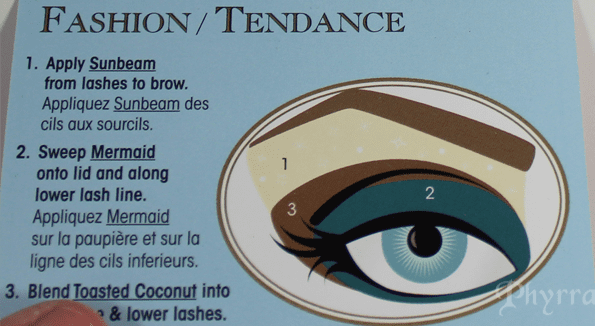 I do like the looks that they put together. The one thing I did find, when I tested these shadows out, was that it was easy to overblend the colors. If you overblend, you need to go back and apply more shadow. So while the shades work together and blend easily, you need to keep that in mind. Aside from that, I got all day wear on TFSI.
This palette will be released for Summer 2013.  I've been really wanting to wear corals and pinks. I'm ready for the cold to be over with and on to the Summer heat! This palette definitely will make you crave Summer's warm rays.
Which colors are your favorite from the palette? Would you wear any of these looks?
Product sent for consideration. All opinions are my own.