The Makeup Show Orlando 2016
I wanted to tell you about the The Makeup Show Orlando 2016! The Makeup Show Orlando is going on Saturday Jan. 30 9am to 6pm and Sunday Jan 31st 9am to 5pm at the Hyatt Regency Orlando, 9801 International Drive.
The Keynote Speakers
Charlie Green – Making Impact: Makeup & More – Saturday Jan 30 10:30 am – 12 pm
Scott Barnes – The Signature Style of a Celebrity Artist – Saturday Jan 30 12:30 to 2 pm
Ashunta Sheriff – The New Movement in Makeup – Saturday Jan 30 2:30 – 4 pm
Michael Burnette – A Career in Makeup Inside Universal – Saturday Jan 30 4:30 – 5:30 pm
Eve Pearl – Success by Design – Sunday Jan 31 10 – 11:30 am.
Max Weber – Artists Inspiring Artists – Sunday Jan 31 12 – 1:30 pm
Nick Lujan and Danessa Myricks Hosted by James Vincent – The Skin I'm in (Diversity in Artistry) – Sunday Jan 31 3 – 4:30 pm
Saturday Seminars
Seminar Space A
9:30-10:30 Blogger Preview – James Vincent for The Makeup Show
11:00-11:45 The Art of Complexion – Brian Sutherby for Muse Beauty
12:15-1:00 Bennett Green for Inglot Cosmetics
1:30-2:15 It's Not HD Without Good Tools – Sian Richards for London Brush
2:45-3:30 Advanced Airbrush Beauty: Color Theory and Contour – Tanya Deemer for TEMPTU PRO
4:00-4:45 Perfecting Imperfections – Sher Salzman & Marietta Carter-Narcisse for Cosmix School of Makeup Artistry
Seminar Space B
10:00-10:45 Where The Pros Shop: Where to shop your favorite and hard to find brands and save money! – Danessa Myricks for Frends Beauty Supply
11:15-12:00 Mastering Complexion: Ultra HD with Nicholas Lujan for MAKE UP FOR EVER
12:30-1:15 Modern Looks for High End Fashion – Amanda Harvey for Crown Brush
1:45- 2:30 Cheek Technique – Annie Bran for NARS Cosmetics
3:00- 3:45 The Art of "Baking Makeup Technique" – Megan Hill Luman for MEHRON Makeup
4:15- 5:00 Fast, Creative Airbrush Makeup – Andrea O'Donnell for Graftobian Makeup Company
Sunday Seminars
Seminar A
9:30-10:15 Refining Your Kit : The Must Haves with Nicholas Lujan for MAKE UP FOR EVER
10:45-11:30 The Art of Brows – Eugenia Weston for SENNA Cosmetics
12:00-12:45 Gleamalicious Glam – Melanie Mills for Melanie Mills Hollywood
1:15-2:00 So You Want To Be A Makeup Artist – Michael DeVellis for The Powder Group
2:30-3:15 Back to Basics: Understanding Color Correction – David Hernandez for Nigel Beauty Emporium
Seminar B
9:15-10:00 Instant Flawless Skin – Sebastien Tardif for Veil Cosmetics
10:00-10:45 Airbrushing On-Set and More – Jonah Levy for TEMPTU PRO
11:15-12:00 Men's Grooming – Angela Wilson for MustaeV
12:30-1:15 Tattoo Coverups: Hiding and Concealing in Film, TV & Bridal – Trason Fernandes for Bdellium Tools
1:45-2:30 Foundation, Concealing, Sculpting and Highlighting with Sensual Skin Enhancers – Viviana Martin for Kevyn Aucoin Beauty
3:00-3:45 Lights, Camera, Action: The next step to working in the Film Industry – Leslie Christin for Cara Cosmetics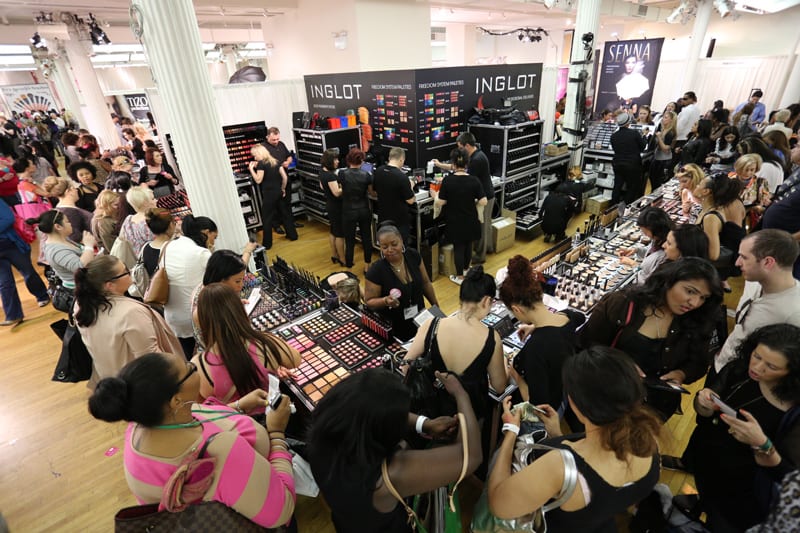 The Cruelty Free Brand that will be at the Makeup Show Orlando are
AJ Crimson Beauty
Bdellium Tools
Cailyn Cosmetics (Leaping Bunny Approved)
Cara Cosmetics
Crown Brush
Dollup Beauty
Ellis Faas
Embryolisse
Eve Pearl
Eye Kandy
Gleam by Melanie Mills (Leaping Bunny Approved)
Graftobian Makeup
Inglot Cosmetics
Kett Cosmetics (Leaping Bunny Approved)
Kevyn Aucoin
The Lip Bar
Mehron
Model in a Bottle
NARS
Nurturing Force
Pinnacle Cosmetics
Senna Cosmetics
Static Nails
Temptu
Veil Cosmetics
Z Palette
If you're in the Tampa / Orlando area and you're considering becoming a makeup artist, you should talk to Orlando Santiago from the Orlando Santiago Makeup Academy. He'll be at the Makeup Show. His booth is D19.
I will not be at the Makeup Show Orlando this year because I'll be out of town in LA. I'm going to miss seeing James Vincent and my blogger friends! If you're in the area and can go, you should attend! It's the best event in Central Florida for beauty and makeup artistry! For more information and to purchase tickets visit the Makeup Show Website.
Have you ever gone to a beauty convention?