Today I've got three of the Stila After Glow Lip Colors reviewed for you. I've reviewed Tangerine Dream individually (see my previous post for the ingredients listing), but I also wanted to review Electric Pink and Vivid Violet. And of course, I wanted to share lots of blacklight photos with you!
Press samples.
Price
$18 for .1 oz from Nordstrom, Sephora, Amazon

, etc
Shades Available
Tangerine Dream

– bright tangerine (to me it's a reddish orange)
Vivid Violet

– rich violet (very pretty violet magenta shade)
Festive Fuchsia – vibrant fuchsia
*Electric Pink – hot pink (lush hot pink)
Rave Red – bright red
Party Pink – deep pink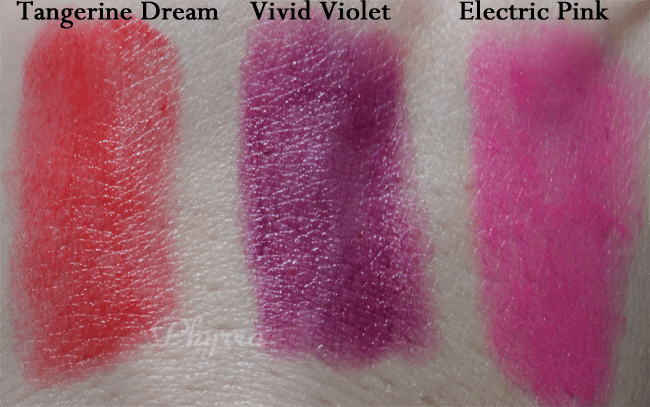 The Website Says
Dazzle by day and glow by night. Stila's blacklight

responsive lip color contains florescent pigments that are three times brighter than conventional colors, creating a vibrant pop of color in the sunlight. Once the sun goes down, blacklight sensitive pigments cause the product to glow when exposed to ultraviolet (UV) light.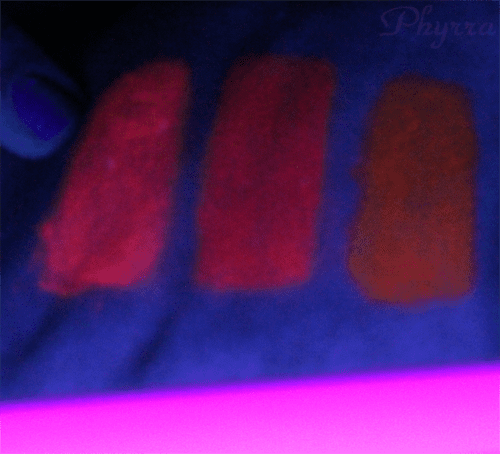 From L to R: Electric Pink – Vivid Violet – Tangerine Dream
To me, they look very similar under the black light. Tangerine Dream looks more more reddish orange, Vivid Violet looks more reddish pink, and Electric Pink looks like a pinkish red. They were not distinctly hot pink, purple violet or orange. While I was slightly disappointed by this, I didn't buy them primarily for their blacklight abilities, so I'm ok with the fact that they look similar under blacklight.
Vivid Violet reminds me of MAC Heroine, MAC Violetta, and Milani Violet Volt. So here's another great cruelty-free alternative to MAC Violetta or Heroine.
Features & Benefits:
* Medium, buildable coverage with staining properties for lasting color
* Sunflower seed oil nourishes and moisturizes, while oat kernel extract soothes and calms the lips
* Algae extract helps retain moisture and contains antioxidant benefits
* Glycerin attracts water from the environment and the lower layers of the skin increasing hydration levels
* Natural blend of waxes deliver a creamy, easy-to-apply consistency
* Vitamins C & E provide antioxidant benefits
* Cherry flavored
* Cruelty-free
I've got a bunch of blacklight photos. I love taking blacklight photos!
I'm right under a blacklight with Vivid Violet on my lips.
This was my favorite shot of this series under the blacklight, probably because you can see the glimpse of Electric Lizard at the back of my hair. Wearing Vivid Violet on my lips.
Wearing Vivid Violet above.