I wore this outfit on Wednesday when I went to Cameo Spa to have another PCA Skin Sensi Skin Peel facial and a full pedicure done. I love this soft coral pink top with the fuchsia shorts. The top is from Victoria's Secret and the shorts are denizens from Target. The shoes are black croc wedge heels.
When I'm going to the salon for a facial, I never wear makeup or fix my hair. They always end up pulling my hair back from my face and it gets all messed up. Any makeup would be removed, so it's best to just go in with a fresh face and moisturizer with SPF. You should also be well hydrated before you get a facial so that you get the maximum benefit from the experience. If I'm going for a pedicure, which I don't do very often, I wear shorts and open toe sandals. It sucks to be wearing long pants and then have the pants brush the polish or my shoes muss my toes.
I had my facial first. Deborah, who is amazing, talked with my about my skin and what I experienced after the last peel. I peeled for the full five days after that first peel, but otherwise I haven't experienced any breakouts.
For this visit I had another PCA Skin Sensi Peel. She went through 3 rounds on my face. It was a different mixture and more intense than last time. The entire procedure only lasted about 30 minutes and it was really relaxing.
When I'm getting a facial, I spend most of my time with my eyes closed and I try to focus on what I'm feeling on my skin, so that I can communicate it effectively to Deborah. She wants to know my pain on a scale of 1 to 10. Most of the time, nothing is above a .5, but on the last round it was a 3, and she fanned my face to help cool it off. I was pleasantly surprised that the gentle fan was all it took to ease the stinging.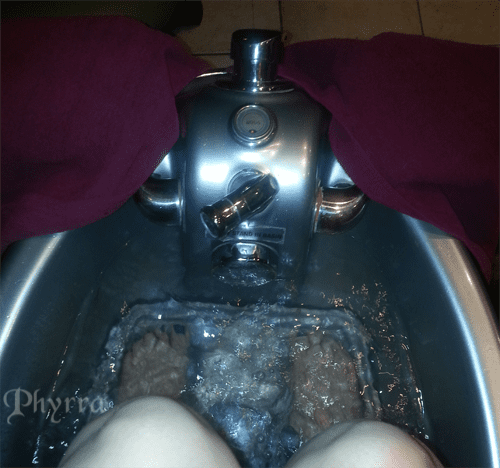 After my awesome peel, I went to see Sonya, my talented aesthetician that normally does my brows. She gave me the most relaxing pedicure. The chair is heated and massages your back while she works on your feet. You get a great scrub, edges trimmed, corns removed (if necessary) and things filed smooth.
I have very ticklish feet. One of the reasons I don't often get a pedicure done is because it tickles way too much. Sonya was very good and hardly tickled me at all. A good pedicure will not hurt at all and should help you feel relaxed and pampered.
Before my pedicure I was wearing Pretty Serious Party by the Pool Nail Polish. For my pedicure, I brought my bottle of Orly Royal Navy and had Sonya use that. Pretty blue for my toes!
I had a wonderful day and I'm really glad that I spent it at Cameo. I can't wait to see how much further my skin progresses from the PCA Skin Facial peel.