Sherrieblossom ICEbOX Skinny Review

Happy Caturday! I'm happy to share with you today my Sherrieblossom ICEbOX Skinny review. I've got a video portion to show you the product in action, as well as this written review. The Sherrieblossom ICEbOX Skinny is a luxury makeup organizer. It's been a huge hit among celebrities such as Lily Ghalichi and Gretchen Rossi. You saw me mention this recently in my Makeup Wars Best Ways to Organize Makeup.
PR sample.
The ICEbOX is made from very high quality lucite that really glows under the light. Lucite was created by Dupont and it really gives the ICEbOX a crystal clear effect. Under my daylight bulbs it looks beautiful. The handles fit seamlessly into the design. They don't look bulky or glued on, as I've seen with other organizers.

If you like this video please give it a thumbs up and subscribe!
Please keep in mind that I do not have your average size makeup collection. I've got a huge collection due to the fact that I've been blogging for over 5 years. Before that I was almost exclusively a MAC makeupaholic and my entire MAC makeup collection fits into 1 drawer. So if you have an average size makeup collection, you'll have plenty of extra room!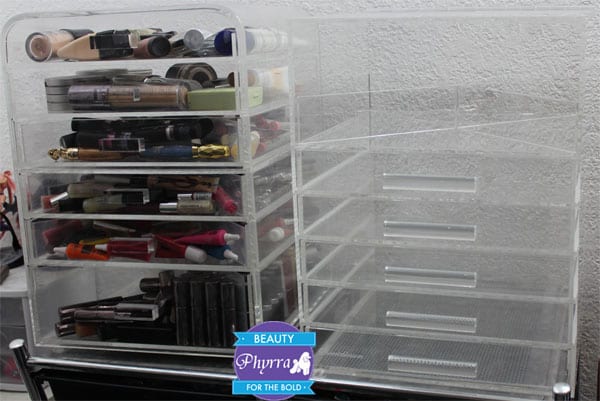 Price
$365 – Shorty Skinny
$365 – Shorty Wide
$395 – ICEbOX Skinny
$395 – ICEbOX Wide
Availability
You can purchase them at Sherrieblossom.com, Amazon, and Neiman Marcus.
Measurements for the ICEbOX Skinny
12″ L x 12″ W x 15″
The lid section is 5″ tall.
The drawers are 2″ tall.

My Thoughts on the ICEbOX Skinny
The Sherrieblossom ICEbOX Skinny is perfect if you have narrow counter space or don't want this to take up too much room on your dresser. It's a 5 drawer, 6 tier organizer. There are removable inserts that can be L shaped, X shaped or grid shaped so that you can choose how to most effectively organize your makeup. My eDiva only has X shaped organizers in each drawer, so I really find this flexibility in the Sherrieblossom to be invaluable.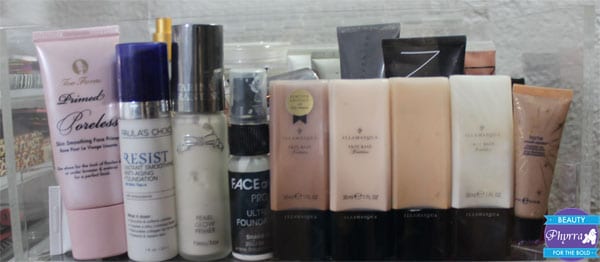 The crown jewel of the organizer, to me, is the lid area. It's about 5″ tall, which accommodates almost all of my foundations, highlighters, sunscreens etc. What took up 2.5 drawers in my eDiva can fit into the lid area of the ICEbOX skinny, which is really nice. It's also much easier to find what I'm looking for since I don't have to rummage through a drawer or three.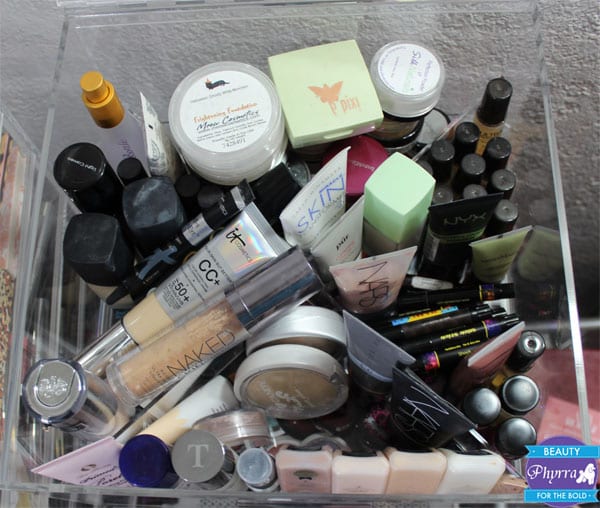 Beneath my top lid area is my Sugarpill drawer.

This is my Sugarpill makeup collection. The drawer still has plenty of space. It's holding my 3 Sugarpill palettes, all of my Chromalusts, my Cold Chemistry, Sparkle Baby, and LE colors. The space behind the palettes could easily hold another 6 palettes. These drawers are really deep and able to hold a ton of products.

Below that I have my Silk Naturals eyeshadows. This is about 3/4 of my Silk Naturals collection. I have more eyeshadows, blushes and lippies in another drawer.

This is about half of my Fyrinnae collection. I've got nearly one entire drawer full in my 10 drawer organizer of Fyrinnae jar sample sizes.

This is my Urban Decay drawer. it has my Build your own palettes (quads and 6s), Glinda palette, Theodora palette, etc. The rest of my UD palettes are in my 10 drawer organizers.

The bottom drawer of the Sherrieblossom ICEbOX Skinny has Sherrieblossom beautifully engraved on it. You can see the light catching the handle. So pretty! Because of what I have my Sherrieblossom sitting on, I can only fit shallow palettes into it, such as my tarte Romancing the Glow palette and the Anastasia Beverly Hills Lavish palette. On a dresser or another surface you can easily fit many more palettes or eyeshadows or lipsticks into this drawer.
The ICEbOX needs to be placed entirely upon a flat surface, so that all 4 rubber bumpers on the bottom of it are on the surface, like a dresser. This stable base allows it to work exactly as designed. Also, don't completely overload your drawers. Make sure you fill the entire bottom of the drawer before you start stacking. Trust me, you'll thank me for it.
My thoughts for improving this would be to make the base thicker (or base and sides), so that there's no chance of it bowing outwards if it is not completely on a flat surface. However, if you use it the way it's intended, on a completely flat, stable surface, you won't ever see it bow out.
As you can tell from the video, my pictures, and my organization post, I have a ton of makeup. I've spent a lot of time and money on trying to figure out the best way to organize my makeup. I looked for the perfect black vanity with a mirror and storage to no avail, which is what led me to picking up cheaper storage options such as my three 10 drawer organizers. They work ok, but not great, and they're flimsy. If you overfull the drawer they pop off their rack. The Sherrieblossom ICEbOX Skinny is able to hold a ton of products in a little space and it looks really nice if you set it on a dresser (unlike what I've got it sitting on), so it can be a very stylish and useful organizer.
Yes, it is expensive, but you really do get what you pay for. This is a luxury organizer that makes it easy to find your makeup. If you're an average makeupaholic, you'll be able to fit your entire collection in this and have room to spare. You could even probably use the top section for your perfume, too!
What do you think of the Sherrieblossom ICEbOX Skinny? Love it? Hate it? Let me know below!