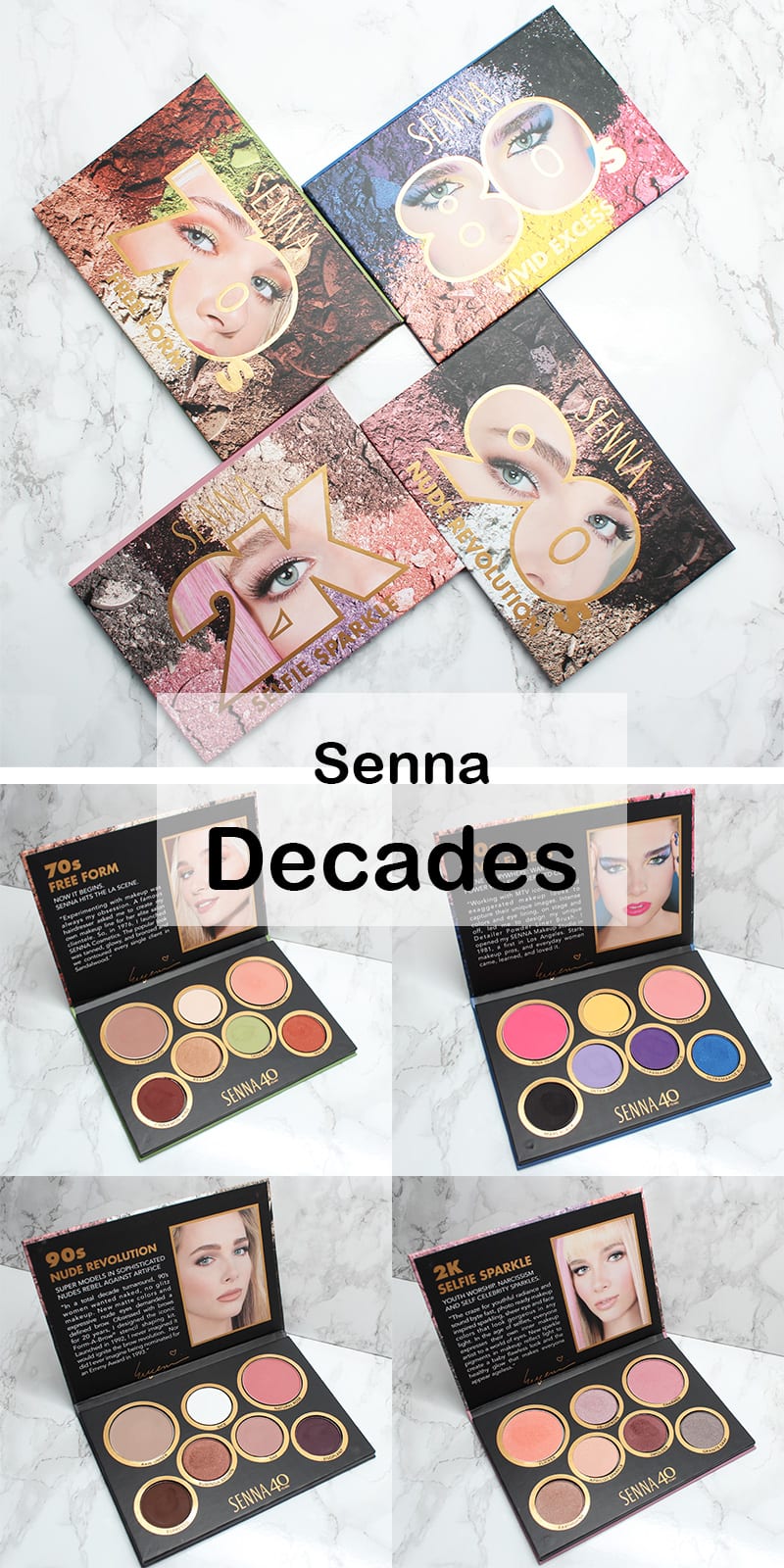 Today I'm bringing you my review of the Senna Cosmetics Decades Collection. It's a 4 palette set made up of 70's Free Form, 80's Vivid Excess, 90's Nude Revolution, and 2k Selfie Sparkle. These palettes are also available individually. I picked up this set at the Makeup Show NYC.
Senna Cosmetics Decades Collection Review
Price
$40 individually
$140 for the 4 palette set
Where to Buy
Senna Cosmetics, Amazon
Senna Decades Palettes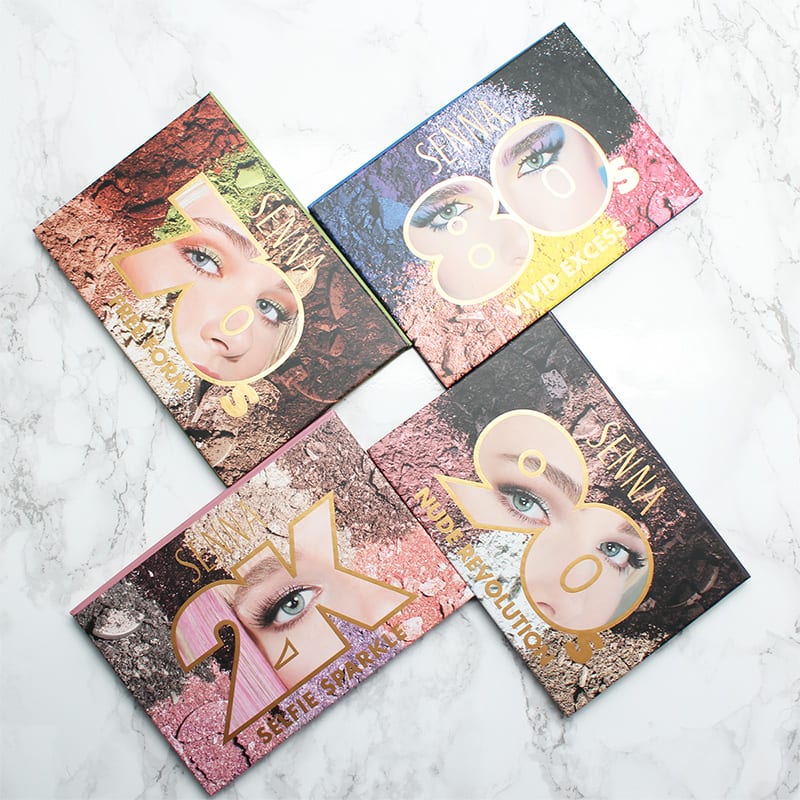 How I Swatched Decades Collection
I swatched this set differently than I normally do to see if I want to swatch in this new way. I used the Urban Decay Moondust brush for all the colors, cleaned on both my Color Switch & microfiber cloth in between colors. I used Urban Decay Primer Potion on my arm.
70's Free Form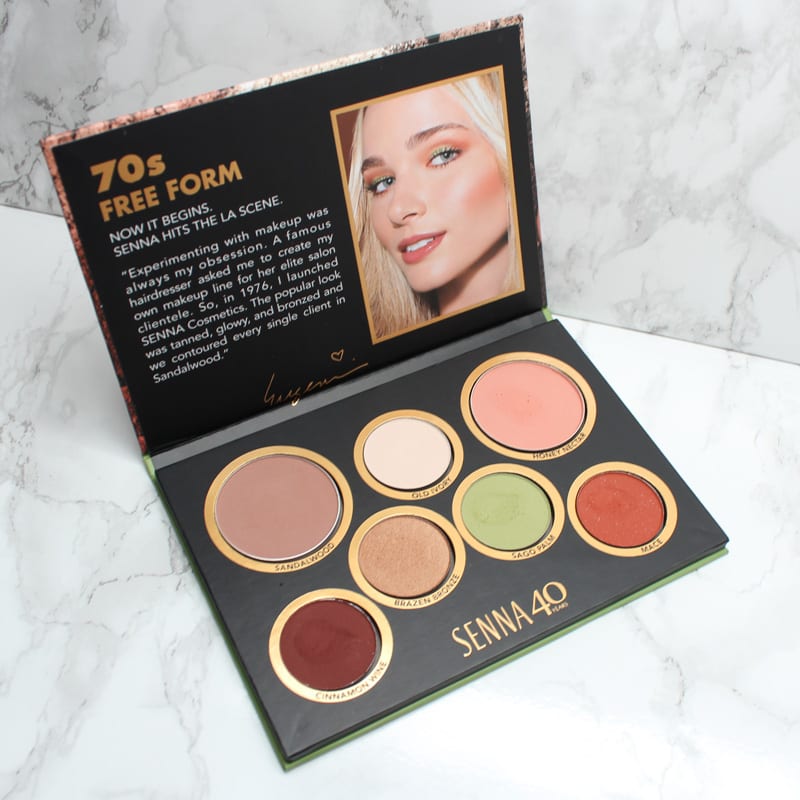 Contour cheekbones with classic Sandalwood and softly lift cheeks with warm Honey Nectar. Brighten eye lids with Old Ivory as an eye primer base. Outline and define eyes with rich Cinnamon Wine or Mace and use green Sago Palm for a pop of color. Glowing yellow golden Brazen Bronze highlights eyelids, cheekbones, brow bone, inner eyes and cupid's bow.

Old Ivory
Ivory matte. This had excellent pigmentation.

Sago Palm
Light pea soup green matte. This had pretty good pigmentation.

Brazen Bronze
Metallic light golden bronze. The pigmentation here is better than in Ultramarine Blue but not as pigmented as Mars Black.

Mace
Burnt orange matte. This had good pigmentation but not as good as Mars Black.

Cinnamon Wine
Deep burnt orange brown matte. This had very good pigmentation.

Honey Nectar
Light peach with beige brown undertones matte blush.

Sandalwood
Soft brown with peach undertone blush / contour.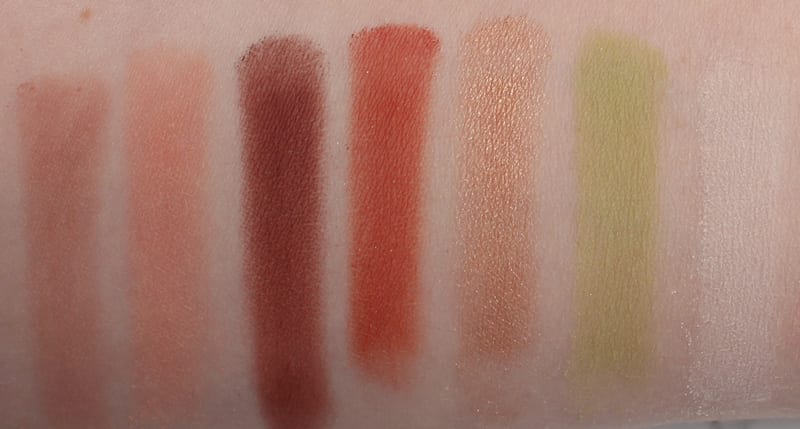 L to R – Sandalwood – Honey Nectar – Cinnamon Wine – Mace – Brazen Bronze – Sago Palm – Old Ivory
The 70's Free Form palette is definitely better quality, in my opinion, than the 80's Vivid Excess. The orange shades have been all the rage this year, so it amused me to see them as a sort of blast from the past.
80's Vivid Excess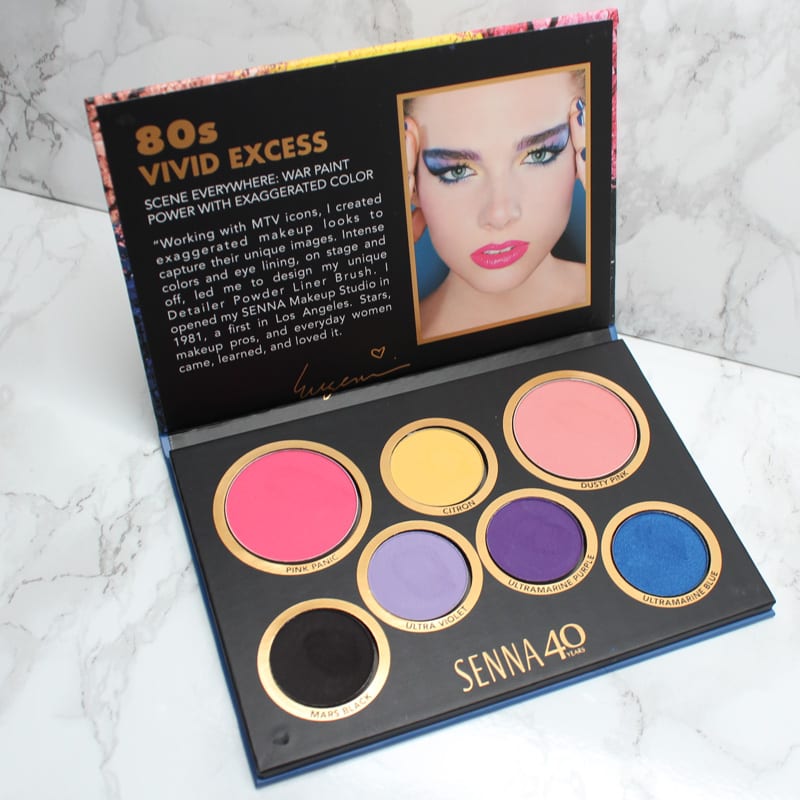 Paint eyes with extreme Ultramarine Blue or Ultramarine Purple punctuated with bright yellowed Citron or pure Ultra Violet. Then wing eyes or smoke them out with the 'blackest of black' Mars Black. Pure Dusty Pink blush brightens up cheeks while vivid Pink Panic arches brows, and color contour takes it over the top.

Citron
This is a bright yellow matte. It didn't apply evenly and skipped around on my skin.


Ultra Violet
Ultra Violet is a pale lavender matte. It's sheer and patchy.


Ultramarine Purple
Ultramarine Purple is a pretty purple with good pigmentation but it skipped around on the skin.


Ultramarine Blue
Ultramarine Blue is a royal blue with slight shimmer. It was slightly sheer.


Mars Black
This black matte leans warm and had excellent pigmentation. I wish all the shades were this pigmented.


Dusty Pink
Love this pretty soft pink matte blush.


Pink Panic
Bright pink matte blush.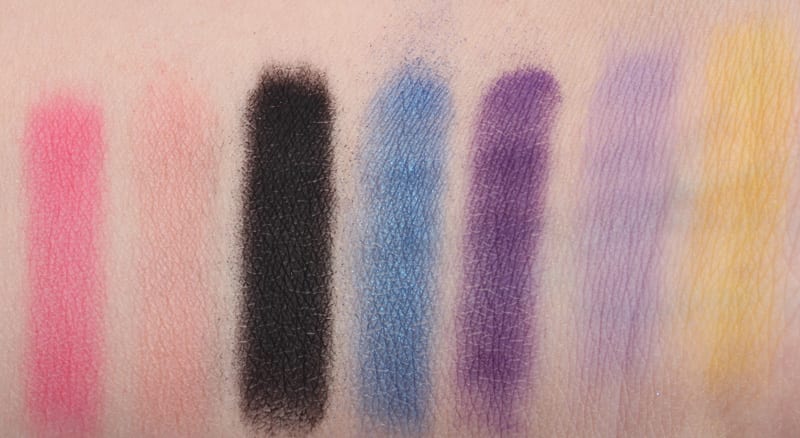 L to R – Pink Panic – Dusty Pink – Mars Black – Ultramarine Blue – Ultramarine Purple – Ultra Violet – Citron
Initially I was the most excited by this palette but because of the performance of most of the eyeshadows, I felt let down. If they were all as pigmented as Mars Black, it would be a great palette. I do love the blush shades and the black. I found the purples difficult to work with. Ultra Violet kept blending away into nothing on me. Ultramarine Purple was definitely better, but still not what I would call easy to work with.  I felt like the only way to make the purples workable was to stipple them on. I didn't find Citron that great to work with either. Ultramarine Blue was better. I really wanted to love this one, but with the purples being so difficult to work with, it's definitely a miss for me.
90's Nude Revolution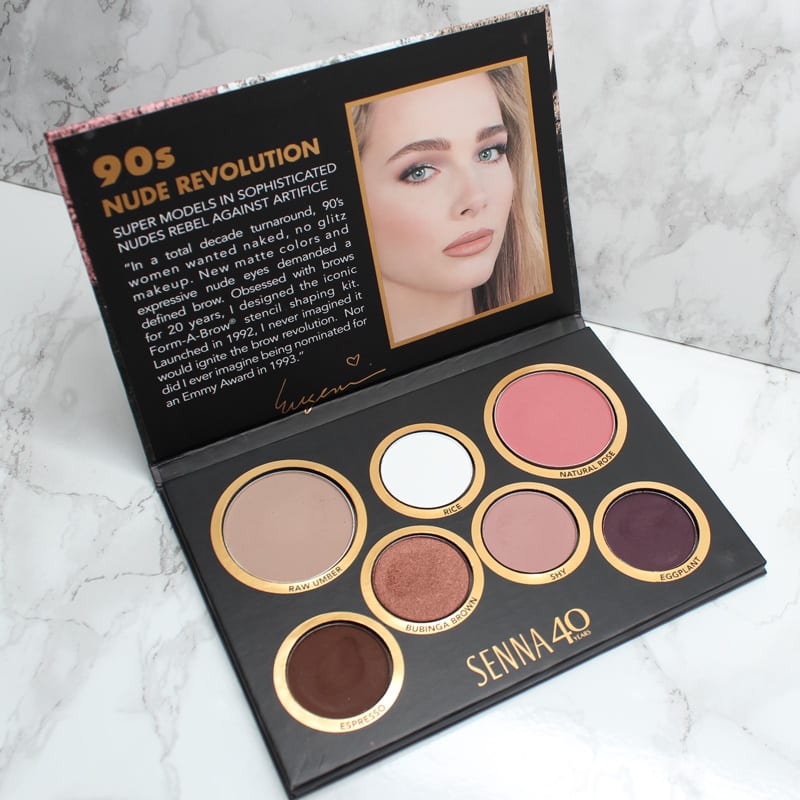 Eyelids are lightly rosed with Shy, contour creased with rich brown Espresso or deep plum Eggplant under glowing bronzed Bubinga Brown. Pure white highlight Rice lights up lids and cheekbones. Natural Rose add soft blush while Raw Umber softly contours adding definition.

Rice
Pure white matte, very pigmented.

Shy
Light taupe brown matte. I wish it had a bit more pigmentation.

Eggplant
Deep brown with red tones matte. Pretty good.

Espresso
Deep brown matte. Pretty good pigmentation.

Bubinga Brown
Brown with golden shimmer. Excellent pigmentation.

Raw Umber
Light taupe matte blush / contour.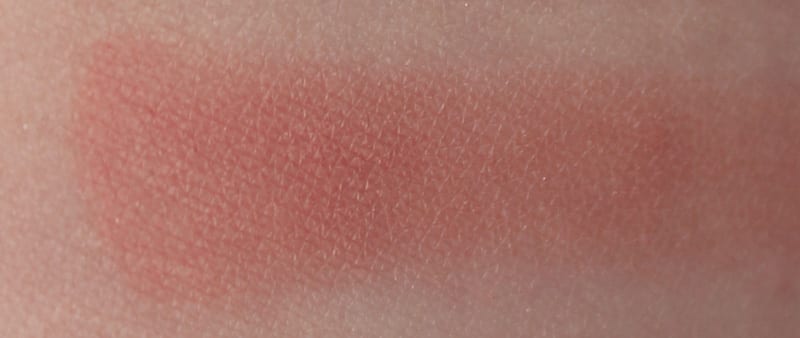 Natural Rose
Light earthy rose matte blush.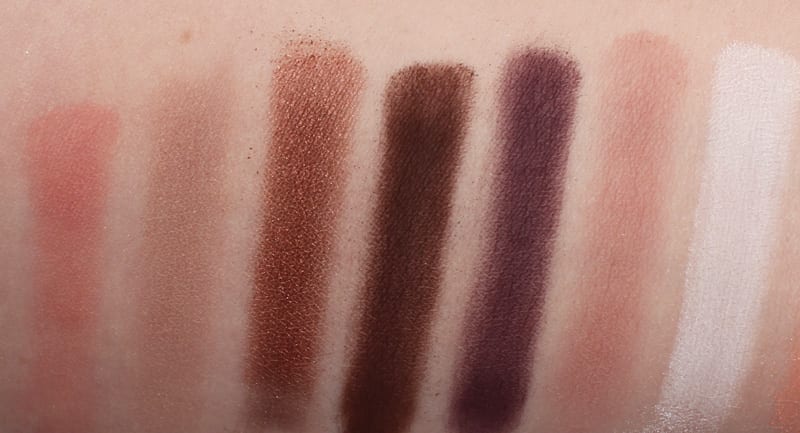 L to R – Natural Rose – Raw Umber – Bubinga Brown – Espresso – Eggplant – Shy – Rice
This is the best palette in the set. The eyeshadows all have good pigmentation and they're easy to work with. Shy's slightly less pigmented than the other shades but definitely still workable. It's a tie between this and the 2k palette for my favorite.
2k Selfie Sparkle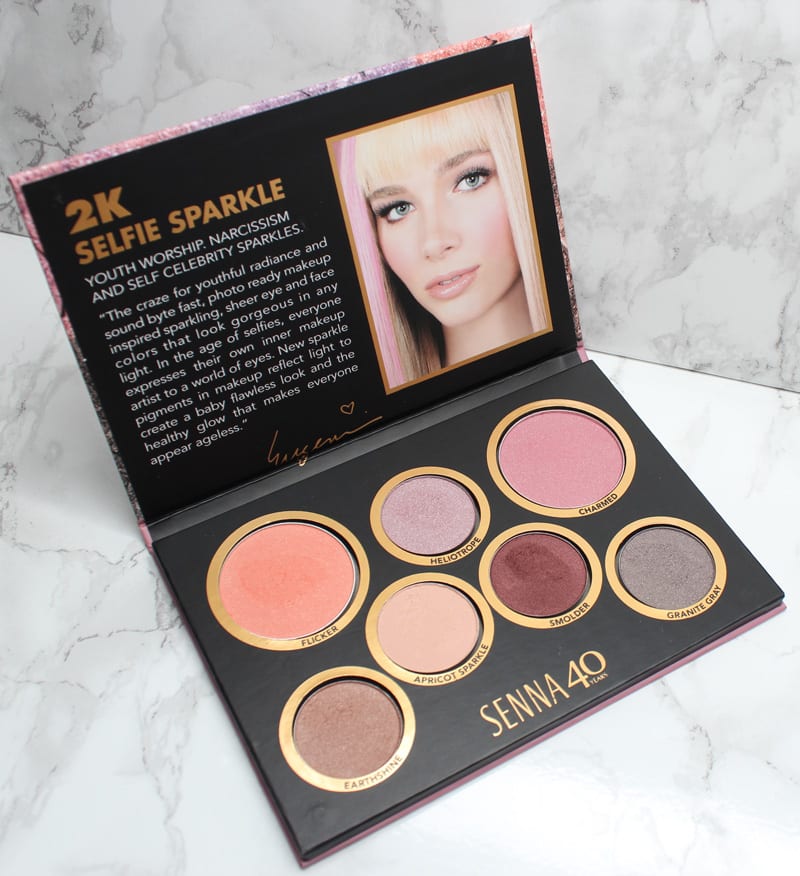 Sheer sparkle diffuses radiant color for flawless skin in cool and warm glowing tones. Cool down with glowing lavender Helioptrope on lids, Granite Gray eye contour, and lift cheeks with silver sparked pink Charmed Blush. Warm up lids with glowing brown Earthshine and glowing wine Smolder lined and spark cheeks with golden-flecked peach Flicker. Highlight both with duochrome Apricot Sparkle on eyelids, cheekbones, brow bone, inner eyes and cupid's bow.

Apricot Sparkle
Sheer peach with pink shift. I wish this had more pigmentation, though Senna does say that this is a sheer sparkle palette.

Heliotrope
This is a pretty dusty pink with purple undertones and lots of silver sparkle. I wish it had a bit more pigmentation.

Granite Gray
This is sort of a deep grey purple taupe with silver sparkle. I really love this color.

Earthshine
Warm brown shimmer with subtle golden shine.

Smolder
Deep red-toned brown shimmer.

Charmed
Light warm pink blush with shimmer.

Flicker
Peach blush with golden shimmer.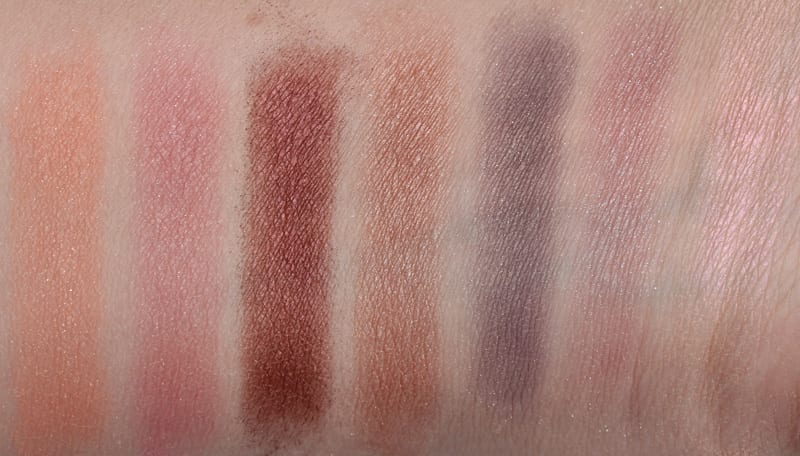 L to R – Flicker – Charmed – Smolder – Earthshine – Granite Gray – Heliotrope – Apricot Sparkle
Aside from Apricot Sparkle being so sheer, this is a really good palette. I especially love the Granite Gray and Heliotrope eyeshadows.  I don't think I could do the sparkly crease on my hooded eyes though. I love the cool toned eye shades so much.
I honestly think that the theme of this collection is pretty cool,  as it celebrates 40 years of beauty and trends. With the exception of the 80's palette, I think the rest of these are pretty solid. So if you like one palette, you can snag it for $40, or you can pick the set up for a discount.
What do you think of the Senna Cosmetics Decades Collection?
More to See
Last Updated on