Today I've got a Semi-Sweet Chocolate Kaleidoscope tutorial for you featuring the Too Faced Semi-Sweet Chocolate palette and Makeup Geek Kaleidoscope duochrome pigment. This post contains a mix of press samples and products purchased by me.
Semi-Sweet Chocolate Kaleidoscope Tutorial
How to apply Too Faced Semi-Sweet Chocolate Bar Palette & Makeup Geek Kaleidoscope
0. Apply tape to the outer corner so that you can get a crisp, clean line at the outer lid. Prep the lid with Too Faced Shadow Insurance eyeshadow primer.
1. Apply Too Faced Coconut Creme as the base shade to the browbone and crease (or hood in my case).
2. Pat Too Faced Blueberry Swirl onto the lid.
3. Blend Too Faced Puddin' into the crease.
4. With a thin eyeliner brush, apply Tarte Tartiest Black Clay liner to the outer 1/2 of the upper lash line, extending it out into the crease (or hood).
5. Take a pencil brush and smudge Too Faced Licorice on top of Black Clay, blending slightly upwards.
6. Spritz a small lid brush with Urban Decay All Nighter Spray, then use it to apply Makeup Geek Kaleidoscope to the lid and inner v, on top of Blueberry Swirl.
7. Apply Blueberry Swirl to the lower lid with a smudge brush.
8. Use a mascara brush smudge Licorice into the roots of the lower lashes.
9. Apply Black Clay to the waterline. Add mascara.
10. Highlight under the brows and at the inner corner with Sugarpill Ice Angel.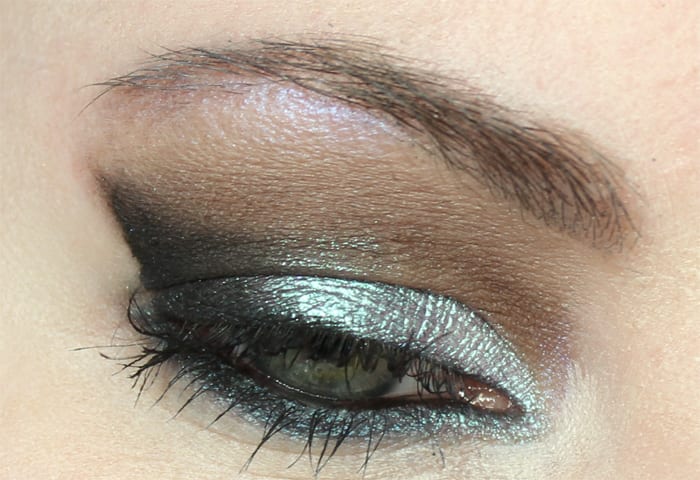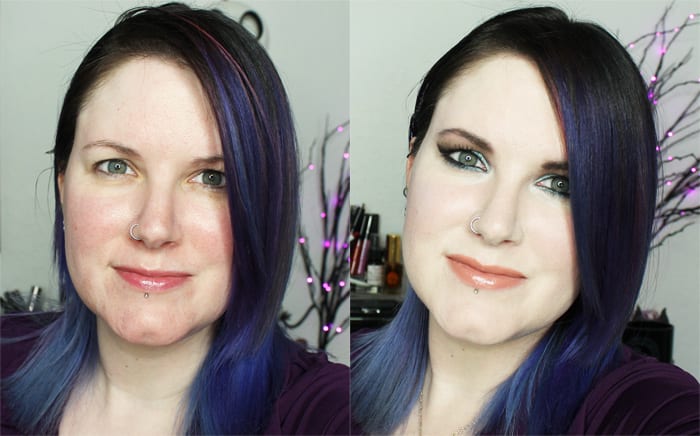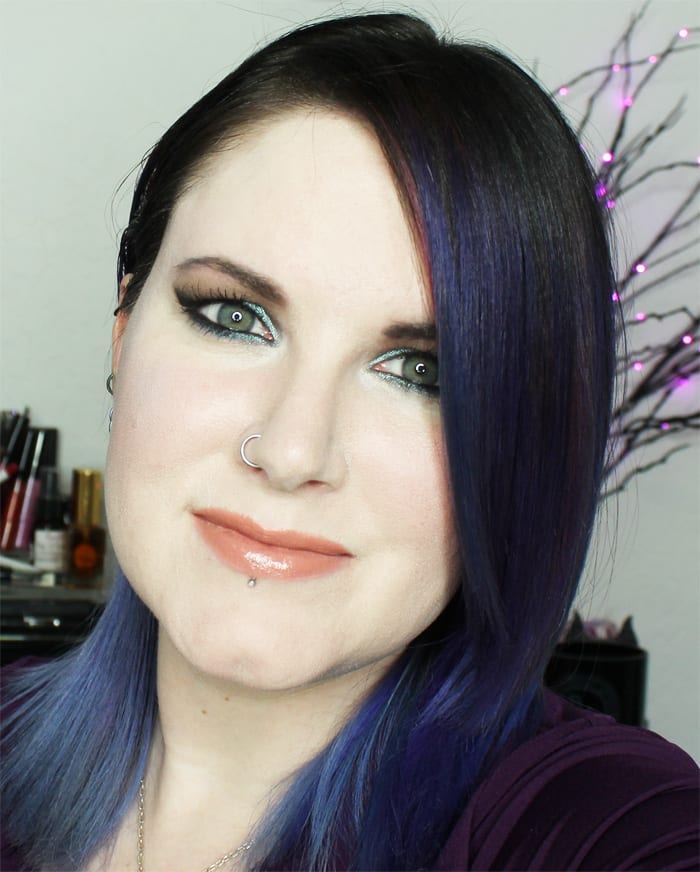 Necklace
Bunny Paige Mini Pavèd Heart Necklace in Silk Ombré
Eyes
Too Faced Shadow Insurance
Too Faced Coconut Creme – base shade on browbone and hood
Too Faced Blueberry Swirl – lid and lower lid
Too Faced Puddin' – crease
Tarte Tartiest Black Clay Liner – upper outer lash line, extended out, waterline
Too Faced Licorice – on top of Tarte Black Clay Liner, smoked out, smudged through roots of upper and lower lashes
Makeup Geek Kaleidoscope (UD All Nighter Spray) – lid and inner v
Sugarpill Ice Angel – highlight under brows and at inner corner
Urban Decay Perversion Mascara
Nudestix Eyebrow Stylus Pencil & Gel in Brown Black – eyebrows
Face
Cover FX Illuminating Primer mixed with Cover FX Liquid Foundation in N0 with a drop of Cover FX Custom Infusion Drops in Vitamin F + Neroli
Williamspro Translucent Setting powder
Lunatick Cosmetic Labs Contour Palette 4 Dark Grey Taupe – contour
Lunatick Cosmetic Labs Contour Palette 5 Light Pink – blush
Looxi Beauty Luna – highlight
Lips
Urban Decay 24/7 Pencil in Native
NARS Lipstick in Besame Mucho
The Nudesstix Eyebrow Stylus pencil seriously rocks. I love how the Black Brown color works on me and it's easy to apply.
I hope that seeing the brushes that I use make it easier for you to recreate this look if you like it.
What color combinations have you worn on your eyes recently?