Let me preface this review with I've always found mascara difficult to use. I've always found the zig zag wiggle challenging to implement properly, so I would suffer from clumpy lashes. I tried a variety of plastic lash combs, but they sucked. I found ONE metal lash comb at Sally's, which I tried and it was merely mediocre. However, this lash comb, which I ran across on the lovely Cybele's blog of Cybele Says, is aptly named Perfect Lash Comb, is the queen of all lash combs!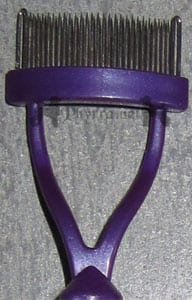 The Website Claims:
Perfect Lash Comb Extends, Lifts and Intensifies Lashes
-Curved to reach all lashes evenly
-Side guards to protect sensitive skin areas
-Stainless steel teeth are tapered to allow an easy glide into the eyelashes
-Wide open supports to allow clear visibility
-Angled inward for comfort
-Easy-grip handle for a secure hold!
Price:
$18.94 including tax and shipping
Colors:
Purple, Blue, Black & Gold, Black & Silver
The Website Design:
The website itself is very basic in design, and it's relatively easy to order from. It's the only place that I've ordered from in years that when I emailed to ask a question about shipping required me to fill out a request on earthlink. However, the owner got back with me quickly and the product shipped quickly.
Does it live up to its claims?
Yes! Let me tell you why this works for me. First, the metal teeth are curved, much the same way your lash line is curved. Second, the teeth point upwards, so you can comb upwards or downwards, whatever is easiest for you. I sometimes find it easier to slide the comb downwards, as in towards my cheek. It's easy to clean, as you can just take some makeup remover on a cotton pad to clean off the metal teeth.

Would I purchase again?
Absolutely! After trying all kinds of combs that didn't work at all or only moderately well, this comb is awesome. If you find yourself falling prey to clumpy lashes, the Perfect Lash Comb is worth trying out.
Product purchased by me. All opinions are my own.