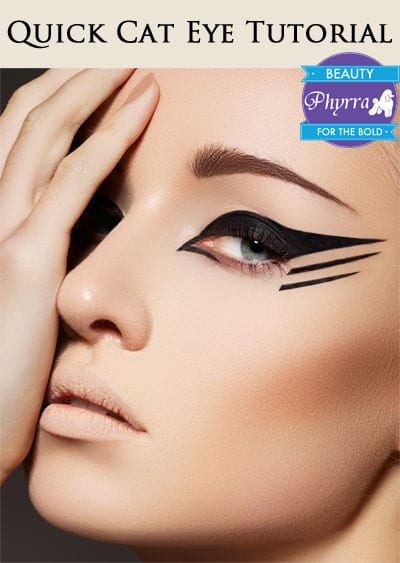 Good morning! Today I've got a reader request for you for a Quick Cat Eye Makeup Tutorial Video. When I create my cat eyes, I compensate for my hooded eye shape. I think of a triangle shape, basically. So while I've got the video, I also created a step-by-step guide, too.
Pr + purchased by me.
Quick Cat Eye Makeup Tutorial Video

Please give this video a thumbs up, share and subscribe!
Products Used
Too Faced Candlelight Shadow Insurance (see my review here and battle of the best Too Faced Shadow Insurances here)
Jesse's Girl Waterproof Liquid Eyeliner (see my review here)
Products to Keep on Hand
Precision Tip Cotton Swabs
Gentle Makeup Remover
Tape
I prefer to use precision tip cotton swabs (such as the ones you can get at CVS) and Paula's Choice Gentle Touch Makeup Remover to clean up any mistakes and create a crisper edge.
Step-by-step Guide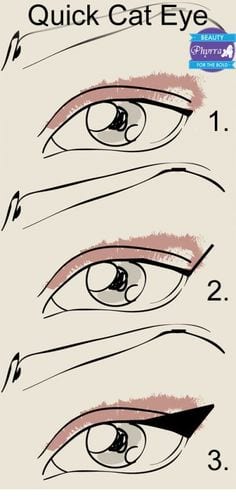 Second Method
A second method to apply a cat eye is to apply tape (after making it less sticky so that it does not tug harshly at your delicate eye area), at the angle that runs from your lower waterline toward the end of your eyebrow. That will give you a crisp line when applying a cat eye. To 'de-sticky' the tape, simply press it on your hand and pull it off, and it will be less sticky but still able to adhere to your skin so you can draw a line. Some people even take 2 pieces of tape and create the shape you see in Step 3 of the Guide above to fill in their cat eye.
Third Method
A third method is taking an index card or a business card and cutting the cat eye shape for your eye out of the card, so that you can hold it up to your eye and just fill it in to get the perfect shape every time.
I hope you liked my quick cat eye makeup tutorial video! How do you like to apply your cat eye? Do you have any tricks or tips to share?
Last Updated on