I've got some of the latest Prestige Total Intensity Eyeshadows to share with you today. There are three types – Fierce Color, True Metals and Color Rush.
PR + purchased by me.
Prestige Total Intensity Eyeshadows Review
Prestige Cosmetics is cruelty free and PETA approved.
Price
$8.50 Fierce Colors (.07 oz)
$9.75 True Metals (.09 oz)
$9.75 Color Rush (.13 oz)
Availability
Ulta, Walgreens, Amazon, Prestige

  All shades swatched on Wet n' Wild Fergie primer.

Bewitched (Fierce Color) light golden brown with soft golden-green duochrome. I actually can't think of any dupes for this though I'm sure they exist.

Hocus Pocus (Fierce Color) chocolate brown with turquoise green duochrome. Similar to shades like MAC Club, Too Faced Pedals to the Medal, Wet n' Wild Comfort Zone, etc  

Black Magic (Fierce Color) Stunning soft black with an amazing amount of silver and rainbow glitter. I love this shade! It reminds me of MAC Black Tied on steroids.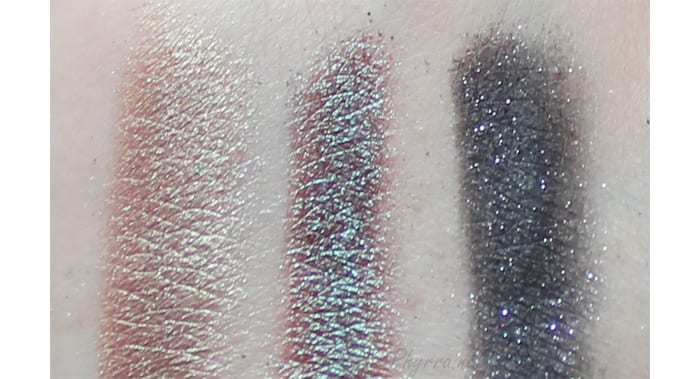 L to R – Bewitched, Hocus Pocus, Black Magic

Hypnotized (Fierce Color) blue-green with turquoise green iridescence. I wish this leaned more blue and was slightly deeper in tone. This reminds me of MAC Steamy.

Chase (Fierce Color) Golden bronze. Reminds me a bit of UD Half-baked, one of my all time favorite shades.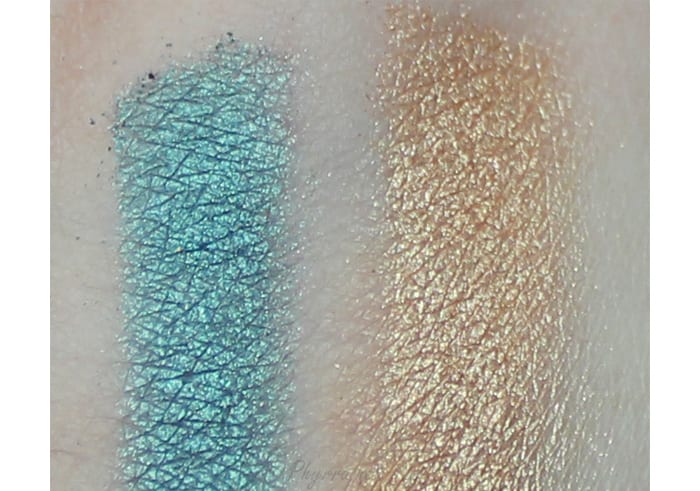 L to R  Hypnotized, Chase
Love the names! I was impressed with the eyeshadow formula! I didn't experience fallout with any of the shades. They're pigmented and buttery smooth. They're very easy to work with.  

Bronze (True Metals) Rich, molten metallic bronze with gold tones

Sterling  (True Metals) bright metallic silver The True Metals live up to their name.

The Chase (Color Rush) purple with pink sparkles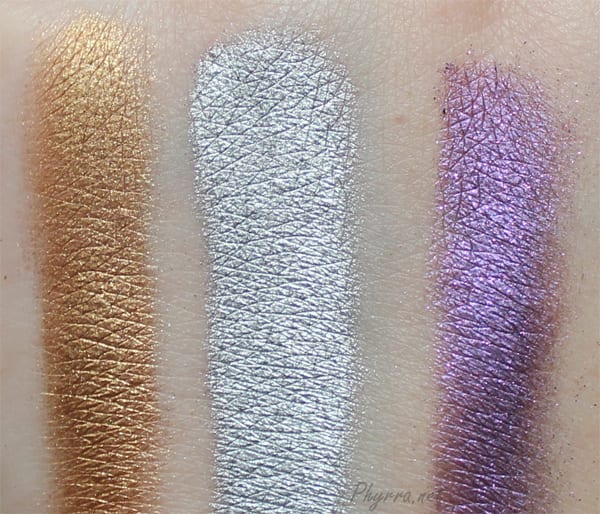 L to R Bronze, Sterling, The Chase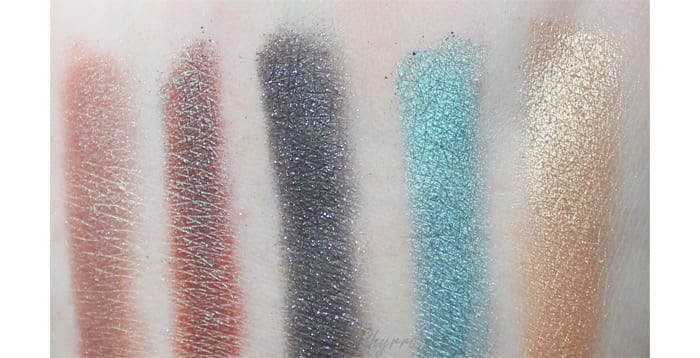 L to R Bewitched, Hocus Pocus, Black Magic, Hypnotized, Chase
Now, let me get the bad out of the way. I dislike the packaging. I feel like it's ultra bulky. It makes the products look kind of meh. I do like the printed design for the Color Rush and True Metals. The True Metals reminds me of a honey comb and the Color Rush reminds me of a wave.
Of the 3 eyeshadow lines, the Color Rush shade was the least pigmented and the True Metals was the most pigmented. That said, they've all got pretty darn good pigmentation. I didn't experience fallout with any of the shades.
Color Rush comes in 4 other shades – Pretty in Pink, Makeup Ur Mind, On the Prowl and Out of the Blue.
True Metals comes in 3 other shades – Pewter, Copper and Gilded. I really want to snag Pewter.
Fierce Color comes in 5 other shades – Spellbound, Addiction, Obsession, Charmed and Wicked. I think I really want them all.
Spellbound, Crave, Bewitched, Hocus Pocus, and Addiction are all supposed to be duochromes. Of the ones I have, I don't feel Crave is a duochrome but the rest of those definitely have duochrome iridescence by my standards. Hypnotized and Black Magic, along with Obsession, Charmed and Wicked are supposed to be highly pigmented, and they qualify as that.
As far as I'm concerned, these are a great value for the price. The Fierce Color are .07 oz for a mere $8.50. The True Metals are $9.75 for .09 oz and the Color Rush are $9.75 for .13 oz.  I feel like the pigmentation in these shadows are better than many MAC eyeshadows I've owned, they're less expensive and you get more product.
I'm really impressed by the duochrome shades, because I don't normally see those in a drugstore line.
What do you think of these eyeshadows from Prestige? Have you tried any? What are your favorite colors?
Pros
Cruelty free
Great value for the price
Nice colors offered
Cons