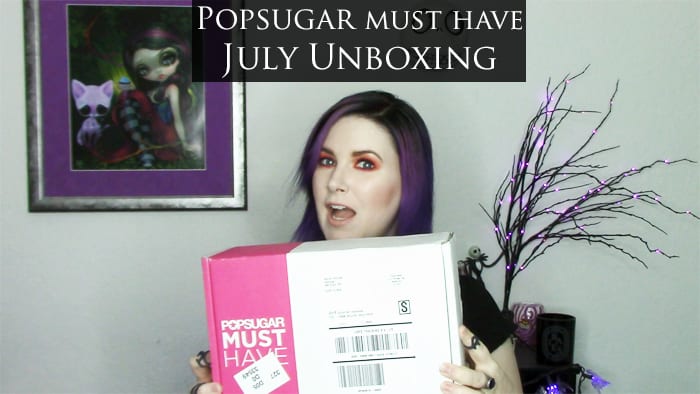 Today I wanted to share the POPSUGAR Must Have July Box with you. I just received it yesterday so I filmed an unboxing video last night.
PR sample.
POPSUGAR Must Have July Box
My Referral Link (please feel free to use it if you like)
POPSugar

Availability
POPSugar Must have

Price
$39.95 / monthly
$109.85 / 3 months

New! POPSUGAR Must Have July Box - Unboxing Video


Please comment, share and subscribe!

Products in the box
Yes to Blueberries Facial Wipes ($5.99)
Supergoop Defense Refresh SPF 50 Setting spray ($28 value)
Henri Bendel Stripe Waterproof Bag ($28)
Henri Bendel 20% off coupon Code
The Good Bean Fruit and No Nut Bar ($2) -- vegan, gluten free, just not soy free
Pop Sonic Toothbrush ($19.99)
Sorial Card Pouch ($28)
Sorial Coupon Code ($25)
Hallmark Cards ($17.97) -- I just feel these don't belong in a box. It makes no sense.
July's Box is valued roughly at $154.95 (plus the 20% off coupon).  That's an awesome value for the price.
While I won't eat the Good Bean Bar (no one in my house will since we're all allergic to soy), I think it's something other people can enjoy. I really wish that more companies out there would make bars without soy. Like I mentioned in the video, I feel like the Hallmark cards really don't fit with the travel and beach theme.
I'm excited to try the Supergoop Setting Spray and I'm happy to have the Pop Sonic Travel Toothbrush to take  with me on trips since I prefer using my electric toothbrush.
I really like the design of the Henri Bendel bag, I just wish it was black instead of brown. I think I'm going to give the Sorial Card pouch to Ray, because he likes keeping a normal wallet and an ultra thin wallet, whereas I just tend to lug everything in my handbag.
What do you think of the July Box?
Last Updated on