I wanted to share some of my New York City trip with you! I was in NYC from a Thursday to a Monday.

Me on my way to the airport.
I arrived in NYC on Thursday. Maria from Cult Nails arrived around the same time and we took a car from the airport to our hotel to get settled in.  We went to have an early dinner at a wonderful Italian restaurant in Little Italy. I got a new recipe out of it and a new way to incorporate butternut squash into dinner! They used the squash as a pasta sauce and it was wonderful.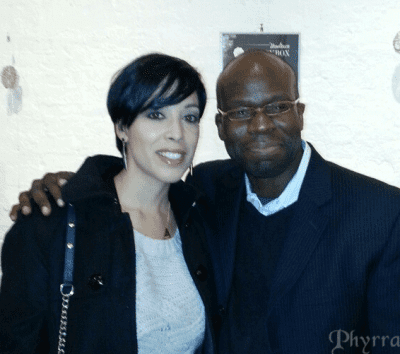 Then we were off to the VIP event at Refinery 29! You can see what I wore here. This is Maria with one of the Glossy Box people. Maria was featured in a recent Glossy Box and people really loved Cult Nails. At the event, they had Afterglow and My Kind of Koolaid nail polishes.

Tattify temporary tattoos being sold at the Refinery 29 Tinsel Town VIP event.

Various drinking accoutrements for sale.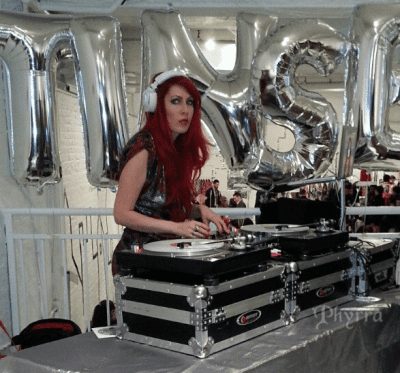 The lady DJ'ing the event. Love her red hair!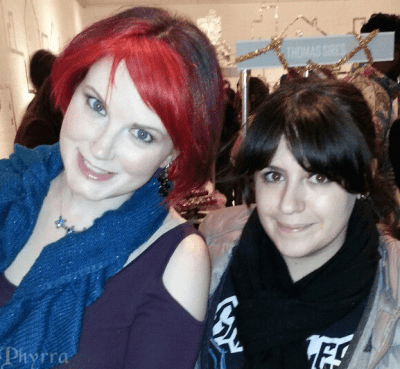 We got to meet up with Jessica from BeautyGnome. She was so cool!

After the Refinery 29 event, we met up with Kelly from Gouldylox Reviews! She's one of my favorite people and favorite bloggers. I was so excited! Her hair is amazing and gorgeous, a perfect shade of red! And her brows! I love her brows!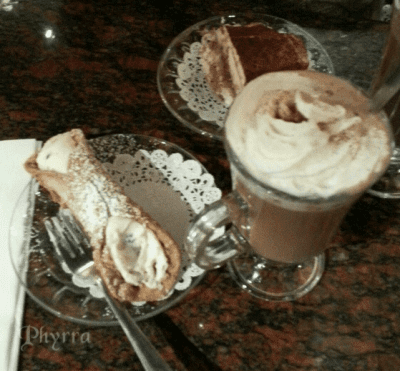 We went to Little Italy for some amazing desserts. Maria and I ended up doing this almost every night that we were in New York. She loved the tiramisu and I loved the cannoli. Also? The hot chocolate with a splash of kahlua was fantastic.

Friday we went walking around to see the city. See my Friday look and outfit here. The H&M we visited had this awesome saying on the way, Forget the rules! If it makes you happy, wear it!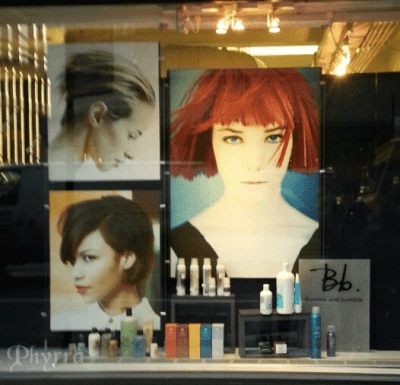 Serena's Salon, one of the places we passed, captured my attention with the red hair in the front.

Inside and outside of Macy's was beautiful.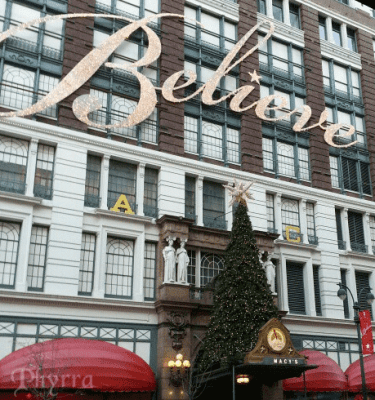 Outside of Macy's.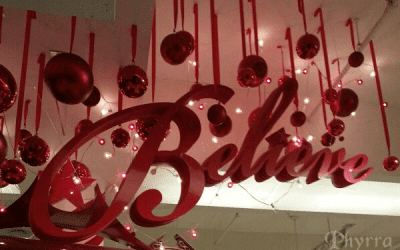 I loved the 'Believe' inside of Macy's, too.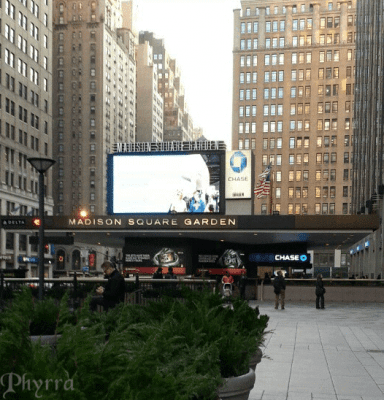 This was Madison Square Garden.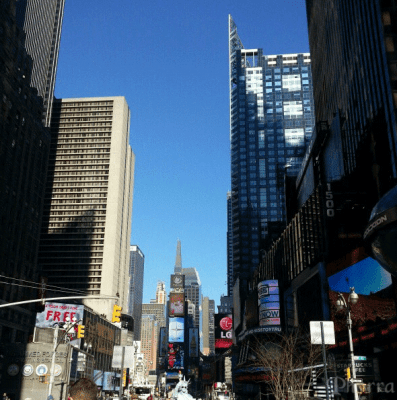 Times Square! I went to the Sephora at Time's Square, which was nice.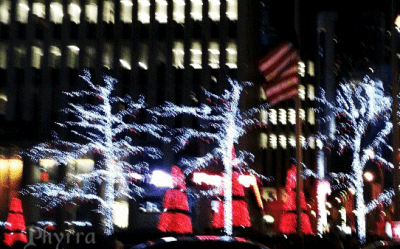 Some random decorations we passed at night that were pretty.

The Rockefeller Center, complete with tree and a neat statue.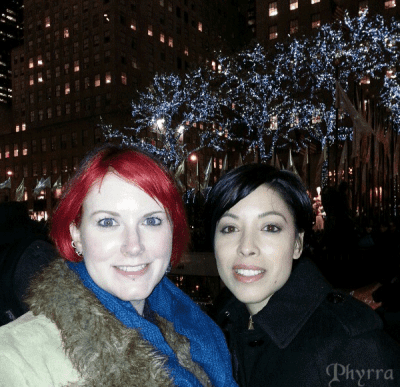 Maria and me in front of the tree.

(image courtesy of Maria of Cult Nails)
Judy (Beauty Judy),  me, Maria, Claudia (Chromatic Misadventures)
Saturday we did more city walking. Sadly, I had an allergic reaction to Stila Stingray that put me in the hotel room for a few hours on Saturday afternoon.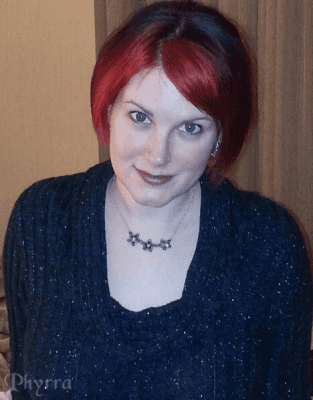 I ended up only wearing Pop Beauty Peak Performance Mascara, Morgana Cryptoria Raisin Shimmer lipstick, and a touch of NARS Via Veneto liner.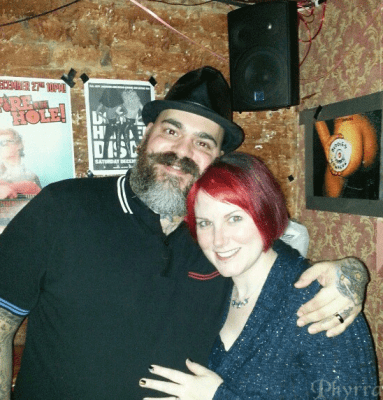 We went to a bar called Nowhere to hang out with James Vincent and listen to him DJ.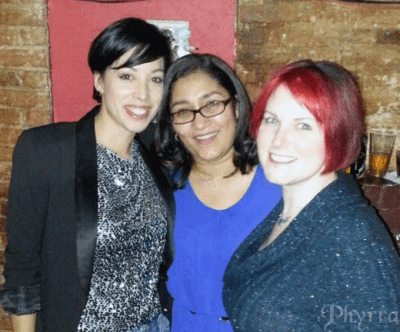 Claudia came with me and Maria.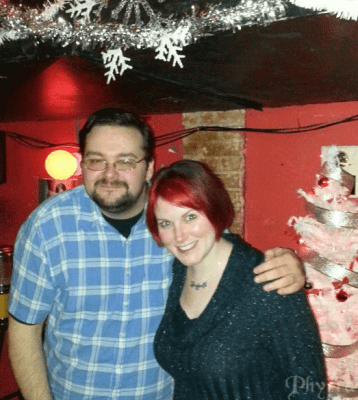 As did my friend T.S.! T.S. & I have been friends online since probably 2002 and this was our first time to meet face to face. I was so excited! He's an amazing editor and writer. I had so much fun with T.S., Claudia, James and Maria.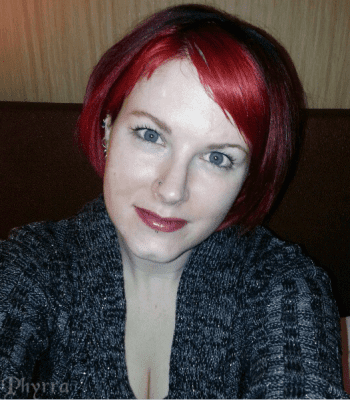 My allergies were still bothering me on Sunday, so I just wore Pop Beauty Peak Peformance Mascara and deep lips topped off with NARS Albatross gloss. I'm wearing another Apt. 9 sweater. I really love this style! My hair started out looking great.

Sunday Maria took me to Ellen's Stardust Diner for lunch. Our waiter sang 'the Monster Mash' and had a fabulous voice. He was a super nice guy.
Maria took me to my first Duane Reade store. I got to see a gorgeous Pop Beauty display! It was huge! Sadly, it didn't have the Peak Performance Mascara that I'd been raving about, so Maria couldn't pick any up to try herself.
Maria and I spent a lot of time walking outside in the rain on Sunday.
Then we went to meet up with Christine and her boyfriend John.  We were thoroughly soaked by this time!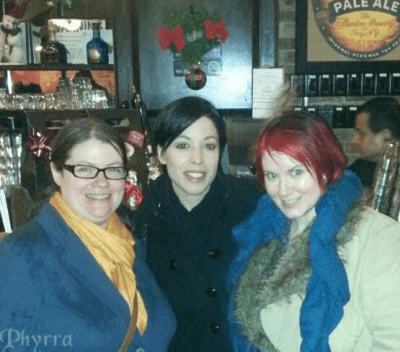 Christine is the daughter of Jesse's Girl Cosmetics creator, Jesse. My hair looks crazy, thanks to the rain!
We went to an awesome little pub to sit down out of the rain. I had a tasty brownie dessert.
We also went into my first Ricky's NYC! Then it was Toy Tokyo.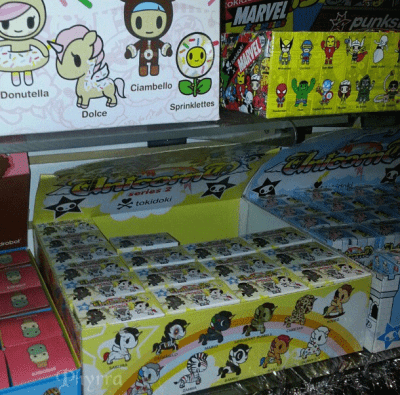 Christine and John and I geeked out about Firefly, Cards Against Humanity, tokidoki blind boxes and more!

Who wouldn't adore alien one-eyed good luck cats?
Christine & John suggested we head out to explore more of the city, and we eventually ended up at Trash & Vaudeville. They have some awesome clothing! Ray would have loved this store.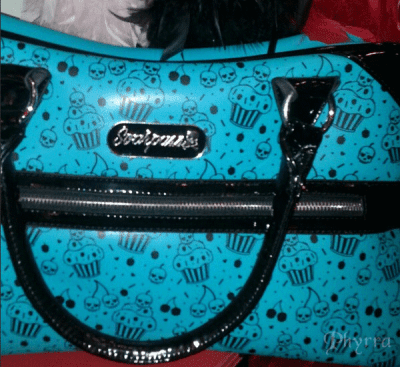 I saw this cute Sourpuss cupcake purse, but I really truly don't need more purses, so I didn't buy it!
Eventually we parted ways. Maria & I went back to the hotel to pack up our things. Then I went to meet up with a friend.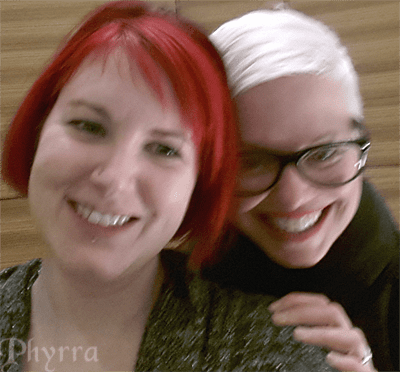 I met up with my friend Jayme, who is an extremely talented Makeup Artist. She does work in LA, NYC, and all over the USA! We talked about all kinds of makeup for about 3 hours, from Lime Crime to Sugarpill to BftE to Cult Nails to Fyrinnae! I raved about my favorite mascara, Pop Beauty Peak Performance Mascara, my favorite highlighter Too Faced Candlelight Glow Duo

, and Morgana Cryptoria Lipsticks.
She's also a talented hair stylist. We talked about some of my favorite hair care brands (Marc Anthony

), hair products (Black 15 in 1 Miracle Hair Treatment

, Michael O'Rourke Rock Your Hair Bombshell Big Hair Powder

), and new hair brands that I'm trying out like DermOrganic

. She raved about Pravana Chromasilk Vivids

color, while I professed my undying love for Manic Panic

.
We could have talked for many more hours, but I had to get up before 4am so that I could catch my flight back to Tampa, so we made a date to hang out when she's next down here from NYC.
I hope you enjoyed glimpses of my trip to NYC. I truly had an amazing time with Maria. I'm glad I got to catch up with my friends Jayme, T.S., James and Judy. I'm thrilled that I got to meet and talk with new ones – Christine, John, and Claudia.
I don't feel like I got to spend enough time in NYC or meet enough bloggers! For those of you I couldn't meet up with, I hope I'll be able to next time.
What are your favorite places in NYC? Where would you recommend someone visit?
Some products mentioned purchased by me. Other products mentioned sent for consideration. All opinions are my own.