Several months ago I purchased Paula's Choice RESIST Intensive Wrinkle-Repair Retinol Serum. I wanted to add a serum that would be safe for use on my face and eyes, as well as one that wasn't likely to irritate my sensitive skin. So I took a risk and tried this one.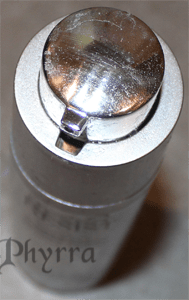 The Website Claims:
Paula's Choice RESIST Intensive Wrinkle-Repair Retinol Serum is an exclusive formula that utilizes a proprietary blend of highly stabilized retinol, potent antioxidants, and skin-repairing ingredients. Its soothing, silky texture goes to work immediately to help skin of any age look and act younger. With ongoing use, you will see fewer wrinkles, smoother skin, and improved skin tone.
Supercharged blend of retinol and potent antioxidants help skin of any age look and act younger
Repairs wrinkles and sun damage
Builds skin-firming collagen
Reduces dark spots
Anti-irritants reduce redness and soothe sensitive skin
Helps fade red marks from past breakouts.
Fragrance-free and contains no dyes or coloring agents
100% guarantee 60 day return policy / 2-5 Day Delivery in U.S.
Targeted systems for wrinkles, acne, rosacea, sensitive skin, oily skin, dry skin and more.
Never tested on animals.
Ingredients:
Cyclopentasiloxane, Dimethiconol (silicone slip agents/suspending agents), Neopentyl Glycol Diheptanoate (skin-conditioning agent), Dicaprylyl Carbonate (emollient), Caprylic/Capric Triglyceride (skin-repairing ingredient), Phenyl Trimethicone (silicone slip agent), Squalane (emollient), Bisabolol (anti-irritant), Tetrahexyldecyl Ascorbate (stabilized vitamin C/antioxidant), Retinol (cell-communicating ingredient/antioxidant), Tocotrienols (vitamin E-based antioxidant), Tocopherol (vitamin E/antioxidant), Lecithin (cell-communicating ingredient), Laminaria Ochroleuca (Kelp) Extract (anti-irritant), Avena Sativa (Oat) Kernel Oil (anti-irritant), Elaeis Guineensis (Palm) Oil (skin-repairing ingredient), Stearyl Glycyrrhetinate (licorice-derived anti-irritant), Hexylene Glycol (slip agent), Caprylyl Glycol (emollient), Ethylhexylglycerin (skin-conditioning agent), Phenoxyethanol (preservative).
Price:
$29.95 for 1 fl. oz., $1.25 for .034 fl. oz. sample
Does it live up to its claims?
From what I can tell, yes! I've been using this on and off for several months now (alternating it with other serums) and I feel like my skin looks great. I don't feel that I have a ton of wrinkles, but I'm basically using this as a preventative product. When I first started using this I used it twice a week. I've done it as much as 3 days on, 1 day off. I feel like it has helped my skintone. I do have dark spots that haven't faded, but I haven't had any more occur. It hasn't caused me to break out.
Right now, I use this at night. I use it on my face, eyes, hands, neck and décolleté. It's a great way to prevent the signs of aging.
Also, I have to mention the packaging. I LOVE the packaging. The top twists up and down, allowing the product to basically stay in an airless container, and you can get out the exact amount you want with no waste. It's not in a jar! I love the fact that it isn't in a jar and the ingredients are kept in such a way that the retinol is never exposed to light or oxygen, making sure that its efficacy and stability is ensured. To me, this is a big deal. It means I feel like I'm getting my money's worth.
Also, Paula's Choice has a 100% guarantee 60 day return policy. If you don't love it, you can return it. I think that's really cool.
Would I purchase again?
Yes! I believe I purchased this during a sale, but even full price it's a great product. I feel like it lives up to its claims, it's reasonably priced and it's a nice product. I will definitely purchase again. With retinol products and sensitive skin, there's a very fine line between working and irritating your skin, and this product is able to be effective without making mine freak out. I have recommended this product many times in the past few months so I really needed to get this review out there for you.
You can purchase Paula's Choice Products from PaulasChoice.com.
Rating:



Product purchased by me. All opinions are my own.