A while back I had the opportunity to try out the new Paula's Choice RESIST Instant Smoothing Anti-Aging Foundation. I was sent shades 0 – Porcelain and 1 – Fair / Light.


Here is Porcelain (0) and Fair / Light (1) unblended on my skin.
The Website Claims
This dual-action liquid foundation brings proven anti-aging benefits to your makeup. It instantly smooths fine lines and imparts a luminous, natural-looking radiance, for a noticeably younger, more even complexion. Specialized ingredients boost skin's ability to fight environmental damage, so you will see skin that not only looks younger but acts younger as well. Experience a healthy, flawless, complexion that glows—and becomes healthier with each use. Formulated for all skin types, RESIST Instant Smoothing Anti-Aging Foundation is for those seeking an elegant liquid foundation that provides light to medium coverage as well as proven anti-aging benefits. With shades that complement any skin tone from light to tan, its finish enlivens skin with a natural-looking radiance that feels matte yet looks fresh and youthful, never flat or mask-like. During the day, apply a small amount after moisturizing with a Paula's Choice sunscreen rated SPF 15 or higher. Using a makeup sponge, blend foundation into your skin with short, downward, strokes. Layer as needed to increase amount of coverage. If desired, set and enhance your daily sun protection with Paula's Choice Healthy Finish Pressed Powder SPF 15.
Effective For: Anti-aging, Wrinkles
Smooths & softens wrinkles
Creates a silky, luminous finish
Stimulates collagen for firmer skin
Perfects & repairs skin
Offers light to medium coverage that enlivens skin with a soft glow
Clinically proven non-irritating
100% fragrance free
No animal testing

The Research Backing the Claims
Cosmetic Dermatology, October 2010, pages 446-449; Archives of Dermatological Research, March 2010, pages 71–83; Skin Pharmacology and Physiology, September 2009, pages 299–304; Skin Research and Technology, August 2009, pages 338–345; Dermatologic Surgery, July 2009, pages 1,057–1,065; Experimental Dermatology, June 2009, pages 522–526; British Journal of Pharmacology, October 2008, pages 463-474; Food and Chemical Toxicology, April 2008, pages 1,298–1,307; Journal of Dermatological Science, September 2006, pages 159–169; American Journal of Clinical Dermatology, June 2005, pages 215–223; Cutis, December 2005, Supplemental, pages 7–12; Medicinal Chemistry, November 2005, pages 629–633; Molecular Nutrition and Food Research, May 2005, pages 405–430; American Journal of Clinical Nutrition, April 2003, pages 899-906; Dermatologic Surgery, March 2002, pages 231-236; Antioxidant Redox Signal, December 2001, pages 1041–1064; and Planta Medica, August 1996, pages 326–328

Ingredients
Water, Caprylic/Capric Triglyceride (skin-repairing ingredient/emollient), Titanium Dioxide (opacifying and brightening agent), Cetearyl Alcohol (thickener), Dicetyl Phosphate, Ceteth-10 Phosphate (emulsifiers), Butylene Glycol (slip agent), Talc (texture enhancer), PPG-3 Benzyl Ether Myristate (emollient), Cyclopentasiloxane (silicone slip agent), Dimethicone/Vinyl Dimethicone Crosspolymer (silicone suspending agent), Oleth-10 (emulsifier), Dimethicone Crosspolymer (silicone thickener), Dimethiconol (silicone slip agent), Steareth-2 (thickener), Resveratrol (grape-derived antioxidant), Tocopheryl Acetate (vitamin E/antioxidant), Ascorbyl Palmitate (fatty acid-based vitamin C/antioxidant), Ceramide 3 (skin-repairing ingredient),Tetrahexyldecyl Ascorbate (stabilized vitamin C/antioxidant), Camellia Sinensis (Green Tea) Leaf Extract (antioxidant), Glycyrrhiza Glabra (Licorice) Root Extract (anti-irritant), Lecithin, Adenosine, Phospholipids, Palmitoyl Oligopeptide (cell-communicating ingredients), Retinyl Palmitate (vitamin A/antioxidant),Glyceryl Polymethacrylate (film-forming agent), Magnesium Aluminum Silicate, Cellulose Gum (thickeners),Sodium Hydroxide (pH adjuster), Ethylhexylglycerin (skin-conditioning agent), Safflower Oil (non-fragrant antioxidant plant oil), Polysorbate 80 (emulsifier), Propylene Glycol (slip agent), Citric Acid (stabilizer), Iron Oxides (cosmetic pigments), Mica (brightening pigment), Phenoxyethanol (preservative).
Key Ingredients
resveratrol, ceramide 3, caprylic/capric triglyceride, retinyl palmitate, phospholipid, Glycyrrhiza glabra, ascorbyl palmitate, lecithin, Camellia sinensis, tocopheryl acetate, adenosine , tetrahexyldecyl ascorbate, palmitoyl oligopeptide, safflower oil
Price
$24.95 for 1 fl. oz., sample for $0.90
It comes in 6 shades:
0 – Porcelain
1 – Fair / Light
2 – Light
3 – Light / Medium
4 – Medium
5 – Medium / Tan

Shade 0 Porcelain is on the left side of my hand. Shade 1 Fair / Light is on the right.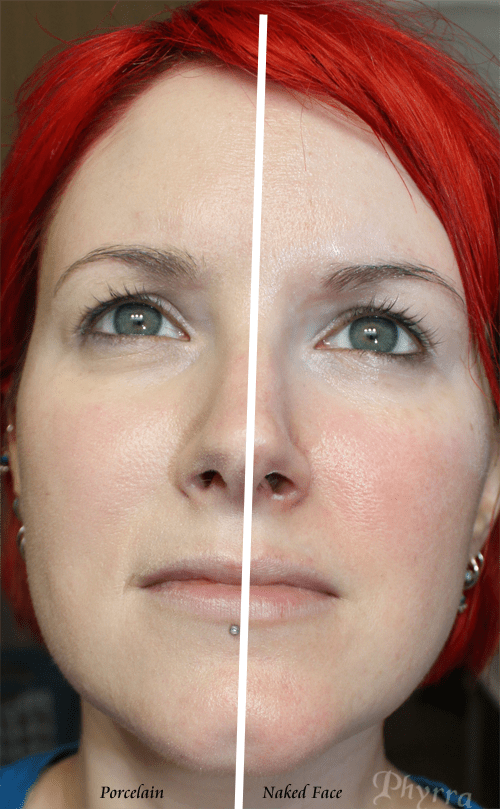 You can see here that Shade 0 Porcelain is a great match for my skintone. I put Porcelain on the left side of the picture (which is my right side of my face). The Right side of the picture is slightly splotchy (yay rosacea) and my naked skin. I feel like the foundation does a great job of evening out my skintone, brightening my face and erasing imperfections without making me feel like I'm wearing a mask.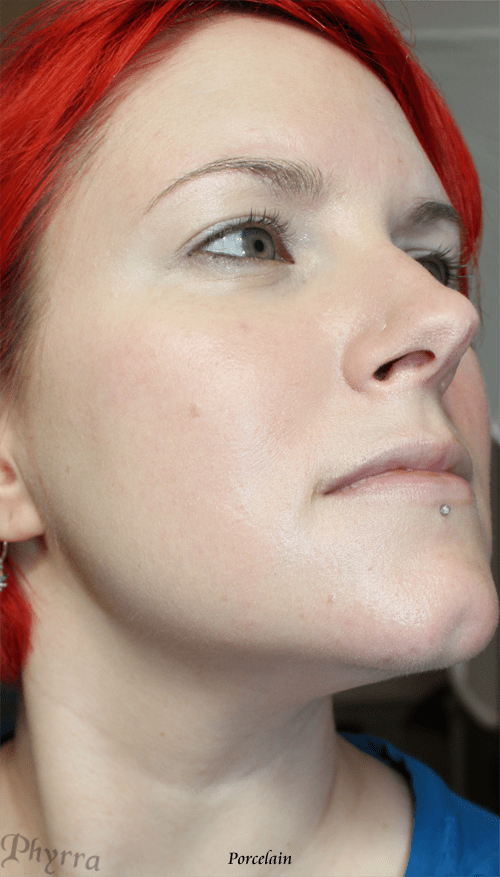 You can see that the foundation partially covers the spots on my face that are rosacea damage.

Here I am wearing Paula's Choice RESIST Instant Smoothing Anti-Aging Foundation in Porcelain, MAC Vintage Grape blush and Paula's Choice Strawberry Soda Gloss.
Does it live up to its claims?
As far as I can tell, yes. I love the finish of this foundation on my skin. I feel like it's a great 'my skin but better' type foundation. It seems to be like a brightening foundation that does make your skin look luminous and healthy. It does feel soft. It hasn't irritated my rosacea or caused me to break out.
I apply it after I've applied my moisturizer with SPF. I dab it on my face on my t-zone and then I use my Urban Decay Good Karma Optical Blurring Brush to blend it outwards onto my skin. Porcelain really works with my skintone and blends into it perfectly. I really couldn't believe how soft my skin felt while I was wearing it.
While it makes no claim on how long wearing it can be, it can last through a typical 8 hour day for me with no primer, though I do feel I need to touch it up. With primer, it can make it much longer. My favorite combination with it right now is using it with the Urban Decay Naked Skin Beauty Balm as a primer.
Would I purchase?
Yes! It's tough to beat for the price point of $24.95!  My biggest concern with this foundation is that it has a limited shade range. It really only has light to medium shades. It doesn't offer shades for those with deeper skintones. However, I am really pleased by the fact that there's a shade that actually matches me, which is often not the case with foundations. I did take off 1/2 star because of the fact that the foundation is missing shades for deeper skintones. I think my friend Brittany would love this foundation if it came in her shade. I do think it's the best liquid foundation that I've tried in this price range.
Have you tried the new Paula's Choice RESIST Instant Smoothing Anti-Aging Foundation? Do you like it?
Rating


Product sent for consideration. All opinions are my own.