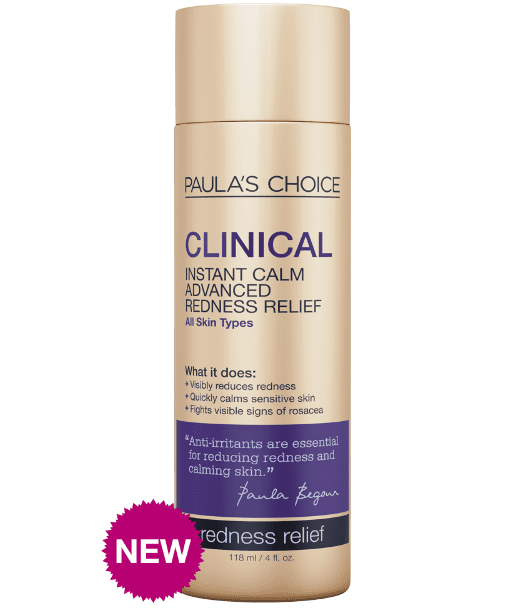 Today I've reviewed the Paula's Choice CLINICAL Instant Calm Advanced Redness Relief for you. It's a treatment to soothe irritated skin and chase the redness and heat away. Paula's Choice sent this to me.
The Website Says
This one-of-a-kind liquid treatment instantly relieves redness and calms sensitive skin—especially if you have rosacea. Its uniquely gentle formula is brimming with a specialized combination of potent antioxidants that diminish signs of aging while soothing anti-irritants, including willow bark and the active components of green tea, help normalize and heal the skin. CLINICAL Instant Calm Advanced Redness Relief works quickly to reduce redness from multiple causes, including shaving, other types of hair removal, razor burn, even insect bites. It's excellent for reducing the redness that accompanies acne and sunburn too. CLINICAL Instant Calm Advanced Redness Relief is for anyone who wants to reduce mild to moderate skin redness caused by inflammation on both the face and body. It's a must-have for those suffering with rosacea or sensitive, easily irritated skin—and great for use while traveling (Don't leave home without it!). As an after-shave tonic it will instantaneously reduce redness and irritation.
* Visibly reduces redness
* Quickly calms sensitive skin
* Fights visible signs of rosacea
* Works quickly to soothe and calm the skin after most forms of hair removal
* Minimizes irritation from shaving
* Reduces redness from acne
* Clinically proven non-irritating
* 100% fragrance free, no added dyes
* No animal testing
Key Ingredients
colloidal oatmeal, sea whip extract, Boerhavia diffusa root extract, oat beta-glucan, Salix alba extract
Product Ingredients
Water, Butylene Glycol, Propylene Glycol (slip agents), Sea Whip Extract, Oat Beta Glucan, Colloidal Oatmeal (anti-inflammatory agents), Epigallocatechin Gallate (green tea-derived antioxidant), Salix Alba (Willow) Bark Extract (plant-derived anti-irritant), Boerhavia Diffusa Root Extract (plant-derived antioxidant), Phytic Acid (corn-derived chelating agent), Xanthan Gum (thickener), Polysorbate 20 (emulsifier), Potassium Sorbate (preservative), Disodium EDTA (chelating agent).
Price$15.95 for 4 oz.
My Thoughts
My rosacea was flaring BADLY Saturday night (too much steam / hot water). This stuff really helped to calm my skin down. I've only been using it when I've had a flare up and it's helped with taking the red out of my face. Often when I flare up, my face gets hot to the touch, red, and I can break out. So it's nice to have something that I can use aside from my medication that is cooling on my face and non irritating. I've been using my rosacea meds less frequently and working hard to avoid my triggers. I like being able to use this to calm my skin down.
I feel like it's reasonably priced for the size and I love that it has collodial oatmeal in it, as that is one of the key ingredients that my dermatologist has mentioned as being soothing in good skincare products for rosacea skin. I really think the Clinical Instant Calm Advanced Redness Relief lives up to its name!
Have you tried any of Paula's Choice Skincare? If so, tell me your favorite in the comments below!