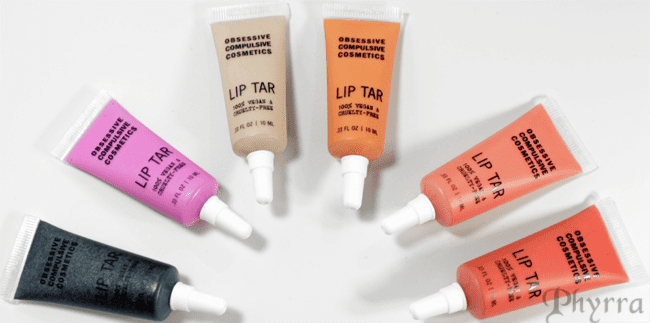 Today I've got the Obsessive Compulsive Cosmetics Sci-Fi Lullabies Spring Lip Tar collection for you. It's inspired by Sci-Fi, one of my favorite genres to watch or read. The names Batty, Pris, and Zhora are from Bladerunner. Bladerunner was one of the first Sci-Fi movies that Ray declared that I needed to watch. Annika (7 of 9's character) is from Star Trek Voyager. Clockwork is, of course, inspired by A Clockwork Orange. This is a movie I've never watched because of the creepy eye scene. I desperately want Lasik, but I'm terrified of medical procedures, especially ones that involve the eye. So seeing that movie is a no go for me. Lovecraft, of course, is inspired by H.P. Lovecraft, one of my all time favorite classic writers. I own most of his stories and have read them, played games inspired by them, played RPGs in his worlds and more. I LOVE Lovecraft!
OCC Makeup sent me these samples.

Let me preface this with my lips have been super chapped lately, so I just started a new lip care regime. I was wearing a long wearing matte lipstick before this that I had to take off with an oil based makeup remover. I moisturized my lips inbetween the swatches and they still hurt like hell. Too many swatches in too short of a period of time. The only thing I'm wearing in these pictures, aside from the lovely lip tars, is my NARS Terre Neuve tinted moisturizer. To see my big compilation of OCC Lip Tars go here.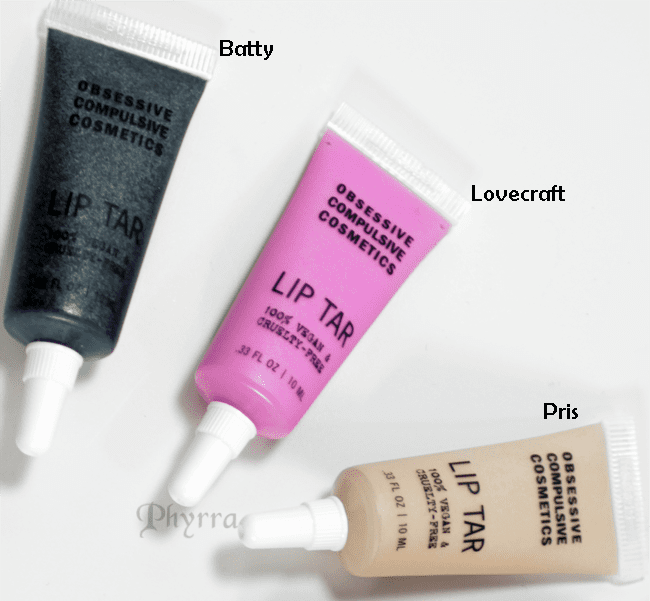 The Website Says
This sci-fi-inspired collection of Lip Tars combines the longevity of a lipstick with the breezy application of a gloss. The rich pigment drenches your lips, while the blend of essential oils, including hemp and peppermint, soothes and softens the skin for a supremely comfortable finish. The Lip Tars with metallic finish are infused with state-of-the-art metallic pigments with intense resolution that deliver an opaque high-voltage electricity with a reflective shimmer.
-Hemp Oil: Delivers omega and gamma-lineolic essential fatty acids; moisturizes.
-Peppermint Oil: A natural antibacterial and antimicrobial agent that allows OCC to create a product free of parabens and other synthetic preservatives.
-Tocopherol Acetate: Delivers antioxidants; moisturizes.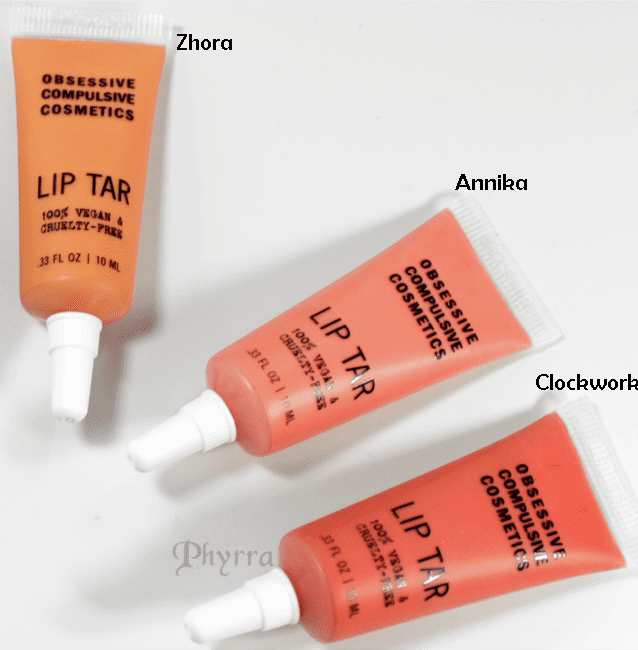 Ingredients
Ricinus Communis (Castor) Seed Oil, Cannabis Sativa (Hemp) Oil, Mentha X Peprita (Peppermint) Oil, Tocopherol Acetate (Vitamin E), Stearalkonium Hectorite, Propylene Carbonate. May Contain: Silica Dimethyl Silylate, D&C Red #6, D&C Red #7, D&C Red #27, D&C Red #30, FD&C Blue #1, FD&C Yellow #5, FD&C Yellow #6, Iron Oxides, Titanium Dioxide, Mica.
Price
$18 for .33 oz, carrying case and lip brush included. You can purchase from Sephora, Sephora.com or OCCMakeup.com
Batty – midnight black gunmetal metallic
I really like this one! I feel it looks better on me than Tarred. It's another one that's great for mixing.
Lovecraft– Iridescent pink/lilac metallic
I love this one! I think it will be fun for mixing with other shades.
Clockwork – rich terracotta with an orange undertone
This shade feels very spring-like to me.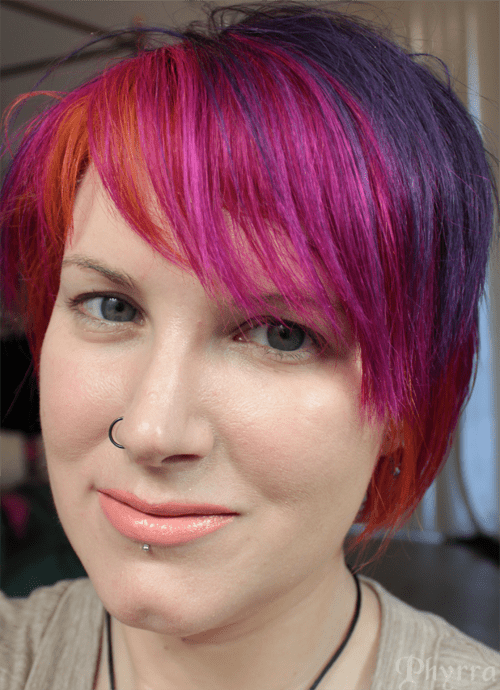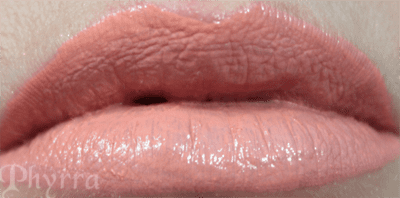 Annika – pale neutral peach
I think this is a good 'everyday wear' type of shade.
Zhora – pale peach, pink/red metallic
This one is really cool in person and looks much better swatched on my hand than on my poor lips. It really is a peach color that has pink-red metallic flecks in it. Love it!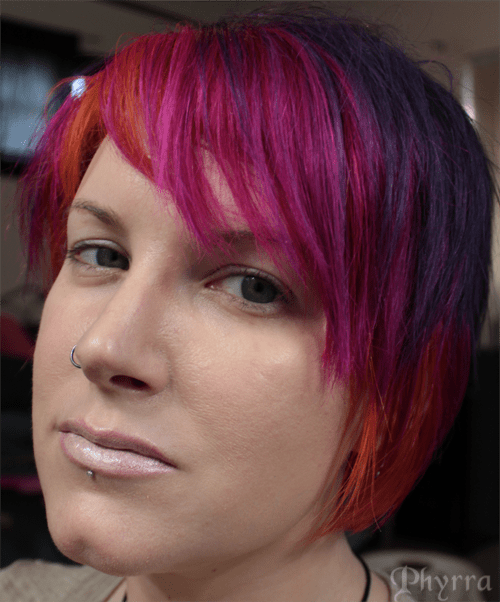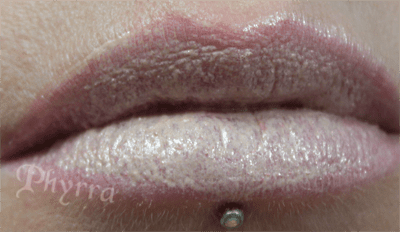 Pris – palest champagne metallic
I love Pris. I couldn't wear it on my own but i could definitely see mixing it in with something else.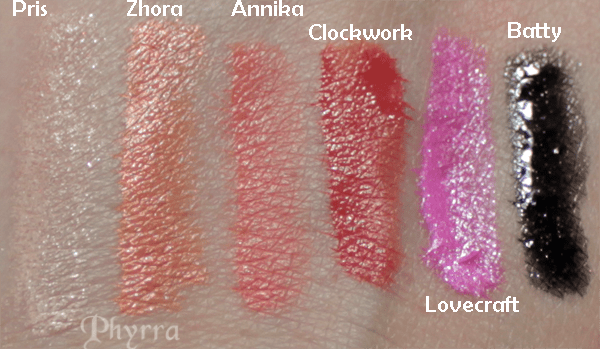 I think Zhora is a shade that most people will love and want to wear because of its unique color and fun sparkles. I think that Pris will be hard to wear on its own but great for mixing. Same with Batty.  However, I couldn't get over how beautiful Pris looked when swatched on my hand because of all the gorgeous sparkles. Anniak and Clockwork are both colors that I think are easy to wear. I think Lovecraft is another shade that I will love wearing both on its own and mixed with other shades like Nylon, Anime, or Belladonna.
If I had to pick just one, I would pick Zhora. What would you pick?
What do you think  of this Sci-Fi inspired collection from OCC? What shades would you wear?