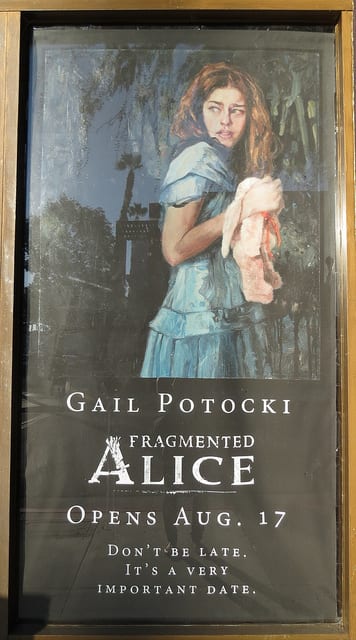 Last Friday, I had the privilege of attending an event to preview Obsessive Compulsive Cosmetics' newest cosmetics collection, Fragmented Alice. OCC teamed up with Gail Potocki and based a collection off of her Fragmented Alice artwork. This limited edition cosmetics collection is not based off of your typical Alice in Wonderland artwork, it's almost as if Alice went through the Looking Glass while on absinthe. 
A Little about Gail
Gail Potocki is a graduate of Chicago's School of Representational Art and has been featured in Juxtapoz Magazine and The Huffington Post. A monograph of her work was published in 2006 by Olympian Publishing entitled The Union of Hope and Sadness: The Art of Gail Potocki, with text by Thomas Negovan and contributions from Disinformation's Richard Metzger and author Grant Morrison. She has exhibited globally, including The H.R. Giger Museum, the Laguna Art Museum, and seminal Los Angeles art gallery La Luz de Jesus; she was also one of a select few artists hand picked to provide an original work to the Metallica tribute exhibition "OBEY YOUR MASTER" at Los Angeles' Exhibit A Gallery. A solo exhibition of her work was held in Culver City, CA at Billy Shire Fine Arts. www.gailpotocki.com
The artwork seems psychedelic and industrial and it's represented in the colors of the lip tar, the three loose color concentrates, and the two nail polishes. The lip tar and loose color concentrates are duochromes and that flash of color coincides with the double take you get when you're looking at Gail's artwork, almost a "Are you seeing what you think you're seeing?"

The collection is available now online at OCC and at Century Guild. (not affiliate links)

Here is just a preview of some of Gail's artwork from the collection. I don't want to share too much of the artwork because I think they're really worth seeing in person.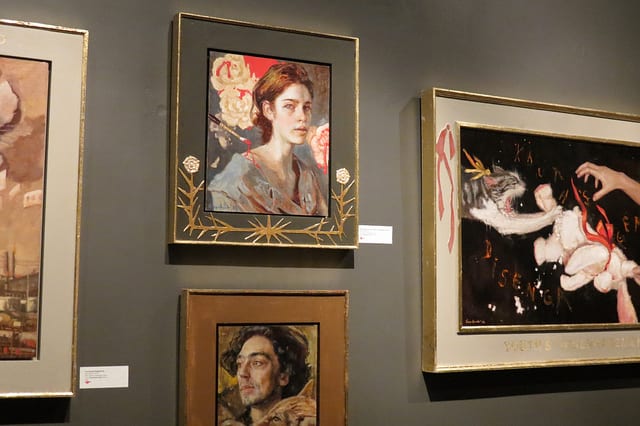 If you can get yourself to Culver City, check out the artwork at Century Guild.

Onto the cosmetics collection itself! Here is the lip tar, the three loose color concentrates and the nail lacquers.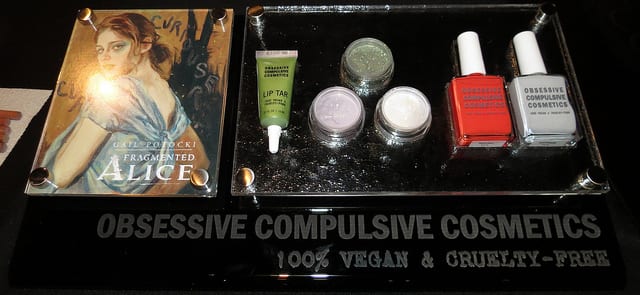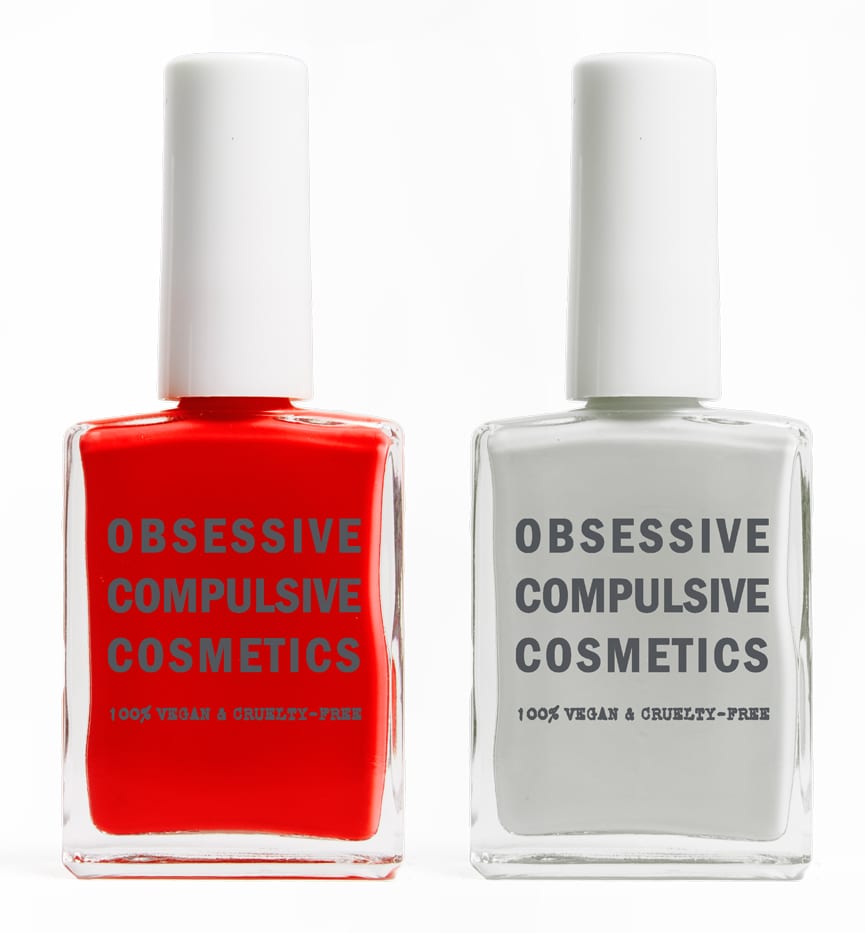 Severed – a bright crimson crème
Gryphon – a cement grey crème
Both are 5-free, densely pigmented, quick drying and super long lasting.
I received a gift of the Fragmented Lip Tar and the three Loose Color Concentrates and wanted to swatch them for you here.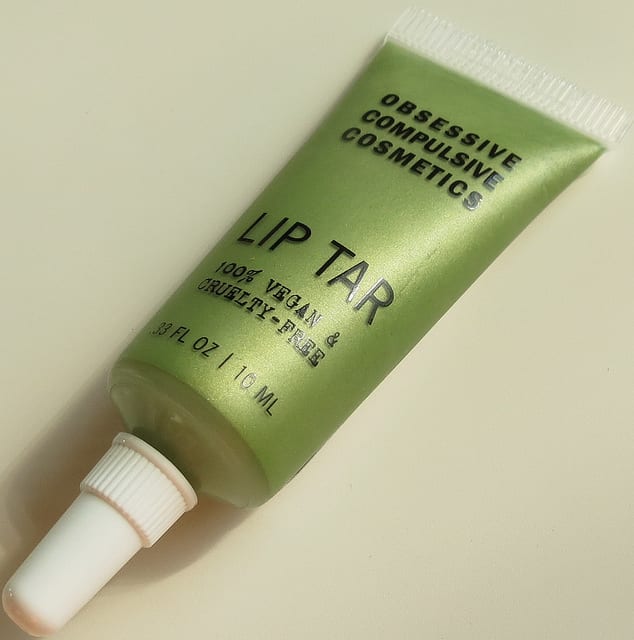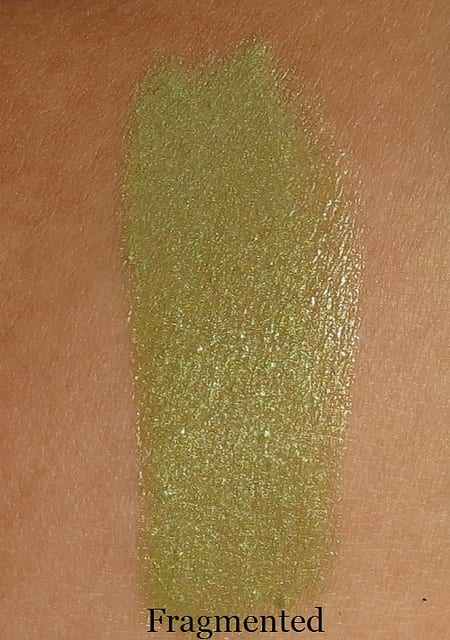 Fragmented is described as a "metallic acid green glaze", and it's a glaze in a sense that the formula is one of their Stained Gloss + Metallic textures, essentially a sheer gloss with tons of shimmer to it. There is a golden duochrome that you can see in the sunlight. Trust me when I say that it's a lot more wearable than it seems because it's sheer. Put on a red lipstick or lip liner and apply Fragmented on top, you'll thank me later!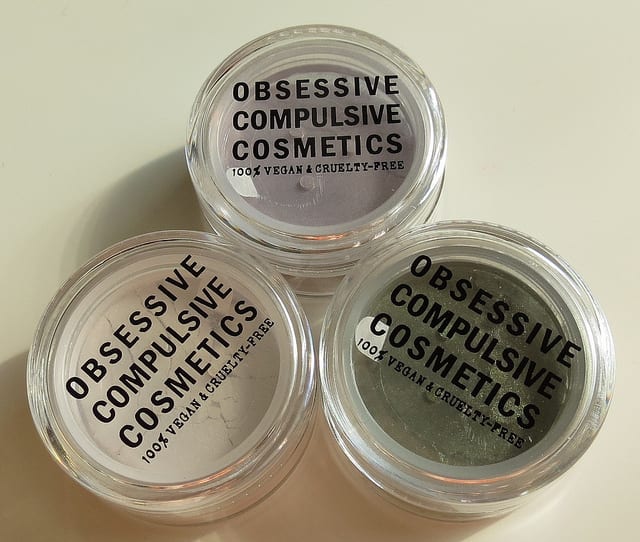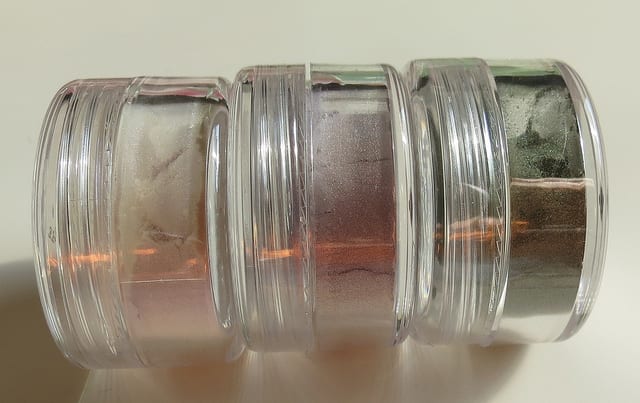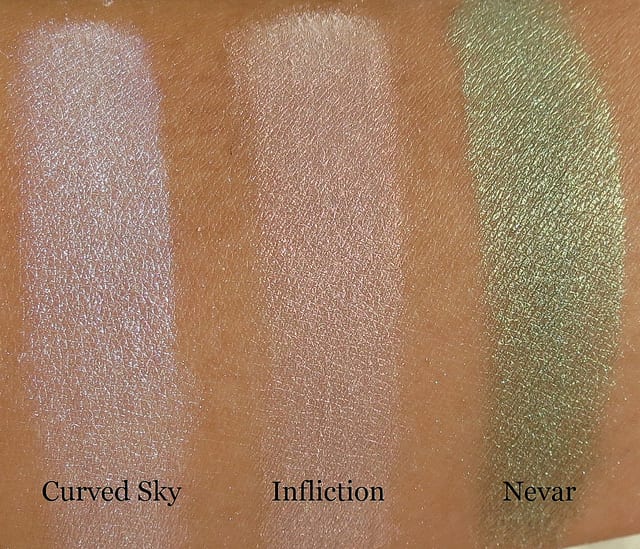 The three Loose Color Concentrates in the collection are Curved Sky, Infliction, and NEVAR (going clockwise from the bottom left). Curved Sky is described as a "Icy white to iridescent blue", Infliction is described as a "patinaed red/lavender", and NEVAR is described as a "dirty golden olive"
It was difficult to capture the brilliant duochromes in these loose color concentrates. I personally think to get the most duochrome effect, you should apply it dry with your fingers or wet with a brush. For the swatches, I applied it dry using a brush over Milani Eyeshadow Primer.
Infliction in my opinion is the standout color. What seems to be a plain lavender in the jar is truly not, the red and gold duochrome pops so brilliantly when worn and is much more obvious than the pictures can show. You can see the base colors and duochromes better in the sunlight photo.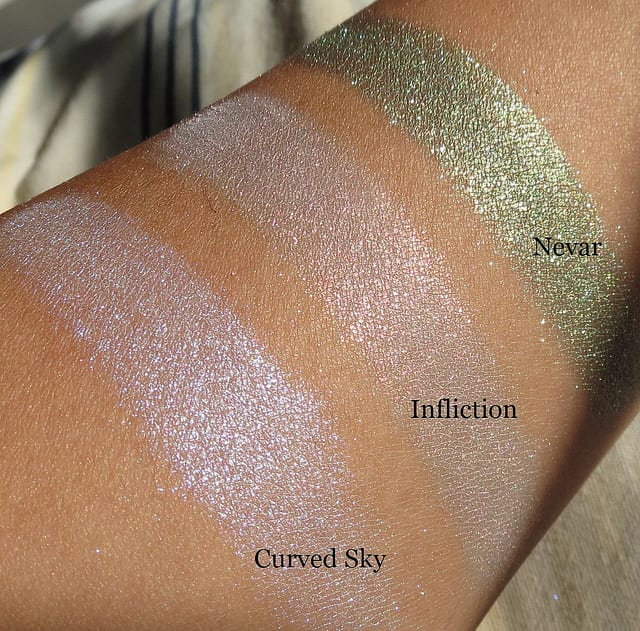 Thank you Phyrra and Obsessive Compulsive Cosmetics for allowing me to attend the Fragmented Alice event! I think it's rare nowadays to see true artistic collaborations like this, creating colors for art's sake and not necessarily to follow a current trend. Infliction is beautiful and you need it always.
Last Updated on