Nudestix Nudies Tinted Blur Stick Review

Nudestix Nudies Tinted Blur Stick Review
Today I've got a new foundation to share with you. It's the Nudestix Nudies Tinted Blur Stick Review. I've been using this foundation almost daily for just over a month. I bought it from Ulta, but you can also get it at Sephora and Nudestix's website.
About My Skin Tone
My skin tone is extremely fair. I'm 1Y01 in Sephora Color IQ. I wear N0 in Cover FX, which would be N0 in MAC if they made an equivalent shade. I also wear Idun Minerals Jorunn, Huda Beauty Milkshake and Kat Von D L41. I'm a cool neutral or cool neutral yellow skintone. My skin type used to be extremely dry, now it's more dry with slightly combo t-zone.
I prefer light to light-medium coverage with foundation. I struggle to find a good shade match for my fair neutral to neutral cool yellow skin tone. Most things are too pink or too orange on me.
About My Skin Problems
My skin problems are many! I have rosacea, which causes surface redness. I also have serbhorreic dermatitis around my nose and eyebrows, which causes flakes. I've got some texture on my cheeks from acne scarring. I've got large pores around my nose. I've also got fine lines by my eyes, since I'm 40!
Cruelty-free Makeup Look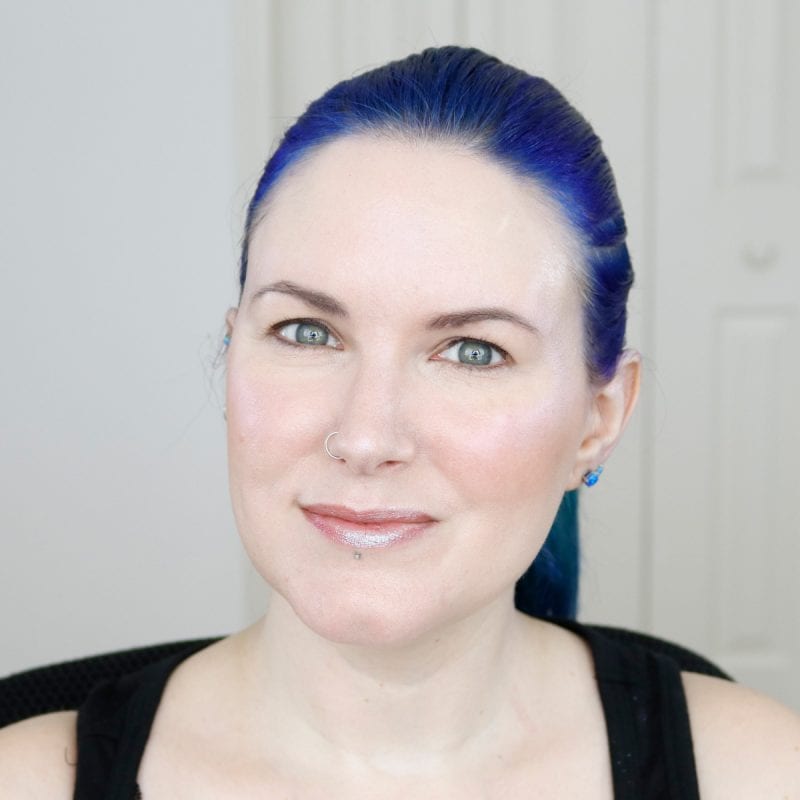 Eyes
Kat Von D Liquid Eyeliner in Mad Max
Face
Milk Makeup Blur Stick
Smashbox Primer Water in So Chill Coconut
Cover FX Total Cover Cream in N0 – under eyes
Laura Geller Balance-n-Brighten Powder in Porcelain – to set under eyes
Nudestix Nudies Tinted Blur Stick in Light 1
theBalm Balm Beach – blush
Black Moon Catshark – highlight
Lips
Too Faced Metal Transformer lipstick
Nails
Fun Lacquer Cheers To The Holidays (h)
KBShimmer Royal to a Fault
Nudestix Nudies Tinted Blur Stick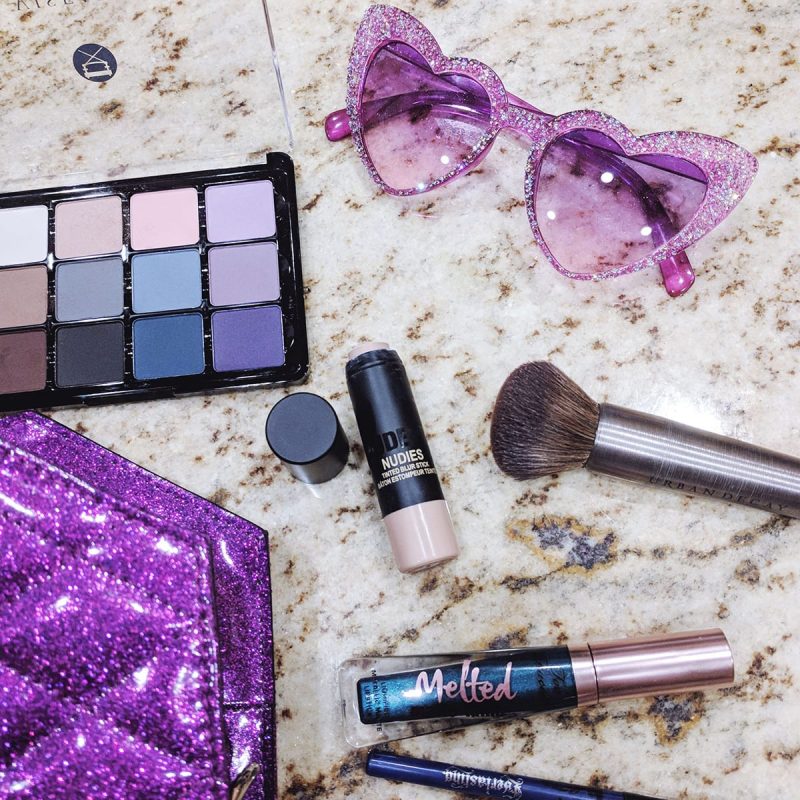 The brand says that
Nudestix Nudies Tinted Blur Stick
is an innovative soft-focus and light reflecting mineral stick that creates flawless looking skin by smoothing and blurring the appearance of texture, blemishes, discolorations, lines and pores with an overall effect of a soft-matte glow that is never flat or blah!
Available in 10 shades with Shade adjusting pigments that blend with your real skin tone coming through to naturally tint your skin, so 40 shades and a PHD are not required to find your match.
Nudestix Claims:
your skin will look and feel like your skin, but better.
a natural tint that blurs to smooth texture and even skin tone.
A lightweight cream to powder soft-matte finish for all skin types.
Environmentally friendly
Vegan and cruelty free
gluten free, paraben free, oil free
Nudestix Nudies Tinted Blur Stick Swatch Comparisons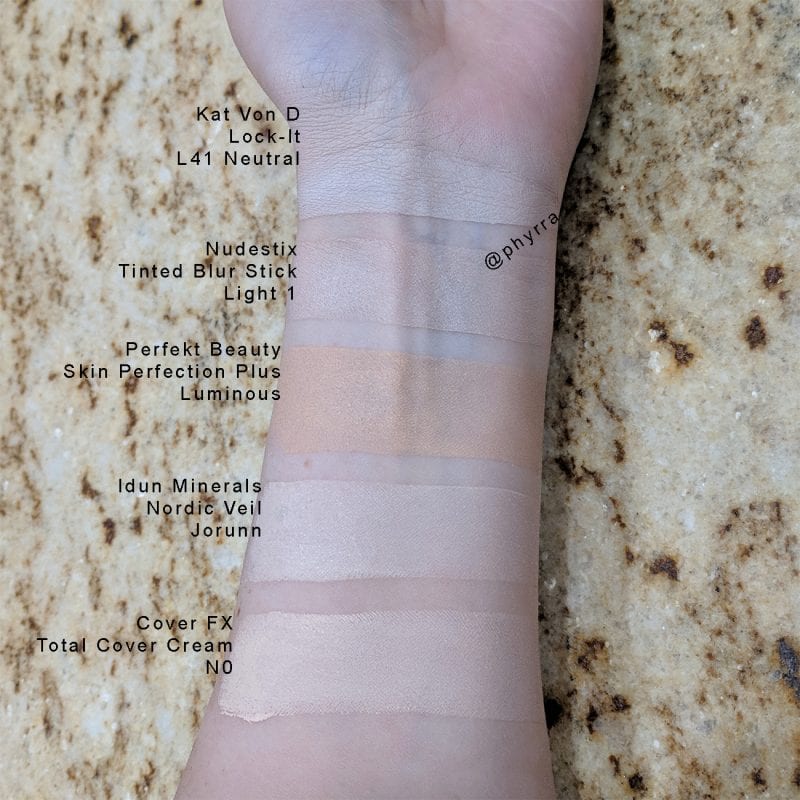 The above photo was taken in my kitchen. The left side of the swatch is thicker, while the right side I blended out a little bit, except for the KVD at the top, which I also blended upwards into my hand. Nudestix Nudies Tinted Blur Stick is like a slightly pinker, slightly darker version of the Kat Von D L41 Neutral.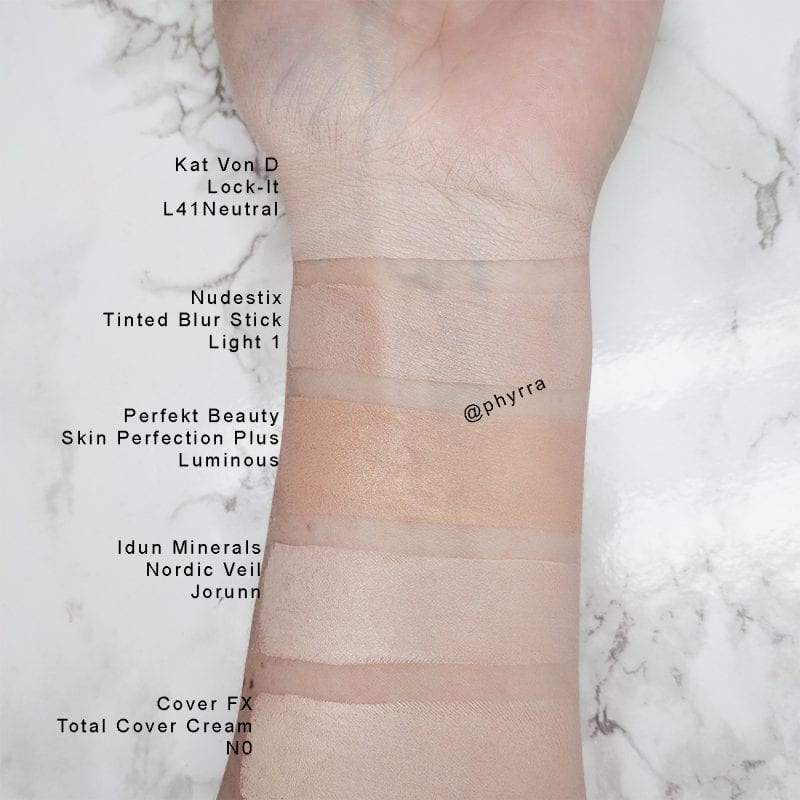 The above photo was taken under studio lights.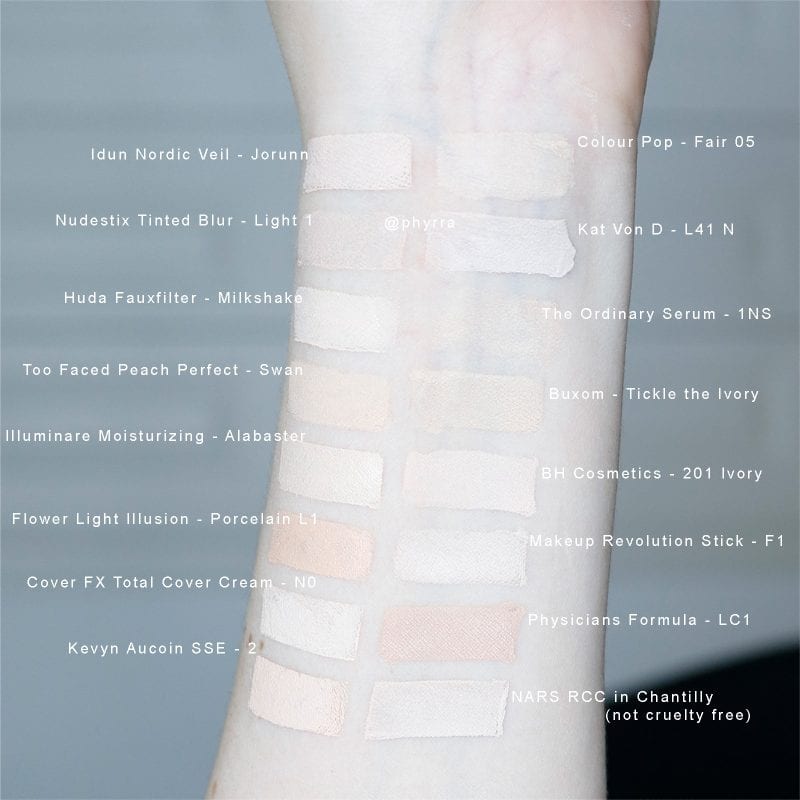 The above photo was taken with a combination of my ring light and overcast natural light.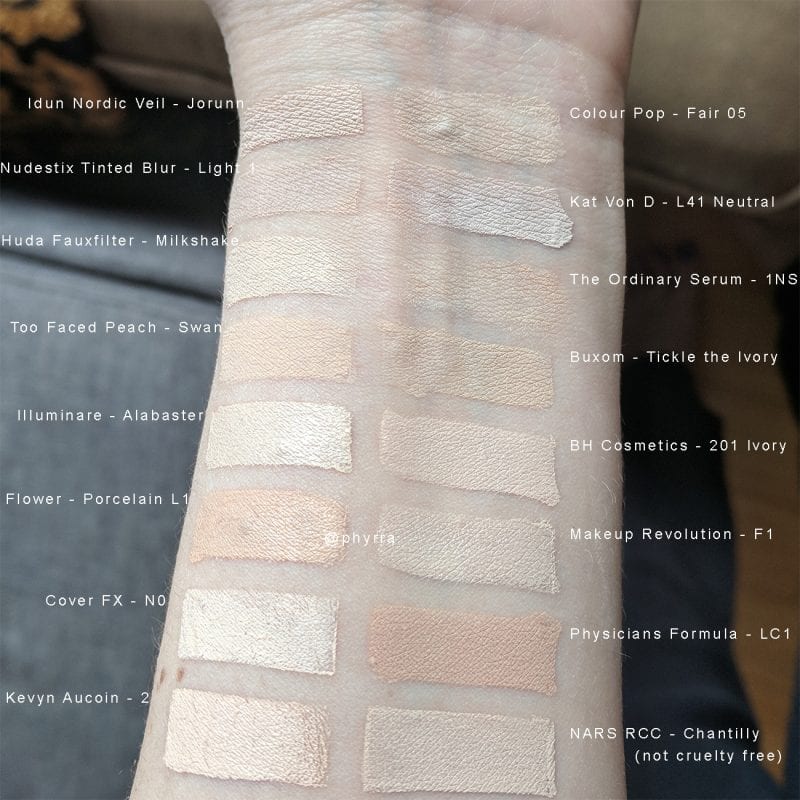 The above photo was taken in my living room in indirect natural light by the window.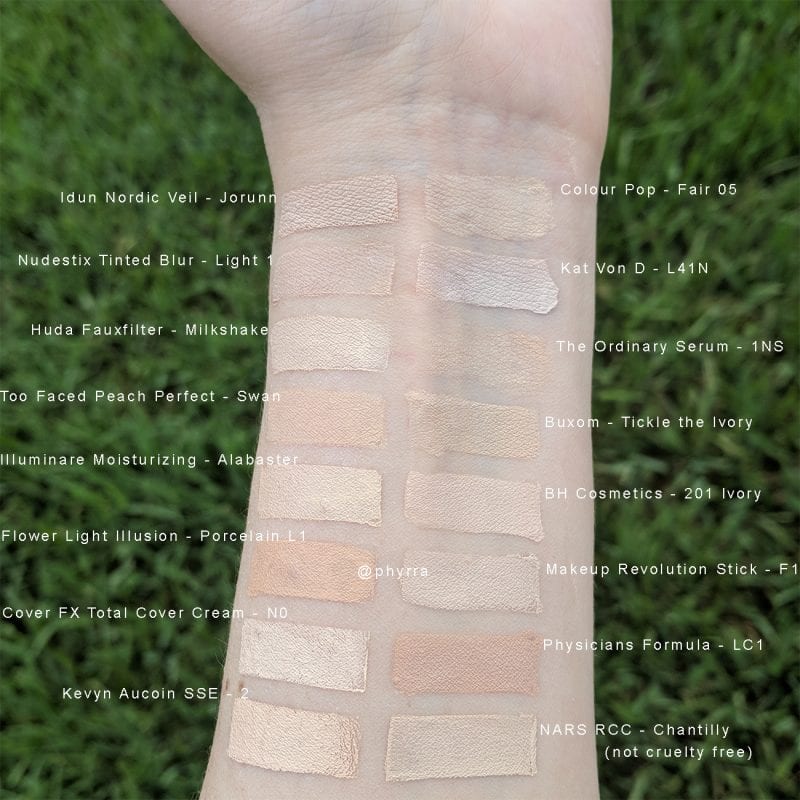 The above photo of Nudestix Nudies Tinted Blur Stick comparison swatches was taken outside around 11:35 am in overcast light, about 20 minutes or more after application. This one is the most true to color in my opinion.
Before and After with Nudestix Nudies Tinted Blur Stick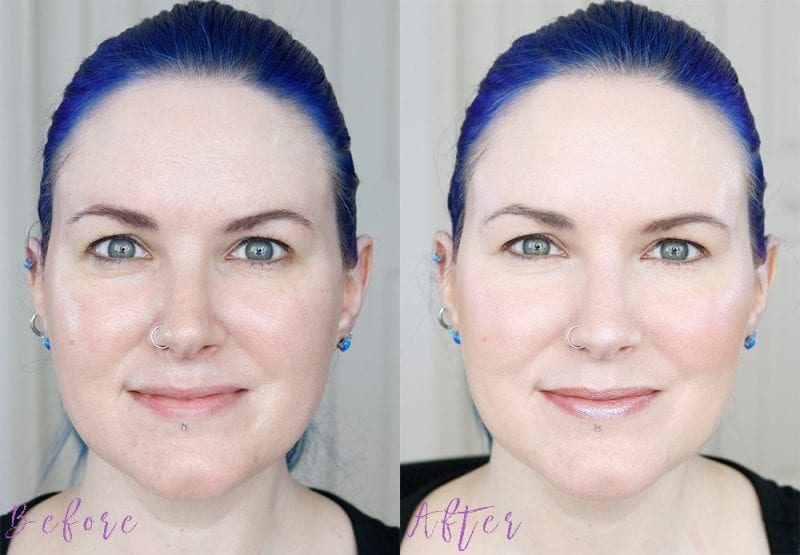 Pictures speak a thousand words so I thought a before and after with the Nudestix Nudies Tinted Blur Stick would be helpful. I tried to pose in the exact same position. All the lighting is the same. It's a mixture of natural day light and my ring light on low so that it lights me up but doesn't hide flaws. And just in case it needs to be said, these are unedited photos. Literally the only thing I did to them was resize them to match & add a text overlay.
On the left side you can see my acne breakout on my chin, hyperpigmentation spots, a bit of pinkness (I didn't have a lot of redness from rosacea yesterday), uneven skintone, fine lines and pores. On the right side it really does look like someone put a blur filter over my face, but you can still see the dark hyperpigmentation spot on my cheek. My acne is less visible, as are my pores and fine lines. The Nudestix Nudies Tinted Blur Stick does a great job of making it look like my skin but better. I really am buying into their whole #GoNudeButBetter campaign!
Nudestix Nudies Tinted Blur Stick Video
If you like the Nudestix Nudies Tinted Blur Stick review video, please share it!
Nudestix Nudies Tinted Blur Stick Review
Now, I've worn the Nudestix Nudies Tinted Blur Stick with and without primer, just to test it. The way I prefer to wear it is to use the Milk Makeup Blur Stick to fill in the large pores around my nose, then spray my face with Smashbox Primer Water in So Chill Coconut. I apply the stick all over and blend it out with the Urban Decay Optical Blurring brush. You can use your fingers but I think it looks better with the brush. I apply the rest of my makeup and then sometimes I set it with another spritz of the Smashbox Primer Water, but just as often I skip it.
I LOVE how this wears throughout the day. It will often last me 8 hours or more. The foundation wears off subtly for me and it's easy to touch up if I need it. With all the crying I've done lately, I've often skipped eyeshadow and mascara. This will wear off from me blowing my nose, but it's very easy to touch up.
Nudestix Nudies Tinted Blur Stick lives up to its claims on my skin. It blurs imperfections, evens out my skintone, and does a pretty good job of matching my skintone. Shade Light 1 is still slightly too pink for my skintone, but it's not obvious in most lighting conditions. I wish that it was more neutral or cool yellow in tone but it works. It's so comfortable to wear it's like I have nothing on at all. It blends in seamlessly with my skin. I think because it's such a light coverage formula, that it's able to work so well despite my different undertone.
I love that this is so easy to use and so portable! I toss it, plus my foundation brush and lipstick of the day into my makeup bag and take it with me.
Ok so now that you've heard what I love about it, let me tell you what I dislike about the Nudestix Nudies Tinted Blur Stick. It's $30 for .22 oz of product. That's an INSANELY small amount of product! It should be twice the amount of product for that price.
I wish that there was a slightly more neutral toned or neutral/cool yellow toned shade in this foundation. I feel like the 10 shades offered aren't really sufficient. Yet, conversely, since the pink-toned foundation works pretty well for me, even though it's not 100% perfect.<
Overall, I love the Nudestix Nudies Tinted Blur Stick and will continue to wear it and I will repurchase it when I run out. Though hopefully by that time there will be a perfect shade match for me!
What do you think of the Nudestix Nudies Tinted Blur Stick?
Have you caught  my recent fashion posts? If you love those sunglasses see them in my Killstar Lucine Skater Dress post!