Today I've got a quick tutorial for you with NARS Eye Paints. I really like this formula! While they can be used as an eyeshadow, the way I did here, they're better suited to eyeliners. You need to blend quickly because of their quick dry down. As you may or may not be able to tell, I'm getting ready to redo the color in my hair, so that's why it's flat flat flat today.
One thing I really liked about Solomon Islands is that it is very pigmented! It would be a fabulous base for a lot of colors. It would even work well with Sugarpill Afterparty.
PR + purchased by me.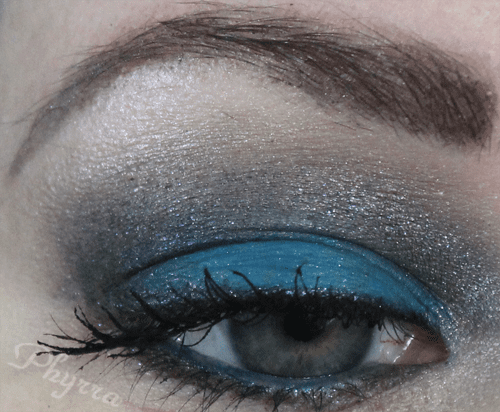 How to Achieve the Look
1. Pat NARS Solomon Islands onto the inner 3/4 of the lid. Apply Urban Decay Walk of Shame to the browbone and upper crease.
2. Blend NARS Ubangi into the crease and outer corner of the lid.
3. Line the lower lash line with NARS Tatar. Line the upper lash line with Ubangi.
4. Blend NARS Underworld (grey) into the upper crease.
5. Highlight under the brows and at the inner corner with Euphrate.
6. Add mascara. Line the waterline with NARS Abbey Road.


Eyes
Urban Decay Anti-Aging Eyeshadow Primer Potion
Urban Decay Walk of Shame – browbone
NARS Solomon Islands – lid
NARS Ubangi – crease and outer lid, to line upper lashline
NARS Tatar – lower lash line
NARS Underworld (grey half) – crease
NARS Euphrate – highlight at inner corner and under brows
NARS Abbey Road – waterline
Too Faced Better Than Sex Mascara
NARS Brow Perfector in Suriname
Face
Pixi Line & Relax Serum (primer)
NARS Radiant Cream Foundation in Siberia
NARS Desire – blush
Lips
NARS Velvet Gloss pencil in New Lover
The NARS Eye Paints will be available Sept. 1 at NARS and NARS boutiques. You can see more about the collection here. What do you think about the NARS Eye Paints? Do you like?