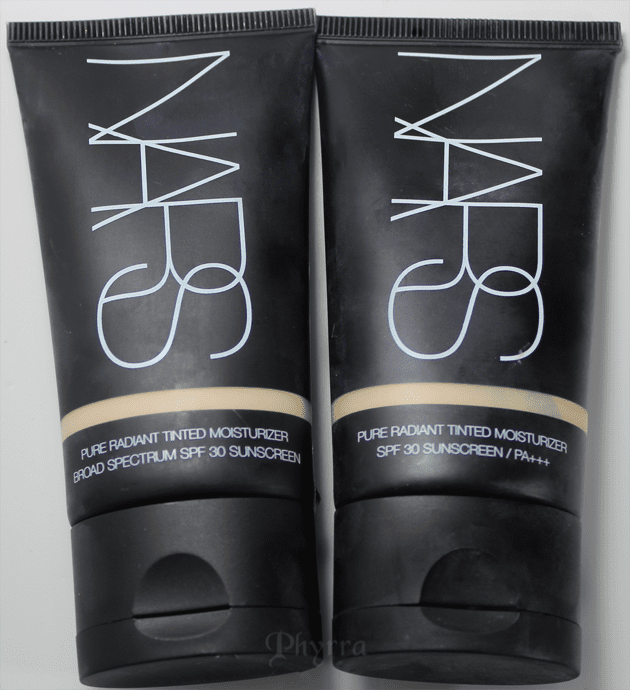 Last year at the Nordstrom Spring Trendshow, I got a makeover done and the talented makeup artist that Judi and I saw matched me up with NARS Finland in their tinted moisturizer. Recently NARS released the shade Terre Neuve, and the mua at Sephora insisted that if I wore NARS Siberia, I must have Terre Neuve. So I picked it up and figured I'd compare it to Finland. I happen to love NARS Finland, even if it is a tad darker than I like. It's perfect for days when I am in a rush and I just wanted a tinted moisturizer.
The Website Says
Your skin – almost bare, but better. This advanced, oil-free formula provides a translucent veil of color and sun protection while helping to reduce the appearance of hyperpigmentation and dark spots in just four weeks. Infused with lush, naturally derived botanicals and ingredients to immediately help thirsty skin feel hydrated. Kopara from French Polynesia and mineral rich seawater revive and re-mineralize skin for a softer, smoother, and brighter natural glow. Skin is transported. It has been proven to help reduce the appearance of discoloration and dark spots caused by hyper pigmentation for a clearer and brighter complexion in just four weeks. Oil-free and luxurious, it obscures the appearance of lines, wrinkles, pores and other imperfections. SPF 30 adds a translucent veil of protection.
* Advanced sun protection
* Hydrates and helps reduce the appearance of hyperpigmentation and dark spots for a brighter natural glow
* Oil-free. Dermatologist tested. Non-comedogenic. Synthetic fragrance free.
Consumer Testing Results:
* 84% felt their skin was more radiant and luminous
* 81% felt the product smoothed out the surface of their skin
* 81% felt the product gave them immediate hydration
Artist Tips
* For subtle coverage, use the tinted moisturizer in place of foundation. Blend it along cheekbones, then swipe a bit down the nose and along the top of the forehead. This will even tone while keeping things light and sheer. –Janice Daoud, National Makeup Stylist
* For an extra glow blend a pea-size amount with equal amount of Copacabana Illuminator and smooth over entire face. –Raquel Grijalva, National Makeup Stylist
Key Ingredients
* Kopara: Hydrate and retexturize; Kopara are natural polysaccharides found in a unique ecosystem at the rim of the French Polynesian atoll, Moorea, known as the "Magical Island." Two of these sustainably sourced polysaccharides have been found to have a synergistic effect to improve the condition of the skin. They encourage natural skin cell renewal while simultaneously hydrating the skin for a smoother, softer, healthier looking complexion.
* Ascorbyl Glucoside: Brightens and protects the skin.
* Mineral-Rich Seawater: Revitalizes and remineralizes the skin, keeping it fresh and energized. It is rich in calcium, potassium, sodium, magnesium, iron, manganese, selenium, and zinc.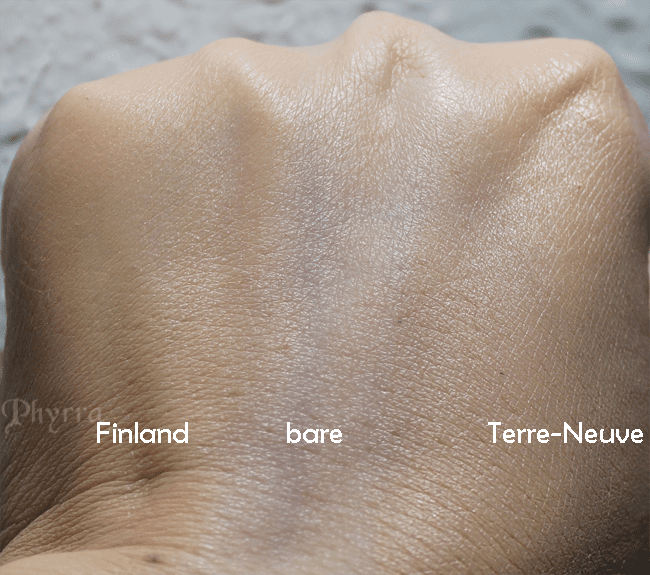 Ingredients
Water, Dimethicone, Ethylhexyl Methoxycinnamate, Titanium Dioxide, Butylene Glycol, Propanediol, Diethylhexyl Succinate, Glycerin, Nylon-12, Cyclomethicone, Peg-9 Polydimethylsiloxyethyl Dimethicone, Peg-10 Dimethicone, Aluminum Hydroxide, Diphenylsiloxy Phenyl Trimethicone, Disteardimonium Hectorite, Sorbitan Sesquiisostearate, Stearic Acid Phenoxyethanol, Polymethylsilsesquioxane, Fragrance, Dimethicone/Vinyl, Dimethicone Crosspolymer, Trisodium, Edta, Aluminum Distearate, Talc, Ascorbyl Glucoside, Polysilicone-2, Vibrio Alginolyticus Ferment Filtrate, Tocopherol, Alteromonas Ferment Filtrate, Maris Sal (Sea Salt), Hydrogen Dimethicone, Bht, Algae (Algae Extract), Sodium Metabisulfite, Curcuma Longa [Curcuma Longa (Turmeric) Root Extract], Potassium Sorbate, Geraniol, Limonene, Citral, Linalool [+/- (May Contain): Ci 77891 (Titanium Dioxide), Ci 77491 (Iron Oxides), Ci 77492 (Iron Oxides), Ci 77499 (Iron Oxides)].
Price & Availability
$42 for 1.9 oz from NARS.com, a NARS counter, Sephora, or Sephora.com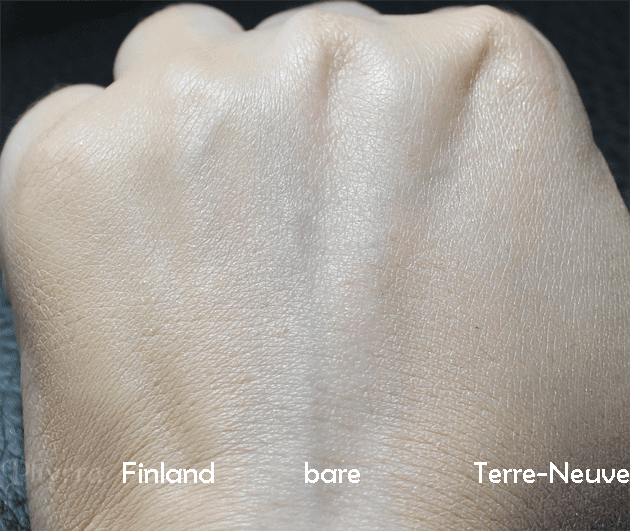 Honestly the colors are very, very similar.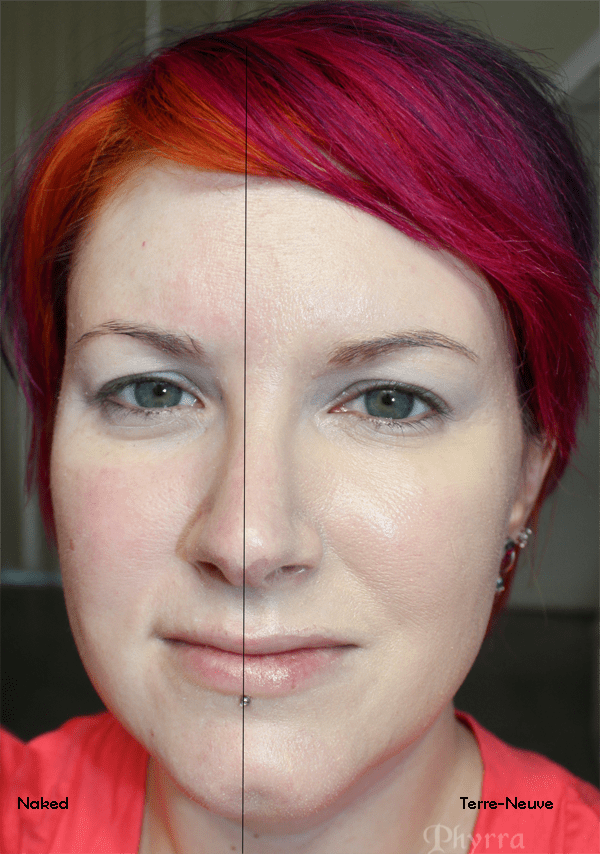 Here I applied Terre-Neuve to one half of my face and left the other half naked.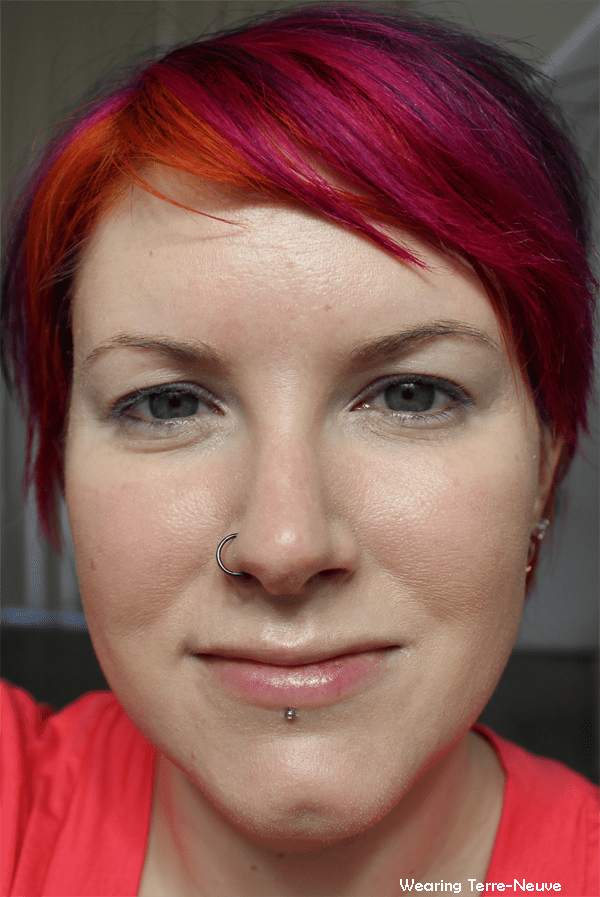 This shows my face with all its flaws. No flash was used in this image above. You can see all my skin imperfections. As a tinted moisturizer, I feel like NARS Pure Radiant does what i want it to do, and it covers more than some 'BB Creams' I've tried.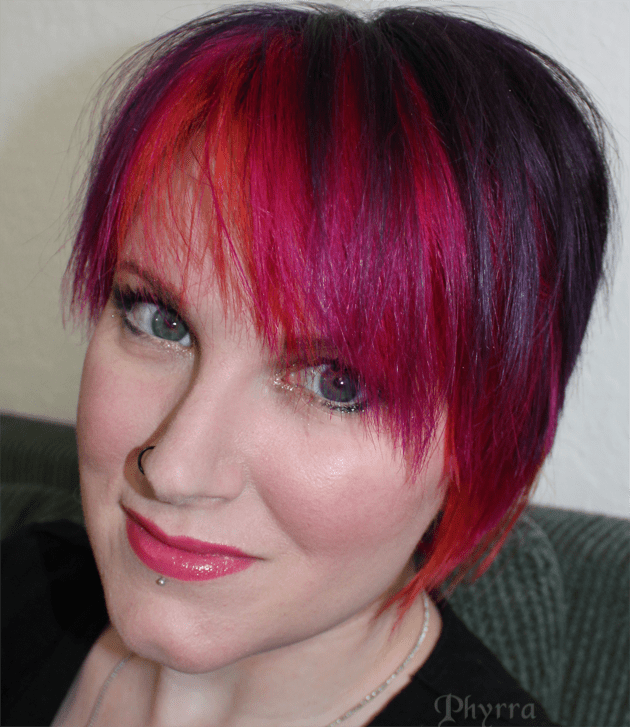 People are constantly telling me I'm too picky or not picky enough when it comes to foundation. My biggest complaint has always been that most products are too dark. For these tinted moisturizers I find that I can wear both. I do feel like Finland can be a bit too dark, but I feel like Terre Neuve can be a bit too pink. However, I feel like both provide me with the perfect amount of coverage for when I don't want a lot of makeup on.
My absolute favorite combination right now is when I'm wearing the tinted moisturizer and using the Light Reflectinng Loose Setting Powder on top. I feel like I look absolutely perfect that way!
I've found this product invaluable when I've been traveling and I have to get up at some ungodly hour to catch a plane. I can wake up, wash my face, and then put this on my face and call it done, or I can take a few minutes and fill in my brows and add mascara. Either way, this tinted moisturizer provides me with enough coverage that I look good and can go on about my way.
I've worn this with and without using moisturizer beforehand and I feel it wears equally well for me in either case, though clearly if I'm in a rush I'm using this as a multi-tasking moisturizer, spf, and foundation type product in one. When I use the Supergood SPF 50 I feel like that product almost acts as a primer for it.
I really appreciate the fact that it's SPF 30. With my rosacea, I'm all about the high SPF. I also like that this doesn't break me out or irritate my skin or my eyes. I like the way the product feels and dries down on my skin. It doesn't really seem to have much of a scent to me. It doesn't get tight or cakey, in my opinion. I feel like it does a good job at hiding most imperfections and blurring other ones. It doesn't feel heavy. It seems to have more of a skin-like quality than a mask-like quality. To me, this is all indicative of a great tinted moisturizer.
Would I purchase again?
Absolutely! I purchased both of these. Once I've finished them both up I'll certainly purchase another. I do feel like, since it's 1.9 oz, that it's not bad for the price because most regular foundations can be $30-$40 for 1 oz.
I really need to try the tip of mixing in one of the tinted moisturizers with Copacabana! I also need to try mixing the shades together to see what I think.
What do you think of the NARS Pure Radiant Tinted Moisturizer SPF 30 Terre-Neuve & Finland? Have you tried either?