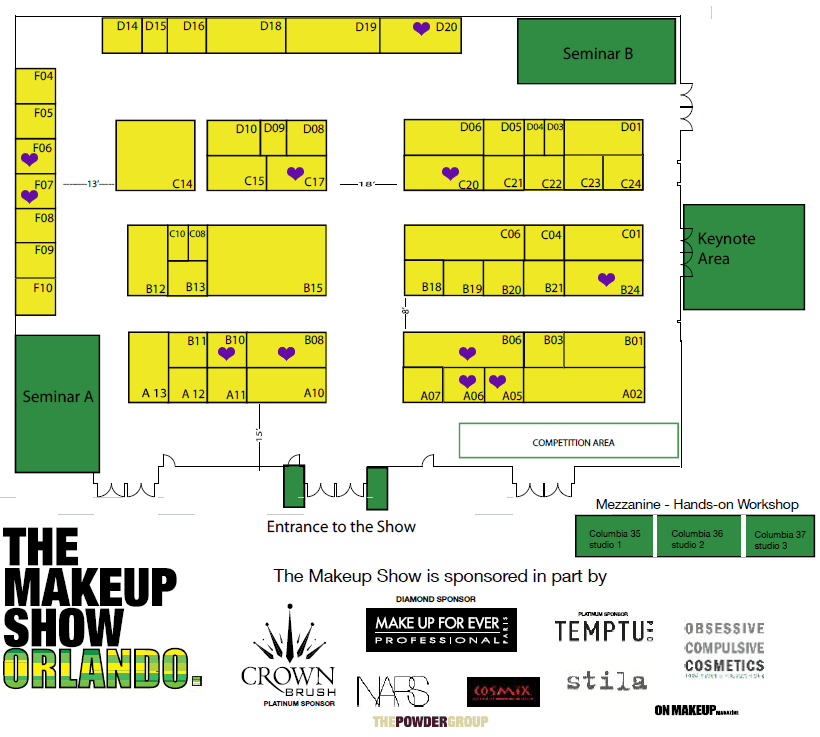 My Must See Brands at the Makeup Show Orlando
I wanted to share my Must See Brands at the Makeup Show Orlando! Here are the ones I cannot miss seeing. The Makeup Show Orlando runs Saturday Sept. 28, 2013 from 9 am to 6pm and Sunday Sept. 29, 2013 from 9am to 5pm.
Cult Nails – Booth B10
My love for Cult Nails is no secret. I can't wait to see Maria and talk to her about the latest collection.
Violet Voss – Booth F07
I'm excited that Elessa will be here for the show! I really want to check out all her glitters in person.
NARS – Booth D20
I love NARS to pieces and I hope they have the Adult Rated palette so I can pick it up!
Ellis Faas – Booth A06
I want to check out their makeup in person. I've only ever tried one of their products.
Embryolisse – Booth A05
I need to pick up 2 more tubes of moisturizer. I find it soothing.
Fantabulash – Booth F06
I use this eyelash tape when I wear false lashes. I'm finally getting better with falsies thanks to this stuff!
Graftobian – Booth C20
They make great cream foundation! I'm going to look at getting more of their liquid glitter for the face.
Inglot – Booth B06
I want to check out their lipsticks in person! I love their eyeshadows.
OCC Makeup – Booth B08
I'm picking up a few lip tars from the Fall collection. I really want Black Metal Dahlia.
Senna Cosmetics – Booth C17
I'm hoping that I can pick up Adonis and Echo eyeshadows.
Stila Cosmetics – Booth B24
I love Stila and was so happy with the After Glow Lip colors! I hope to hear that they'll be creating more.
ZPalette – Booth B20
I love the Zpalettes for my Makeup Geek and Inglot Eyeshadows! They come in so many great patterns but my favorite is the leopard print that I have.
Here are the keynotes that I'm really interested in hitting. You can find the full list here.
Saturday
11:30 am to 1pm – Building a Brand with David Klasfeld
Sunday
10:00 am to 11:30 am – Billy B – A Career in Makeup
12 pm to 1:30 pm – Fantasy, FX, Beauty and Beyond with Jonah Levy
I'm really looking forward to meeting with brands and bloggers at the Makeup Show Orlando. Make sure you're following me on Instagram and Twitter to keep up with everything we do this weekend! Ray is coming with me and my friend Melissa may join me, too!
Will you be at the Makeup Show Orlando? Make sure you say hi!
Last Updated on