New Hair Time! I decided that I'm going to stay in the teal blue family with my hair for a while, so when it was time to re-do my hair, I decided to pick up Manic Panic Atomic Turquoise in the Amplified Cream formula. I always have to buy this online because I can't find anywhere locally that stocks it. I also picked up After Midnight Blue.
Before I could dye, I had to lighten my roots. To see the full list of products that I use, check out my Beginner's Guide to Brightly Colored Hair.
Here I've got bleach in my hair, just on my roots. It resulted in a silly look, so I had to take a picture and share.  In all of these pictures I'm wearing no makeup. My rosacea is flaring up, unfortunately, so my skin is super splotchy.
This is after bleaching. I contemplated, for a short minute, going all the way blonde again.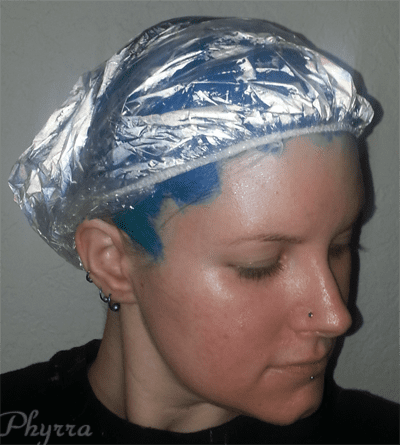 This is after I have the dye in. Now, I should point out that I applied Manic Panic Atomic Turquoise Amplified Cream to all of my hair except the crown of my head. I mixed Atomic Turquoise with After Midnight Blue and a tiny bit of Black & Blue for that top back section since i wanted it to be darker than the rest.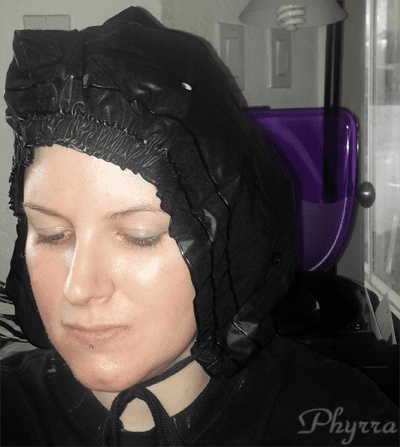 I used the Laila Ali Ionic Soft Bonnet Dryer for an hour and a half, and then let the dye on for a half hour after that. I LOVE this bonnet dryer! It's so much easier to use than my bonnet that I attached to my blow dryer. I just tied this on and read a book for a while.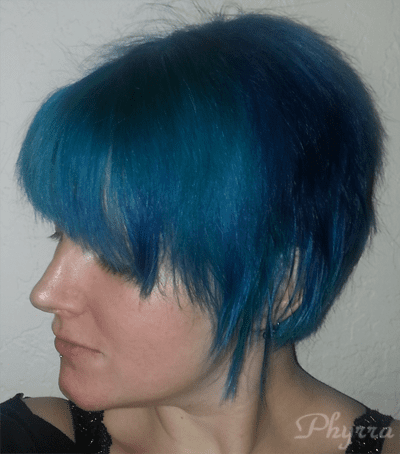 Here's my hair immediately after I washed the color out and dried it.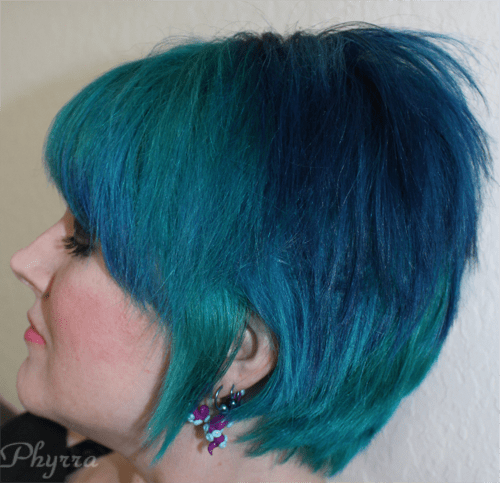 You can more easily see the darker section on top in this image.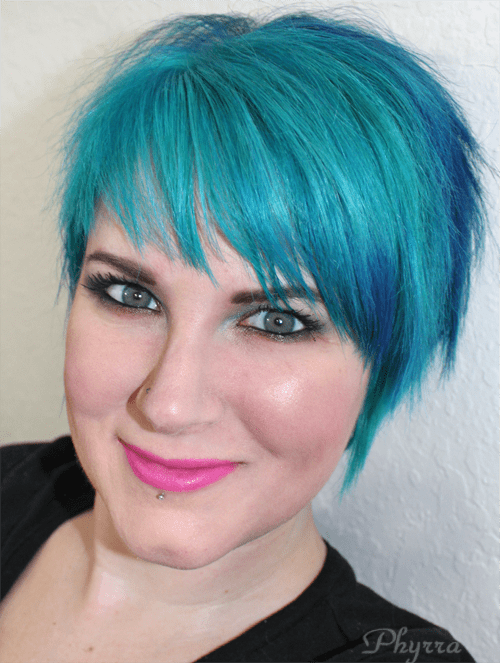 I love the little blue, almost cobalt section in the front by my eye. I may hit that with purple again.
Anyway, here's my updated hair. And for those of you who always ask, I last dyed my hair on July 6 and I did this to my hair on August 25, roughly 7 weeks ago. I don't bleach my roots every time I do my hair, but I decided they really needed it this time.
How often do you dye your hair? Have you ever used Manic Panic Amplified Cream?