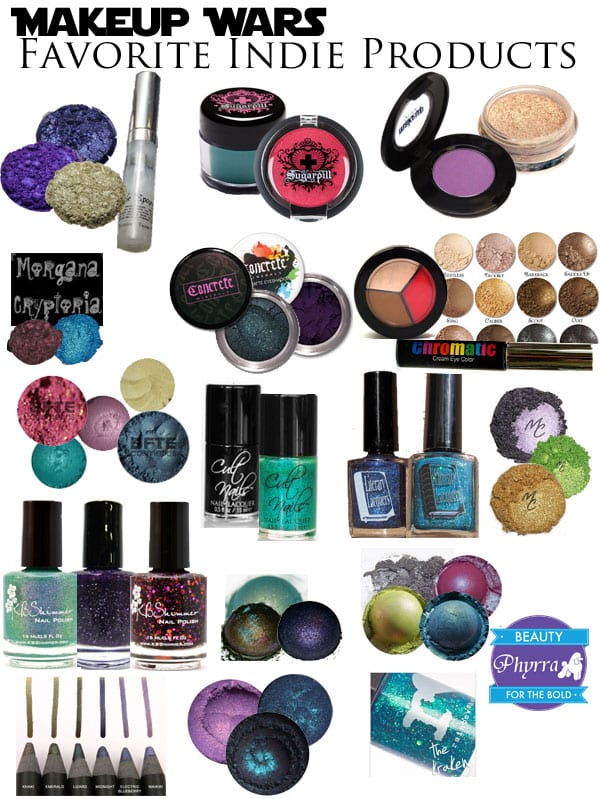 Happy Monday! It's time for another Makeup Wars! Our theme this week is Favorite Indie Products from my favorite indie brands. Of course, I have a ton of cruelty free favorites to share with you. This post contains a mix of press samples and products purchased by me.
Makeup Wars Favorite Indie Products
To start, there's Fyrinnae. I love the Pixie Epoxy, which is perfect for foiling without the mess (see my post on Best Ways to Apply Loose Eyeshadow). I also love their fantastic eyeshadows, especially the Arcane Magics. (Vegan)
Morgana Cryptoria has always been known for their unusual lipsticks in shades of turquoise, emerald, purple, as well as brights and pastels. Their newer semi-loose eyeshadow formula is amazing. You can find in the Don't Blink (Dr. Who!) and Witchy Winter Wonderland collections. (Vegan)
Silk Naturals makes such a wide variety of great products from their new Neopolitan HD cream blush trio, Chromatic cream eyeshadows, and beautiful eyeshadows. They have fantastic vegan clones of the UD Naked 1, Naked 2 and Naked Basics. And don't miss out on their blushes or the Flattery Illuminating powder! Most products are vegan.
Sugarpill is now synonymous with bright color. I love their bright pressed eyeshadows as well as their pretty loose Chromalust loose shadows. Most products are vegan.
Concrete Minerals makes an entire line of bright matte pigments, as well as lots of gorgeous shimmery shades. Most products are vegan.
Makeup Geek pressed eyeshadows and pigments are pretty fantastic. They have a ton of MAC clones. I love seeing how Marlena has chosen to create her line and I always look forward to her new releases.
BFTE has some truly gorgeous eyeshadows, including Poodle Pandemonium (from their pro line), as well as great trios and sets.
Cult Nails makes the perfect one coat black nail polish Nevermore. Maria also makes a ton of great colors for layering like Deception and Hypnotize Me. When I don't know what to wear, I reach for Nevermore. She also makes my favorite base coat, Get it On.
Literary Lacquers makes gorgeous holographic polish as well as complex jellies. Of course my two favorite shades are Pan Galactic Gargle Blaster and Camille Sepharial D'Artigo.
Meow Cosmetics makes so many beautiful collections and one of the cool things that they do is rotate collections in and out based on seasons. They have special collections for Halloween, Christmas, Summer and more. Right now their Xmas Shoppe is open, as well as their Shades of Meow Vol. 4. Additionally, they also make the first indie foundation that was a perfect match for my skintone – Inquisitive Siamese.
KBShimmer has super lovely glitters of all different types. My favorites are You Go Ghoul!, Witch Way? and Teal Another Tail. Christy also makes my favorite top coat, Clearly On Top.
Geek Chic Cosmetics has pretty geeky shades. I particularly love Bigger On the Inside, Anarchist Priest and We're All Infected. Dr. Who and Farscape? Yes please!
Darling Girl makes awesome eyeshadows. Susan also has created watercolor paint pots and In Living Color shadow bases, which are great for vibrant looks.
Performance Colors makes an awesome cream to powder foundation, as well as pretty cream eyeshadows and eyeliners. I really love Oilslick, as it's an amazing shade everyone needs.
Femme Fatale Cosmetics has gorgeous duochrome eyeshadows, blushes and illuminators. Golden Lotus, Witchberry and Snow Lily are great illuminators. Archangel, Dreamstate, Genesis, Haunt, Shooting Stars are some of the gorgeous eyeshadows.
Rainbow Honey makes some lovely polishes. I really love The Kraken. Plus, she has a Final Fantasy VII inspired collection. What's not to love?
Looking for more? Check out
Anyway, these are my picks for favorite indies! What are your favorites?
Last Updated on