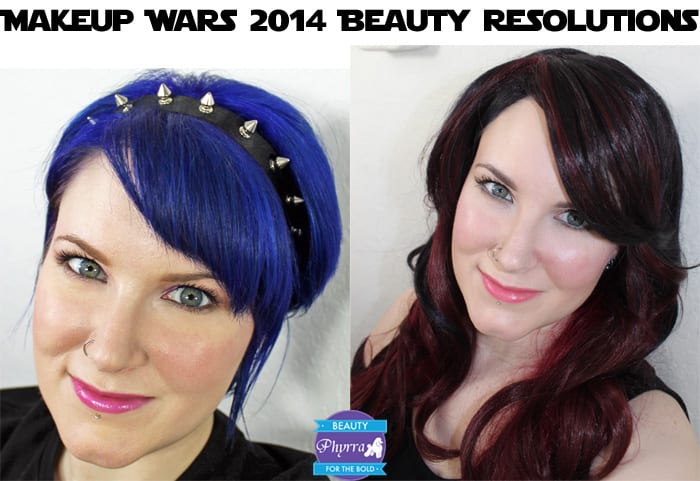 It's time for another Makeup Wars! This time we're sharing our Beauty Resolutions. Last year my Makeup Wars Beauty Resolution was to create 52 videos on Youtube. I figured at 1 a week I could make that goal.  I ended up making 133 videos in 2013 (publishing 127) so I am pleased to say I exceeded my goal! You can follow me on YouTube.
Makeup Wars Beauty Resolutions
For 2014, I'm setting what is most likely a harder goal for me. I'm setting the goal of growing out my hair. I'm taking biotin to make my nails stronger (and it should help with hair growth from what I understand). If you saw my Hair of 2013 post, you'll have seen my hair styles by month. I favor short hair. So it's going to be a challenge to keep me from lopping my hair short!
You can see in the picture above my current hair on the left (Special Effects Blue Mayhem with a tiny streak of Blue Velvet on the right side by the hairline that you can't really see) and my dream hair on the right. The hair on the right is one of my favorite wigs, called Midnight Flame. This wig's base is a blend of black and purple black that transitions into a bordeaux burgundy and then finally transitions into a deep dark cherry red.
To keep my hair healthy, I'm going to cut back on the heat (not that I use heat very often) and I'm going to use my Pretty Little Elixir Hair Masque weekly.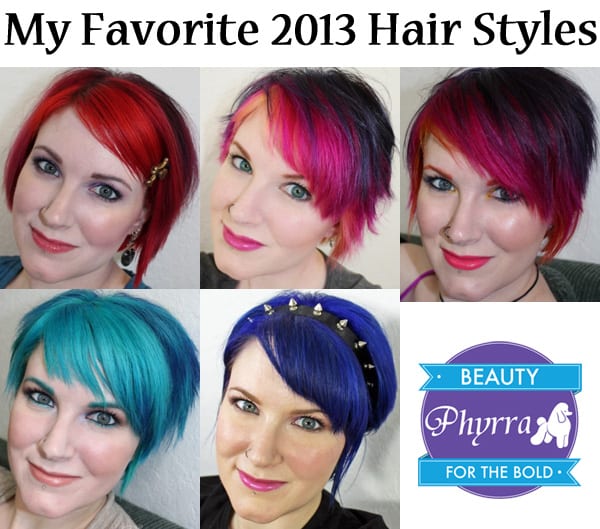 The other goals that I have are more typical – to be healthier. I need to work out more to improve my stamina and I really need to start lifting weights.

What are your New Years Resolutions? Do you have any Beauty Resolutions?

[inlinkz_linkup id=353364]