I was very excited to find out about the Makeup Geek Vegan Palette, so I wanted to tell you all about it. I'm sure you already know that Marlena makes her beautiful products cruelty free. I didn't realize that many of them were vegan, too.
Makeup Geek Vegan Palette
About the Makeup Geek Vegan Palette
For all our wonderful Vegan Makeup Geeks, this kit was designed especially for you! This kit contains 9 professional quality vegan eyeshadows at a fraction of the cost. These creamy colors glide on smoothly and have high-impact color. We strive to keep all our products animal friendly and 100 % healthy. We put together a kit that will create one stunning look after another, and with so many shades, the possibilities are limitless.
ALL SHADES IN THIS KIT ARE 100% VEGAN
Includes a Small Black Z-Palette
Bada Bing –  Deep Brown with flecks of gold
Beaches and Cream – Creamy Matte Natural Beige with Just A Hint of Peach
Bleached Blonde – Shimmery Pale Gold
Poison Ivy – Shimmery medium green
Preppy – Matte khaki brown
Pretentious – Metallic bronze
Purely Naked – Shimmery tan
Shimmermint – Metallic Mint Green With Gold Shimmer
Vanilla Bean – Smooth Cream with a Matte Finish
Talc free
Paraben free
Shades in the Vegan Kit are – Bada Bing, Beaches & Cream, Bleached Blonde, Poison Ivy, Preppy, Pretentious, Purely Naked, Shimmermint, and Vanilla Bean.
Below you will find lots of Makeup Geek swatches.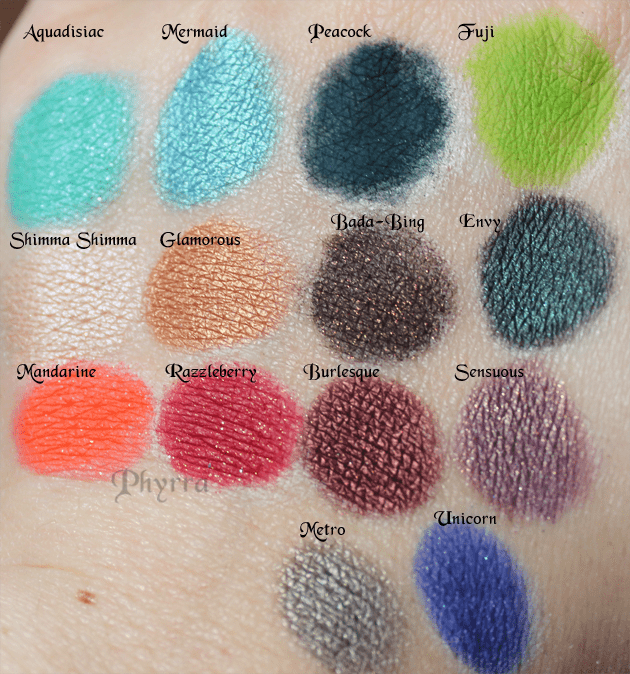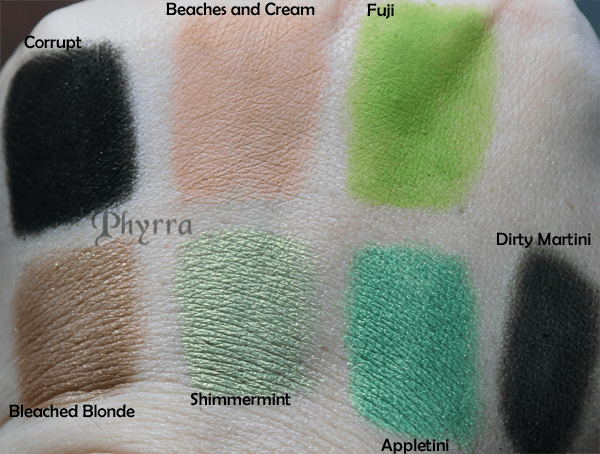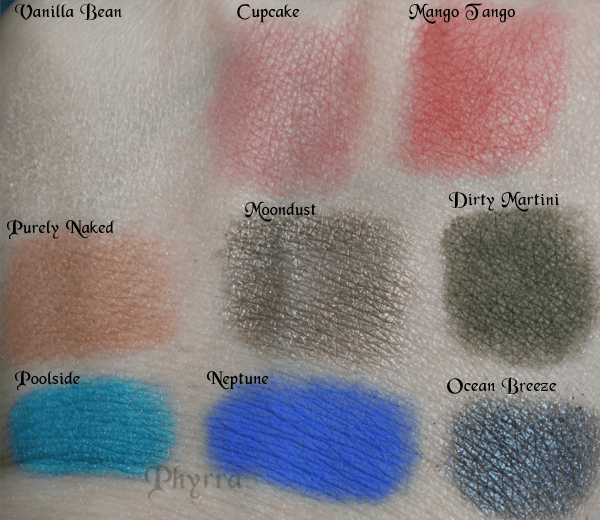 I have swatches and reviews of every shade except for Preppy and Poison Ivy.
See my other Makeup Geek Reviews
5 New Pigments – Blitz, Vegas Lights, Bewitched, Nightlife, Kryptonite
5 New Eyeshadows – Simply Marlena, Cosmopolitan, Graphite, Frappe, Hipster
New Pigments – Utopia, New Years Eve, Liquid Gold, Sweet Dreams, Insomnia, Afterglow, Paparazzi, Birthday wish, Prince Charming, Enchanted
New Eyeshadows – Nautica, Beaches & Cream, Prom Night, Boo Berry, Peach Smoothie, Drama Queen, Peacock, Creme Brulee, Corrupt
More Eyeshadows – Corrupt, Beaches and Cream, Fuji, Bleached Blonde, Shimmermint, Appletini, Dirty Martini
MUG Lipsticks
Lots o' Shadows – Cinderella, Stealth, Galaxy, Cupcake, Vanilla Bean, Moondust, Purely Naked, Mango Tango, Shimma Shimma, Bada-bing, Glamorous, Mandarine, Mermaid, Poolside
Some Swatches – Mermaid, Peacock, Fuji, Shimma Shimma, Glamorous, Bada-Bing, Envy, Mandarine, Razzleberry, Burlesque, Sensuous, Metro, Unicorn
And more – Vanilla Bean, Cupcake, Mango Tango, Purely Naked, Moondust, Dirty Martini, Poolside, Neptune, Ocean Breeze
You can find Makeup Geek products exclusively at MakeupGeek.com.