I've had these Makeup Geek shadows and been using them for quite a while. I just realized I hadn't swatched them for you, so here they are! Today I've got Corrupt, Beaches and Cream, Bleached Blonde, Fuji, Shimmermint, Appletini, and Dirty Martini.
These are swatched on Meow Light Primer 🙂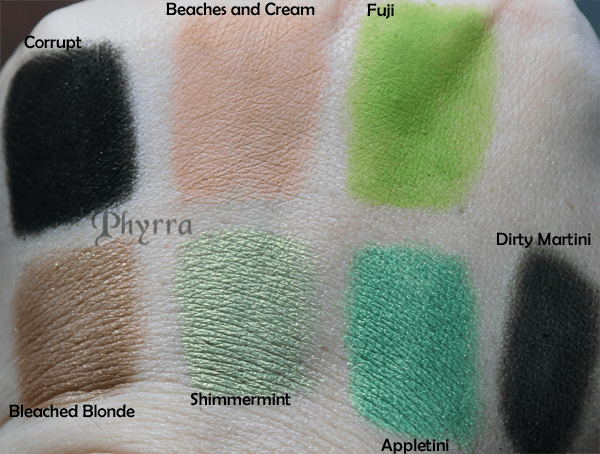 Corrupt
Intense matte black with a very subtle sparkle
My Take
Ultra pigmented matte black with tiny glimmers visible only upon close inspection.
Beaches and Cream
Creamy Matte Natural Beige with Just A Hint of Peach
My Take
This is a perfect warm natural peachy-beige matte shade. It's great as a lid shade or to blend out colors in the crease. Plus, it's named after one of my favorite Disney Resort Restaurants.
Fuji
Matte apple green
My Take
Granny apple smith green. It's a yellow-toned green matte. I prefer these sort of greens.
Bleached Blonde
Shimmery Pale Gold
My Take
Light metallic gold with yellow undertones. I really love golds. It reminds me a bit of MAC Retrospeck.
Shimmermint
Metallic Mint Green With Gold Shimmer
My Take
It's a light golden minty green. It reminds me of MAC Juxt.
Appletini
Shimmery Apple green with flecks of gold
My Take
Bright grass green with a golden sheen. Reminds me of MAC Swimming.
Dirty Martini
Matte olive green
My Take
Because I used a sticky base to swatch, this swatched so incredibly dark! It's a drab dark olive green matte.
Makeup Geek eyeshadows are affordable, highly pigmented, easy to blend and cruelty-free. I think this makes them a winning combination!
What are your favorite Makeup Geek Eyeshadow shades?
Products purchased by me. All opinions are my own.