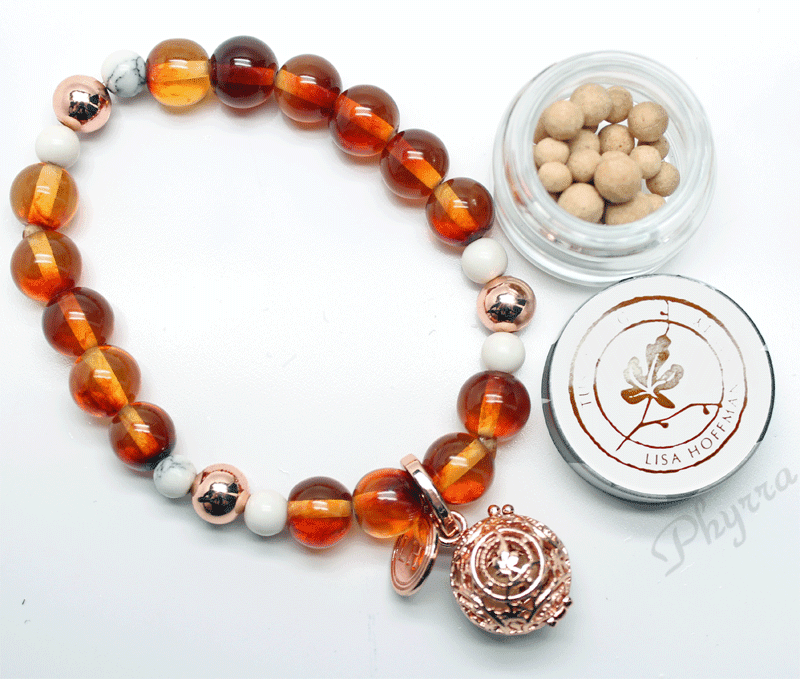 Today I've got a new (to me) way to wear perfume to show you. I have one of the Lisa Hoffman Beauty perfume bracelets. These bracelets are filled with little wooden beads The scent I received is Tuscan Fig.
PR sample.
Lisa Hoffman Beauty Tuscan Fig Bracelet Review
About the Lisa Hoffman Beauty Perfume Bracelet
Using eco-friendly materials and revolutionary technology, we've engineered our fragrance beads to deliver maximum fragrance in a minimalist design. The spherical shape of the beads combined with a proprietary scenting method allows for maximum fragrance throw and scent retention. What this means is that your Fragrance Jewelry was designed to be as fragrant as possible in the most efficient way.
Lisa Hoffman Beauty is cruelty free.
Price
$65 (includes bracelet and perfume refills, .04 oz / 1 gram)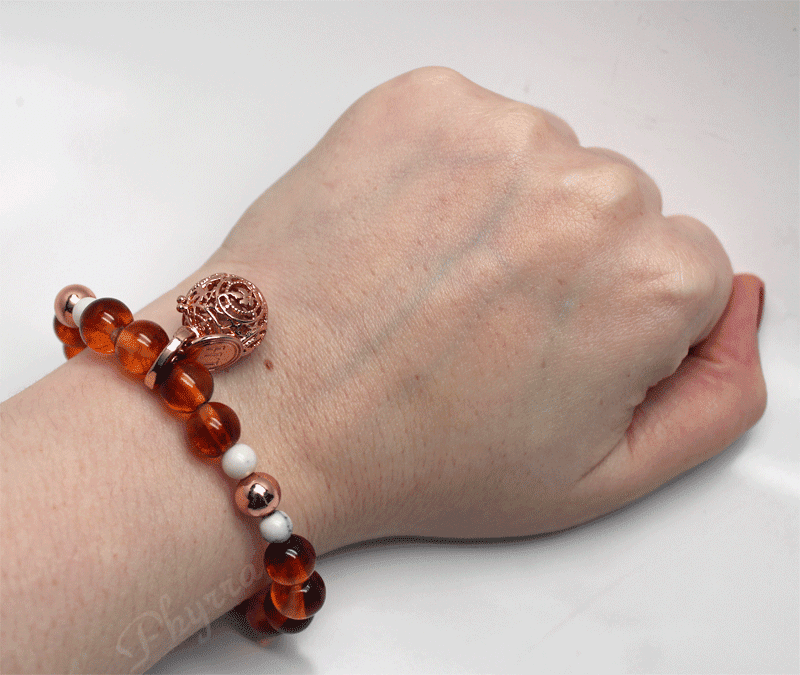 My Thoughts
Tuscan Fig is described as a rich, gourmand scent with fig, vanilla bean, honeysuckle and coconut wood. To me, I smell a sweet vanilla with hints of fig and wood.
This bracelet has amber resin beads, rose gold-plated brass beads and charm. It's stretchy so it can adjust to accommodate any wrist size.
With only two beads in it, the throw is going to be right at your wrist. If you up it to 6 beads, at least in Tuscan Fig, it's still going to be right around you. It's not something someone will smell from across the room, and that's ok. But someone may not smell it on you at all.
The core collection of 6 bracelets has each bracelet color paired to a specific scent, which is why when I picked the Tuscan Fig scent, it came with an amber bracelet. Other colors available are purple, red, green, beige, and brown. I would have never picked the I really like the Black Onyx bracelet, which is from another collection.
I think that the Lisa Hoffman Beauty Tuscan Fig Bracelet is a nice and different way to wear perfume. I love the idea of the little scent beads in a charm, and how you can switch them out for other scents. However, I wish that the perfume had more throw. At 6 beads of the Tuscan Fig I still didn't feel like I could smell the perfume well enough, as compared to one spritz of my Tainted Love perfume. So while I love the concept for the perfume bracelet, and the Tuscan Fig scent, I feel like it needs a bit of tweaking to improve the throw.
Have you tried a perfume bracelet before? Do you like them?
Pros
Nice scent, as I like foodie vanilla scents
Innovative design with the scent beads, so that you can change out to different perfumes
Cute bracelet design
Cons
Pricey for the amount of perfume beads you get
Perfume didn't have as much throw as I would like
Last Updated on