Light Coverage Foundation Routine
Hey friends! Today I'm sharing a Light Coverage Foundation Routine Tutorial featuring Milk Makeup & Stila Cosmetics. I bought two of the Stila Complete Harmony Lip & Cheek Sticks to try out. While I'm not a fan of the Kitten stick (I don't think the color works for my skin tone), I absolutely love the Sheer Lillium stick. It's an awesome blush color for me.
Milk Makeup's Hydro Grip Primer is my holy grail primer and has been since I first got my hands on it. It is so good for dry sensitive skin like mine. I adore the Danessa Myricks Prism FX Hydrating Lotion and love the glow it gives my skin, especially under a foundation.
Milk Makeup's Flex Foundation Stick in Porcelain is my favorite foundation and what I'm wearing daily right now. It is so easy for me to sweep it on with my beloved Urban Decay Optical Blurring Foundation brush. The Porcelain shade melds with my skin and gives me a 'my skin but better' look. Using a stick foundation lets you customize your cover to make it sheer and light coverage in some places, while you can build it up to more full coverage in others. Oh, and yes, this is my real 41 year old skin without any blur lenses or filters, because I don't use those on my channel.
I do adore the Fenty Pro Filt'r Powder in Lavender, but if you are not a fan of the Fenty brand, Aromaleigh has a lavender powder called Triteleia that you can try. Finally, I really enjoyed the Makeup Revolution Glass Shimmer Iridescent Fixing Spray, but it does have a sweet fruity scent that may irritate people who have a sensitivity to scents.
Light Coverage Foundation Routine Video
Watch the Video with Closed Captioning in English at YouTube!
This means you can watch with the sound off if necessary.
As someone who has hearing loss, I always watch tv and movies with closed captioning whenever available. This means I also watch YouTube with closed captioning. Because it is important to me, I've been transcribing my own videos or paying Rev.com to transcribe them for years.
Light Coverage Foundation on Fair Skin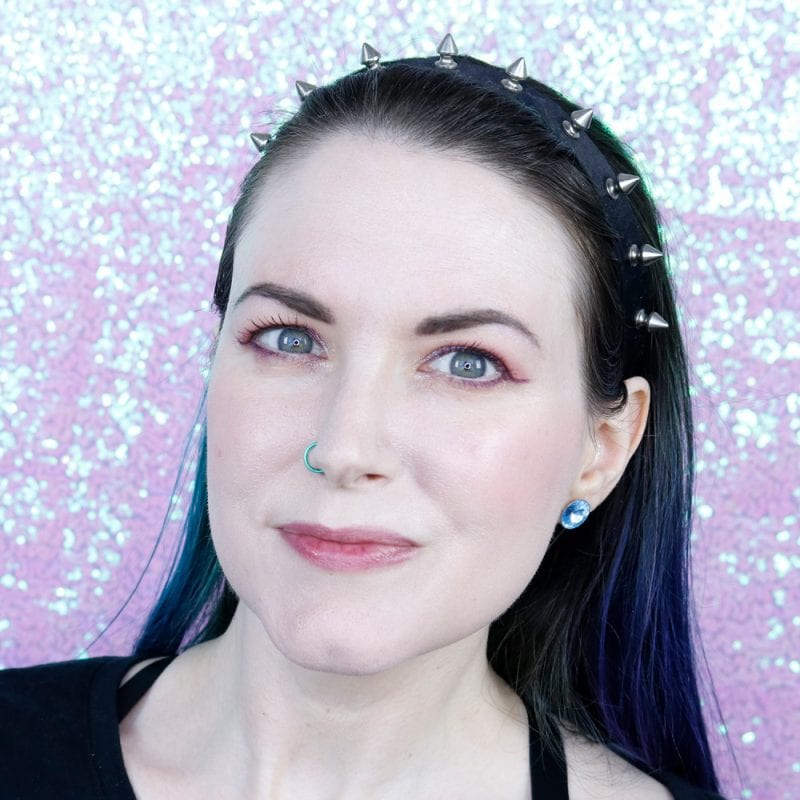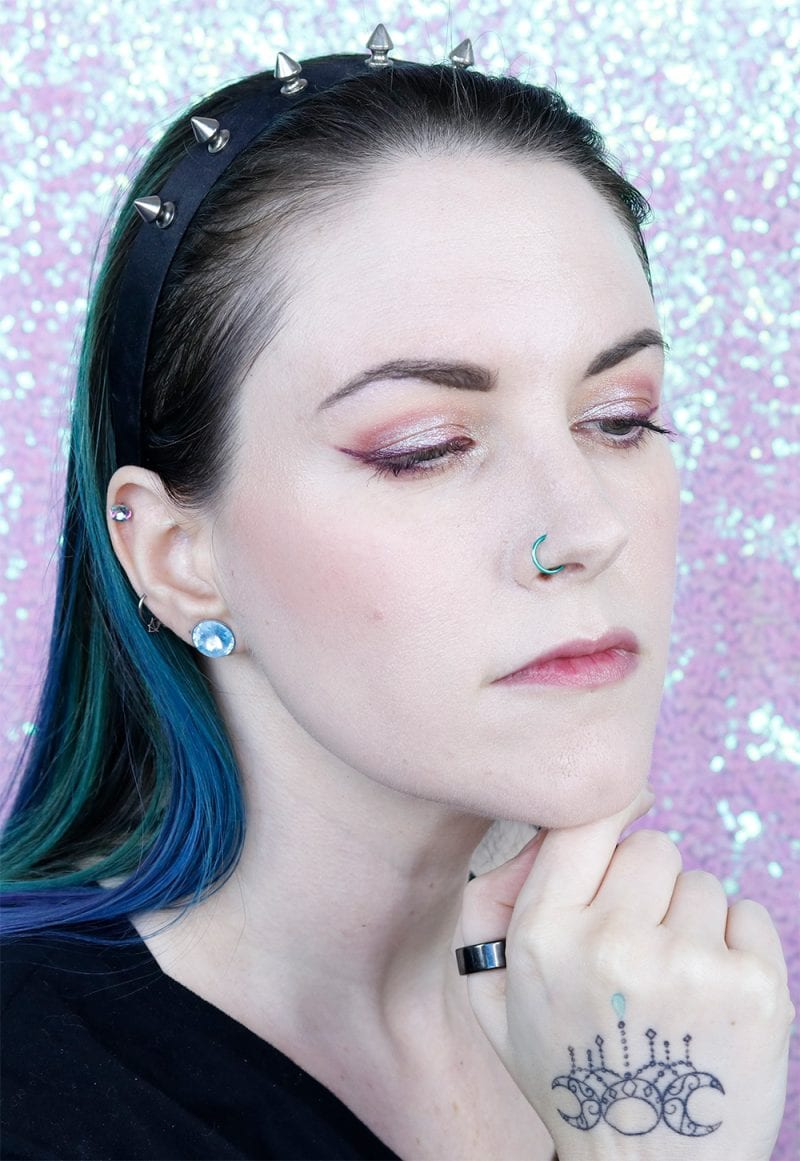 Please excuse my lips, I've had horrible sleep since November and I've bitten them in my sleep. If you love the eye look, check out my Nabla Wild Berry Duochrome Tutorial!
VEGAN PRODUCTS
NON-VEGAN CRUELTY-FREE PRODUCTS
Patreon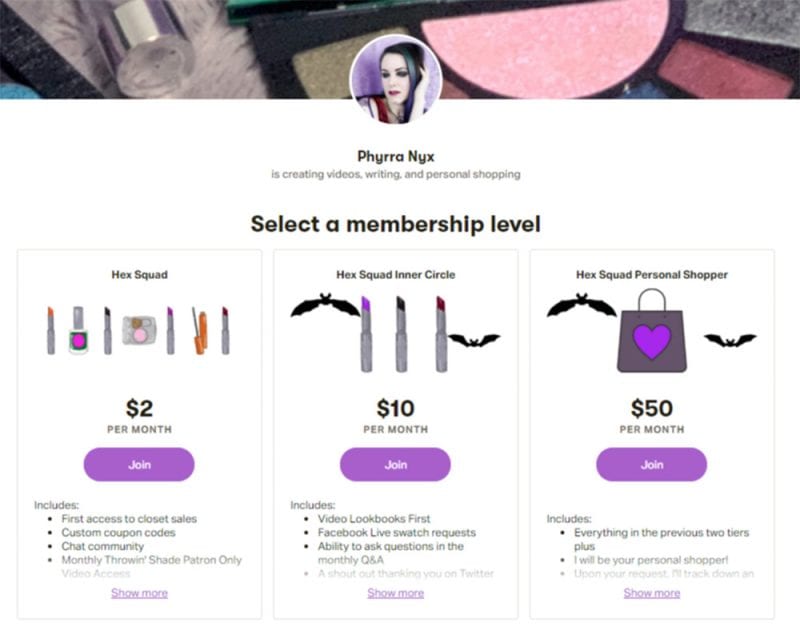 And now for something that has nothing to do with the Light Coverage Foundation Routine I shared today. I created a Patreon after urging from some of you and did a soft launch with it. I've been running my site Phyrra.net for 12 years and several of you suggested that you'd like to see my blog stick around. In fact, my blog's 12 year anniversary is on the 14th of May, and it's a particularly bittersweet day for me as well, since that's also Ray's birthday. You can Join the Hex Squad on Patreon. I'm getting ready to have my first closet sale and first access to my closet sales goes to Hex Squad members.
If you want to help keep my blog around and support the site, the number one thing you can do is share my blog posts! I'm truly grateful when that happens. I love it when I see other bloggers link to me or share my content. And best of all, sharing content doesn't cost you a dime!
Bloggers are a dying breed, it seems, so if you love a blog or YouTube channel, the best thing you can do to help them out is share their content.
Indie Designers on Redbubble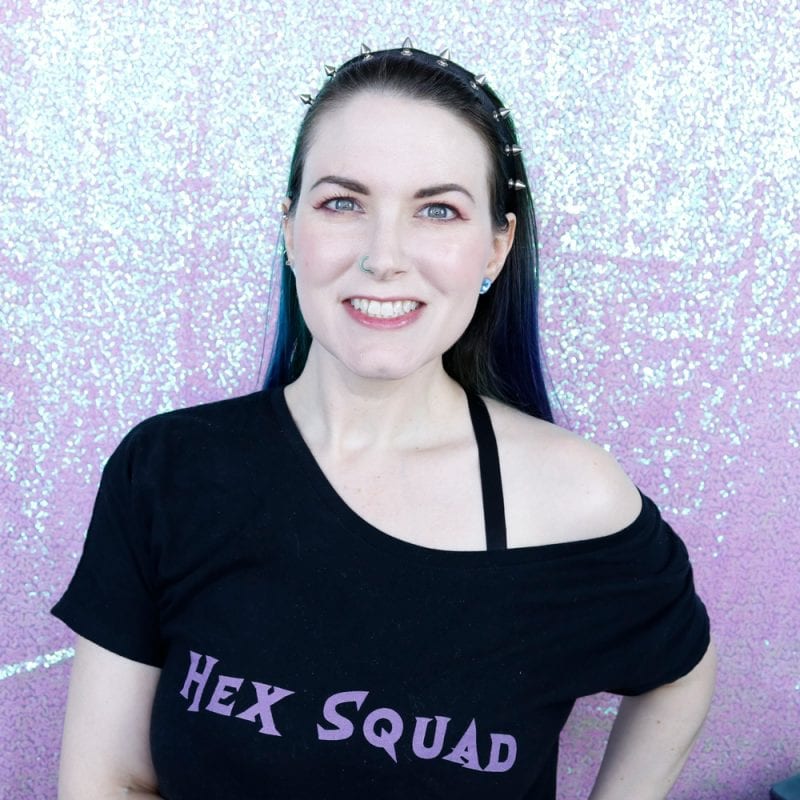 Also not related to Light Coverage Foundation Routine at all, but I wanted to share some indie designers on Redbubble. There are tons on there, but I focused on three today.


You can pick up a Hex Squad shirt or item that I've designed from my Redbubble Store. I only have the designs that have been requested up over there. I didn't move all my previous designs from Spreadshirt to Redbubble.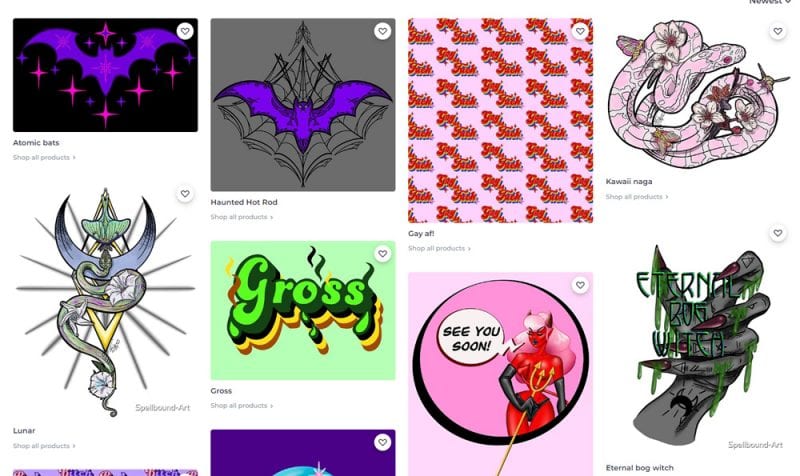 My bestie Carlye from Spellbound Stitches just created a bunch of fun goth witch designs in her Spellbound Art Shop. I love all her designs so please check them out! She's such a talented artist!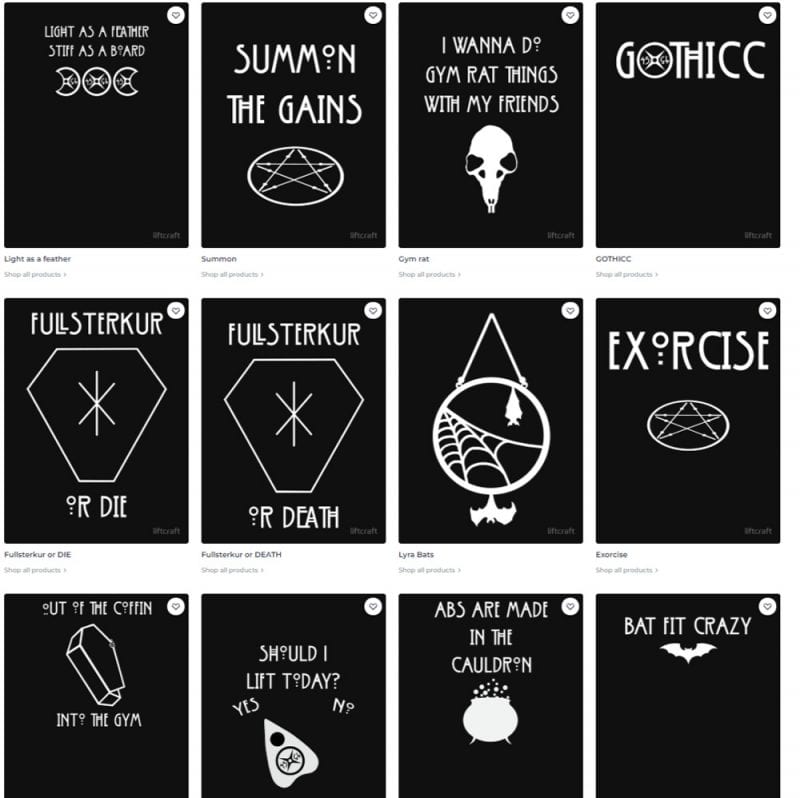 And for anyone who is a fit goth like I am, my friend Tania's shop Lift Craft Fitness has a ton of goth fitness designs to wear. I personally own Bat Fit Crazy, Abs are Made in the Cauldron,  and a few others. I really want to pick up the Should I Lift Today? shirt too.
I've featured designs from both Lift Craft Fitness and Spellbound Stitches in my Summer Gothic Lookbook from last year. If you follow me on Instagram you often see me featuring clothing from both Carlye and Tania.
Fair Skin Foundation Swatches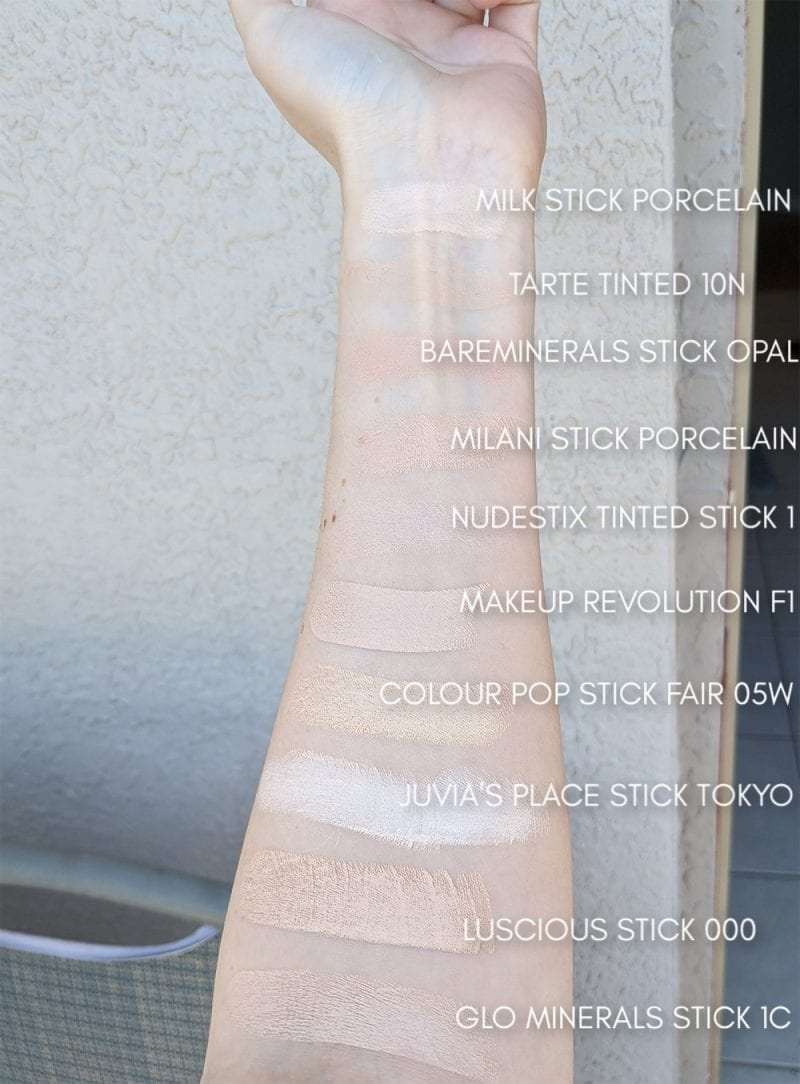 Taken in indirect sunlight.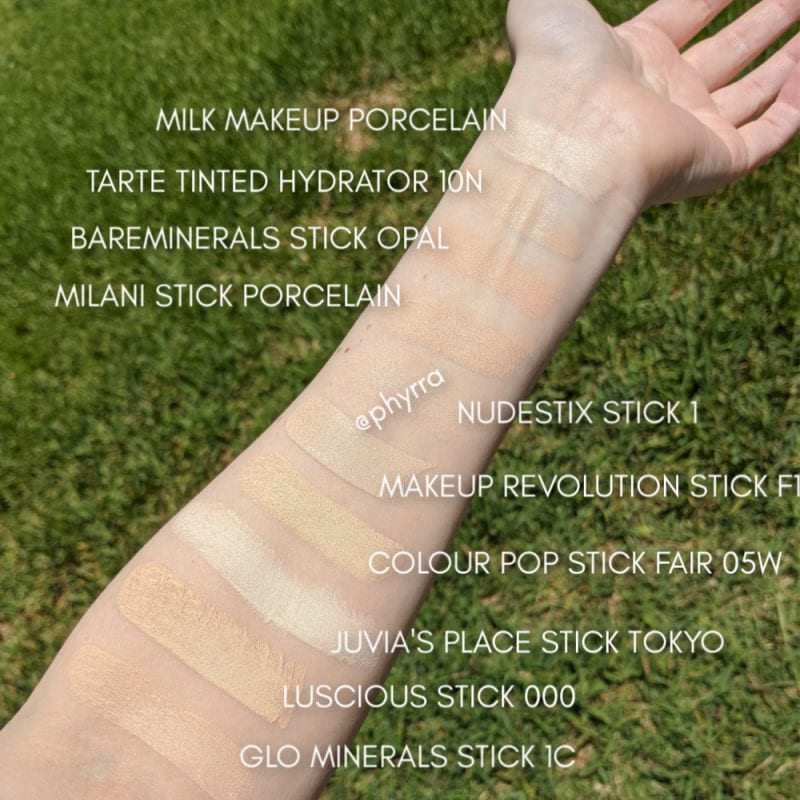 Taken in direct sunlight.
*denotes PR sample.
v denotes vegan
As always, I've included some fair skin foundation swatches to show you how the Milk Makeup Flex Stick in Porcelain looks compared to other products. Please remember, that swatches on your arm don't always translate to how things look on your face. My skin tone is very fair neutral to cool yellow. I look best in foundations that are described as very fair neutral, neutral cool, and cool yellow.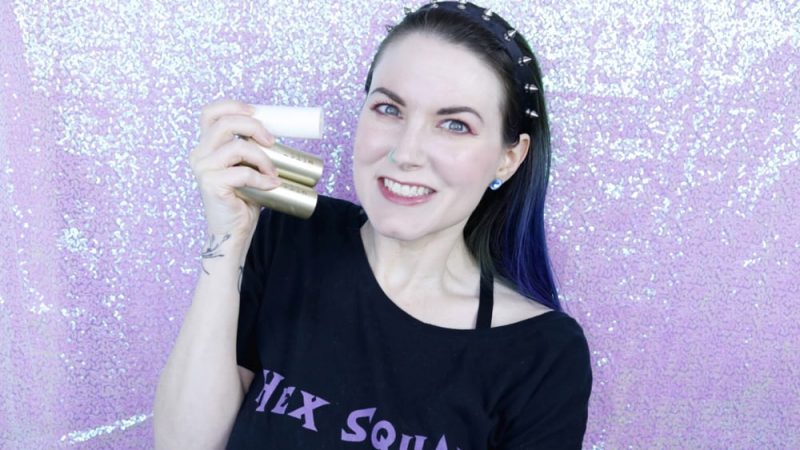 Anyway, I hope you enjoyed my light coverage foundation routine that I shared with you! I love light to medium coverage foundations and prefer to wear them to full coverage. I'm in love with stick foundations because they allow you to customize your coverage. Try a stick foundation, use the brush application method you see me use in the video above and let me know what you think of it!