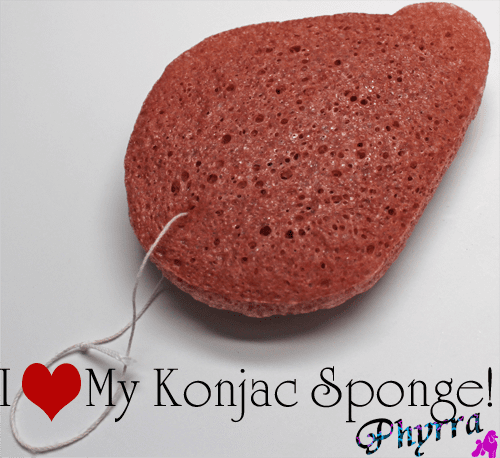 Recently I had the opportunity to try out the My Konjac Sponge. I've quickly fallen in love with this little guy! Let me tell you about it.
Pr sample.
Animal Testing Policy
Cruelty Free and Leaping Bunny Certified
About the All Natural Fiber Konjac Volcanic Scoria Facial Sponge
Sponge comes in a completely sealed packaging in soft condition. After use, hang the sponge to dry. Sponge will shrink when it's completely dry. This is perfectly normal. Rinse and allow sponge to fully absorb water to reuse the sponge.
100% Natural Sponge
100% Coloring & Additive Free
100% Biodegradable
Naturally Sustainable
Exfoliating, Massaging & Moisturizing
Anti – Bacterial
Minimizing Pores
Refreshing the Skin
Ingredients
Natural konjac powder made from konjac potato, and it has the addition of volcanic scoria.
Price
$10 from Amazon.com and their website My Konjac Sponge.
Using and Caring for My Konjac Sponge
Soak the konjac sponge in warm water until the sponge is completely soft.
Gently cleanse the face by massaging in a circular motion.
After use, gently press the sponge between the palm of your hands to drain the sponge, then hang it up to dry. Don't wring it out.
To sterilize the konjac sponge, microwave it for 90 seconds.
A Konjac sponge will last you for up to 3 months, but then it needs to be replaced.
My Experience
I wasn't sure what to expect from this sponge. When I opened it up, it was softer to the touch than I had expected, softer than your typical kitchen sponge. I was skeptical when I used it for the first time, but those feelings quickly faded away. It's so soft! Yet it somehow makes my face feel very clean and smooth. It works well with my Abbey St. Clare Aniba Cleanser. I like it better than using a wash cloth, which really surprised me.
I've been using it twice a day and it's non irritating with my sensitive, rosacea skin. It also has kept me free of any flaky patches. I can't exfoliate as often as I'd like, and makeup will cling to dry patches, but since I started using this sponge I haven't had any dry patches! It seems to be able to exfoliate very gently without irritating my skin.
I really like the fact that the konjac sponge is biodegradable and naturally sustainable.
This is a product I can see myself repurchasing over and over. I've already purchased one for Dave. I can't believe how it's worked its way into my daily routine. I use it in the mornings to cleanse my face and I use it in the evenings to remove any makeup from my face.
Have you ever tried My Konjac Sponge?
Last Updated on