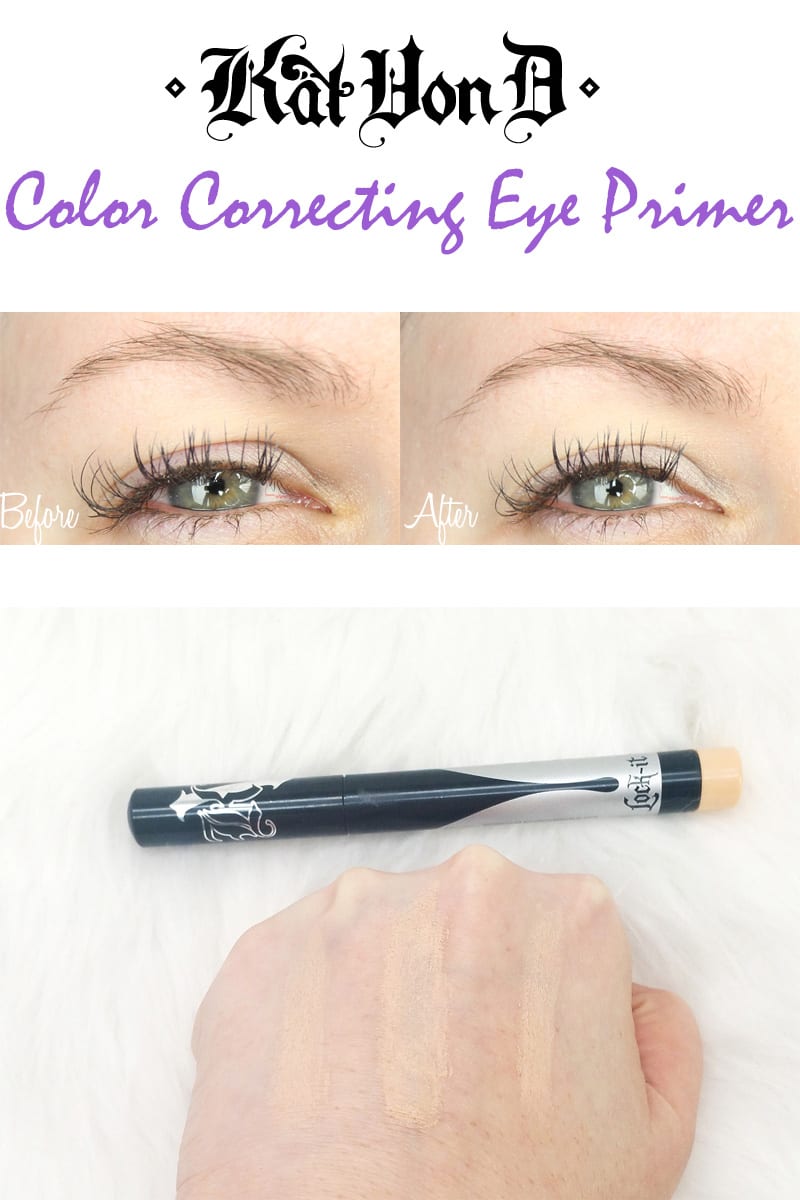 Today I'm sharing my Kat Von D Lock-It Color Correcting Eyeshadow Primer review with you. I recently bought the KVD Color Correcting primer in Fair to give it a try. It's available in 5 colors – Fair, Light, Medium, Tan and Deep. It's supposed to color correct to match your skintone, hide imperfections, and make your eyeshadow last for 16 hours.
Kat Von D Lock-It Color Correcting Eyeshadow Primer Review
Where to Buy
Sephora
Price
$25 for .049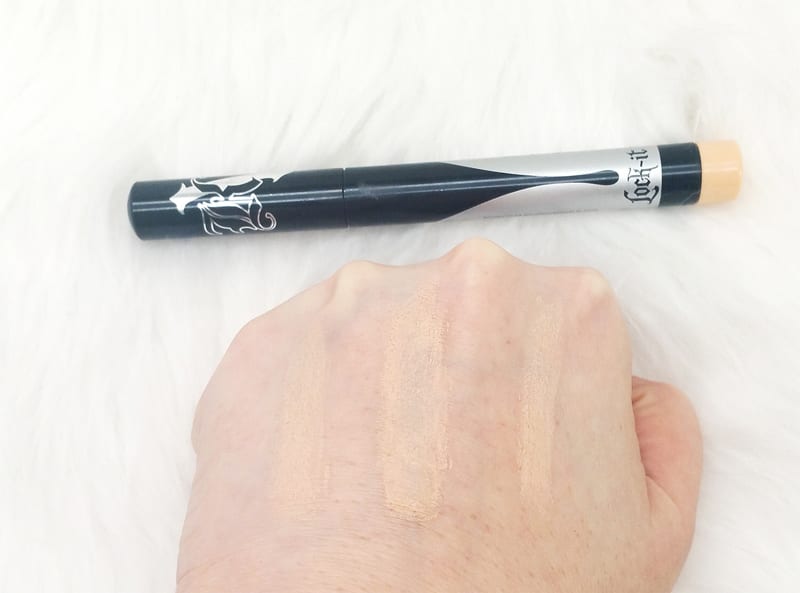 What I love about it
I love that the color Fair actually matches my skintone! It's fantastic, unlike the original High Voltage which turned YELLOW on my skintone. You need to apply it to one eye at a time and blend out with your finger tip or a brush pretty quickly.  I love the packaging, as it's easy to apply it to the eye or toss it in your makeup bag. I love that you can wear it on its own without any eyeshadow if you want. I like that it has 5 shades available, too, so you're more likely to find a color to match your skintone. You can see in the 'after' photo above, it counters discoloration on the lid.
What I don't like about it
I tested this product several times, as I initially loved it right away. I also tested this against my holy grail primer, Too Faced Shadow Insurance, and unfortunately, it fell short. I had anywhere from 8 to 16 hours of wear, but towards the end of the day (and depending on what eyeshadows I wore) it would crease or fade in some places, predictably on my hood where the skin rubs together. By contrast, TFSI would last without fading or creasing. Also, you don't really get a lot of product for the price. You're getting .049 oz for $25 vs. $20 for .35 oz for TFSI or $15 for .4o oz with KVD's High Voltage primer.
I think this is a good eyeshadow primer, but not the best if you have hooded eyes. The formula (at least on my oily hooded lids), did not consistently last 16 hours, though it claims 'up to 16 hours', so YMMV. This primer is definitely on the dry side and I find it works best if you use a brush to spread it on the lid (though your finger can work too), or you'll end up with spots without primer. You're also getting a small amount of product compared to other primers.
If you don't have hooded eyes and you like a color correcting, dry primer, you might love it. If you do have hooded eyes like mine, you may not like this primer. I like it well enough that I'm going to continue using it, especially on days when I'm doing a minimal eyeshadow look or a wash of color.
What do you think of Kat Von D Lock-It Color Correcting Eyeshadow Primer?
More to See
Last Updated on