A while back I had the opportunity to try out the Josie Maran Argan Daily Moisturizer SPF 40. I love argan oil, so I was very excited to get my hands on this. It turns out that I've fallen in love with it.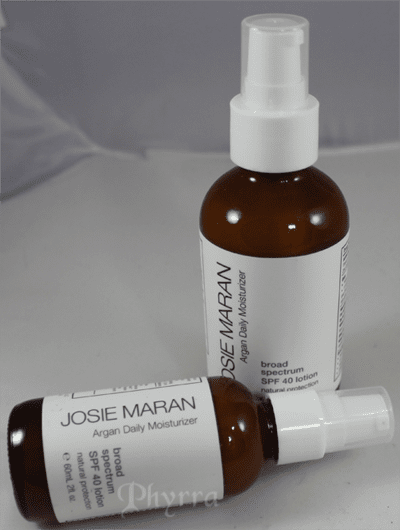 The Website Claims
Argan Daily Moisturizer SPF 40 is your skin's first defense against premature aging. This natural formula physically deflects UVA rays that can cause up to 80 percent of premature aging. It also shields from the harmful UVB rays that we encounter on sunny days or at the beach. Unlike traditional sunscreens, this natural formula is infused with Josie's signature ingredient, Argan Oil, which repairs and reverses damage caused by the sun, fights sign of aging, and improves skintone for a radiant, renewed complexion. This sunscreen is extra mild and fast absorbing and it can also double as a great makeup primer. Argan Daily Moisturizer is lightweight, paraben free, and suitable for all skin types.
Titanium Dioxide and Zinc Oxide: Full spectrum sun Protection against UVA/UVB rays.
Argan Oil: Replenishes and repairs skin cells.
Pomegranate Oil: Full of antioxidants which improve elasticity and tone of skin.
Jojoba Oil: Conditions the skin.
Ingredients
ACTIVE: Titanium Dioxide 9.5%, Zinc Oxide 6.0%.
INACTIVE: Aloe Barbadensis (Aloe) Leaf Extract*, Argania Spinosa (Argan) Kernel Oil*, Camellia Sinensis (Green Tea) Leaf Extract**, Caprylyl Glycol**, Chamomilla Recutita Matricaria (Chamomile) Extract*, Cyclopentasiloxane, Dimethicone**, Ethylhexyl Palmitate**, Hexadecene Copolymer**, Hexylene Glycol, Isopropyl Palmitate**, Phenoxyethanol, Prunus Armeniaca (Apricot) Oil**, Punica Granatum (Pomegranate) Oil*, Simmondsia Chinensis (Jojoba) Seed Oil*, Tocopherol**.
*Certified Organic Ingredient
**Natural Ingredient
A Little About Argan Oil
Argan Oil is produced from the argan tree in the semideserts of Morocco. This oil is rich in Vitamin E and essential fatty acids, which have antiaging properties. This organic ingredient is known to help and prevent dehydration, inflammation, hyperpigmentation, and sebum production. It is your answer to naturally healthy, youthful, radiant, clear skin and hair.
Price
$32 for 2 oz
My Experience
I think I've found my new holy grail of moisturizers with SPF. To recap my skin, it's sensitive with rosacea and combo (oily eyes and t-zone, normal elsewhere, but with my rosacea meds my cheeks get dry). Argan oil truly seems to be a miracle oil for my skin as well as my hair. This moisturizer has a slight sweet smell that reminds me of cherries that fades quickly. It's on the watery side, yet it absorbs quickly into the skin. I don't feel dry or oily. I feel well hydrated with it. It didn't irritate my sensitive skin at all or exacerbate my rosacea.
I love that it has a physical sunblock with titanium dioxide and zinc oxide and that it's a high SPF. Surprisingly, there is no white cast to my skin after use. If you put your foundation on immediately after application, this can serve as a primer but I really prefer to mix in a brightening primer with it if I want that effect, like Pixi's Brightening Primer.
Finally, I love that the brand Josie Maran is cruelty-free and many of the products are vegan. They use natural and organic ingredients, which I like.
I'm really into argan oil in my beauty products these days and I'm happy to have a moisturizer with it. How do you feel about argan oil?
Have you tried the Josie Maran Argan Daily Moisturizer SPF 40?
Product sent for consideration. All opinions are my own.