This month's Indie Spotlight is with the enchanting Emily from Concrete Minerals!

How long have you loved makeup?
Since I was a child! I have this amazing cousin who would babysit me when I was about 3 or 4 years-old. She was (and continues to be, I might add) the coolest girl on the planet! A model — awesome 80's hair and everything — working at KNAC radio at the time, I distinctly remember this compact she gave me that I cherished so much. I think I've traced the beginnings of my love of makeup to that moment.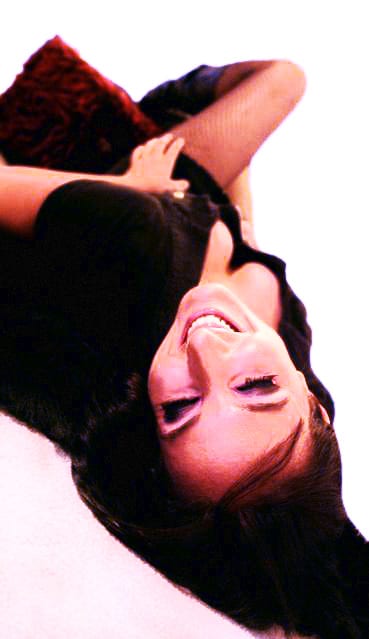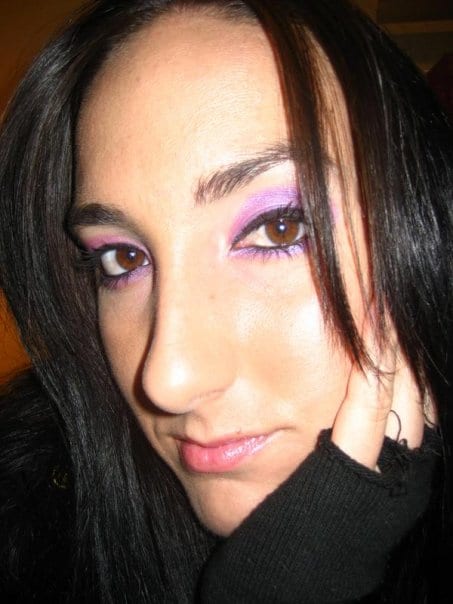 What made you decide to make your own?
Fate. I had worked within the music industry since the age of 16, leaving the world of cosmetics far behind. Although there was always a show to attend, or some event in LA, I worked extremely hard for my age and started to feel burned-out. Shortly after turning 21 I found myself panicking that I would never have carefree "fun" years to look back on. I quit my job, moved my Canadian boyfriend at the time whom I had met on MySpace out here, became a cocktail waitress and effectively spent a solid year partying! And when it was over… it was OVER, haha! I am, by nature, a busy person and the lifestyle didn't suit me, but hell, anything worth doing is worth doing right! By complete chance I ended-up at a really great mineral cosmetics company working in design and it changed my whole perspective. I loved the idea of healthy cosmetics, but I thought "Why can't mineral makeup be FUN?" followed by "I think I could do this!" (PLEASE feel free to edit that down, lol)
How did you come up with the name Concrete Minerals?
I wanted something that wouldn't instill thoughts of wheatgrass and khakis, Concrete really seemed to click!
What influences your nomenclature for your shades?
I love that question! I've always loved things that are a bit tongue-in-cheek, I think it fits my personality. There's something sexy about loving an eyeshadow called "Smut". There can be a fine-line between fun and trashy though, and it's important to me that the CM line have class above all else (of course I say this before we release our makeup remover "Dirty Stripper", lol!)
How many hours a day do you work? Days a week?
I usually work 7 days a week, even sick in bed I'll put in some time answering emails. Actually within the past year I've been lucky enough to have some amazing help in the office which has afforded me time when we're not in a rush to be a part of the "real world" again. I'm sure every small business owner will tell you though that you never really leave the office, especially with today's technology — I've stepped aside to answer emails while camping in the middle of the desert, haha!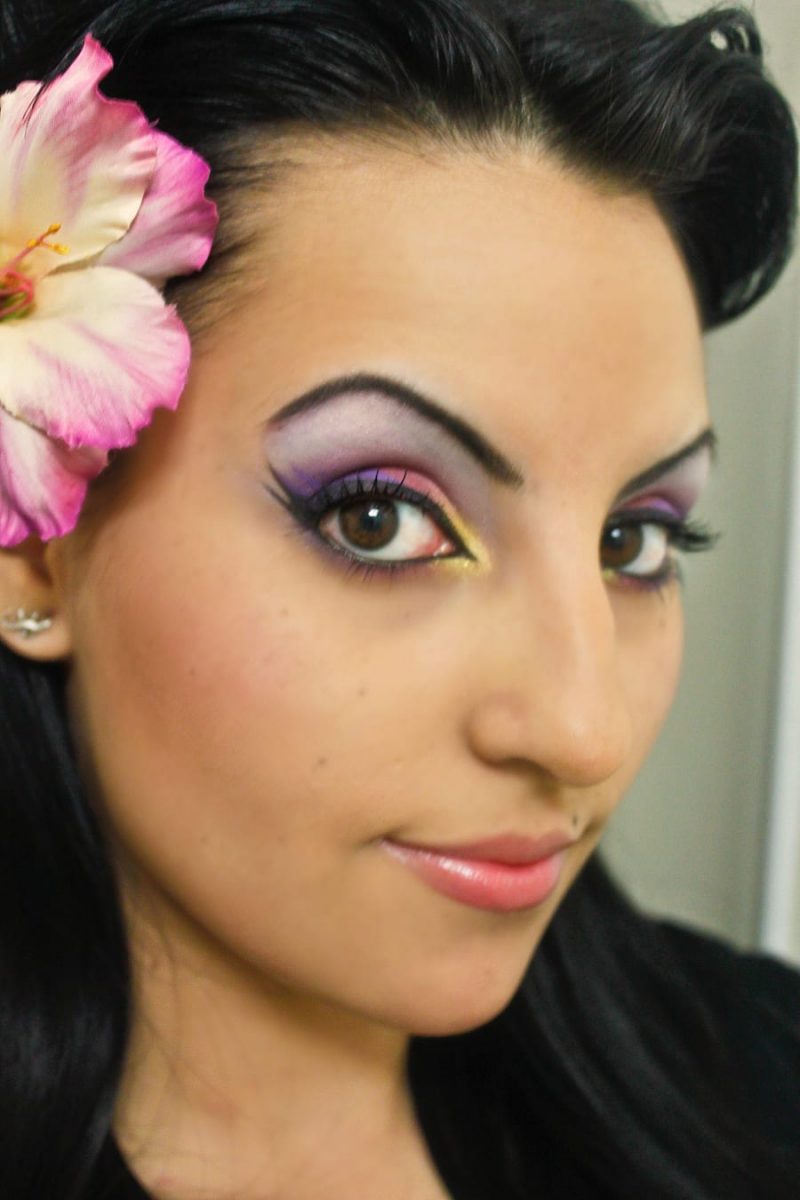 Jacqueline, CM's Makeup Artist
What is your favorite product to create?
Although the entire CM line is handmade here in-house, when it comes to re-stocking I rarely get the time to do it myself these days. My primary focus (and love!) is new product development! From conception, I love every element of creating new goodies, from gathering feedback from our friends and fans, to package design, working with talented artists and designers, to mixing-up new shades and products that I think others will love! Right now I'm really excited about our "Sugar & Spice" and "Naughty & Nice" holiday collections!
What prompted you to create your own primer?
I, like a lot of girls out there, swear by an eye primer anytime I wear makeup. I wanted to create a great balm formula rather than liquid that excluded preservatives like parabens. The sweet words I've received from our Electric Eye Primer over the past 2 years have been amazing, I'm so glad so many others love it!
What's your least favorite product to create?
Our Electric Eye Primer, haha! It's a highly-sensitive formula that takes some pretty serious concentration and it's hand-poured!
What are your favorite colors to wear?
I'm a smoky-eye gal all the way! My go-to pairing at the moment is Kinky and Ether with Prude as a highlighter. Deep purples, blues and blacks with a pop of color always catch my eye!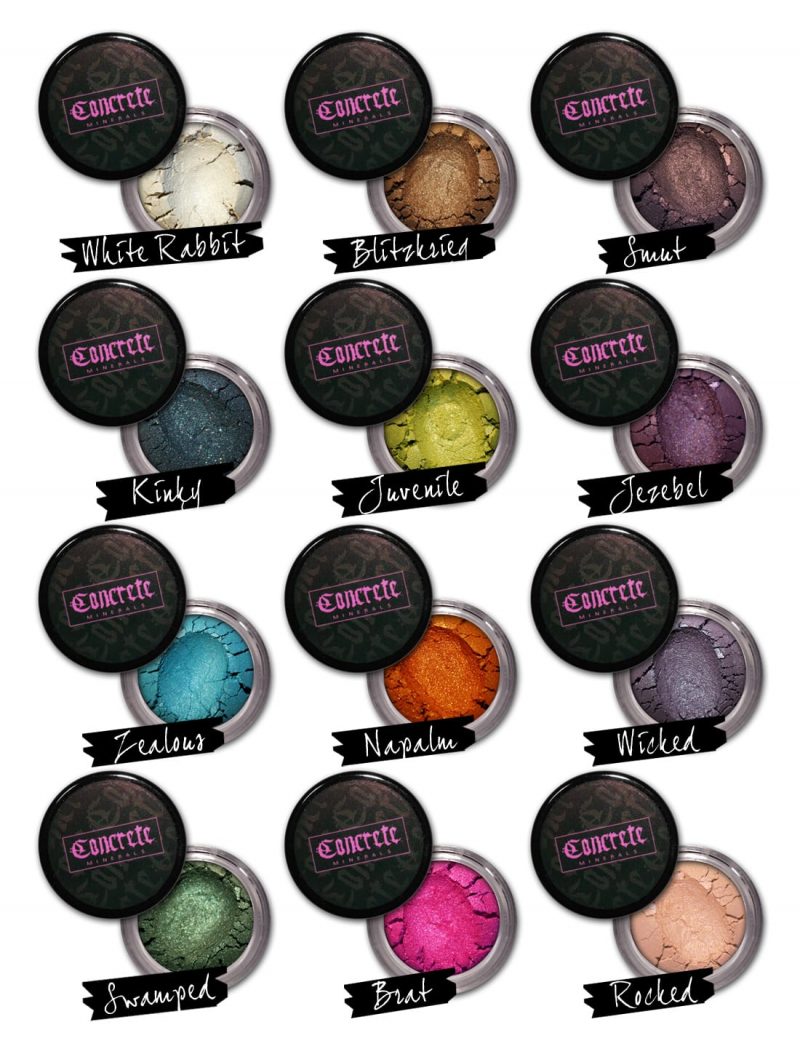 Bestsellers
What are your favorite colors that you've created? Some of my favorites of yours are Lolita, Kinky, Rocked, Ruse and Detox.
Oh thank you! Some of the shades I'm most attached to are Smut, Kinky, Rocked, Wicked, Napalm, Souljourner, Blitzkrieg and The Vaccine from our Zombie Girl collection!
What is your absolute favorite eye shadow color ever?
Worst question ever, haha! I honestly don't think I could ever pick a favorite it changes so often.
What are your favorite lip colors?
Warm rosy-nudes and obnoxious hot pink!
What are your favorite blushes?
There aren't any shades that I'm terribly attached to, however I love crème highlighters!
What is your favorite beauty trend?
I'm really into hair bows right now!
Do you have a signature scent?
Chanel No. 5! I have so much love and respect for Coco Chanel and the type of women she chose to be. Something about the fragrance has always spoken to me.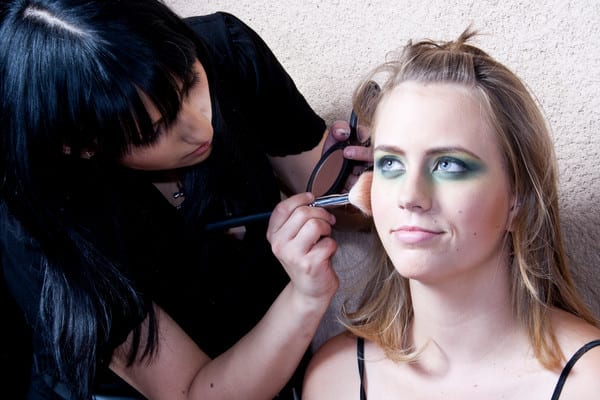 Jacqueline prepping Bree for a shoot.
What do you prefer to look at for inspiration when you're in the mood to create something new?
I like to see what others are currently captivated by! I lurk on Tumblr and browse blogs when I have time, otherwise I always find new inspiration going out with friends to shows or visiting new places!

The always stunning Buggy modeling for CM!
What's your skincare routine?
I have incredibly sensitive skin and I've always been a die-hard Proactiv addict! Cleanse, tone, moisturize all the way!
Do you have a favorite 'super' ingredient or food? (for food or makeup, mine is blueberries right now)?
Not really. When it comes to food I'm a terrible vegetarian who used to be a lot more disciplined before starting a business, haha! I do still eat as naturally as possible though, and swear by my vitamins, tea and OJ especially when I'm feeling under the weather!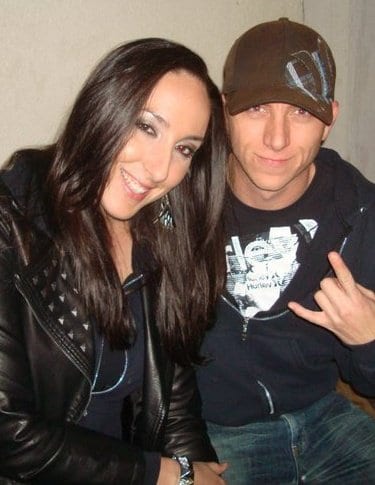 Emily and her boyfriend Mikey
What colors have you dyed your hair?
Not too many! My signature hair color is black and it has been since I was a teenager, though I've played around with reds and blonde. People still seem to get up-in-arms anytime they see me with anything but black!
What's your favorite way to accessorize? I love bats, as you probably know 🙂
Right now I'm obsessed with rings! I also wear a Thor's hammer necklace that I've had for years!
Can you tell us about any upcoming collections?
We're launching so many great new things for the holidays, I'm so excited! We have our line of "Sexy Lips" vegan lip tints that after so much time and energy developing are finally being released! We also have our "Sugar & Spice" and "Naughty & Nice" holiday collections which include 4 bestselling mineral eyeshadows and a brand-new lip tint packaged in the cutest tin designed by my boyfriend Michael Cook who designed our Zombie Girl collection! We also have one more really great collection coming out soon, but I'll leave that one up for guessing. Our Facebook fans may remember I mentioned it…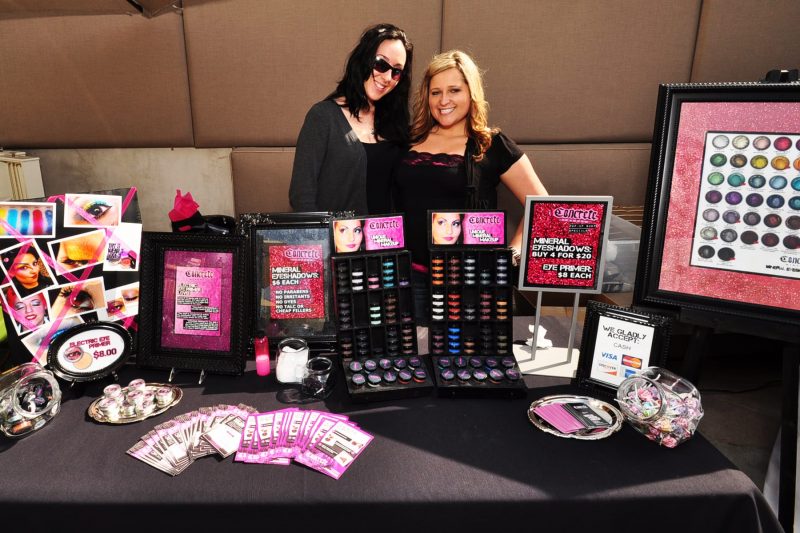 Jewel and Emily working a booth in LA for Foam Magazine
What's your favorite chocolate?
I love dark chocolate! Trader Joe's carries my favorite and I usually grab one at the register while I'm checking out.
Do you play any video games?
I'm a huge SNES geek, but I don't usually have too much time to play. I can proudly play both Donkey Kong Country and Super Metroid from start to finish in like 6 hours each, lol. I never got into PC platform games, however my boyfriend Mike is developing a game right now, and I have to admit, I'm completely sucked into the storyline!
Do you have any pets? Tell us about them!
I do! An amazing fat pug named Maximus who has the most outrageous personality I've ever encountered in an animal! My nickname for him is "Moosey", lol.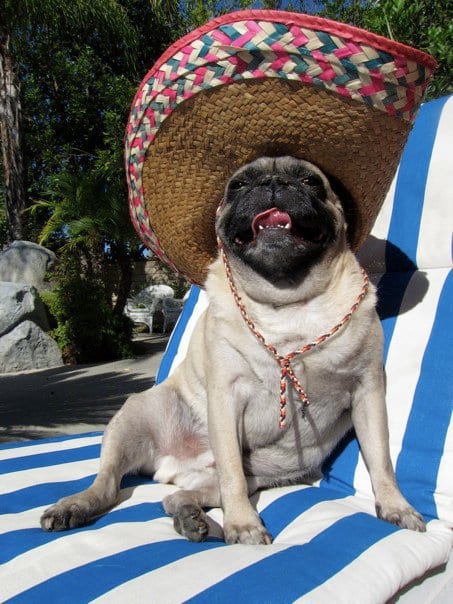 Emily's bff, Maximus!
What are your favorite authors or books to read?
I'm currently reading Drood by Dan Simmons and two of my favorites are White Oleander by Janet Fitch and Lolita by Nabokov. I love anything with really great character development 🙂
What are your favorite tv shows?
Castle (I will follow Nathan Fillion wherever he goes! That came out creepier than intended…), Fringe, Community and Parks and Recreation and I'm really loving New Girl with Zooey Deschanel! I still catch myself watching reruns of Ugly Betty late at night occasionally too.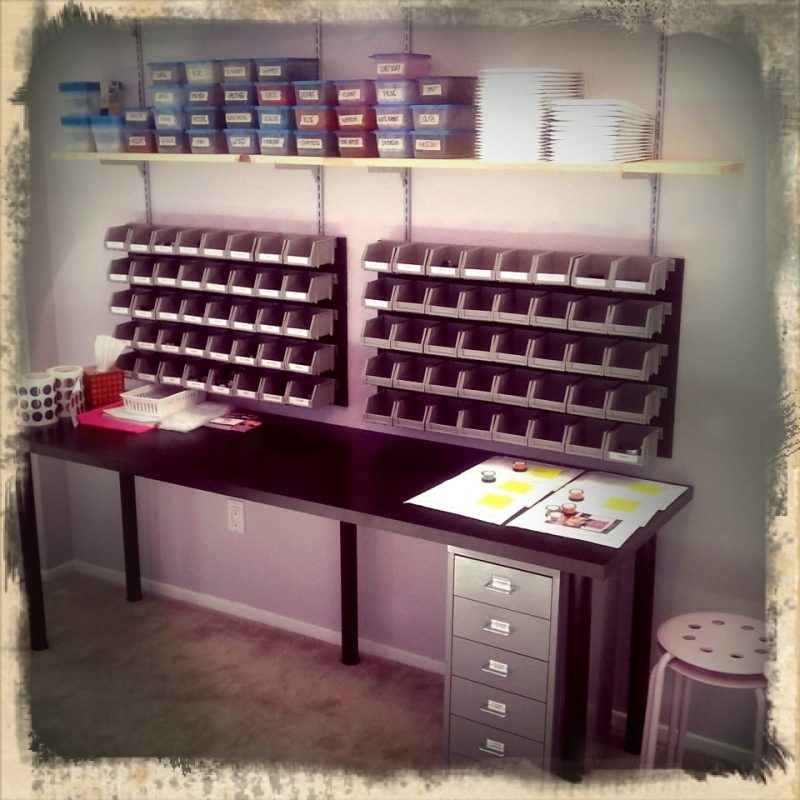 Concrete Minerals workstation
What is your office like currently?
Clean! I actually just went through everything on my desk today. I'm incredibly organized, so everything here has its own place. The wall in front of my desk is bright pink, and I have a ton of packaging samples and inspirational things (like my hot pink sequined Minnie Mouse ears!) nearby. We have a massive wall of products in bins, it looks like a candy store when you walk in!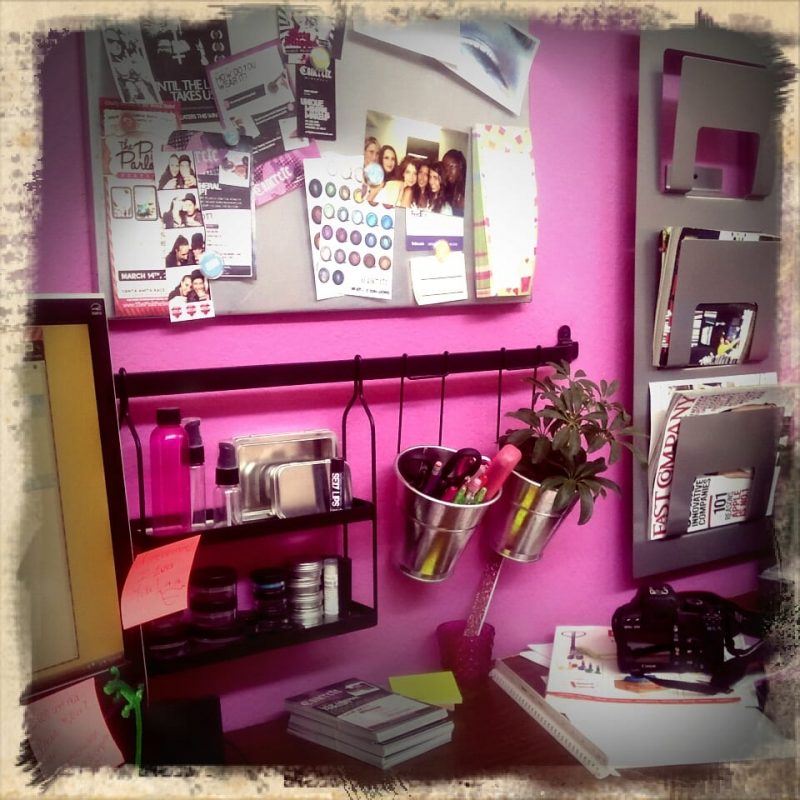 Emily's desk
What do you do to relax?
Spend time with friends. There's honestly nothing better than having the time to hang with close friends, sit around a fire with a guitar and have a beer. I so lucky to lead a crazy life full of beautiful people, fabulous events and gorgeous makeup, but at the end of the day I'm very easy to please and I'll take substance and meaning over filler any day 🙂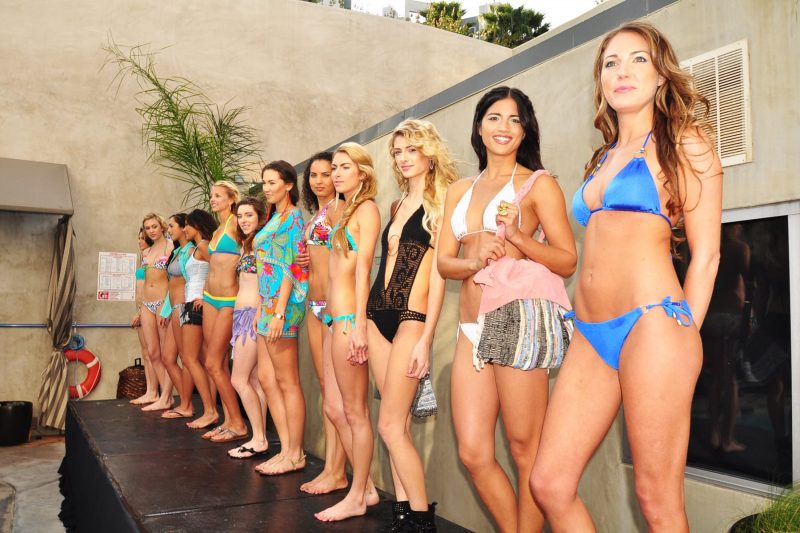 Models rockin' Concrete Minerals
What's on your iPod or Pandora Station? Or have you turned to Spotify or the Google Music Beta?
I've all but completely converted to Spotify! I have a ton of friends in Finland and Scandinavia who bragged about the thing for so long, and coming from a business perspective, it's a company I admire in a lot of ways. Some of my favorite bands I'm listening to at the moment are Warpaint, Sister Crayon, Crystal Castles, Touche Amore, Childish Gambino, the new Animals As Leaders and Lantlos, and a ton of Frank Sinatra! I'm all over the place when it comes to music!
Can you tell us something about yourself that might surprise your fans?
I plan on opening a record label with a friend in the near future!