I keep picking up pieces from the MAC collections that interest me or intrigue me. From MAC Fall Color Collection Angel Flame I picked up the Mineralize Skinfinish in Lightscapade. I picked up the In Anticipation lip pencil from Styledriven (see my other Styledriven items). I also picked up Rare Exotic mattene lipstick from Posh Paradise (see my other Posh Paradise). Initially I thought I wouldn't be able to pick up Lightscapade because it sold out immediately online and then it was back in stock a few days later. Since I was fairly certain it would work really well with my coloring, I snagged it.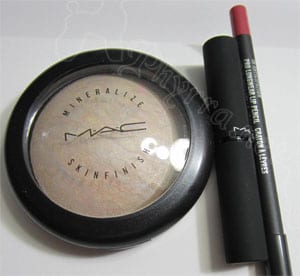 I've included swatches of the above shades, as well as the other two Mineralize Skinfinish Naturals that I have and use.


Medium Dark – caramel beige (I use as contour)
Light – soft pale beige (I use as foundation)

In Anticipation – soft yellow pink (lip pencil)

Rare Exotic – bright midtone blue pink (mattene lipstick)

Lightscapade – soft candlelit beige with multidimensional shimmer (I use as highlight)

I find it works really well with my skintone to give me a nice glow.

Prices:
Lightscapade – $28 for 10g / .35 oz
Light & Medium Dark – $27 for 10g / .35 oz
In Anticipation – $18 for 1.2g / .04 oz
Rare Exotic – $14.50 5g / .17 oz




Lightscapade is my first MAC Mineralize Skinfinish highlighter and I'm really pleased that I held out for it. Rare Exotic is really pretty, definitely one of my favorite type of pinks. In Anticipation is a really nice yellow-based pink and I like how it looks with my coloring.
Did you pick up anything from MAC's Fall Color collection, Styledriven or Posh Paradise? Let me know what you like!
Products purchased by me. All opinions are my own.