I've had these swatches since October (and I think I purchased the colors in July) and I'm only now getting to share them with you. They're colors from the Glamour Doll Eyes Paper Runway collection, plus some other favorites of mine.
Glamour Doll Eyes Paper Runway Eyeshadows
The Paper Runway collection is a collaborative collection between Darling Girl Cosmetics (who you know I love), Glamour Doll Eyes and Chinovi Cosmetics. It's a collection of 18 shadows and 6 blushes that were inspired by Paper Thin Personas.
Glamour Doll Eyes is proudly cruelty free. Some shades are vegan.
Swatched on Coastal Scents Step 1 Primer.
Grandiloquent (vegan)
a light matte grey base with a subtle orange sheen and gold & turquoise sparkle.
My Take
pale grey with golden iridescence and sparkle
Lovelock
a sheer ivory base that rubs down into a pinkish purple sheen with green and pink sparkle.
My Take
sheer white with pink violet sheen and pink and turquoise sparkles
Avant-Garde (vegan)
a matte magenta base with an orange sheen and a bright blue sparkle.
My Take
magenta shimmer with bright blue sparkles
Buyer's Remorse
a light teal with a subtle gold sheen and a pinkish purple sparkle.
My Take
minty teal with pink-violet sparkles
Love Affair
a pinkish goldish color.
My Take
glowy light pink
Tawdry (vegan)
Matte blueish teal with a very subtle purple sheen and a silvery gold sparkle.
My Take
dusty teal blue matte with gold sparkle
Mermaid's Plumage (vegan)
a deep blue green with a beautiful purple sparkle.
My Take
shimmery deep teal blue with blue-violet sparkle. I love this color so much that after I got it as a GWP I purchased a full size. This is one of my all time favorite colors from GDE.
Celestial Crow (vegan)
a blackened blue with intense green shimmer.
My Take
perfect blackened teal blue with golden green shimmer. Another all time favorite shade.
Row 1 Grandiloquent – Lovelock – Avant-Garde – Buyer's Remorse
Row 2 Love Affair – Tawdry – Mermaid's Plumage – Celestial Crow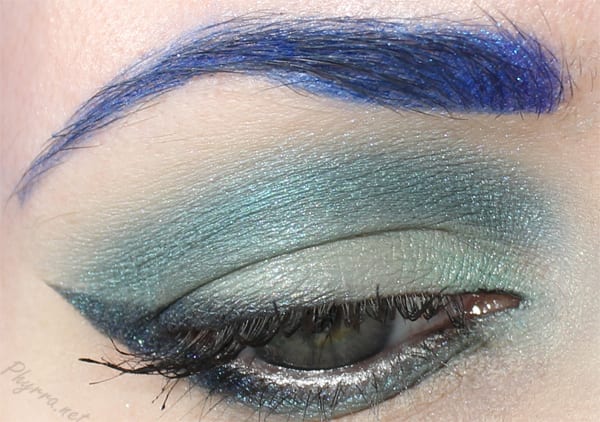 I definitely love these cool, mermaid tones.
What do you think of these colors from Glamour Doll Eyes? Let me know below!
Last Updated on